Matheny's book seeks to affect change in youth sports
Letter to parents in 2008 gave way to Cardinals manager's 200-page 'manifesto'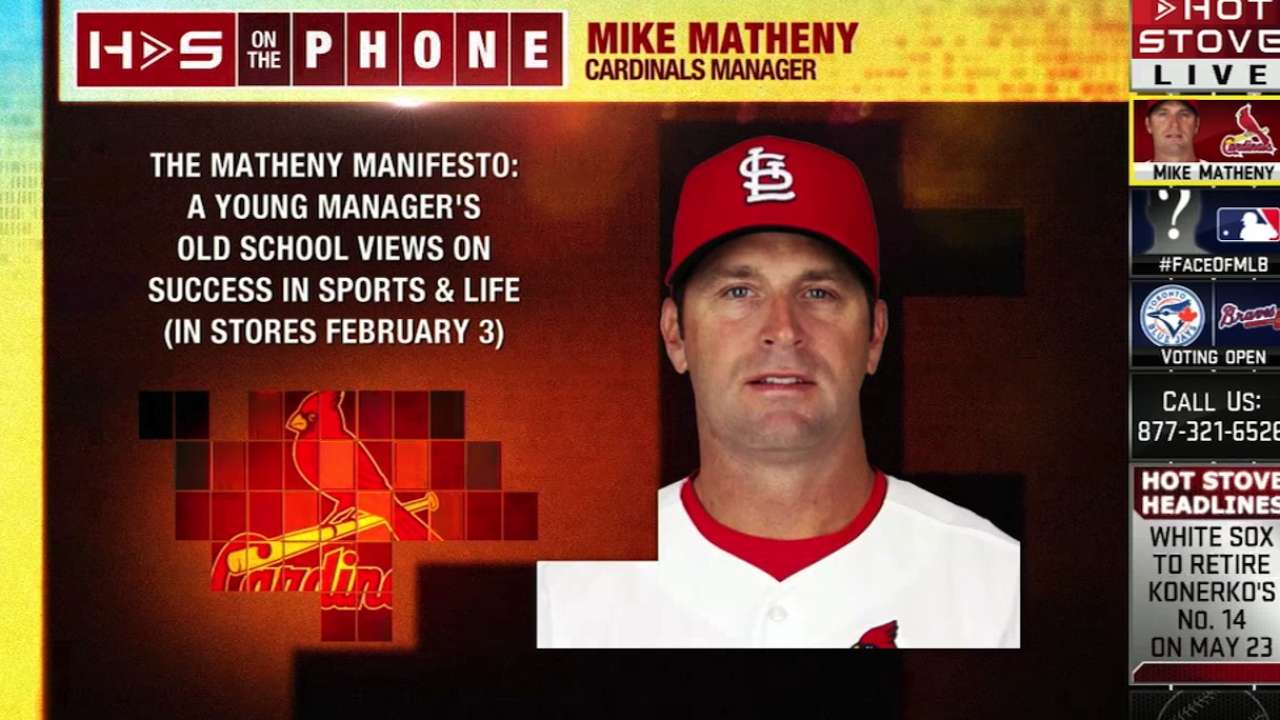 ST. LOUIS -- Taking the concepts he presented to parents of youth baseball players back in 2008, Cardinals manager Mike Matheny has written a 200-page book that he hopes can encourage change at the youth sports level.
The book, co-written by longtime author Jerry B. Jenkins, is titled "The Matheny Manifesto," taking the name given to the five-page letter Matheny presented to a group of parents after they asked him to manage their team. In that letter, he outlined his desire to coach "a team of orphans," pointing out that, in his opinion, the biggest problem within the youth sports community is the parents.
While Matheny weaves stories about his upbringing, playing career and managerial tenure into his writing, this is not meant to be a book about his career. Rather, it's targeted to parents and youth sports coaches who are looking for principles to implement within their programs.
"This is about youth sports and being the father of five and watching some things done extremely well and some things done extremely on the wacky side," Matheny said in advance of the book's Feb. 3 release. "If you have a platform and you can maybe do something that's going to impact people in a positive way, then do it."
In the early chapters of the book, Matheny retraces the origin of his manifesto and recounts the initial resistance he received when asking parents to buy in. He then suggests how he tried to change the culture and expectations of that youth team.
Matheny outlines how he constructed practices to emphasize efficiency on the field and character off the field. He also encourages youth coaches to implement classroom sessions and service projects into their programs.
Throughout the book, Matheny illustrates topics by offering personal anecdotes, many of which will have been previously unknown to the reader. He opens up about his early years playing baseball in Reynoldsburg, Ohio, where he imitated Tom Seaver when he pitched and Johnny Bench when he moved behind the plate.
Matheny shares the tale of Draft day, when the Blue Jays forgot to call him to let him know they had selected him out of high school. Matheny then tells of how he wrestled with the decision to go pro or leave for the University of Michigan.
He writes at length about the impact legendary college basketball coach John Wooden has had on his life, even though the two never met, and how his college coach, Bill Freehan, prepared him for a Major League playing and managing career. Matheny also singles out several former teammates -- among them, Robin Yount, Paul Molitor, Cal Eldred, Kevin Seitzer, Pat Hentgen, Darryl Kile and Mark McGwire -- for the impact they had on his career.
Matheny is especially direct in sharing how his Christian faith has influenced his coaching principals, and he ends the book by detailing how concussions prematurely ended his career.
While readers will enjoy the personal stories Matheny has to share, the purpose of each is to lead back to a lesson about how to change the culture of youth sports. How his suggestions resonate with coaches and parents will differ based on perspective, but his philosophies should at least add to the discussion.
Jenifer Langosch is a reporter for MLB.com. Read her blog, By Gosh, It's Langosch, and follow her on Twitter @LangoschMLB. This story was not subject to the approval of Major League Baseball or its clubs.