Inbox: Mets should hang on to Syndergaard
Beat reporter Anthony DiComo answers questions from fans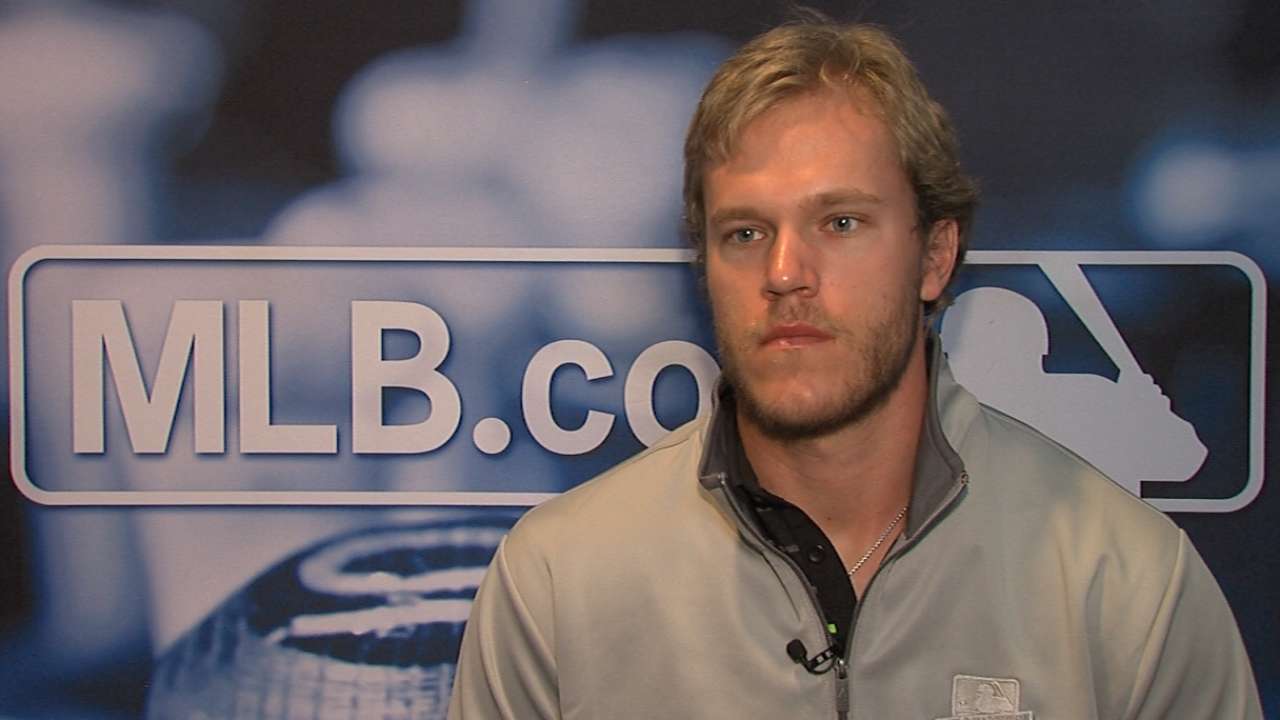 All remains quiet as we head into the final three weeks of winter. With each passing day, it appears more and more likely that the Mets' current roster is the one they will bring to Florida next month -- perhaps just with the subtraction of a starting pitcher. Given all that, for the first time this winter, this week's batch of emails focuses largely on the players already in place:
I know almost every major trade rumor seems to be centered around Noah Syndergaard. Do you think the Mets will regret not trading him if he turns out to be a bust? Do you think they should have dealt him for a guy like Ian Desmond or even Troy Tulowitzki if the talks were ever that serious?
-- Tone R., Queens, N.Y.
Click here to submit an Inbox question
Far more than hitters, pitching prospects tend to be hard to predict. Their injury risks are greater than those of their position player counterparts, and it's more difficult to tell how they will adapt as they move up the Minor League ladder. Mets general manager Sandy Alderson takes the opposite tact, stockpiling pitching prospects in the hopes that some of them pan out. For him, it's a numbers game.
That strategy, along with the shortstop market's questionable overall quality, is why the Mets have been reluctant to part with Syndergaard. His value is down from where it was last winter anyways, so it would serve the Mets well to hang onto him.
It's an approach more and more teams seem to be taking these days, as clubs look to lock up their young pitchers well before they hit arbitration and free agency. Because it's so difficult to lure a quality veteran pitcher to a new team, it's all about developing from within. So no, I don't see Alderson having huge regrets if Syndergaard does not develop into a productive member of the rotation. To him, it's worth the risk.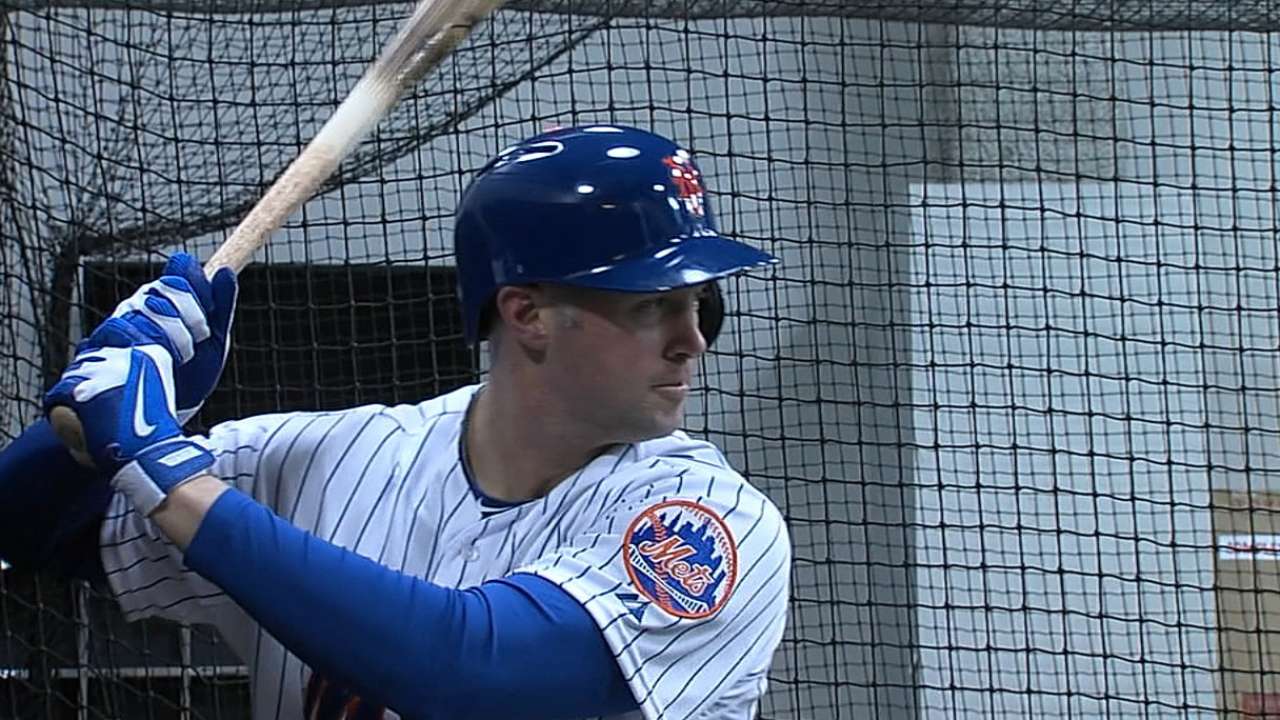 Assuming the Mets' roster stays the same, what do you foresee as their Opening Day lineup?
-- Andrew N., Buffalo, N.Y.
The lineup is more static at this point than I can ever remember heading into Spring Training. Barring an unexpected acquisition or injury, you're looking at a starting eight of:
1. Juan Lagares, CF
2. Daniel Murphy, 2B
3. David Wright, 3B
4. Lucas Duda, 1B
5. Michael Cuddyer, RF
6. Curtis Granderson, LF
7. Travis d'Arnaud, C
8. Wilmer Flores, SS
The Mets are going to stick Lagares at leadoff whether he performs during Spring Training or not, because they don't have a great alternative. The only shift I envision would be Granderson moving back into the cleanup spot if he puts together an excellent spring. But really, at this point, Duda deserves that assignment.
One through eight, it's a lineup with no glaring holes, but uncertainties throughout. The biggest issues exist in the middle of the order, where questions surround the abilities of Wright and Cuddyer to stay healthy, as well as those of the bottom third to hit consistently. Outside of Murphy, it's difficult to predict the levels at which the other seven starters are going to produce -- which puts the Mets' potential range of outcomes all over the map.
Essentially, the Mets are going to win or lose with what they have in place right now. The only camp competitions the Mets need to worry about exist in the bullpen, unless the team really does head into Spring Training with six starting pitchers. Terry Collins' lineup and bench are both pretty much set.
How do you think Matt Harvey, Zack Wheeler and Jacob deGrom are going to match up against Max Scherzer, Jordan Zimmermann and Stephen Strasburg of the Nationals?
-- Marty M., Middletown, Pa.
Often. Very, very often.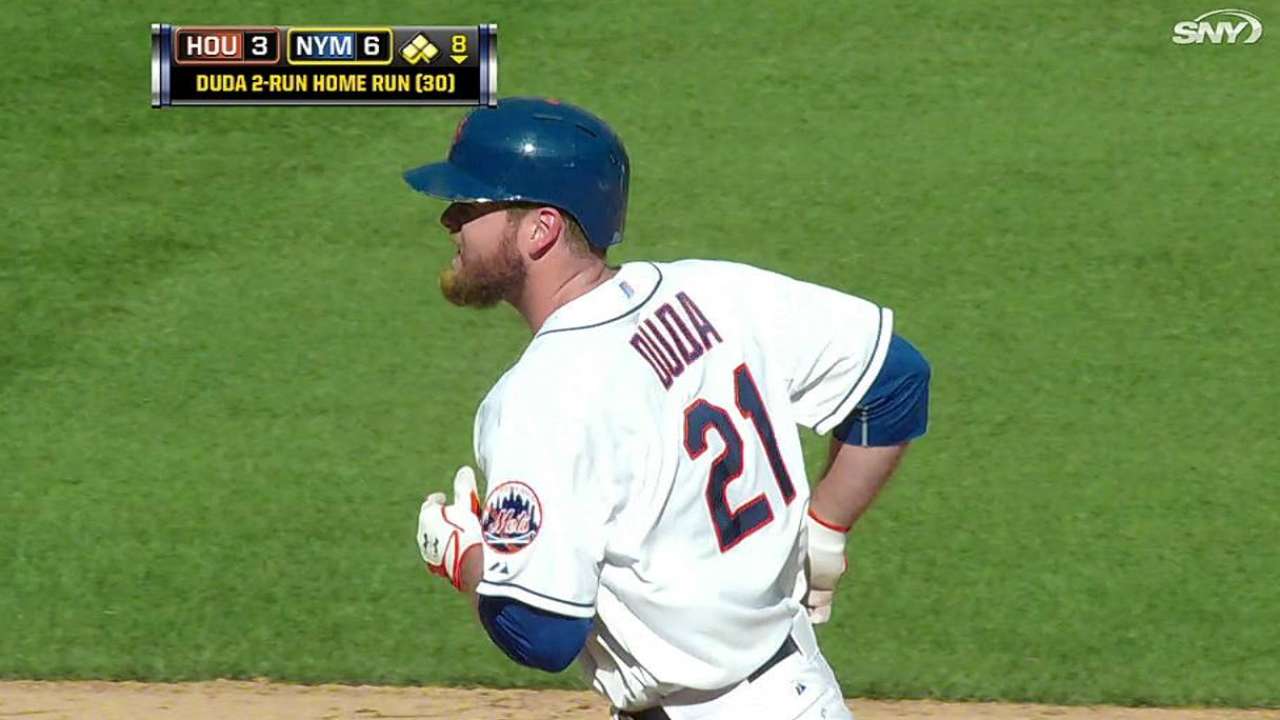 Am I the only one who thinks Duda was a one-year wonder? I don't think he will produce half of 2014's production.
-- Tony L., Staten Island, N.Y.
While I don't necessarily agree with your analysis, I think it's fair to question Duda's ability in a general sense. We've spent a lot of time this offseason discussing what might happen if Granderson bounces back, if Wright stays healthy and if Harvey delivers something comparable to his 2013 campaign. But what happens if deGrom is unable to repeat his National League Rookie of the Year Award-winning performance, if d'Arnaud can't stay on the field, if Lagares struggles offensively or if Duda fades back to his previous production levels? Those sorts of things are all just as plausible.
The point is this: By not investing in a shortstop this winter and making only one noteworthy acquisition, the Mets have not necessarily hampered their ability to compete in 2015. But they have decreased their margin for error, meaning more things need to go right in Duda/Granderson/Wright group than go wrong in the deGrom/d'Arnaud/Lagares one. I'm not saying all or any of those individual players will struggle, just that it's unrealistic to assume every Met who had a good, healthy year will do so again.
As for Duda, I don't see much in his statistical profile to suggest 2014 was a fluke. He did set career highs in many areas, including his fly-ball rate and home-run-to-fly-ball ratio, so it's reasonable to expect a slight step backward -- but certainly not a huge one. More than luck, most of what Duda accomplished looked like genuine improvement.
Anthony DiComo is a reporter for MLB.com. Follow him on Twitter @AnthonyDicomo. This story was not subject to the approval of Major League Baseball or its clubs.