Texas native Finnegan receives award from Rangers
Reliever named Texas Professional Baseball Player of the Year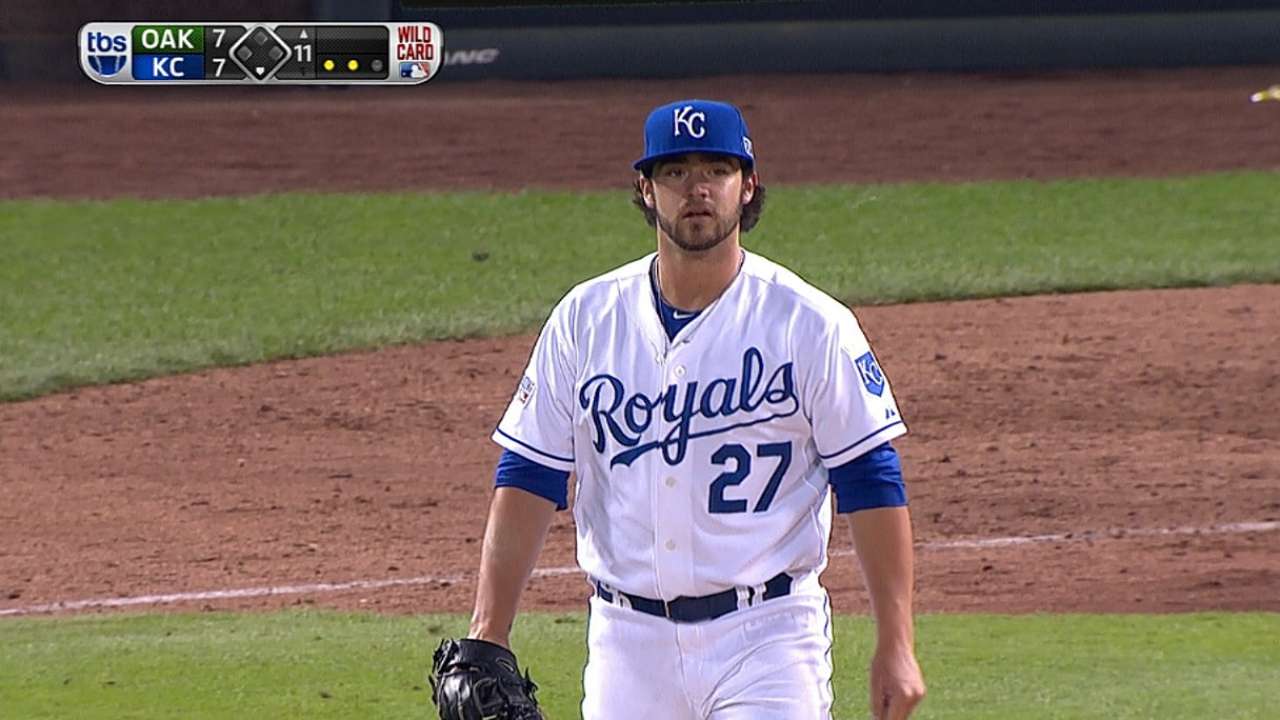 DALLAS -- Royals pitcher Brandon Finnegan received a major award on Friday night from the team that originally drafted him.
No, it was not from the Royals. Finnegan was honored by the Rangers as the Texas Professional Baseball Player of the Year at their awards dinner on Friday night.
Finnegan was born and went to high school in Fort Worth. The Rangers selected him in the 45th round out of Fort Worth Southwest High School in the 2011 First-Year Player Draft, but he ended up going to TCU instead. The Royals took him in the first round in the 2014 Draft, and he served as a reliever with them in their run to the World Series.
Finnegan finished the season with the distinction of being the first player to play in both the College World Series and Major League World Series in the same year. That's why he was honored by the Rangers on Friday night with an award that has gone in previous years to guys like Roger Clemens and Clayton Kershaw.
"I grew up a Rangers fan, so it's pretty cool to get an award from them, especially getting drafted by them out of high school," Finnegan said. "Kind of caught me off guard. [The Royals] were the ones who told me, actually. Our PR guy called me. He said they were happy for me to take it. It was awesome, but I was caught off guard, though."
Finnegan only pitched in seven regular-season games with the Royals in 2014. He was called up in September and allowed one run on six hits and one walk in seven innings, with 10 strikeouts. That convinced the Royals to put him on their postseason roster as a middle reliever and left-handed option.
He pitched 2 1/3 crucial innings in the 9-8 win over the Athletics in the American League Wild Card Game and earned a win in Game 2 of the AL Division Series against the Angels.
"It was hard to take everything in, but it was fun," Finnegan said. "I didn't get a chance to sit back and [think] about what happened this past year, but I'm trying to. At the same time, I'm trying to get ready for this next season. I'm just thankful for what happened."
Finnegan will be around the Rangers again in a few weeks. The Rangers and the Royals share the same training complex in Surprise, Ariz., and Finnegan will be there trying to win a job on the Kansas City side.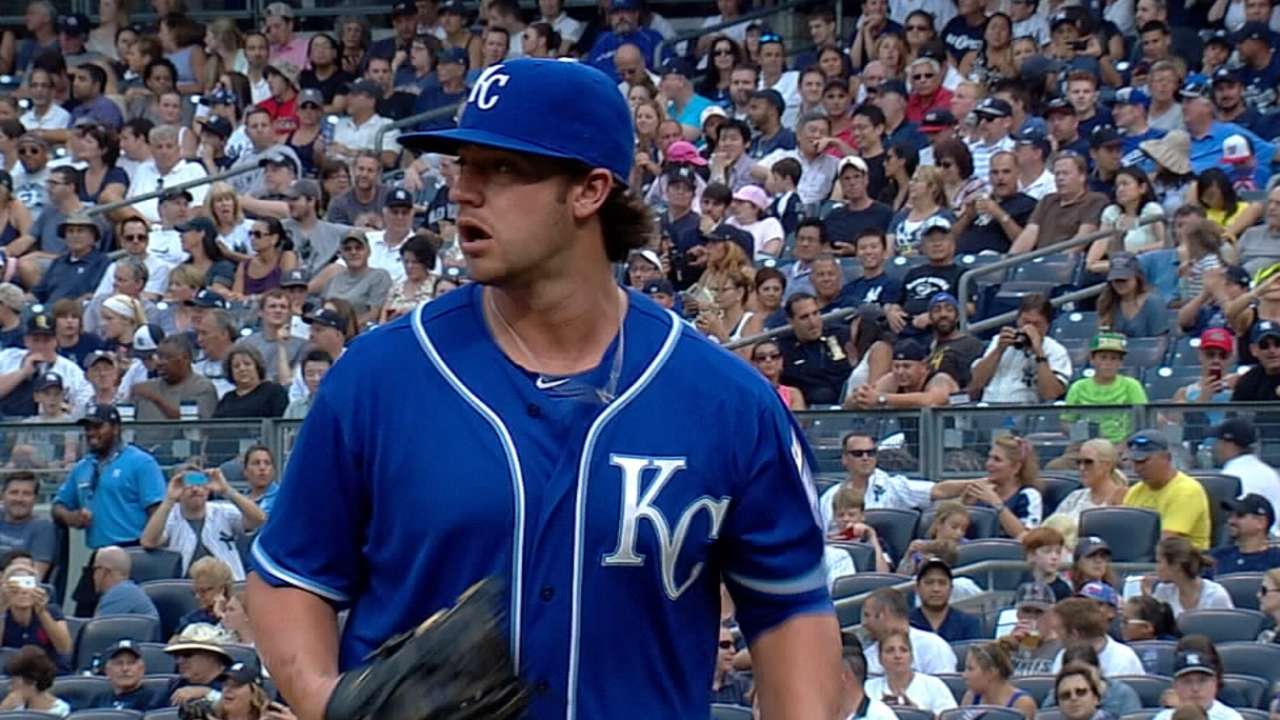 It will be an opportunity to go through Major League Spring Training for the first time as opposed to being brought up in the heat of a pennant race. Finnegan had just 13 outings, including five starts, in the Minors before being brought to the big leagues.
"Everybody needs to go through Spring Training," Finnegan said. "I'll get the ins and outs of it. I haven't even been to Arizona yet, so I'm kind of excited to get out there."
Right now the Royals' top five starters are Yordano Ventura, Jason Vargas, Jeremy Guthrie, Danny Duffy and Edinson Volquez, who was signed as a free agent. The Royals do not appear to be in position to re-sign James Shields. But Finnegan, ranked by MLBPipeline.com as the Royals' No. 6 prospect, will still be given a shot to help fill the void.
"We're going to stretch him out in Spring Training and see what we've got, go from there," Royals manager Ned Yost said at the Winter Meetings. "It's easier to stretch a guy out to see what you've got, back him down if you want to put him in your 'pen. Exactly where he's going to start, I don't know. We'll find out what we see. He's going to be a good one for a long time. He's got tremendous poise, tremendous stuff, and what an addition to our club in September when he came up."
Finnegan said he is just ready to get back out there.
"They tell me I'll start Spring Training as a starter, but however I break camp that's just depending on what they need," Finnegan said. "I could break camp as a bullpen guy, and that would be completely fine. Or maybe as a starter. I just have to earn a spot. They said there's a chance. I'm hoping I can stay up with the big league team, but it all depends on how I perform."
T.R. Sullivan is a reporter for MLB.com. Read his blog, Postcards from Elysian Fields, and follow him on Twitter @Sullivan_Ranger. This story was not subject to the approval of Major League Baseball or its clubs.