MLB.com Columnist
Bernie Pleskoff
On the Cusp: San Francisco Giants
Crick, Susac among top prospects who could impact big league club in 2015
As I've heard it explained -- and I totally agree with the explanation -- the Giants do a tremendous job of taking the first three months of the season to evaluate their roster. Without panic, they go about the business of filling in parts. Their Top 20 Prospects may help in that process in the 2015 season.
Kyle Crick | RHP | 6-foot-2, 220 pounds | No. 1
Crick is a former first-round pick in the 2011 First-Year Player Draft. He has a big, strong arm and can bring his fastball to the 97-98 mph mark. When I saw him in the 2013 Arizona Fall League, the ball came out of his hand with ease as it burst upon the hitter with late life. However, his secondary pitches, primarily a slider and changeup, still need work. Poor command has led to a high walk rate. The strikeouts are impressive. Still only 22, he may need more time in development and may work in relief at some point.
Andrew Susac | C | 6-foot-1, 215 pounds | No. 3
An impressive and multi-tooled right-handed hitter, Susac made his big league debut last season and hit .273 in 95 plate appearances. He could likely be a starting catcher on many clubs, but Buster Posey owns that role for now in San Francisco. Susac is an excellent defensive catcher with polished skills and an ability to shepherd a good game for his pitchers. He will be an able backup waiting patiently in the wings.
Ty Blach | LHP | 6-foot-1, 210 pounds | No. 6
A former Creighton Blue Jay, Blach could surprise some with an entry to the Giants rotation, especially if left-handed help is needed during the season. He pitched at Double-A Richmond last year and threw to a 3.13 ERA in 25 starts covering 141 innings. He throws a fastball at 90-94 mph, a very good changeup and a curveball. Intelligent and poised on the mound, he has good command and uses the entire plate.
Clayton Blackburn | RHP | 6-foot-2, 260 pounds | No. 7
Big and strong, Blackburn has dealt with injuries in the past, but like Blach, could offer some midseason help. Throwing his fastball from the high 80s to the low 90s, he has a strong curveball that is probably his best pitch. He also throws a slider and changeup. A swing-and-miss pitcher, he can induce ground balls and sequence his pitches very well.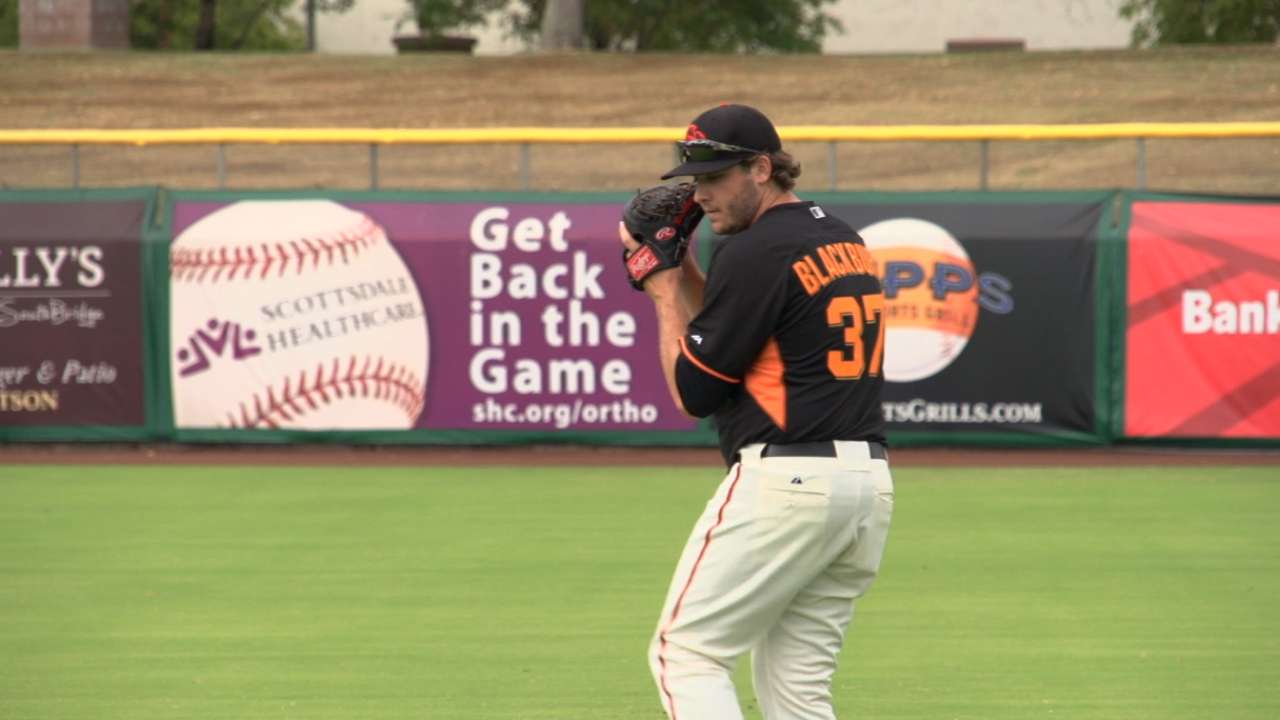 Chris Stratton | RHP | 6-foot-3, 186 pounds | No. 8
With a bit of time missed early in his career due to a concussion, Stratton has established himself as a potential middle-of-the-rotation starter with a live fastball at 89-95 mph and effective two-seam sinker. He also throws an average slider and a changeup. His high walk rate holds him back and finding control will help him turn the corner for a big league call.
Steven Okert | LHP | 6-foot-3, 210 pounds | No. 10
Okert just completed a tremendous Arizona Fall League season where he was counted upon to hold leads out of the Scottsdale bullpen. A crafty lefty, the Giants might need him in their bullpen this season. He commands his 90-96 mph fastball extremely well. He can then mix in good sliders and changeups to keep hitters off-balance. Athletic and agile, Okert sports an effortless delivery and gets ahead of hitters well.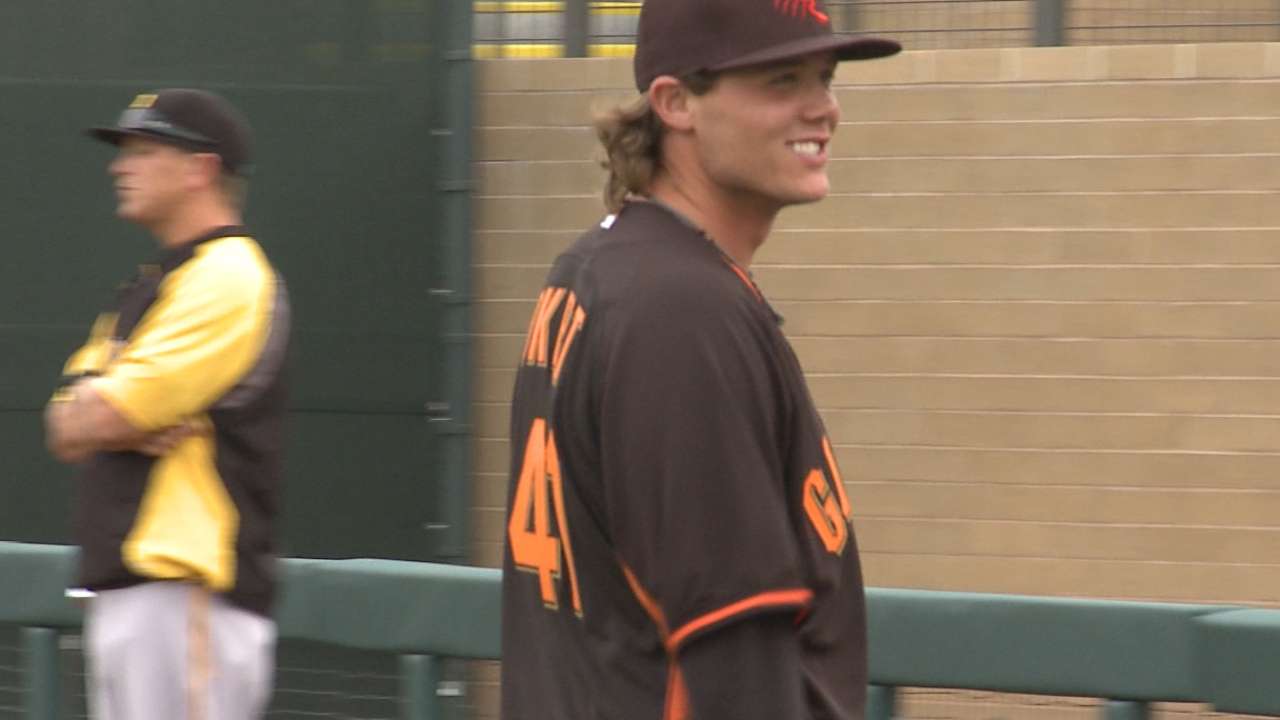 Hunter Strickland | RHP | 6-foot-4, 220 pounds | No. 13
Strickland yielded six homers in 8 1/3 postseason innings. However, he is a strong pitcher with good stuff. Even after having Tommy John surgery, he can bring the ball to 100 mph. He pairs his fastball with a slider and changeup.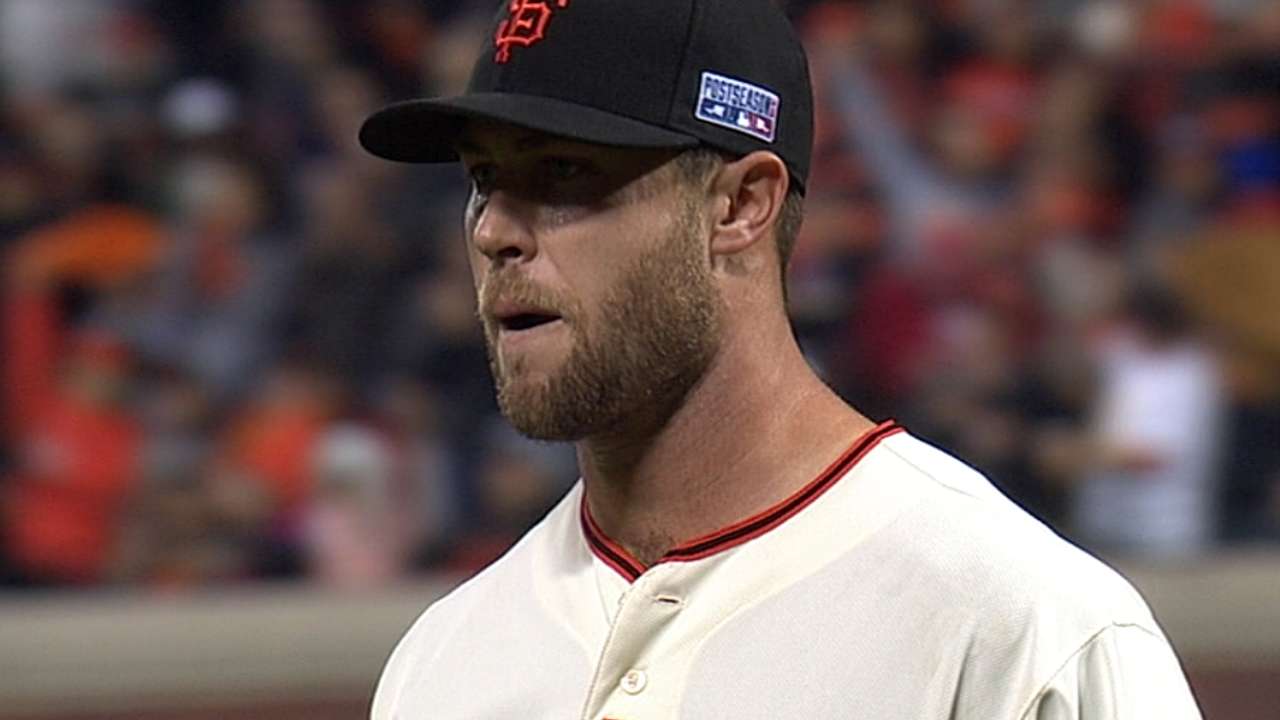 Derek Law | RHP | 6-foot-2, 210 pounds | No. 16
After a sparkling beginning at Double-A Richmond, Law had Tommy John surgery this past June. He may be able to return to the mound in midseason. He throws a fastball (89-92 mph) and curveball combination that can work well in middle relief. Spotty control can be an issue.
Matt Duffy | SS | 6-foot-2, 170 pounds | No. 17
An average defender, right-handed-hitting Duffy provides good insurance at shortstop with a solid bat and good defense. He saw time for the big league club last year and hit well. He could serve in a utility infield role if needed.
Other possibilities: RHP Cody Hall and OF Gary Brown.
Bernie Pleskoff has served as a professional scout for the Houston Astros and Seattle Mariners. Follow @BerniePleskoff on Twitter. This story was not subject to the approval of Major League Baseball or its clubs.