MLB.com Columnist
Richard Justice
Selig goes out on top in final day as Commissioner
New York Baseball Writers Dinner a perfect way to say goodbye
NEW YORK -- Bud Selig might just remember it as one of the best evenings of his life. His emotions bubbled to the surface a time or two, but there were also waves of laughter and joy in his final hours as Commissioner on Saturday night.
This surely is as good as he could have hoped for, a bittersweet moment in which the game he reshaped was celebrated and the man himself was showered with affection and respect as he formally turned the Commissioner's position over to Rob Manfred to start a new chapter in the game's history.
In that way, the New York Baseball Writers' Association of America Dinner was the perfect way to say goodbye. Manfred is baseball's 10th Commissioner after spending 16 years as Selig's point man on labor relations and other issues. He arrives at the job as prepared as he could possibly be, both in terms of style and substance. When he arrives at work Monday morning, he'll bring a lengthy to-do list, including quickening the pace of games to continuing to incorporate technology into the fan experience to getting new ballparks for the Athletics and Rays.
Beyond all of that, though, will be the task of continuing the remarkable growth and prosperity of recent years in everything from attendance to competitive balance to labor relations.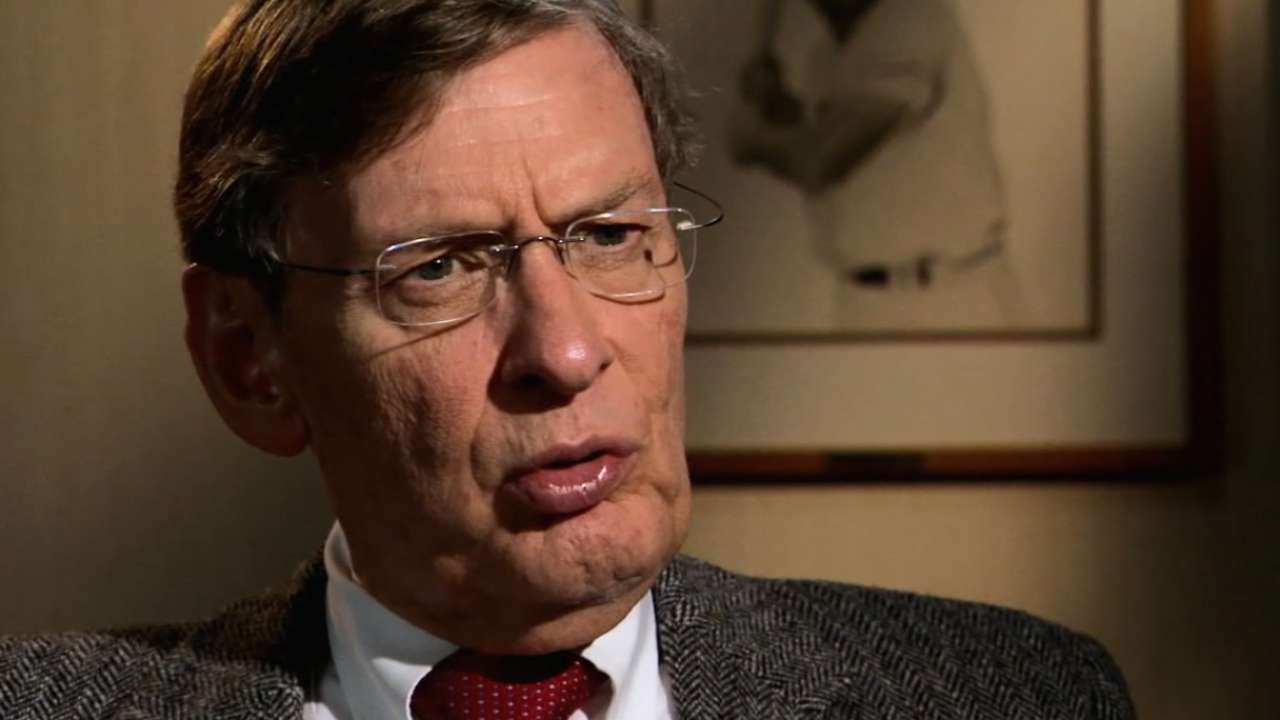 "There isn't a doubt in my mind that Rob will be a great Commissioner," Selig said.
On Saturday night, Manfred helped offer a final tribute to his former boss. So did plenty others. Selig was surrounded by his heroes, past and present -- reminders of why he fell in love with the sport in the first place and why he loves it still today.
Sandy Koufax whispered warm words. Willie Mays was there, too, with a handshake and a smile. His old buddy Frank Robinson was his usual irascible, lovable self. Clayton Kershaw accepted the National League Cy Young and Most Valuable Player Awards with emotion and humility. Brett Gardner and Corey Kluber and Mark Teixeira and Buck Showalter and a long list of others were among the award winners.
Kershaw left the bedside of his wife Ellen after the birth of their first child to accept his honors. He choked back tears when he spoke of his wife, but also gave an extraordinary acceptance speech in which he thanked everyone from his coaches to the clubhouse attendants.
He even brought up his October troubles when he said: "I'd like to thank the St. Louis Cardinals for reminding me you're never as good as you think you are." Koufax said of Kershaw, "He's a great teammate. They expect to win because of him and want to win for him."
Teixeira was honored for donating more than $1 million for his Harlem RBI program that has become an amazing success story in terms of graduating kids from high school and getting them college opportunities.
Mike Trout, the American League MVP Award winner, was honored, too, with Angels general manager Jerry Dipoto saying, "He has been the best player in baseball the last three years. At 20, you could argue he had as big an impact as any player in the game."
For Selig, a man who has spent his entire adult life in the game, a man who has poured his heart and soul into the game from about the time he took his first step, every button was pushed.
Selig was honored for his "long and meritorious service to the game." That service began with his simply loving the game and became a lifelong passion when his beloved Braves left Milwaukee after the 1965 season.
His obsession became getting another team for Milwaukee, and that he did with the arrival of the Brewers in 1970. Thus began a baseball life, first as owner of the Brewers for 22 years, and then 23 more as the game's ninth Commissioner.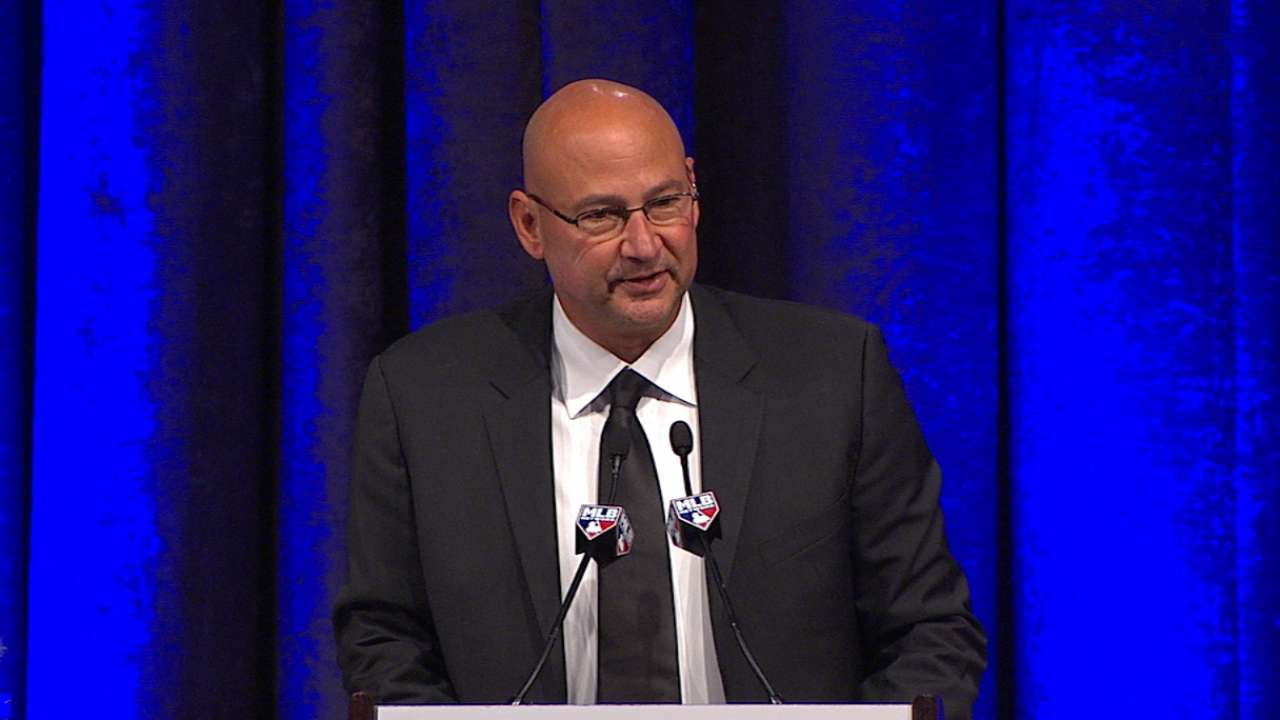 "If you have a chance to spend 30 seconds with Mr. Selig, his love of the game is obvious," Indians manager Terry Francona said. Manfred called Selig "a moral compass for our game."
Finally, it was Selig's turn to speak for the last time as Commissioner. He remembered Ernie Banks and reflected on five decades in the sport. He spoke of skipping school to buy an obstructed-view ticket to watch his Braves win the 1957 NL pennant. He spoke of leading baseball from the darkest hours of labor unrest to the place it is today.
"I wasn't bold enough to dream of a role [in] bringing big league baseball back to my hometown," he said. "Nor the opportunity to lead this sport for 23 years. It's incredibly humbling …
"It has been the highest privilege to lead our National Pastime to a sport that links generations, buffers the passage of time and continues to reflect the spirit of our great country. A little boy's dreams did come true."
Richard Justice is a columnist for MLB.com. Read his blog, Justice4U. This story was not subject to the approval of Major League Baseball or its clubs.