Selig gets sendoff with BBWAA honor
Outgoing Commissioner given Long and Meritorious Service Award
NEW YORK -- In one of his last official acts as Commissioner, just hours before stepping down from the position that he held for 23 transformative years, Bud Selig accepted yet another honor Saturday night.
He was given the Long and Meritorious Service Award at the annual New York Baseball Writers' Association of America dinner at the New York Hilton. Then, at the stroke of midnight, he officially became the first Commissioner Emeritus in baseball history as Rob Manfred, who was his presenter, took over as the game's 10th Commissioner.
Selig was reflective. He received a standing ovation from the sellout crowd both before he began and after he concluded his remarks.
"As a kid, I loved baseball and dreamt of making a life in the sport," he said, adding that back then, he never could have imagined bringing baseball back to his hometown of Milwaukee or becoming the second-longest serving Commissioner.
"When I began in this position in 1992, the game faced fundamental challenges. We needed to get creative in order to finally and dramatically address them. I'm proud to say this is a sport no longer resistant to change."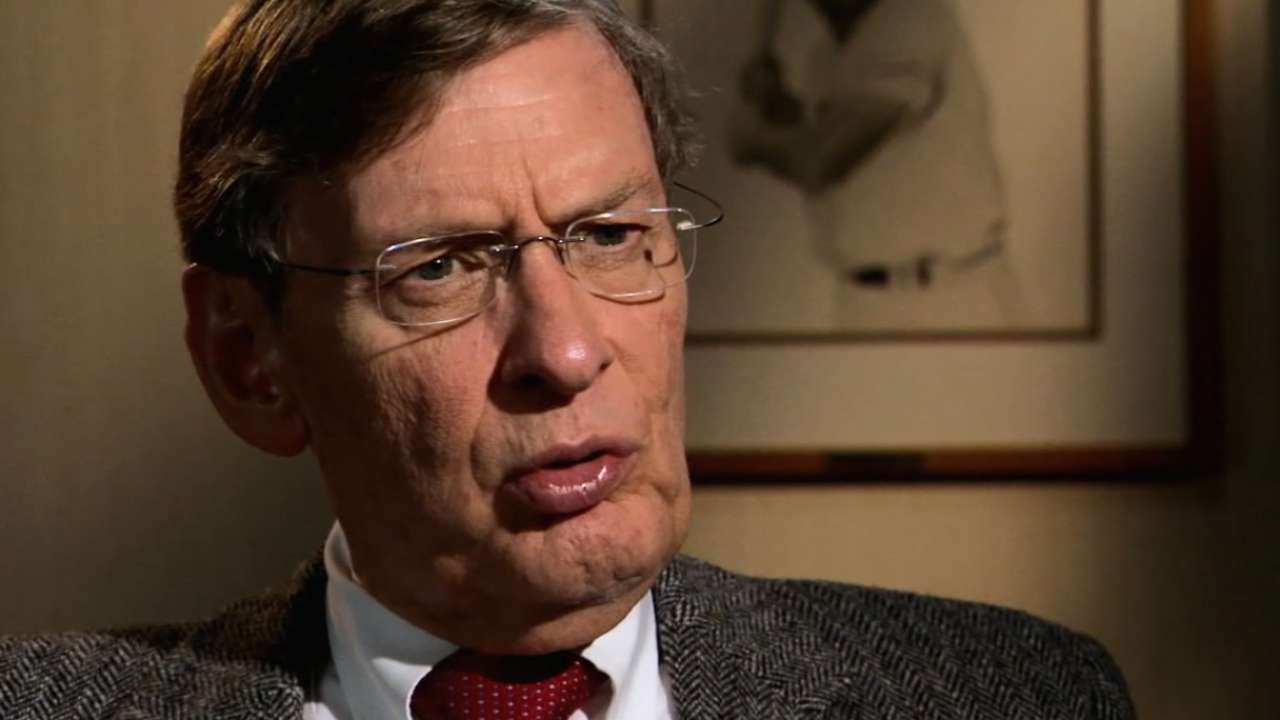 In introducing Selig, Manfred enumerated many of those changes. Splitting the leagues into three divisions. Adding a Wild Card, and then another. The creation of MLB.com and MLB Network. More than two decades of labor peace. Expanded video replay. Attendance records, 22 new ballparks and revenues that exploded to over $9 billion a year. His commitment to charitable works.
"More important, he was a moral compass to our game," Manfred added, noting it was Selig who took the initiative to authorize the Mitchell Report to research how widespread the use of performance-enhancing substances actually was. Baseball is now acknowledged to have the best drug testing program of any major professional North American sport.
"Along the way, we learned from the hard times," Selig said. "When we got knocked down, we got back up. We have a constructive rapport with our players that keeps the focus on the field and allows us to grow the game together. Most importantly for our fans, our sport's revamped economics give all of our clubs a legitimate hope and faith -- key words, hope and faith -- to compete for the World Series. And fans have responded to competitive balance in record fashion.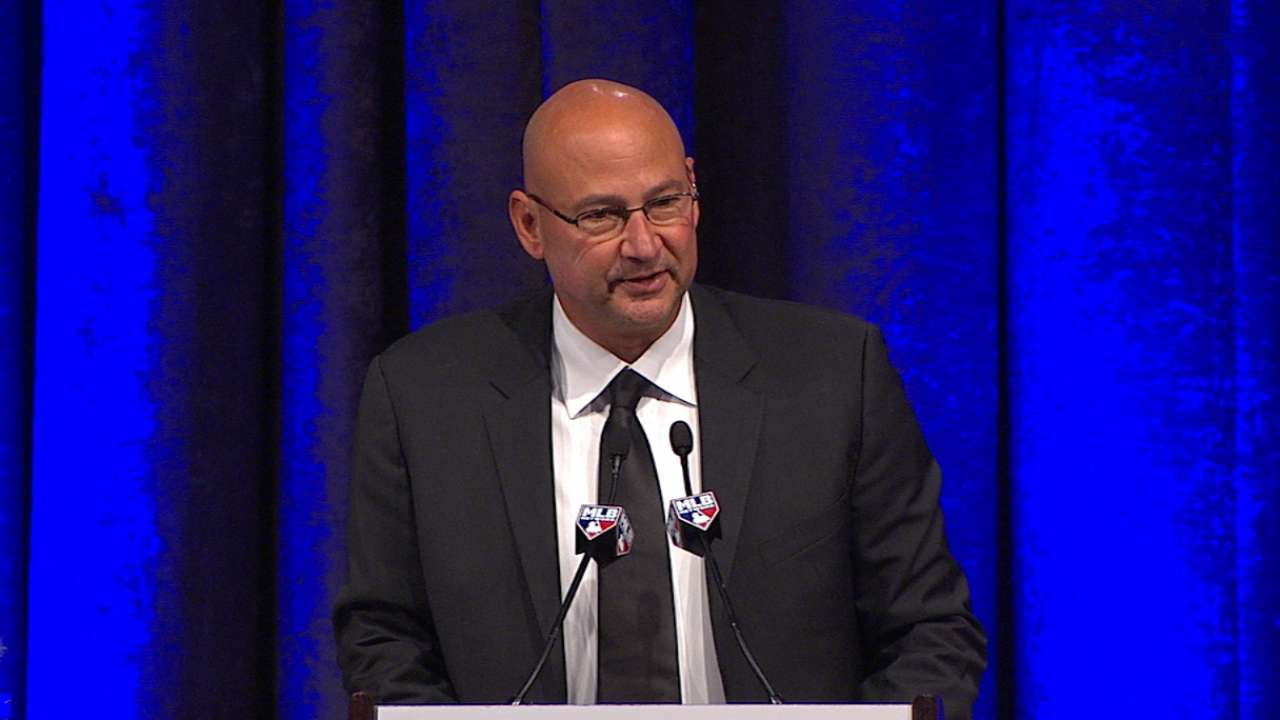 "As I prepare for a new view of the greatest game in the world, I thank all of the fans who will forever be the heartbeat of baseball." Selig also thanked his wife, Sue, his three daughters and five granddaughters.
"To borrow a line from the great Lou Gehrig, my family has always made me feel like the luckiest man on the face of the earth," he said. "It has been the highest privilege to lead our national pastime, the sport that links generations, buffers the passage of time and continues to reflect the spirit of our great country.
"This is one of the rare times on the incredible journey I've been on that a little boy's dreams have come true."
There were several other honorees, including the BBWAA award winners: Dodgers left-hander Clayton Kershaw for winning both the National League Most Valuable Player and Cy Young awards, American League MVP Mike Trout of the Angels, Indians right-hander Corey Kluber for the AL Cy Young, Rookies of the Year Jose Abreu (White Sox) and Jacob deGrom (Mets) and Managers of the Year Buck Showalter (Orioles) and Matt Williams (Nationals).
Kershaw had the line of the night. After thanking a long list of people for their roles in helping him become baseball's most dominant pitcher, he closed by saying, "And thank you to the St. Louis Cardinals for reminding me you're never as good as you think you are." The Cards, of course, beat Kershaw twice in the NL Division Series to knock the Dodgers out of the postseason.
The New York chapter annually presents several awards of its own. This year, Cal Ripken Jr. and Pete Frates were presented the You Gotta Have Heart Award. Frates had previously been recognized by Major League Baseball for initiating the Ice Bucket Challenge, which helped raise millions of dollars for ALS research last summer. ALS is also known as Lou Gehrig's disease and it was Ripken who broke his record for consecutive games played.
Selig has had a busy final week in office. Last Saturday in Los Angeles, he was feted by the Professional Scouts Association, and the following day in St. Louis, he received the Red Schoendienst Award, the highest honor that can be bestowed by the St. Louis BBWAA chapter.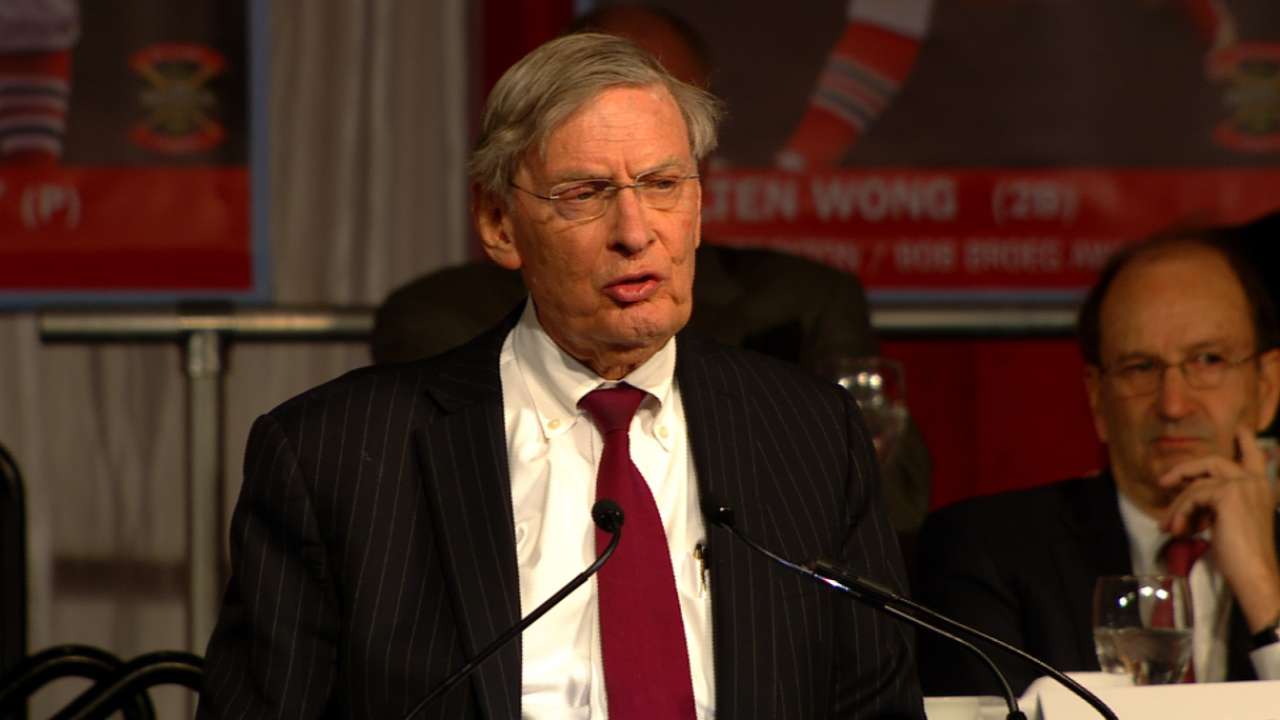 He came to New York on Friday to speak to MLB employees and then attended Saturday night's dinner. And he isn't quite through yet. He's scheduled to tape an interview at Yankee Stadium with Charlie Rose on Monday.
Selig may be retiring, but he's clearly not slowing down. He's already announced plans to teach college courses, work on his memoirs and, of course, be available to assist baseball in any way he can.
Paul Hagen is a reporter for MLB.com. This story was not subject to the approval of Major League Baseball or its clubs.