Fans show their stripes at annual TigerFest
Sold-out audience brings high energy to greet Detroit's new-look roster
DETROIT -- The roster was a little different, the stars a little less familiar for some. The weather was a little warmer by late January standards. The response for TigerFest was very familiar.
The event sold out soon after tickets went on sale last month. A half-hour before gates opened Saturday morning, the lines to get in at Comerica Park stretched out to Woodward Avenue. Some were bundled up in heavy coats and gloves. Others challenged their tolerance for the cold so that they could wear their jerseys, including a few for new Tiger Yoenis Cespedes.
They weren't going to see Max Scherzer or Rick Porcello or Torii Hunter. They were eager to see David Price, Cespedes and other recent arrivals.
"Everywhere we've been, the energy has been unreal," Price said of the week on winter caravan and TigerFest, "and we're still three, four months away from the season starting. It's been a great three days."
For Price and others, it was eye opening. For others, it was nothing new.
"I was talking about this with a bunch of players," manager Brad Ausmus said. "I've been with a number of organizations, and been a part of their fan fests -- including the Detroit Tigers -- and this is by far the most well-attended, and well-organized fan fest I've been to. You don't get the type of response from fans in most cities like Tigers fans respond, in the middle of winter, to the Tigers. You just don't."
Like Opening Day, it's more than a celebration of baseball. For Michiganders, it's a harbinger of spring and warm weather ahead. More recently, it's a rekindling of hopes that the Tigers can do something in the fall.
They still came in with World Series aspirations, even if they had less confidence than in past years that Detroit would make the postseason in the first place amidst a division that has suddenly become hotly competitive. They've spent the winter watching the White Sox and Indians make major moves while the Royals revel in their American League championship. This was their turn to look at what they have.
"I'll lie in the weeds with this team any day," Ausmus said.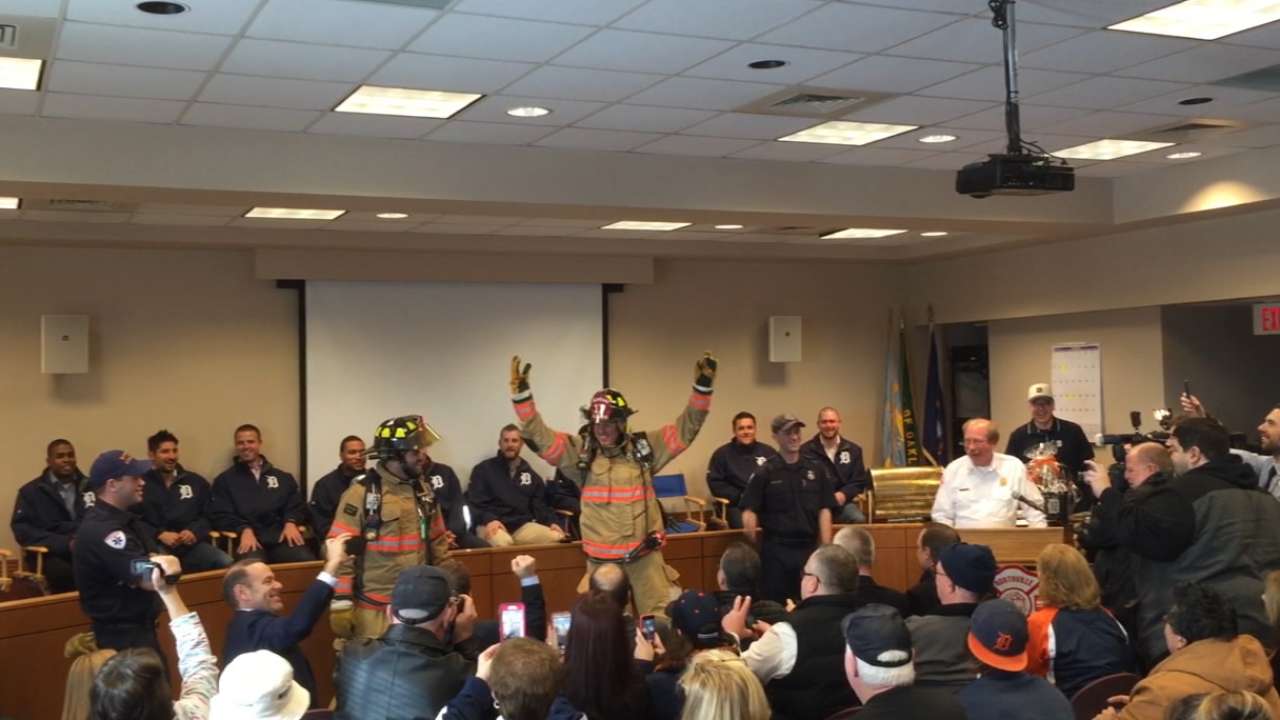 When asked about expectations during his annual session with fans, team president/general manager Dave Dombrowski said they haven't changed.
"Our expectations are to go and win the division, try to win a world championship. It's real simple," he said. "I think the biggest difference is ... it's just a less certain club. And when I say that, it's less certain in that there's more unknowns."
He ran down the list with fans, from Jose Iglesias' return after a lost season with stress fractures, to Miguel Cabrera's recovery, to Justin Verlander's attempt at a career rebound. Dombrowski acknowledged the unknowns, yet said he believed in them.
"They haven't seen Cespedes play," Dombrowski continued. "They haven't seen [Anthony] Gose play center field. They're never seen [Alfredo] Simon pitch. They don't know Shane Greene. They haven't even seen David Price pitch all the time. They haven't seen [Joakim] Soria. They don't know how [Bruce] Rondon is going to be.
"People say these are all question marks. Well, there's a difference. They're not really question marks to us. It's not like they can't play. It's just that they're unknowns. And I think with that, people are not quite sure how to take that. But in our situation, I feel very comfortable with our ballclub, and I really like our club. I think we have a chance to be very good."
.@DAVIDprice14 selfie in the Social Media Clubhouse! #TigerFest pic.twitter.com/BGS4VMVRIS

- Detroit Tigers (@tigers) January 24, 2015
For many, this was their chance to meet newcomers such as Simon, Cespedes, Greene and Gose, while getting to know Price for the first time after his stretch run in Detroit last fall. For others, the familiar faces of Verlander and Alex Avila were good to see.
For Price, the entire week made an impression. For guys like Verlander, it was a reminder.
"It's an exciting time for us," Verlander said. "It's fun to get up here. David and I were talking about it other day: All the young kids kind of got us going. They were really energetic and loud. That makes it fun. It gets us going too. It's a cool experience."
Jason Beck is a reporter for MLB.com. Read Beck's Blog and follow him on Twitter @beckjason. This story was not subject to the approval of Major League Baseball or its clubs.