Players, staff get up close with fans at Tribe Fest
Team expresses optimism on first day of weekend event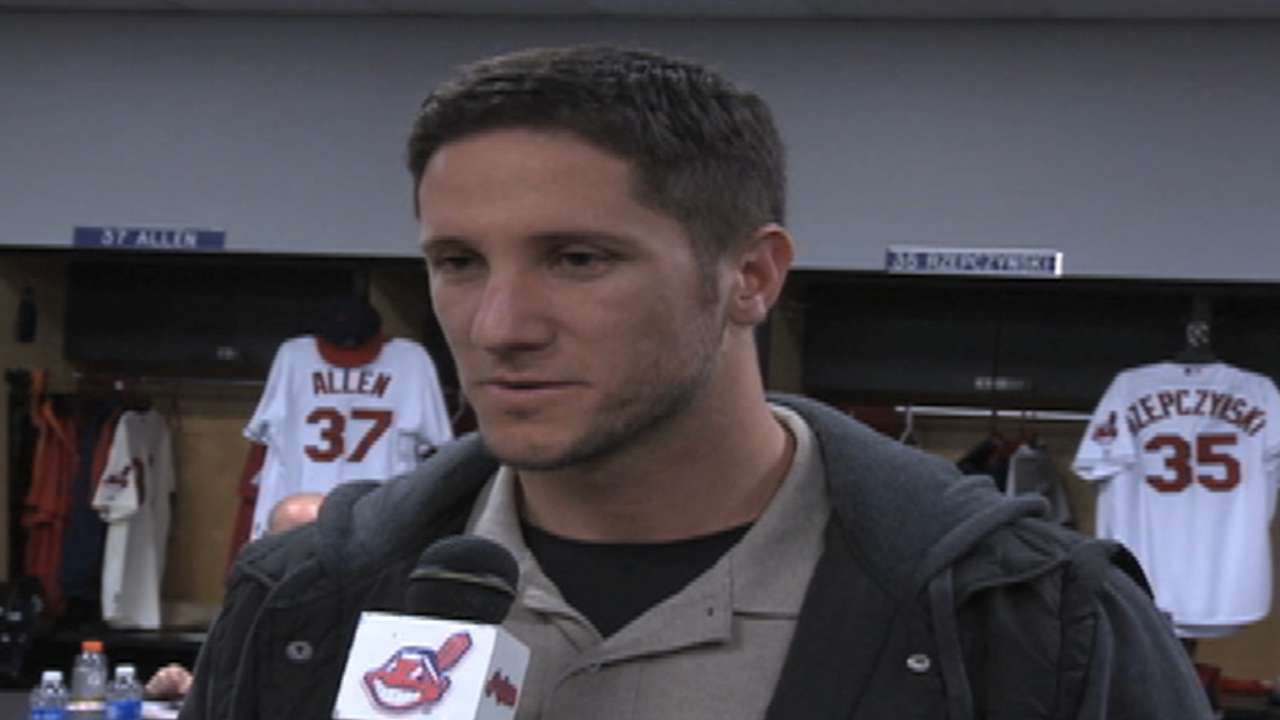 CLEVELAND -- Tom Hamilton waited patiently with a smile, signing every autograph and posing for each photo asked of him by the crowd that surrounded him Saturday morning at Tribe Fest. The radio voice of the Indians never once looked for an escape route.
Instead, Hamilton shook hands, accepted hugs and took a moment to appreciate how much the fans in attendance cared for him and the Indians. On the first day of the third annual event at Progressive Field, streams of Tribe diehards poured through the gates, enjoyed the behind-the-scenes festivities and expressed optimism about the season ahead.
"It always makes you appreciate how much the ballclub means to people," said Hamilton, who has called Indians games for the past 25 seasons. "Sometimes, when you're in it every day, you don't realize how special this team is, and baseball is, to people in this area. When you're at an event like this, I think it really gives you a much better feel, because you're one-on-one with the fans, which you normally aren't.
"I'm sitting up in a broadcast booth away from people. I think it's really neat to see how much enthusiam there is. This is a promising, young ballclub and I think people realize that. People are excited, and they should be. I think we lose sight of the fact that this is the first time since 2000-01 that we had back-to-back winning years. That's a long time."
A majority of Cleveland's players, including offseason addition Brandon Moss, were on hand for Day 1 of the two-day Tribe Fest event to interact with fans and sign autographs. Manager Terry Francona and general manager Chris Antonetti fielded questions during the morning session, and catcher Yan Gomes teamed with former catcher Sandy Alomar Jr. to talk about their craft.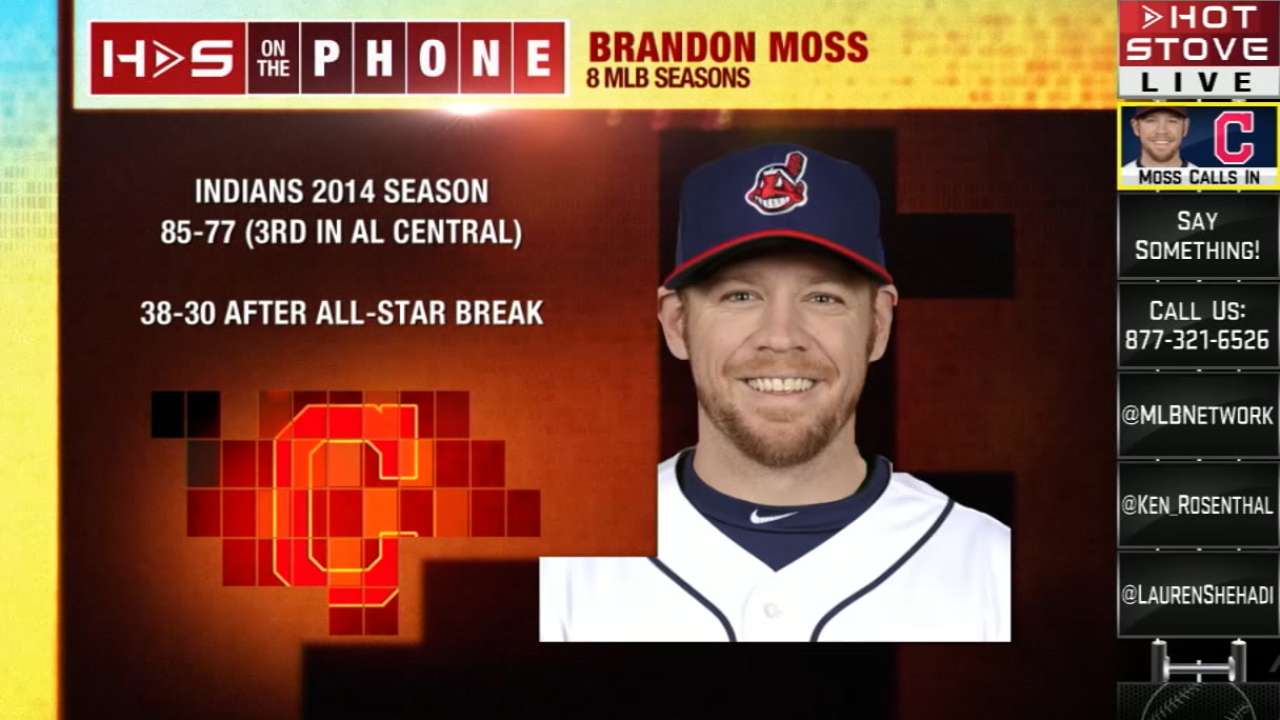 The Indians showed video clips of the ongoing renovations in center and right field and held a discussion with fans in the audience about the massive project. Tribe players Nick Swisher, Michael Brantley, Michael Bourn and Cody Allen also went up against four Cleveland fans in an entertaining round of "Tribe Feud," which was based on the popular game show, "Family Feud."
The festivities included games for kids, tours of the home clubhouse and a look inside the team's batting cages. It was also a rare opportunity for the Indians' players to get up close to their loyalists to discuss the team that is in place and the season ahead.
Tribe Fest will continue from 10 a.m. to 3 p.m. ET on Sunday, and team president Mark Shapiro is scheduled to sit down to chat with fans. Pitching coach Mickey Callaway and some of Cleveland's hurlers are also slated to hold a discussion on pitching, among other activities. Information about tickets, parking and autograph sessions can be found at Indians.com/tribefest.
It has been a relatively quiet winter for the Indians, but that has not shaken the team's confidence.
"We are under the radar. We are quiet," Brantley said. "I kind of like that. We have a great group of guys in this locker room that learned so much last year and we're going to look forward to putting it together this year in 2015, and coming together as one."
As Hamilton noted, last season's club won 85 games to clinch a second straight winning season for the first time in more than a decade. Cleveland made the playoffs as a Wild Card team in 2013 and remained in contention until the final weekend of the regular season in '14. Injuries and a reliance on young players took a toll on the Indians down the stretch last fall.
The Royals finished four games ahead of the Indians in the American League Central standings, grabbing a Wild Card spot and using it to make a run all the way to the World Series. If Cleveland has a clean bill of health and an even cleaner defense in the upcoming season, the team feels it has what it will take to close the gap.
"If you look at it, we didn't play very good defense last year," Brantley said. "I think defense really, really hurt us. And then with the guys we lost, our offense went down. It's no secret, if you don't have your main starters out there for a long period of time, you're going to have struggles and you're going to need people to fill in those roles.
"So, if we can just limit our errors, play flawless defense like we can and we're capable of, and we're going to work on it in spring, and go out there with our regular starters, we're going to be just fine."
Moss, who was acquired from Oakland in a trade on Dec. 8, said he is looking forward to hitting in the middle of the Tribe's order.
"I'm pumped about it," Moss said. "Obviously, there are a lot of names in this lineup and they've accomplished a lot. I've never been part of a lineup that has been this deep and has the potential to have so many good players. I'm excited about it."
The players were also happy to reunite in Cleveland this week, not long before the time comes to head to Arizona for Spring Training.
"This is the first time all of us have really gotten the chance to get around each other," Swisher said, "to see each other, to give each other a hug, and just kind of check in on our families and stuff. It's been a great [weekend] and I know all of us are super excited for what's to come."
Jordan Bastian is a reporter for MLB.com. Read his blog, Major League Bastian, and follow him on Twitter @MLBastian. This story was not subject to the approval of Major League Baseball or its clubs.