MLB.com Columnist
Terence Moore
Santana, Willis comebacks are worth rooting for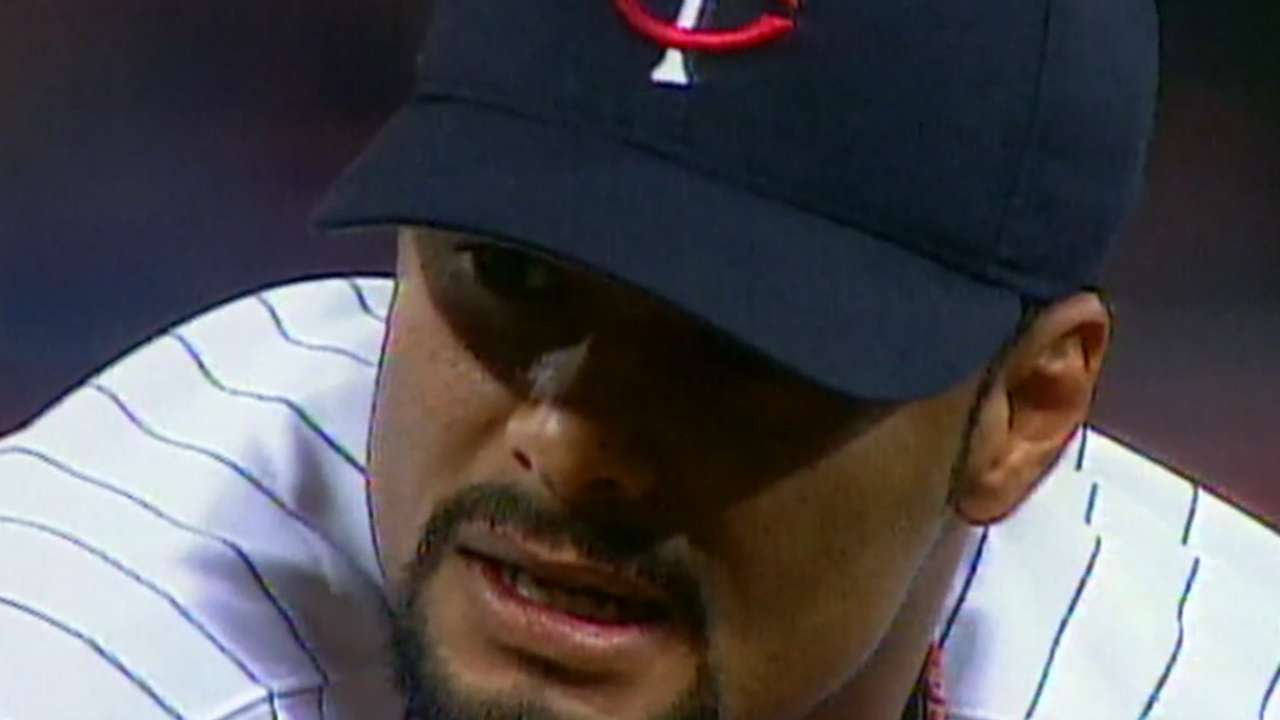 Whether you're into Dodger Blue, the Tomahawk Chop or anybody who plays his home games near a Green Monster, you can join the enlightened by cheering like crazy for Johan Santana and Dontrelle Willis.
You remember those guys. If not, they were pitching sensations flirting with Cooperstown, but they fell miles (and victories) shy of its city limits due to aches and pains. Now, they wish to become relevant again on a Major League mound, not only for themselves, but for those who realize there isn't anything more splendid in sports than a comeback story in baseball.
Remember Tony Conigliaro? One year, he nearly lost his eye after a fastball to the face. The next, he had the best hitting season of his career. Mike Lowell and Eric Davis prospered for years after surviving cancer scares.
Speaking of cancer, doctors found a tumor in Dave Dravecky's left arm, but he recovered to thrill a nation with a brief return to the mound. Jon Lester was more fortunate than that. After he was diagnosed with lymphoma in 2006, he pitched a no-hitter two years later. He later helped the Red Sox win two World Series championships, and he made his third trip to the All-Star Game last season along the way to signing with the Cubs for megabucks.
We also can't forget Tommy John, since he is among the poster children in sports history for never giving up. Once, he damaged the ulnar collateral ligament in his left pitching elbow, underwent an unprecedented surgery to have it replaced and climbed Major League mounds with authority for the next 15 seasons. He had the procedure named after him, and it has resurrected more than few pitching careers since.
You've probably noticed a bunch of pitchers in these comeback stories -- which brings us back to Santana and Willis.
Cheer for them ... please.
Santana is 36 and hasn't thrown a Major League pitch in three years. Willis is 33, and he hasn't done so since 2011. They both were huge deals during the earlier part of their careers. Then the disabled list became their companion. Through it all, they both sought to regain their magic on the mound with teams other than their original one. It's just that they both slide into that baseball purgatory where you aren't quite retired but you remain a ways from wearing big-time cleats again for battle.
Now, they've both returned as pitching warriors.
Well, almost.
Actually, we don't know, but we can hope.
Santana was so dominant for much of his eight years with the Twins through 2007 that he forced another Major League pitcher to change his name. Literally. The other Johan Santana was a rising prospect in the Angels farm system, but when he determined the Twins guy was becoming the Johan Santana, he changed his first name to "Ervin."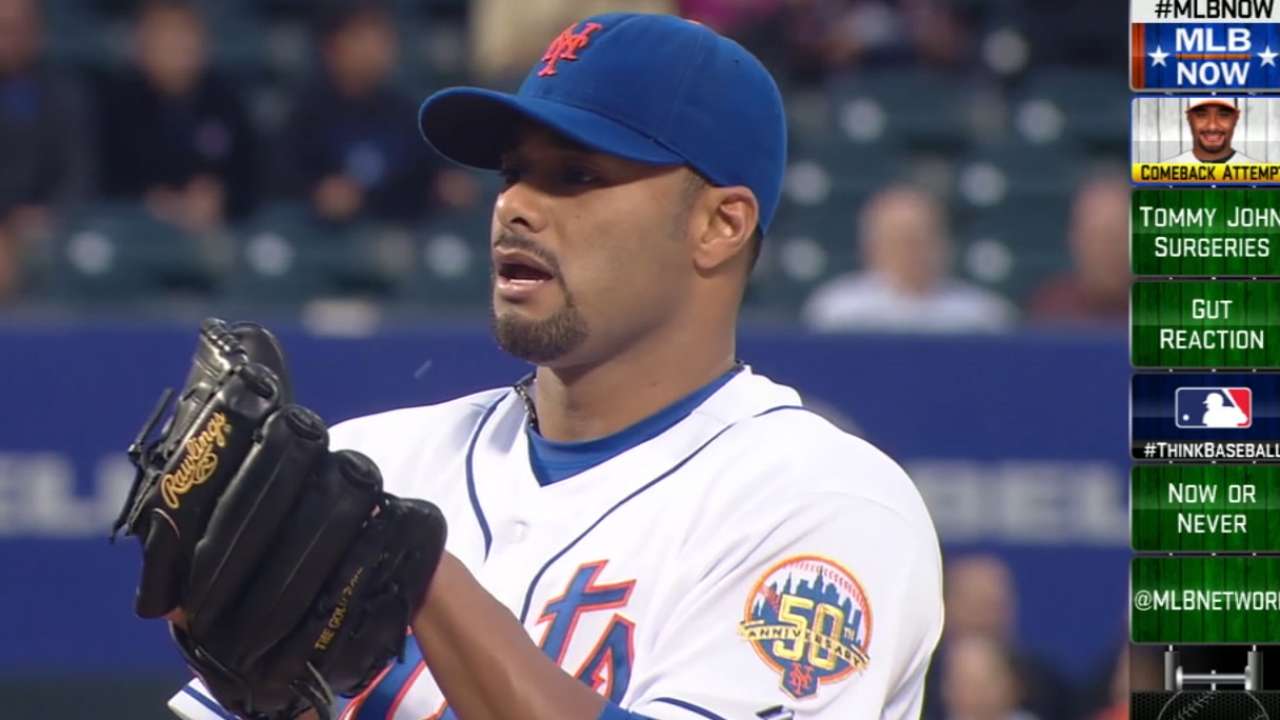 There was 2004, for instance. The Twins' Johan Santana went 13-0 during the second half, and that included 10 straight games in which he allowed four or fewer hits. Two years later, he led the Major Leagues in ERA and in strikeouts, and he tied Chien-Ming Wang for the baseball high in victories with 19. He captured two Cy Young Awards by the time he was 28. In the minds of many, this Santana was on the verge of several more.
Those other Cy Young Awards never came. In fact, after Santana was traded to the Mets in 2008 to become their designated savior, he dropped from pretty great to pretty good for the next three seasons. He eventually missed all of the '11 season due to shoulder issues. But he recovered well enough the following year to throw the first no-hitter in Mets history. That joy didn't last long for Santana, because it was replaced by misery, stretching from his lower back to his pitching shoulder to even his feet.
The Mets eventually bought out Santana's contract after the 2013 season, and he was signed last June by the Orioles for extended spring training. He tore his Achilles tendon. That's why he has spent that last few weeks in the Venezuelan Winter League with hopes of returning to the Major Leagues. He was making progress until he suffered a sore shoulder last week.
Santana vows to keep pitching. The same goes for Willis, among baseball's top feel-good stories of recent decades.
Willis came out of nowhere for the Marlins in 2003 as a young pitcher with a goofy throwing motion and an electric personality only to win the NL Rookie of the Year Award. He even had a nickname (D-Train), and you know how baseball is in love with nicknames. In 2005, he went 22-10 to finish second in NL Cy Young Award voting, but he did capture Warren Spahn Award honors as the best left-handed pitcher in the league.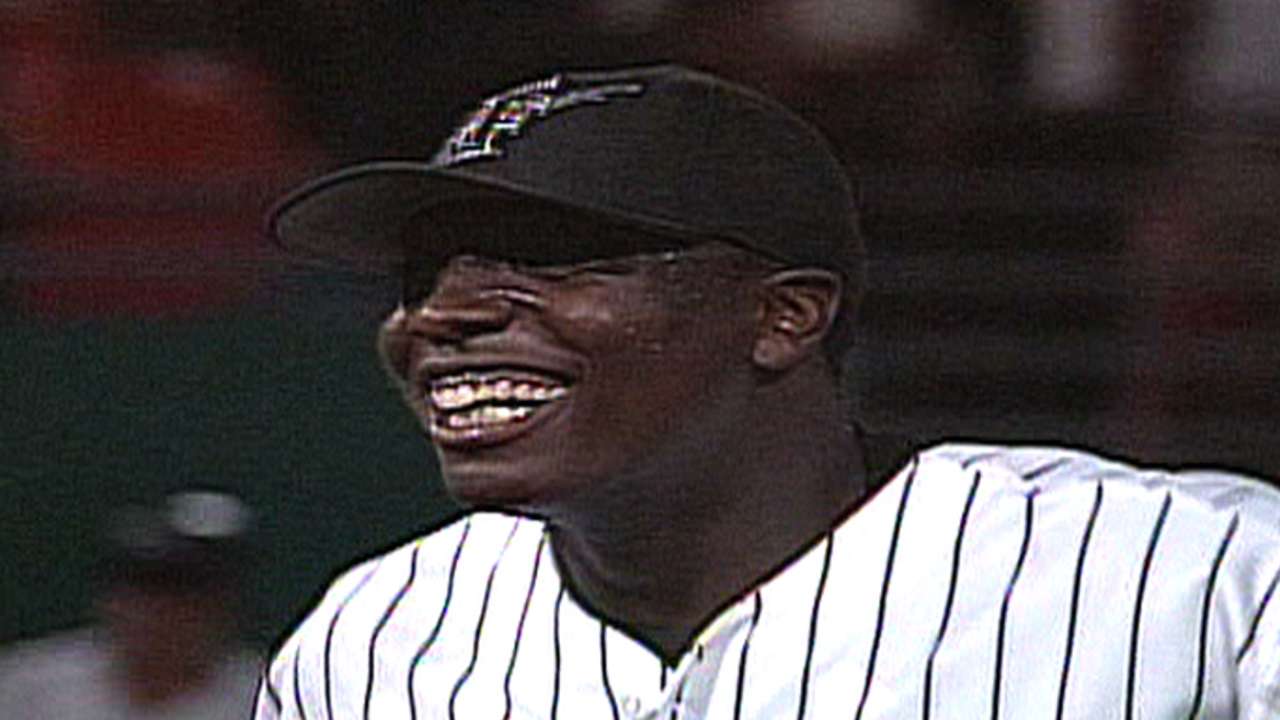 Back then, Willis' future looked as bright as that of Santana, but along came his trade to the Tigers in 2007 with Miguel Cabrera. While Cabrera grew in stature, Willis went from the starting rotation to the bullpen to the Minor Leagues. He couldn't control his pitches. Mostly, he couldn't get anybody out, and he was diagnosed with anxiety issues.
There also were Willis' physical issues after he was traded by the Tigers in June 2010 to the D-backs to begin his swing through much of the Major, Minor and Independent leagues. Giants (twice). Reds. Phillies. Orioles, Cubs. Angels. Then came this week, when the Brewers signed Willis to a Minor League contract, with an invite to their spring camp.
Good.
Good for Willis and good for Santana, who also wishes to reach a Major League camp. And, if they both become their glorious pitching selves of a decade or so ago -- good for everybody.
Terence Moore is a columnist for MLB.com. This story was not subject to the approval of Major League Baseball or its clubs.