Molitor set to focus on defense, baserunning in spring
Skipper anticipates competitions in spring before locking down lineup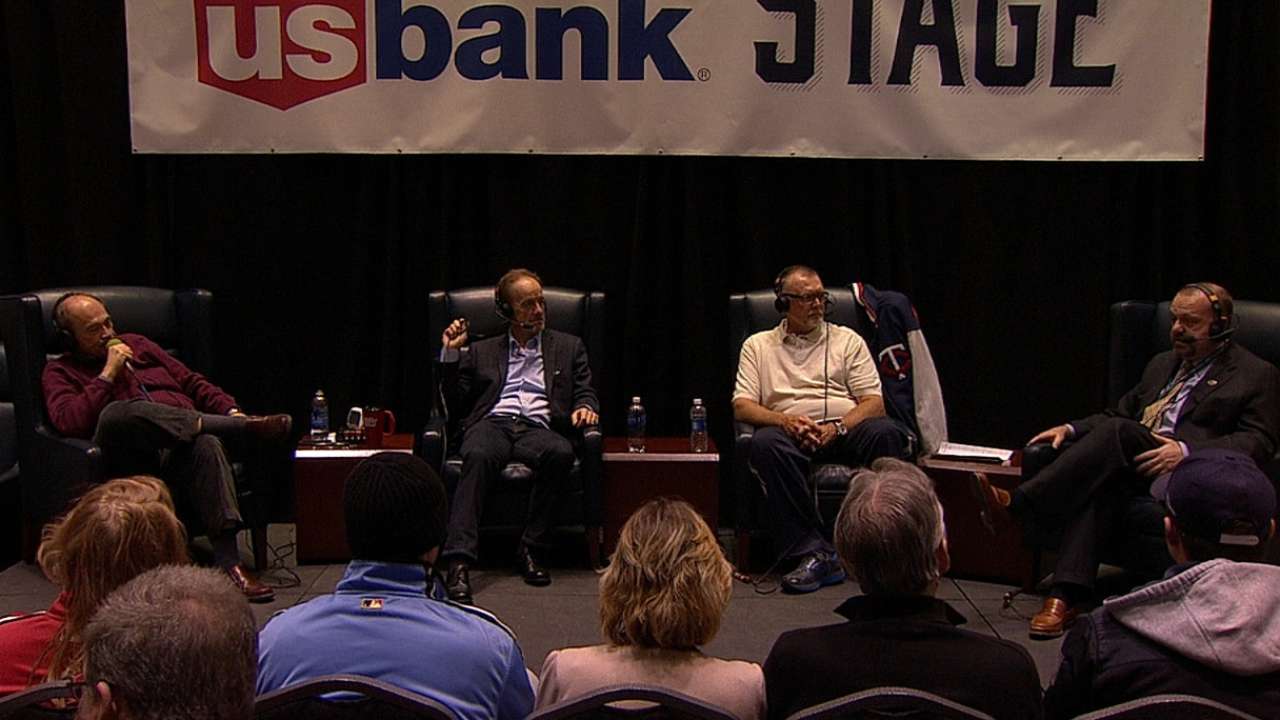 MINNEAPOLIS -- Paul Molitor has already been hard at work planning his first Spring Training as Twins manager and said there will be tweaks from former manager Ron Gardenhire's format.
Molitor, who has been working with bench coach Joe Vavra, said some of the core tenets of the program will remain the same, but there are issues he feels need to be addressed, especially with baserunning and defensive alignments.
"We're going to have some different looks," Molitor said. "We're going to address pickoff plays and do some things we need to do to slow down the other team. And I plan to address baserunning from Day 1 in Spring Training. So I'll spend time with the position players to establish some points on what I want us to do. And discuss a few things on cutoffs and relays."
Molitor said he expects the workouts early in the spring to go a bit longer than in years' past, as they have a lot of early morning meetings planned the first week to get everyone situated. But Molitor said he'll be careful not to overwork the players in the early going. The first workout for pitchers and catchers is set for Feb. 23 with the position players beginning their workouts on Feb. 28.
"I think, potentially, some of the first few days are going to be extended a little bit," Molitor said. "But I want to be respectful and not lose the guys and have things you're teaching not be received very well."
Molitor also said there will be position battles at shortstop, center field and at backup catcher behind Kurt Suzuki. Danny Santana, who had a breakout rookie season while mostly playing center field, will head to camp competing for the starting shortstop job with incumbent Eduardo Escobar, while Aaron Hicks will compete with Jordan Schafer in center field.
But Molitor said nothing is set in stone, as Escobar had a solid year and said during the Diamond Awards on Thursday night that he wants to be an everyday position player.
"We have question marks at shortstop, center field and potentially utility infielder and backup catcher," Molitor said. "Obviously, I have to go in there open-minded about how it will play out. I can't say Santana will be the shortstop because things can change. Escobar deserves an opportunity to play and whether it's spotting around the organization or he has to go back to shortstop, I can't tell you it all will work out."
Molitor added that it's hard to predict what the lineup will look like on Opening Day because there is still so much that has to be sorted out.
"There's going to be competition," Molitor said. "People ask what the starting lineup is going to be and I think it's somewhat comical until we see what goes on down there."
Rhett Bollinger is a reporter for MLB.com. Read his blog, Bollinger Beat, and follow him on Twitter @RhettBollinger. This story was not subject to the approval of Major League Baseball or its clubs.