Opening Day: Manfred takes over as Commissioner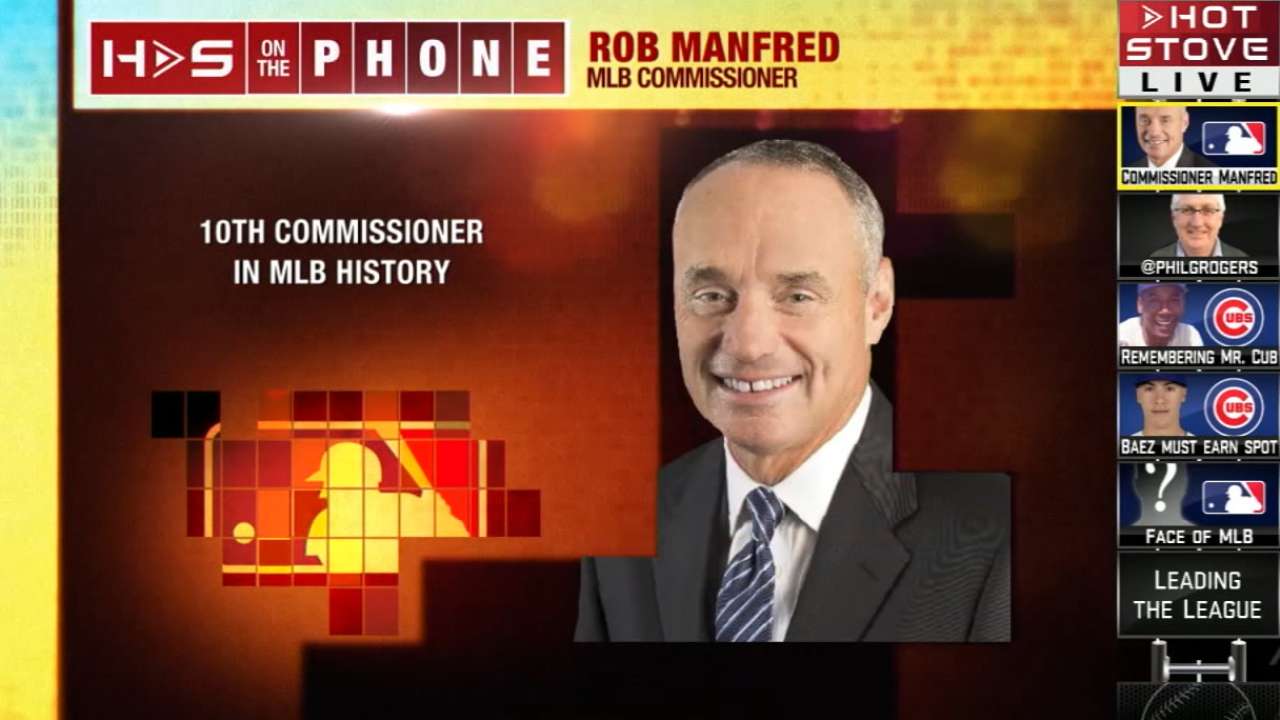 When Rob Manfred arrives at 245 Park Ave. in New York on Monday morning, it will be almost like nothing has changed. He'll take the elevator to Major League Baseball's headquarters on the 31st floor. He'll walk to the same office he's been in for years.
Everything has changed, of course. Manfred became baseball's first new Commissioner in 23 years at 12:01 a.m. ET Sunday morning when Bud Selig officially retired from the role. It was a momentous occasion for the sport.
Manfred insists there's nothing symbolic about his decision to continue to occupy the same space. "I just like it," he said.
Whether he meant it to or not, though, it says a lot about Manfred. His lack of pretense. His commitment to making this transition as seamless as possible. His down-to-earth sensibility that neatly reflects his predecessor's everyman persona. Selig famously has a hot dog at Gilles almost every day he's in Milwaukee. Manfred's favorite ballpark food: a hot dog.
He will ultimately put his own stamp on the office, though. "One piece of advice that I will keep in mind is, 'Trust your instincts and be your own guy.' And I intend to do both," the 56-year-old said.
Manfred's vision as he ascends to baseball's most powerful position has three key components.
"First of all, we're going to make a major effort to work with the youth aspect of our fan base," he said. "We need to do everything we can to encourage their participation. And we need to make sure parents and grandparents are getting kids into the ballpark at an early age so we can continue to pass down, what I consider, our great game from generation to generation.
"Secondly, I think we're very fortunate that [MLB president for business affairs and media] Bob Bowman has built a really world class technology company [Major League Baseball Advanced Media], and we need to apply the resources available to bolster our in-park experience and our broadcast -- to give our fans the fullest possible enjoyment and engagement with our game.
"Third, and this one is a continuation, but I'm a big believer in the idea that baseball, like all institutions, needs to continue to modernize itself consistent with the traditions of the game. I think instant replay is a good example of that effort, and I think the next wave of it is going to be our efforts to deal with pace of game, lack of offense and issues such as that."
He'll also inherit some thorny problems: the dispute over how the Orioles and Nationals should split revenues from the Mid-Atlantic Sports Network; the Giants' opposition to the Athletics moving to San Jose; a new stadium for the Rays.
The owners who unanimously elected Manfred in August believe he has what it takes to handle whatever is tossed his way, while continuing the dramatic growth of what has become a $9 billion industry.
"I don't think [Selig] was a small-market guy, I don't think he was a big-market guy. And Rob is a lot the same way. That's why we supported him," Yankees managing general partner Hal Steinbrenner said during the recent Owners Meetings. "He has tough shoes to fill ... but Rob is definitely the man for the job. He understands all aspects of the business because he was involved in all aspects. And he's not a big-market or small-market guy, either. He's going to do what's best for baseball as a whole."
Frank Coonelly talked about Manfred's smarts, his passion for baseball and his capacity for bringing disparate groups together.
"He's got a tremendous amount of intellect," the Pirates president said. "That's the first thing that strikes you. But for me, one, he knows the game and loves the game. And he has the ability to be creative and innovative in addressing the issues and solving the problems in the game of baseball. He really turned around the labor relationship of Major League Baseball, taking us as an industry having admittedly the worst labor relations of any professional sport to a very progressive and creative relationship with the Players Association.
"He did that by building personal relationships and professional relationships and demonstrating to the Players Association, and the players ultimately, that he's somebody who can be trusted. And that's important. Somebody who can be trusted and somebody who can really listen to and understand the issues that the other side brings to the table, which is important. Most of us are pretty good at talking but not nearly as good at listening. Rob's a very good listener and he really does try to understand the other side's position and then tries to find a solution that's a winner for everybody."
That passion for baseball began when Manfred was 9 years old. On Aug. 10, 1968, Manfred's parents, Robert Sr. and Phyllis, took him to Yankee Stadium to see the home team play the Twins. Mickey Mantle homered twice off Twins left-hander Jim Merritt, accounting for all the Yankees' runs in New York's 3-2 loss.
That turned out to be the last time Mantle, who was Manfred's favorite player, hit more than one homer in a game. The family returned the following day. Mel Stottlemyre started but lasted just 1 2/3 innings as the Yankees lost again.
Manfred, however, was a tennis player growing up, good enough to make the varsity as a freshman at Le Moyne College in Syracuse. Today, he is an avid golfer.
His parents, who are both alive, are a major influence. His mother, a schoolteacher, was a union member. His father was an executive for Revere Copper and Brass, a company with a bitter relationship with its unionized workforce. It's not difficult to imagine that Manfred's success as a negotiator with the uncommon ability to see both sides of even the thorniest issues was forged at home.
His father, also an avid sportsman, was active in youth basketball in the area and coached future big leaguer Archi Cianfrocco.
Manfred transferred from Le Moyne to Cornell after his sophomore year, graduating from the School of Industrial and Labor Relations in 1980. He then attended Harvard Law School where he became articles editor at the Harvard Law Review and learned from famed Watergate prosecutor Archibald Cox. He graduated cum laude in 1983.
After graduation, he clerked for U.S. District Court Judge Joseph L. Tauro in the District of Massachusetts, then accepted a position with the Labor and Employment Law Section of Morgan, Lewis and Bockius, LLP -- MLB's longtime legal firm -- in Washington, D.C. He became a partner in 1993.
Prior to being named MLB's chief operating officer on Sept. 28, 2013, Manfred served for 15 years as executive vice president of labor relations. In that capacity he led the negotiations that resulted in new collective bargaining agreements in 2002, '06 and '11.
He was also Commissioner Bud Selig's point man on the Biogenesis investigation that led to the 162-game suspension of star Yankees third baseman Alex Rodriguez and a dozen other players, expanded instant replay, rules changes involving home plate collisions, the Dodgers' bankruptcy and sale, Oakland's stadium issues, the dispute involving the Mid-Atlantic Sports Network and negotiations with the World Umpires Association, among other vital issues that directly affect the industry's well-being.
Cardinals chairman and CEO Bill DeWitt Jr., who headed the search committee, praised his breadth of experience.
"In the end, Rob Manfred was elected because of his dynamic leadership, his passion for the game, his ability to lead the staff in New York, which he has done, and his overall ability to deal with labor issues and really all aspects of the game. When we put together the requirements for the next Commissioner, he really checked all the boxes," DeWitt said.
Added Orioles managing general partner Peter Angelos: "He's got the experience, and everyone's looking to him to solve the problems baseball faces and to grow the game. He's been at it for years. He's gotten his Ph.D. He knows every facet and has a great way of getting things accomplished."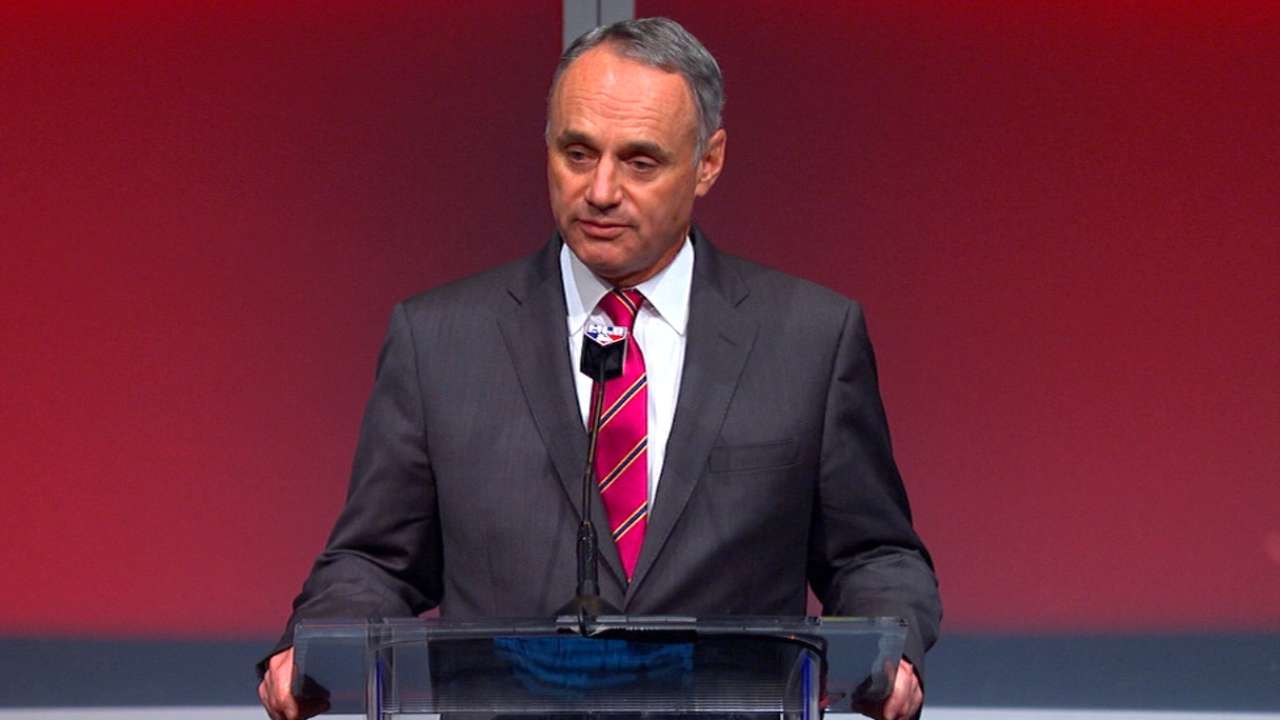 On Aug. 14, at the quarterly Owners Meetings in Baltimore, Manfred was elected the 10th Commissioner in Major League Baseball history. He succeeded Selig on Jan. 25, 2015.
Manfred and his wife, Colleen, have three daughters, Megan, Jane and Mary Clare, and a son, Mike. His favorite baseball movie: Field of Dreams.
Selig predicts that Manfred will do an "outstanding" job.
"There's no doubt in my mind he has the training, the temperament and the experience to be a very, very successful Commissioner," he said.
For his part, Manfred is eager to roll up his sleeves and get started.
"My overwhelming thought is that the closer I get to it, the more excited I am for the opportunity that has been provided to me by the owners. And I can't wait to get started on what I consider a new era for baseball," he said.
Paul Hagen is a reporter for MLB.com. This story was not subject to the approval of Major League Baseball or its clubs.