Autograph opportunities abound at Rangers FanFest
Beltre, Pudge, Fielder, Andrus, Choo headline lineup of players, alumni set to attend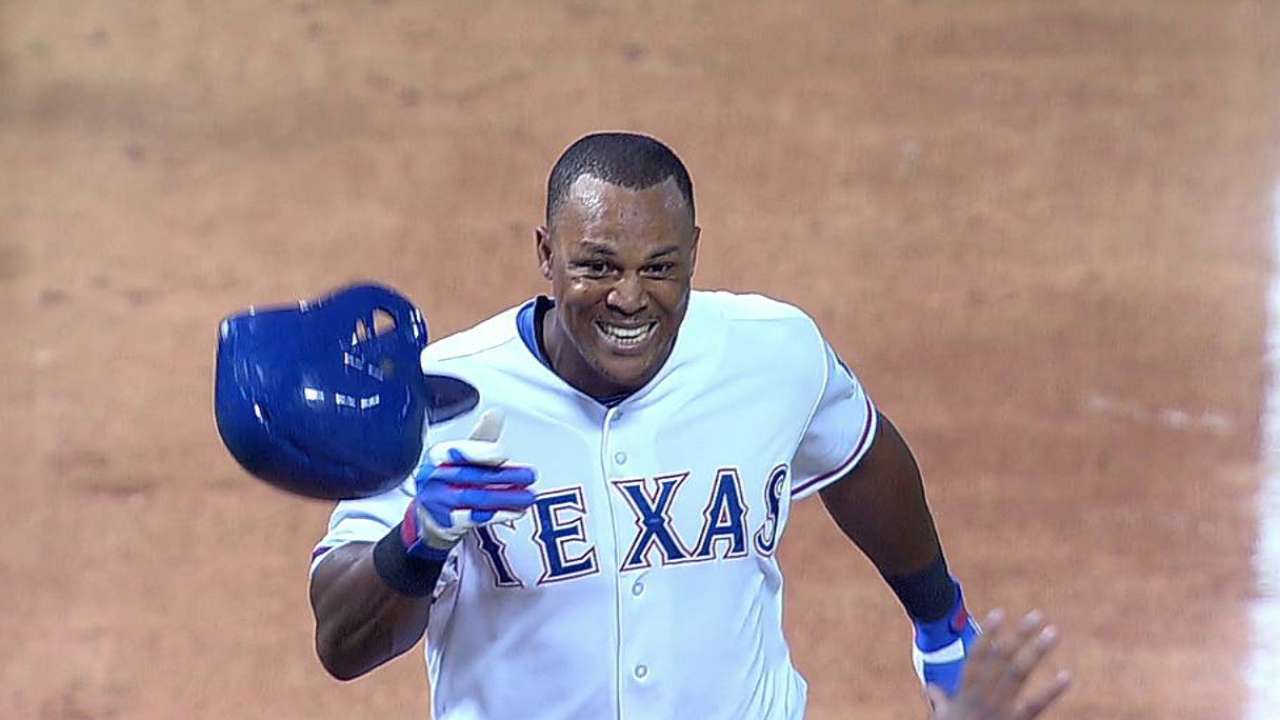 ARLINGTON -- Special autograph sessions with Adrian Beltre, Ivan Rodriguez, Prince Fielder, Elvis Andrus and Shin-Soo Choo highlight the 2015 Rangers FanFest that will take place this Saturday from 9 a.m. until 4 p.m. CT at Globe Life Park in Arlington.
Admission is $10 for adults, $8 for season-ticket holders, and $5 for children 13 and under. Advance tickets can be purchased at texasrangers.com/fanfest, and tickets can also be purchased at the First Base Ticket Office beginning at 7 a.m. on Saturday. The First Base Gate will open at 8:45 a.m. for fans to enter Fan Fest. Parking is free.
The Rangers have set up a special procedure for fans to get the autograph of the five players who will be in the most demand.
FanFest will feature autograph sessions with over 30 current Texas Rangers players and coaches, with individuals signing in the Capital One Club, Hyundai Club, Jack Daniel's Club and Texas Rangers Hall of Fame (third floor). Autograph sessions are scheduled at 10 a.m., 11 a.m., noon, 1 p.m., 2 p.m. and 3 p.m.
Beltre, Rodriguez, Fielder, Andrus and Choo will be the five designated autograph sessions on Saturday, where the first 5,000 fans in attendance at Fan Fest are eligible up until one hour prior to the start to participate. Participants will receive scratch off cards where winners will be indicated. The schedule for those sessions will be 10 a.m. for Beltre and Rodriguez, 11 a.m. for Fielder, noon for Andrus and 3 p.m. for Choo.
All other Fan Fest autograph schedules will not be announced in advance. The main ballpark video board and television monitors throughout Globe Life Park will post who is signing during each session one hour prior to the start of that session.
Entrance to the designated line will be granted on a first-come, first-served basis. Individuals who use wheelchairs must adhere to the same first-come, first-served process as all other fans.
When lines are at the designated capacity, an "END OF LINE" sign will be posted and no further guests will be allowed to enter the line. Players will sign approximately 225 autographs per session. Players will not sign beyond their allotted time.
Prior to the 2015 FanFest, Fast Passes were sold online at texasrangers.com. Up to 75 guests will have the opportunity to skip to the front of each autograph session.
The schedule of individuals appearing on Saturday is as follows. Any updates to this schedule can be found at texasrangers.com/fanfest.
Rangers signing autographs: Jorge Alfaro, Andrus, Jeff Banister, Beltre, Robinson Chirinos, Michael Choice, Choo, Ross Detwiler, Jon Edwards, Fielder, Yovani Gallardo, Joey Gallo, Alex "Chi Chi" Gonzalez, Matt Harrison, Derek Holland, Phil Klein, Colby Lewis, Nick Martinez, Mitch Moreland, Rougned Odor, Spencer Patton, Martin Perez, Jurickson Profar, Rodriguez, Robbie Ross Jr., Tanner Scheppers, Jake Smolinski, Nick Tepesch, Jake Thompson, Shawn Tolleson and Tomas Telis.
Individuals participating in Q & A sessions: Andrus, Banister, Jon Daniels, Holland, Fergie Jenkins, Lewis, Rangers TV/Radio announcers and Women's Baseball 101 with Emily Jones, Karen Banister and Jenny Lewis.
Individuals participating in clinics: Dave Magadan/Bobby Jones/Tony Beasley (batting); Andy Hawkins/Mike Maddux (pitching).
Fergie Jenkins Foundation Booth: Jenkins, Rollie Fingers.
Rangers alumni signing autographs: Mike Bascik Sr., Mike Bascik Jr., Jerry Browne, Tim Crabtree, Danny Darwin, German Duran, Cecil Espy, Jeff Frye, Larry Hardy, Toby Harrah, Ken Hill, Dave Hostetler, David Hulse, Mike Jeffcoat, Jenkins, Jim Kern, Kevin Mench, Darren Oliver, Jeff Russell, Curtis Wilkerson and Bump Wills.
Other highlights of FanFest:
• Interactive Q & A sessions with Rangers executives, players and announcers in the Rangers Hall of Fame (first floor)
• On-field events, including running the bases, bullpen toss and photo opportunities (weather permitting)
• Pitching, hitting and fielding clinics conducted by Rangers coaches and alumni
• Free tours of the Rangers' clubhouse and dugout
• Free play in the Rangers Kid's Zone
• Photo stage with current and former Rangers players
• Rangers Baseball Foundation Sale
• Food and beverages on sale at The Short Stop Grill and other Ballpark concession stands
• Merchandise on sale at Ballpark Gift Shop locations
In addition, the Rangers will offer a special opportunity to purchase 2015 individual tickets for all fans attending. This opportunity will include the chance to purchase all games except Opening Day. 2015 Texas Rangers season ticket and mini-plan packages will also be on sale.
T.R. Sullivan is a reporter for MLB.com. Read his blog, Postcards from Elysian Fields, and follow him on Twitter @Sullivan_Ranger. This story was not subject to the approval of Major League Baseball or its clubs.