Kluber top pro athlete at Greater Cleveland Sports Awards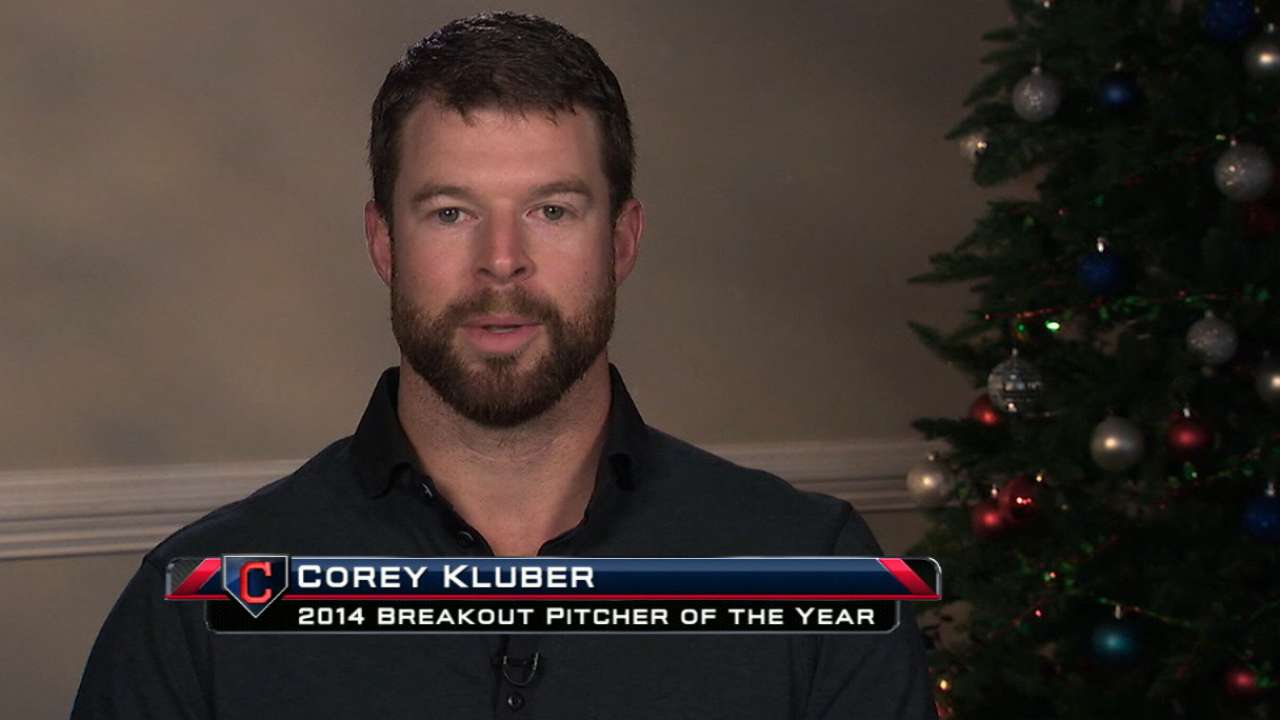 CLEVELAND -- Corey Kluber will have to clear some more space in his home for another piece of hardware. On Thurday night, the Indians pitcher was named the Professional Athlete of the Year during the 15th annual Greater Cleveland Sports Awards.
The latest accolade for Kluber hardly comes as a surprise, considering he had already taken home the American League Cy Young Award in voting by the Baseball Writers' Association of America, as well as Breakout Pitcher of the Year in the Greatness in Baseball Yearly Awards, for his work during the 2014 season with Cleveland.
"We felt Corey was the best pitcher in the American League," Indians general manager Chris Antonetti said after Kluber won the Cy Young. "With the way he pitched for the entirety of the season, and when you look at not only the numbers that he put up, but the environment he did it and the meaning of the games in which he pitched, we felt he was certainly deserving."
Joe Haden of the Cleveland Browns (NFL) and Kyrie Irving of the Cleveland Cavaliers (NBA) were also nominated for Professional Athlete of the Year. Kluber is the first player from the Indians to win the annual award since former Cleveland shortstop Asdrubal Cabrera in 2011.
In 34 starts last season, the 28-year-old Kluber tied for the AL lead with 18 victories and finished the season with a 2.44 ERA and 269 strikeouts in 235 2/3 innings. He led the league in Fielding Independent Pitching (2.35) and WAR (7.4, according to baseball-reference.com) and ranked second to only Detroit's David Price in the AL in strikeouts.
Kluber narrowly defeated Felix Hernandez of the Mariners in balloting to become Cleveland's fourth Cy Young Award winner, joining Cliff Lee (2008), CC Sabathia (2007) and Gaylord Perry (1972).
With his stellar performance last season, Kluber joined Randy Johnson, Pedro Martinez and Roger Clemens as the only pitchers in the past 25 years to have at least 18 wins and 260 strikeouts, plus an ERA of 2.50 or better, in a single campaign. Only Bob Feller (1946) and Luis Tiant (1968) previously accomplished that feat in Cleveland's long, storied history.
Kluber led the Majors with a 1.73 ERA in the second half of the season and went 5-0 with a 1.12 ERA and 54 strikeouts in 40 1/3 innings in his final five outings of the year. That late push helped keep the Indians in postseason contention until the final weekend of the regular season.
"He put it on himself to lead the staff," Indians catcher Yan Gomes said earlier this winter. "He did it by example and I know a lot of guys followed him."
In a discussion with local reporters earlier this week, Indians manager Terry Francona said he did not expect Kluber to take his foot off the gas pedal. As great as Kluber's 2014 season was for the Tribe, though, the manager stressed that the upcoming campaign is all that matters now.
"The one thing he'll have to guard against," Francona said, "which I don't think he'll have a problem with, is inevitably, people want to look at each start and go back a year. Last year's done. Good, bad or in between, it's over. Now you move on and try to do something this year. I think he's certainly more confident. I think he's smarter. I think he understands the league and I think he understands himself.
"I'm not sure every year of your career, your numbers can get better, but that doesn't mean you can't improve."
Jordan Bastian is a reporter for MLB.com. Read his blog, Major League Bastian, and follow him on Twitter @MLBastian. This story was not subject to the approval of Major League Baseball or its clubs.