Tomas impressing D-backs in third-base workouts
'Very, very smart' Cuban star enjoying acclimation to Arizona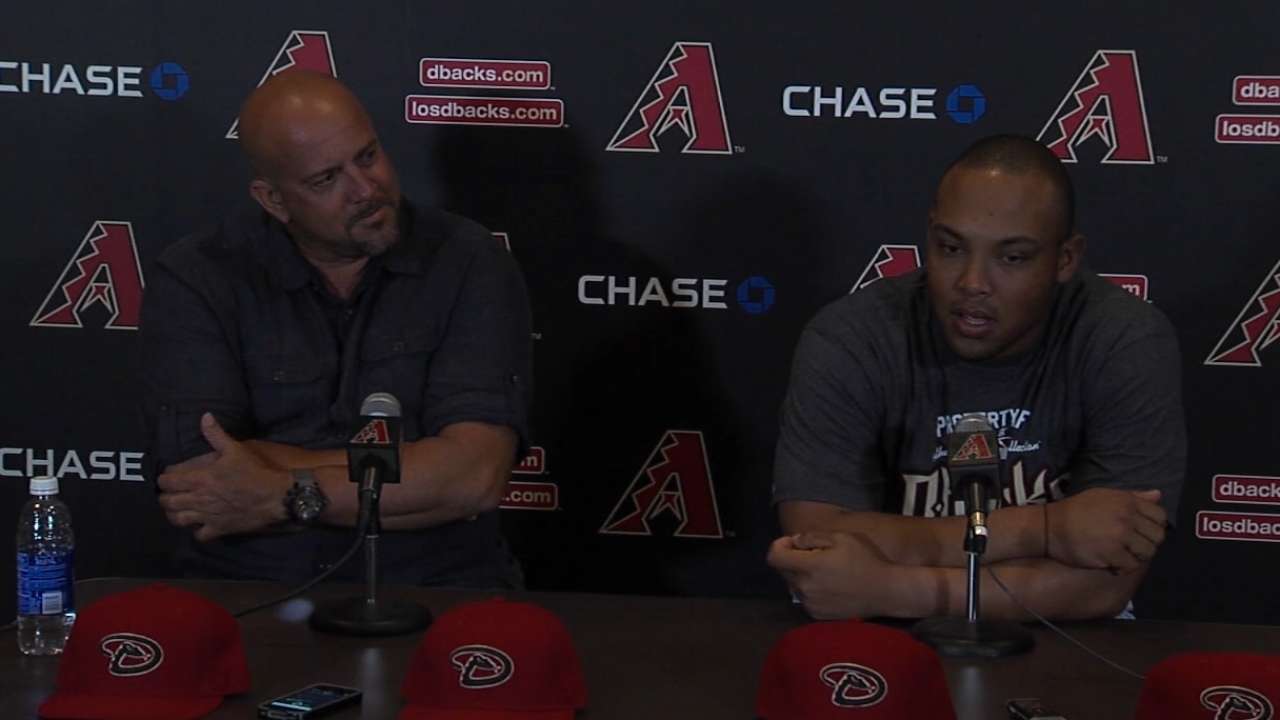 SCOTTSDALE, Ariz. -- Yasmany Tomas has only been working out for a few days at the D-backs' Spring Training facility, but already the team likes what it has seen from him at third base.
Tomas, who was signed by the D-backs to a six-year, $68.5 million deal last month, was primarily an outfielder while in Cuba, but also played some third base. He has been working at third the last few days under the tutelage of former Major League infielder Andy Green, Minor League coach Tony Perezchica, manager Chip Hale and assistant hitting coach Mark Grace.
"He's a very, very smart young man," D-backs GM Dave Stewart said. "He's really taking in the information that's being given to him and applying it immediately. We do think he's going to be able to play the position. We don't expect it will be an easy transition for him. But what we are seeing at this moment is promising."
Tomas was introduced to the media Thursday afternoon with newly hired coach -- and fellow Cuban -- Ariel Prieto doing the translating for him.
"I feel comfortable," Tomas said. "I played a lot of third base in Cuba."
If Tomas is indeed able to play third base, that would help the D-backs find room in their lineup for some combination of David Peralta and Ender Inciarte in left field. If Tomas has to be shifted to left field, that would create a crowded outfield that also includes Mark Trumbo in right and A.J. Pollock in center.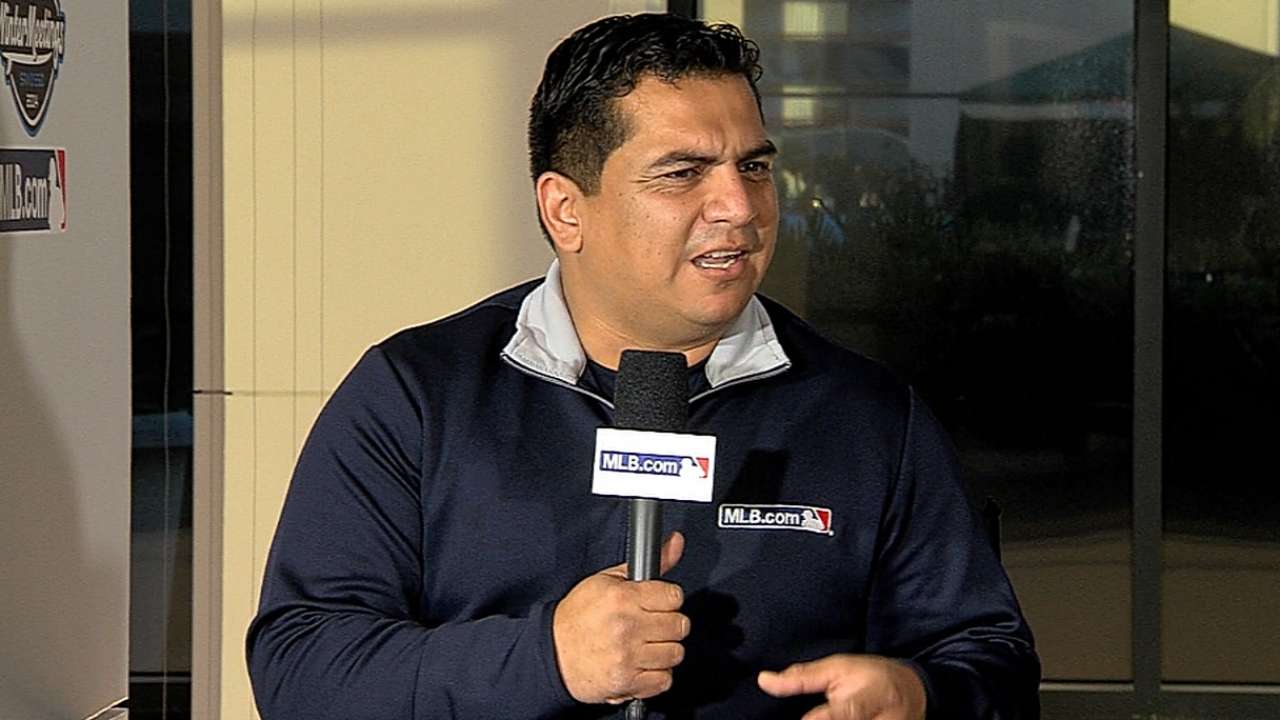 Tomas, 24, did not want to get into details about his escape from Cuba, but it is known that he left the island in June and went to Haiti, where he established residency.
"My dream wasn't to get out of Cuba," he said. "For me, it was supposed to be where everything was legal. But that was the only way that I could get out of Cuba and play here."
Tomas does not have any family with him in the U.S., and the D-backs will do all they can to help him assimilate to a new country.
So far, Tomas likes the little he's seen of Arizona.
"It's a good state," he said. "A quiet state. I like it. I was in Miami. That's kind of a crazy city, a fast city."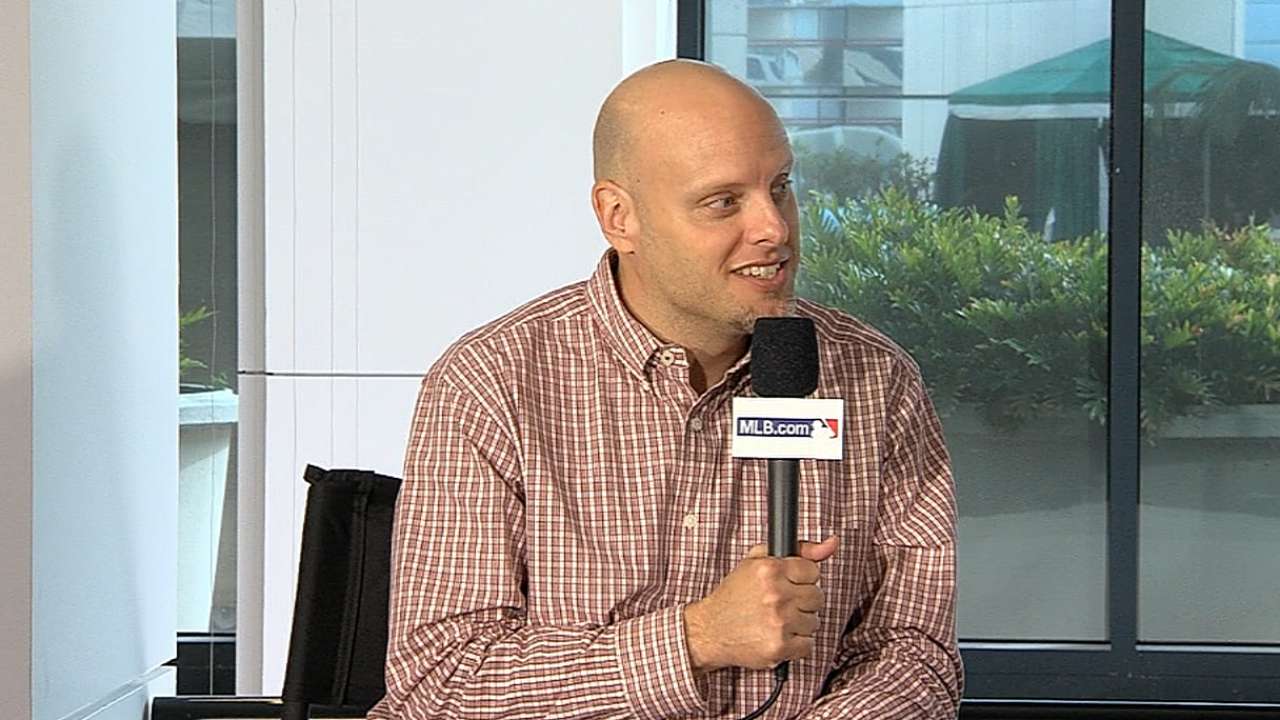 Prieto, who pitched for six seasons in the big leagues, worked most recently for the A's, where he helped slugger Yoenis Cespedes make the adjustment from Cuba to the Major Leagues, and he will try to do the same with Tomas.
"This kid doesn't drink, he doesn't smoke," Stewart said of Tomas. "From what I know just being around him maybe half a dozen times, not just at the ballpark but away from the ballpark, he's a great young man. Mature, in my opinion, past 24 years old. Ariel is a support system for him. But this kid is a pretty well-rounded young man."
Steve Gilbert is a reporter for MLB.com. Read his blog, Inside the D-backs, and follow him on Twitter @SteveGilbertMLB. This story was not subject to the approval of Major League Baseball or its clubs.