MLB.com Columnist
Mike Bauman
Selig's 'amazing journey' led to a better game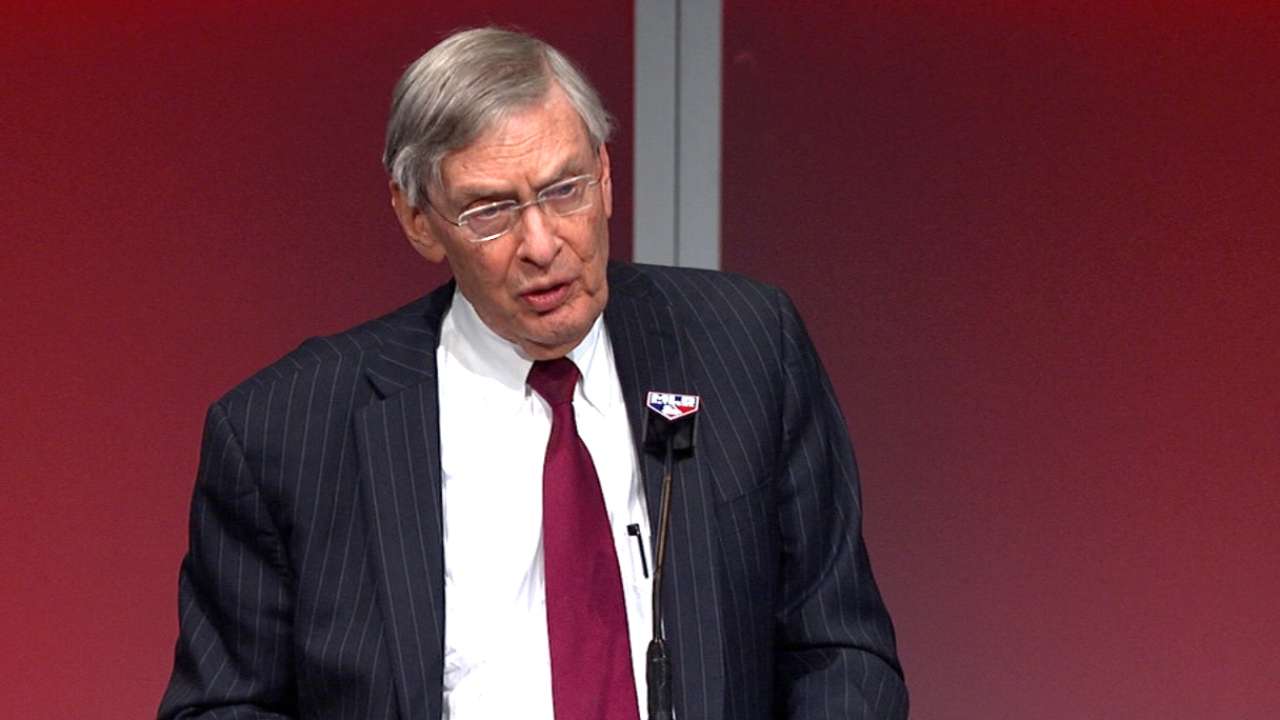 MILWAUKEE -- Commissioner Bud Selig describes the final days of his 22 years in office as "very emotional, very sentimental."
As someone who has covered Mr. Selig for 35 years, those are two sets of feelings that haven't typically made his hit parade. He's always busy. He's occasionally angry. He's frequently humorous; his wit is often aimed at himself, but it also can be directed toward a baseball writer whose work just doesn't demonstrate a complete understanding of whatever issue is at hand.
But emotional and sentimental haven't been much in Selig's mix. Until now. And it's understandable.
You don't need a recitation of the many and varied achievements of his term in office. You can tell how well things went by the finish. The 22-plus years come to an end with what amounts to the Bud Selig Victory Tour. At every stop, he and his accomplishments are given sincere applause.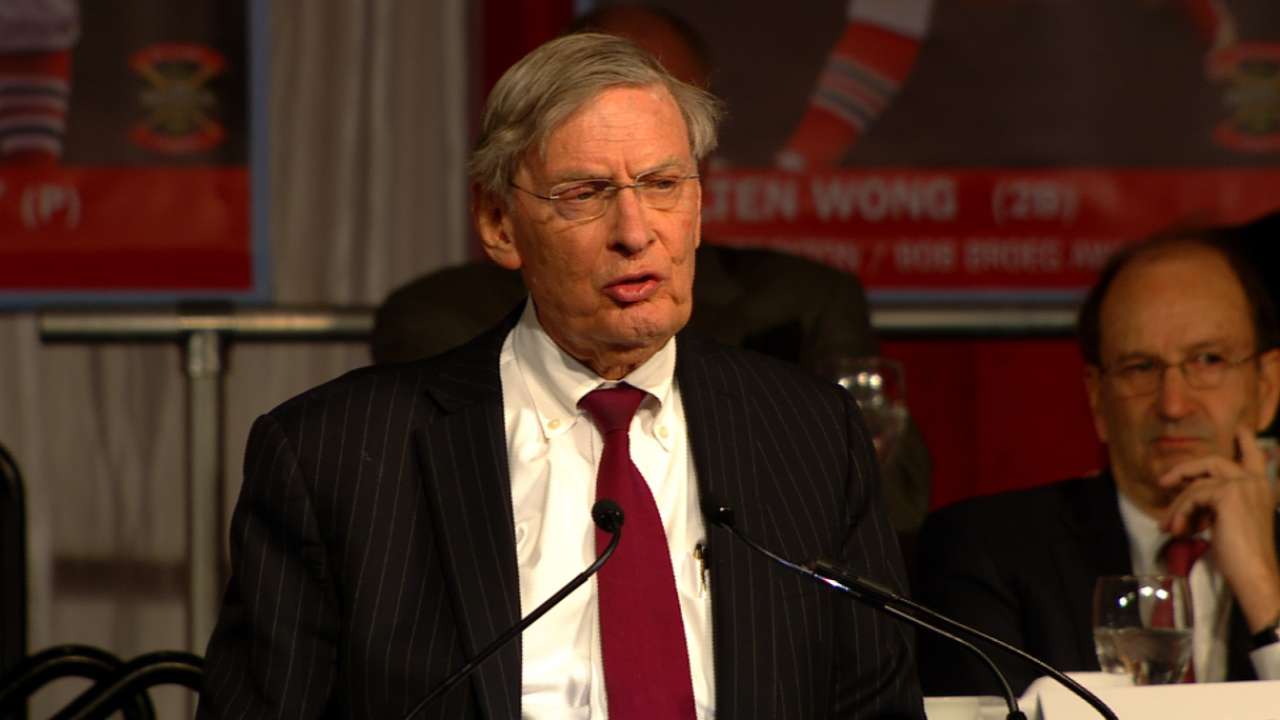 The club owners honored him in Arizona. The baseball scouts honored him in Los Angeles. The baseball writers honored him in St. Louis. The New York baseball writers will honor him on Saturday night. On Friday, he stops in New York to bid farewell to Major League Baseball employees.
The acclaim and the gratitude have been unanimous at every stop. This is what is known as going out on top.
"I wouldn't be human if I told you I wasn't touched by all of it," the Commissioner said. "More than anything else, I'm grateful."
Selig in baseball is a long and not always probable story. It stretches all the way back to the 1960s, when he was trying to get baseball back to Milwaukee after the departure of the Braves.
There was pride in winning that struggle, with the Seattle Pilots transformed into the Milwaukee Brewers. But as owner of a franchise in baseball's smallest media market, there were still plenty of struggles.
Selig was known locally as "Baseball Bud," for all the right reasons. Within the Brewers' organization he was known as "Budget Bud," because that was the focus that circumstances forced upon him.
And then, there was the evolution into the most powerful man in baseball; eventually a Commissioner who changed the game for the better, competitively and commercially.
"It's been very emotional for me lately, very sentimental," Selig said. "There's a great deal of pride after all that has happened. But it is an emotional time.
"You've seen a lot of it. It's been a long journey. It's been an amazing journey; I think you'd agree with that."
I'll go along with "amazing." "Astounding" would have also worked, but we also need to get "truly successful" in there.
And now comes what passes as retirement for Selig. Actually, even semi-retirement would be an overstatement. "I'll still be busy," he says, but anyone who knew him at all also knew that.
At age 80, Selig is leaving office, but he is not leaving his office. He'll be in the new position created for him, "Commissioner Emeritus," in which he will be available to assist his successor, Rob Manfred. Selig will retain his downtown Milwaukee office, which means he keeps a really nifty view -- Lake Michigan to the east, Miller Park to the west.
The exact duties of a Commissioner Emeritus cannot yet be detailed because the post has no history. But don't look for Selig on the inactive list.
"I'll be here to help baseball, I'll be here to help Rob," Selig said. "I'm not going to stop working. I want to help. I wish I had someone to help me when I took over in 1992. But I didn't."
Selig will also be teaching a course in history at his alma mater, the University of Wisconsin. He has an endowed chair in the History Department at Wisconsin, where he already has an office.
Selig takes great pride in his connection to the university. In fact, there could be a significant digression at this point, based on his discussion of the UW men's basketball team, currently ranked sixth in one national poll, fifth in the other.
"Wisconsin always does it the right way," the Commissioner said. That means that the Badgers' basketball players are exemplary student-athletes. Very nice things are also said about the coach, Bo Ryan.
Meanwhile, back at retirement, Selig will also be working on a book about his career in baseball. This, in itself, would appear to be a monumental task, covering, as it will, 51 years, and a multitude of twists and turns.
Selig often used this as a reference point for a worthwhile project that took some time to accomplish: "It's like the Beatles said: 'The Long and Winding Road.'"
It has been a long and winding road, but it led to a better game of baseball after Selig's 22-year tenure as Commissioner. That portion of the story comes to an end, but the story of Selig in baseball goes on. That is good news for the game.
Mike Bauman is a national columnist for MLB.com. This story was not subject to the approval of Major League Baseball or its clubs.