Fans buzzing about club ahead of SoxFest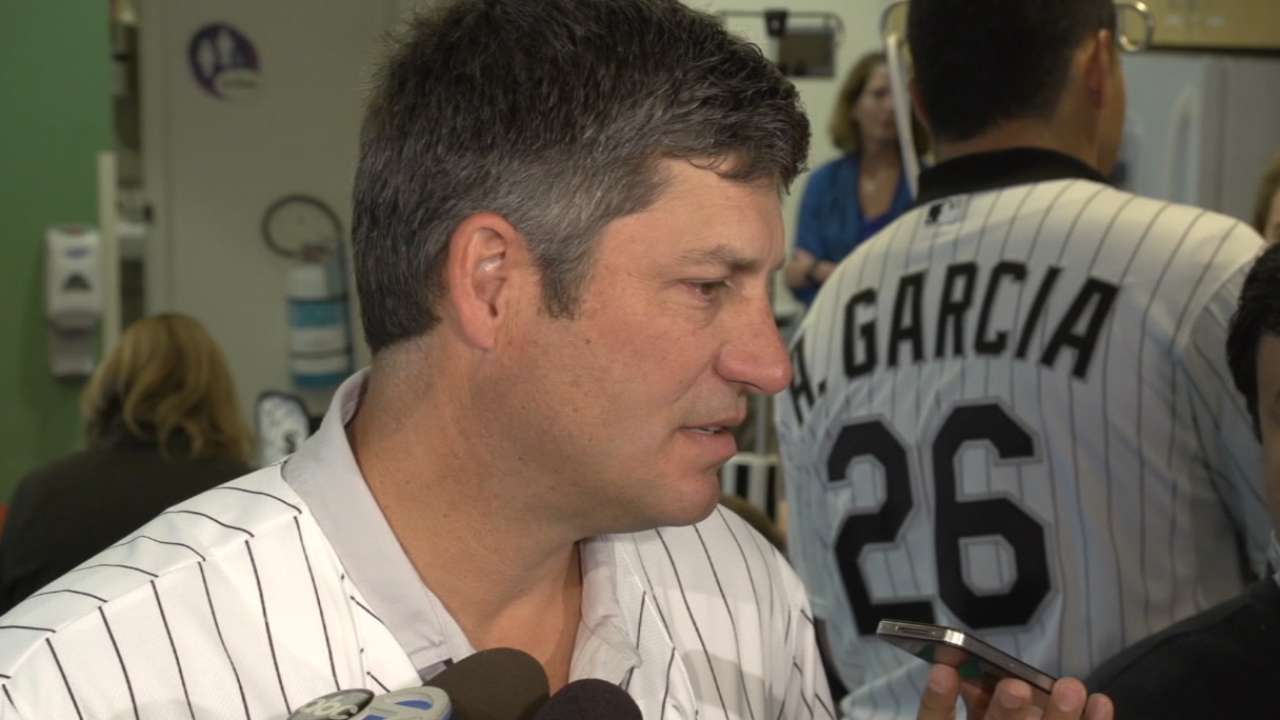 CHICAGO -- Even if White Sox general manager Rick Hahn had made only a few offseason moves to somewhat improve the 2015 squad, this weekend's SoxFest still would hold plenty of interest.
The 10-year-anniversary celebration of the 2005 World Series champions officially begins Friday evening at the Hilton Chicago, including players from that team scheduled to appear in Geoff Blum, Joe Crede, Tadahito Iguchi, Jose Contreras, Jon Garland, Orlando "El Duque" Hernandez, Bobby Jenks, Scott Podsednik and Aaron Rowand.
But Hahn's Hot Stove plan has sizzled over the past few months, with Adam LaRoche, Melky Cabrera, Jeff Samardzija, Zach Duke, Emilio Bonifacio, Dan Jennings and David Robertson all coming aboard to make this team a viable American League Central contender. So it's understandable that this weekend's festivities are completely sold out and fans, players and coaches alike can't wait for Spring Training to begin on Feb. 20.
"These last couple of years, going into it, SoxFest hasn't quite had this buzz," said White Sox manager Robin Ventura after a Thursday morning visit with young patients at University of Chicago Medicine Comer Children's Hospital. "We've done a couple of things already that fans are excited about, and I think they should be.
"Rick has done a great job as far as this offseason of creating that and going forward with a plan that started at the end of the year. It's fun to be able to come into a season like this, but also come into our convention like this -- that people are excited to be going and are optimistic at the same point."
With all due respect to Ventura, Hahn's master plan actually began in 2013 with the acquisition of Avisail Garcia in a three-team deal with the Tigers and Red Sox. His execution since then hasn't been quite flawless, but pretty darn close.
Hahn will take part in Town Hall Meetings focused on the 2015 team at 5 p.m. CT on Friday and 10 a.m. on Saturday, and the enthusiasm figures to take a sizeable leap from the 63-win team of '13 and the 73-win team of '14. The only plausible criticism figures to be: When is Hahn's next move coming?
Second-base candidate Micah Johnson and pitching coach Don Cooper got an up-close look at this enthusiasm Thursday through sales calls to season-ticket customers. Cooper also showed a potential sales career in his future by talking up this team.
"We went from where we're not really in a great spot to where, 'Oh, now we've got a shot,'" Cooper said. "It's up to us to get the job done."
"I'm not far from here, I'm from Indiana, so I can feel it there," Johnson said. "I have a lot of buddies up here who are White Sox fans, but talking to those people, wow, it's exciting. Back in the day, I can compare it to, I guess '03 with the Cubs, or '05 with the Sox or maybe '98 with the Cubs. This is probably the most exciting I've seen it since I was alive."
Scott Merkin is a reporter for MLB.com. Read his blog, Merk's Works, and follow him on Twitter @scottmerkin. This story was not subject to the approval of Major League Baseball or its clubs.