Previous riders on board as Reds Caravan departs
Mesoraco and Co. talk about player camaraderie, interactions with fans during annual journey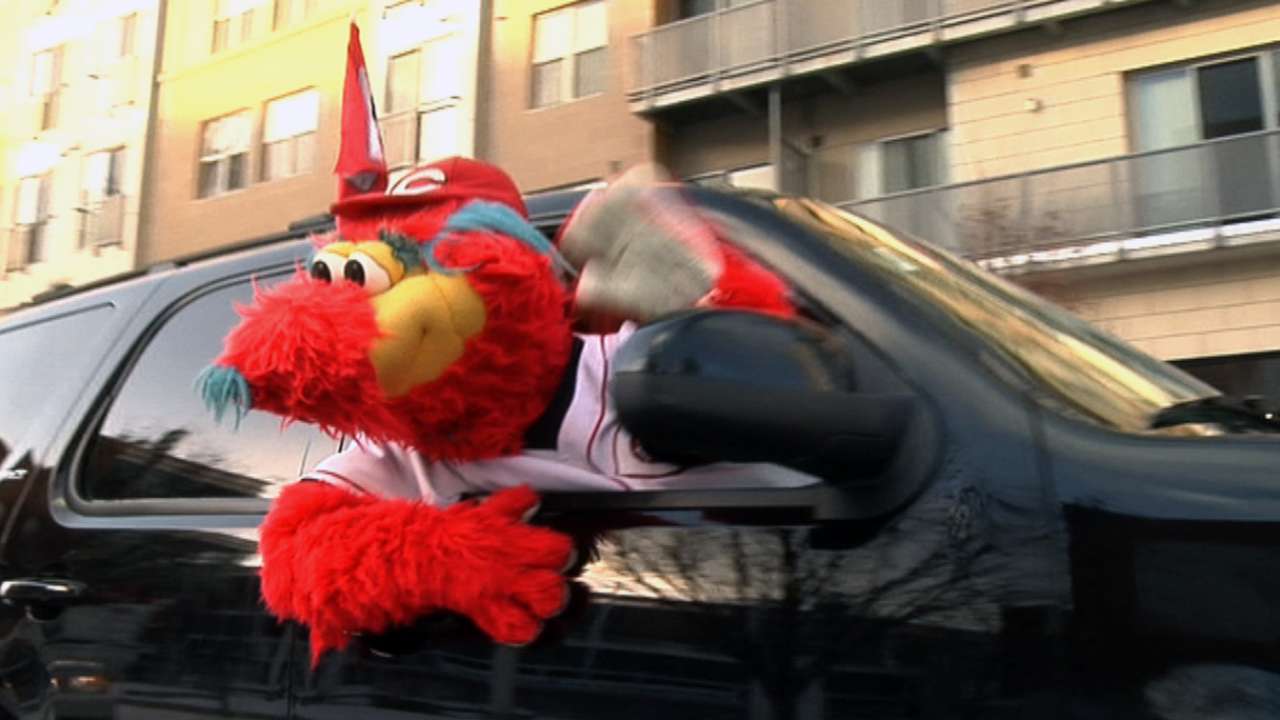 CINCINNATI -- As a collection of Reds players, former players, broadcasters and front-office members gathered Thursday morning for the start of the 2015 Reds Caravan, it was hard to find people who hadn't boarded one of the buses in previous winters.
It seems that once a player experiences Reds Caravan, they are game for being repeat participants.
"It's cool," said Reds All-Star catcher Devin Mesoraco, now a three-time Caravan veteran. "You get a closer interaction with the fans, especially at the smaller stops, where we do radio interviews and things like that. You get to talk a little more with the fans than we typically do, because we're always so busy in the season."
Outfield prospect Jesse Winker hasn't even played in the Major Leagues yet, but this year will mark his second time on the Caravan. Winker will be in big league camp at Spring Training as a non-roster player.
"I love it. The group I had on my bus was awesome," Winker said. "They were a great time."
Reds senior director of promotional events Zach Bonkowski handed off the reins of coordinating the 2015 Caravan, but he was the point person for it the past several years. Having players obviously draws more fans to the stops, and Bonkowski knows it gets easier to recruit them after they've already experienced it.
"The Caravan brings out a lot of camaraderie in guys, similar to what happens at Reds fantasy camp every year," Bonkowski said. "There are a lot of times with our fans on the trip, but we also spend a lot of time together on the bus. When you do that, you get to develop great relationships, and you want to do it year-to-year. It's kind of like going to summer camp every year as a kid."
Always a reminder that Spring Training is close, this year's edition of the Caravan departed from the Reds Hall of Fame and Museum, and it is slated to travel for four days across five states and total of approximately 3,300 miles.
Mesoraco, manager Bryan Price, catcher Brayan Pena, third baseman Todd Frazier, pitchers Sam LeCure and J.J. Hoover and general manager Walt Jocketty are just some of the Reds on the Caravan this year.
When buses rolled out from downtown Cincinnati, temperatures were in the 30s. That was mild compared to the zero-degree cold felt at this time last year. Despite the meticulous planning, flexibility is sometimes needed.
Past Caravan journeys have encountered snow storms, ice storms and even an unexpected detour when one of the buses was too heavy to cross a small bridge. One year, a bus broke down about 15 minutes outside of Oxford, Ohio, and that group had to hang out until a replacement motorcoach could arrive.
"There are definitely curveballs thrown our way during some of these trips," Bonkowski said.
In total, there will be 17 fan stops and visits with around 20 radio affiliates. For the complete itinerary and an appearance roster, go to reds.com/caravan.
Mark Sheldon is a reporter for MLB.com. Read his blog, Mark My Word, and follow him on Twitter @m_sheldon. This story was not subject to the approval of Major League Baseball or its clubs.