Urban Youth Academies show growth, progress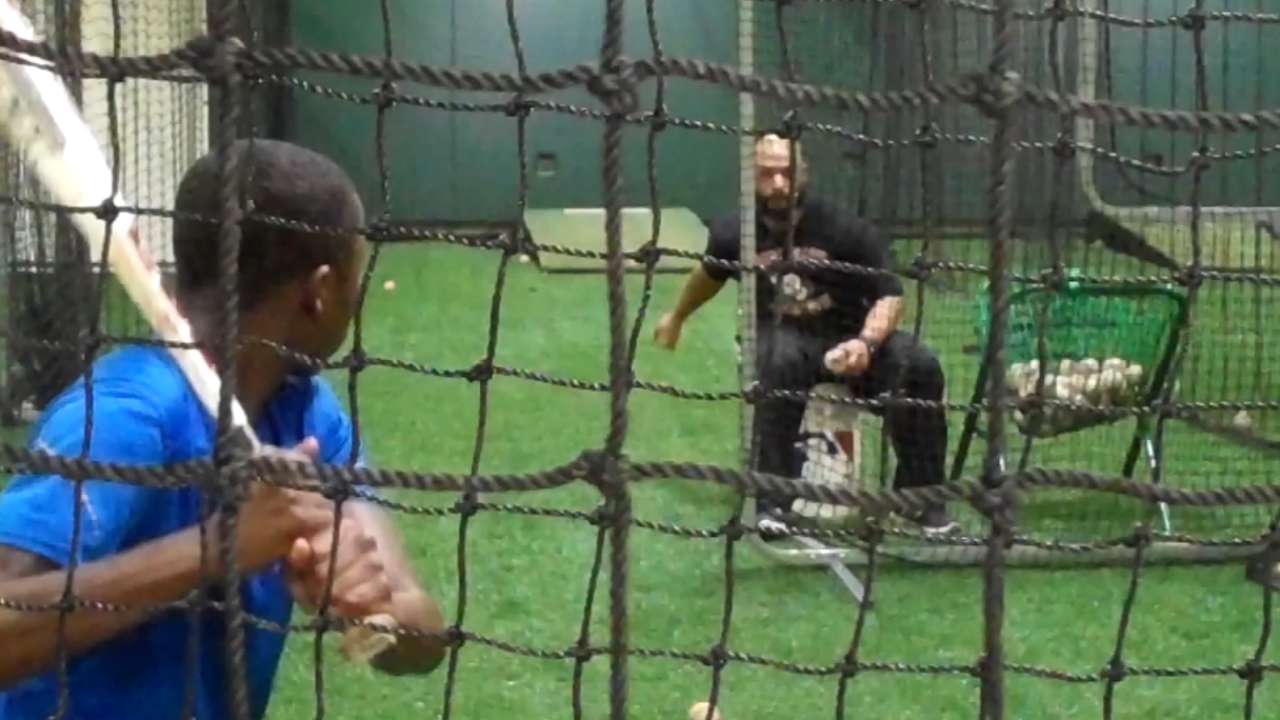 Every year brings new momentum to one of Major League Baseball's signature endeavors. The Urban Youth Academy keeps expanding its imprint, bringing its brand of philanthropy and community involvement to a city near you. Four facilities are now operating under the Urban Youth Academy umbrella, with the original entry in Compton, Calif., standing as the template for all to follow.
The academies were built to provide free academic support and athletic instruction to children in the inner city, and more than 8,000 kids are regularly participating in the programs. The academies in Cincinnati, Houston and New Orleans are a big part of that growth, and two of those facilities -- New Orleans and Houston -- may have their first students selected in the First-Year Player Draft this June.
The academy in Compton, first established in 2006, has served as the pioneer for baseball's efforts in the inner city. The Urban Youth Academy has proven itself a magnet for students to get extra help, both on the field and in the classroom, and the community has gotten behind each academy in turn.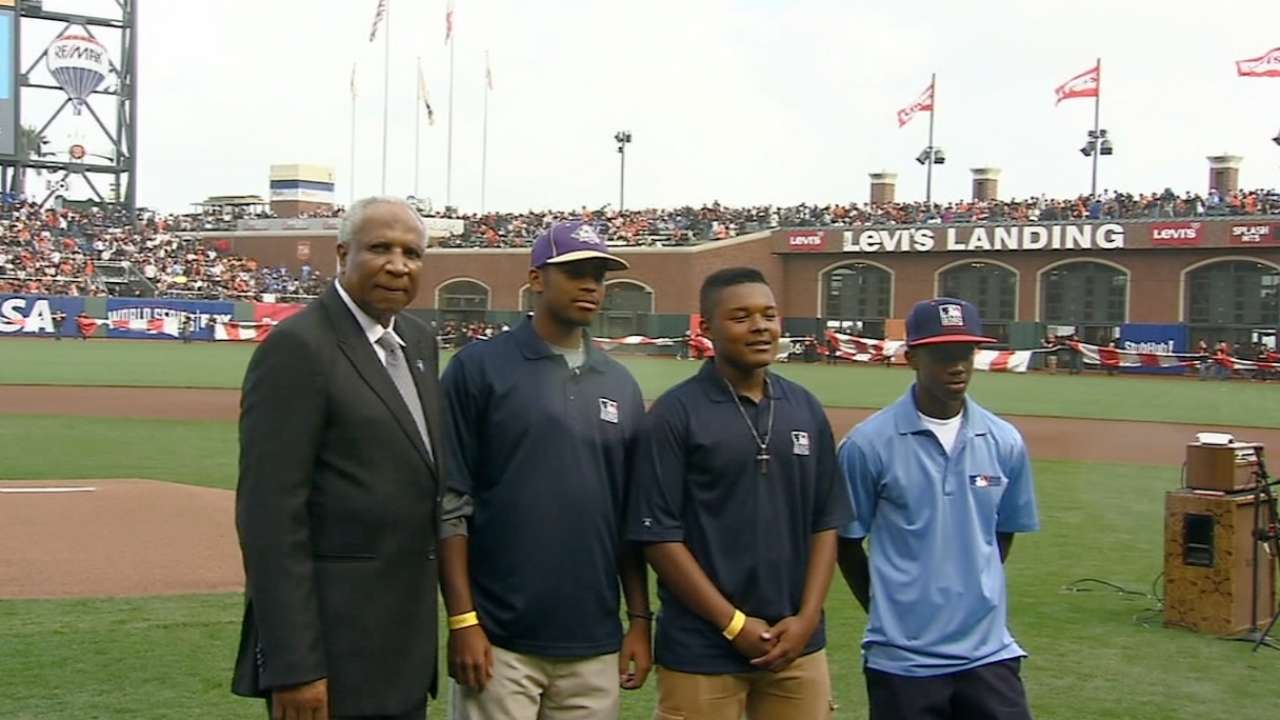 Take the original facility, for instance. The Compton academy has graduated more than 500 players to the college ranks, and more than 100 kids have gone on to be drafted. More than 3,000 kids are involved in the California academy's day-to-day operations. But it's not just the kids; the Compton academy has grown by engaging the local populace with community days and organized toy and food drives.
Brendan Davis, one of the standouts at the Compton academy, has been there since the beginning. Davis, who is committed to play college ball at Cal State Fullerton, started playing at the Urban Youth Academy at age 11, and he marveled at the lengths some kids would go to play there.
"It doesn't get better than this in California. It's amazing," said Davis, a senior pitcher and shortstop at Lakewood High School in Lakewood, Calif. "There were kids that I saw that were driving up there on Sunday from far-away places like Temecula, [Calif.], or three hours from Las Vegas."
Davis has it a little easier; the Compton academy is just 10 minutes from his home. Davis has seen former Compton academy standouts like Aaron Hicks, Anthony Gose and Jonathan Singleton make it all the way to the Major Leagues, and he wants a chance to follow in their footsteps.
And while he's at the academy, Davis can measure his progress next to a peer group of several other hungry players who have a chance to play at higher levels. His ability and work ethic have taken a natural progression, and he's had an opportunity to play in MLB's Breakthrough Series twice.
"I've been going out there since [I was] young, so I just got used to going every day. It's just good to get to work out there with the right guys," Davis said of his academy experience. "My game has definitely improved. They have amazing coaches and players that want to do something with baseball."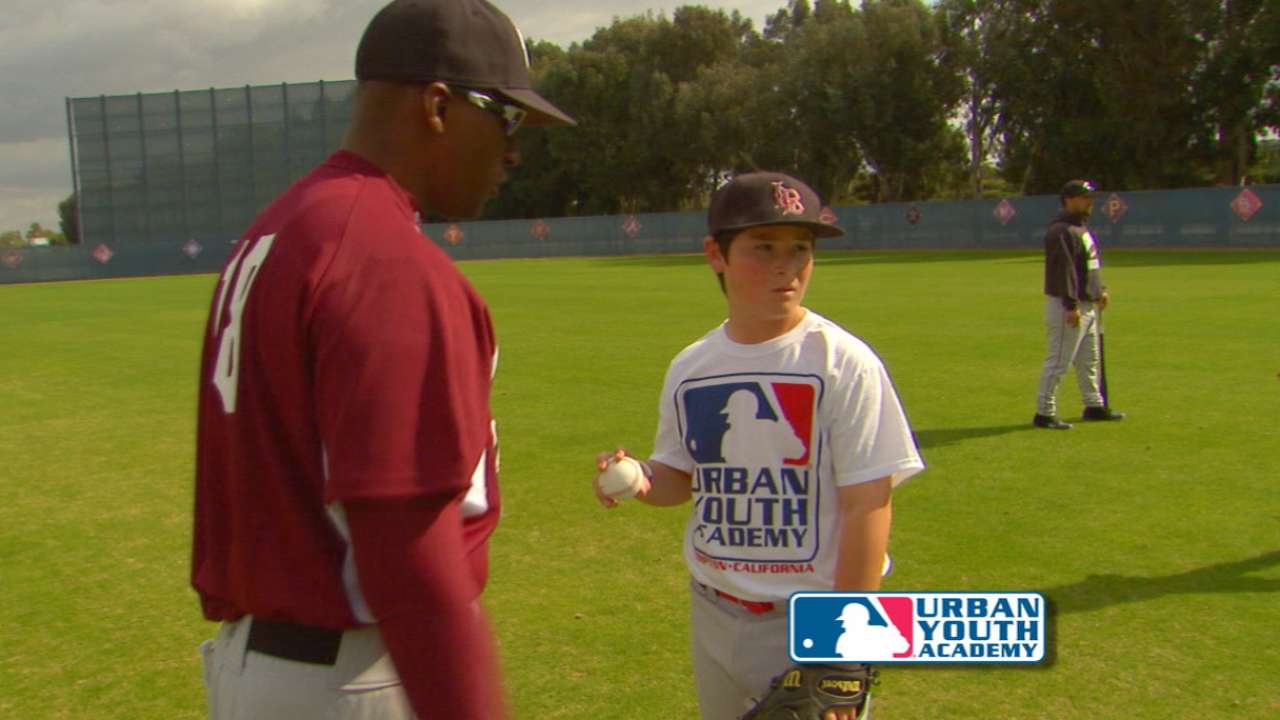 Those programs have just begun to make an impact in Cincinnati, where the Reds opened a new $7.5 million Urban Youth Academy last summer. The Cincinnati academy has already introduced weightlifting and conditioning classes, and more than 700 kids have signed up as part of the initial class.
Cincinnati was heavily involved in the RBI (Reviving Baseball in Inner Cities) program before building its Urban Youth Academy. Four young women from local RBI leagues are already playing college softball, and eight more students are playing college baseball at various schools.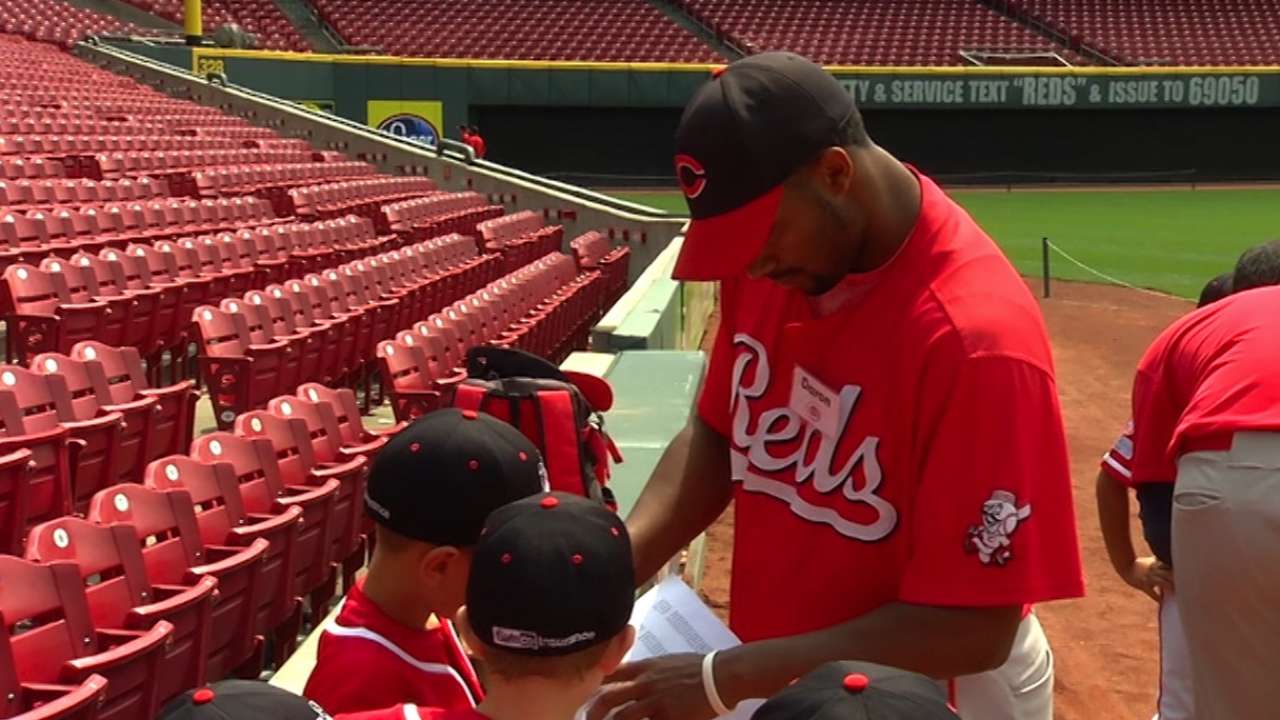 The New Orleans academy, which opened in 2012, can boast of its own rapid maturation. More than 1,300 kids are active members of the New Orleans academy, and Tyler Reid is one of the facility's most prominent faces. Reid, a senior corner infielder from Edna Karr High School, is currently uncommitted for his college choice, but he stands a solid chance of being the academy's first draftee this summer.
"It's actually kind of scary, because I don't know what's going to happen," said Reid. "I just want to have a good season so everything can fall into place as far as the Draft. It will be good if I get drafted and have the right opportunity, but right now I'm a little nervous as to how fast things are moving."
Reid raved about the opportunity to work with former professional players and coaches, and he said he's seen his biggest improvements defensively at first and third base. The best part of his development, Reid said, was the chance to participate in the Breakthrough Series. Before then, he had only competed close to home, but all of a sudden he had a chance to test his skills against the best in his age group.
"It was nervous and exciting," Reid said. "It was nervous because I knew I had to play at the standards that everyone had seen me at, and it was exciting because I got to see other kids that played as well as me -- if not better than me. For them to acknowledge me and put me in that group was really great."
The Houston academy, which opened in 2010, has had a chance to host events like The Urban Invitational in its short existence. More than 2,000 students are working out at the Houston facility on a regular basis, which represents a 40 percent increase over the 2013 participation figures.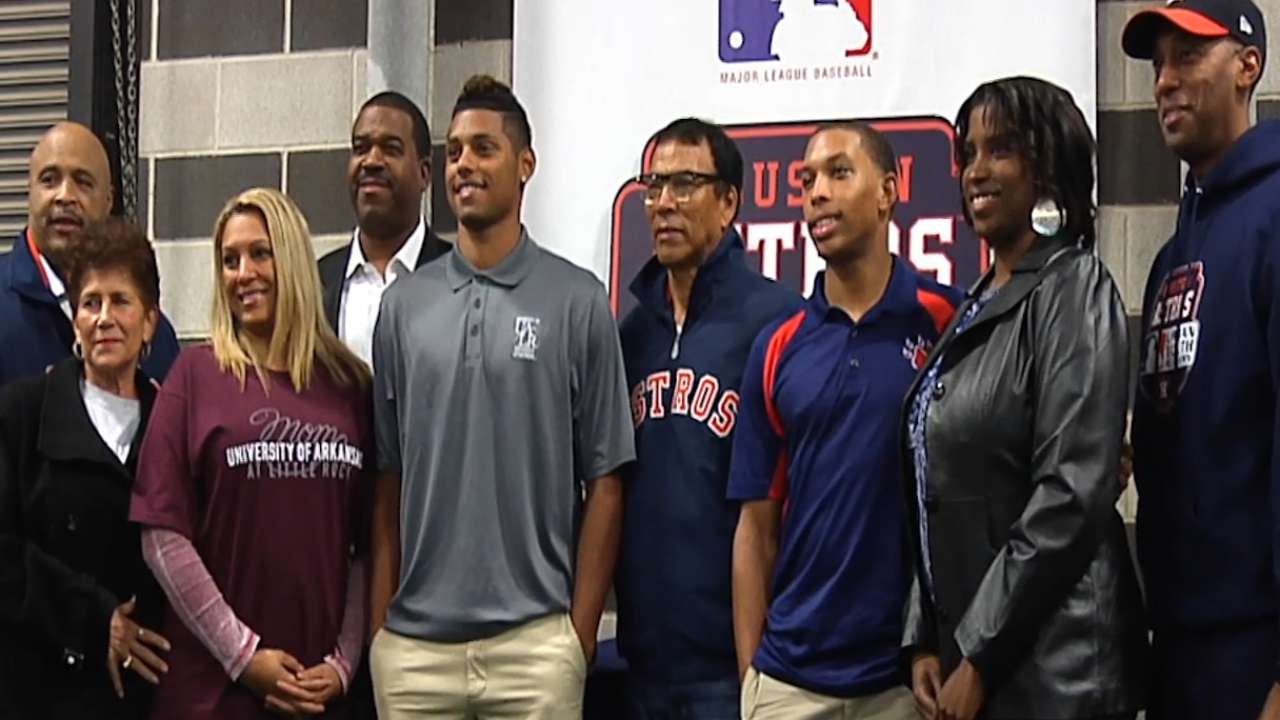 Pablo Salazar, one of the Houston academy's best prospects, has already committed to play his college ball at the University of Arkansas-Little Rock. Salazar hopes to play third base and pitch in college, but he's also keeping an open mind in case he's selected high enough in the First-Year Player Draft.
"It all depends on the right opportunity," said Salazar, a senior at Houston's Lutheran South Academy. "I'm looking forward to college a lot. I'm glad I got the opportunity to have a chance to play in college. I'm very grateful. It's going to be a very good experience for me, and I can't wait to be out there."
Salazar, who started going to the academy at age 14, said he's seen his athleticism improve from repeated practice and competing against high-level opponents. He said he really started to believe in himself after he was one of 40 players selected out of 4,000 to play with the USA Baseball National Development Team. And that opportunity, Salazar said, only came about because of the academy.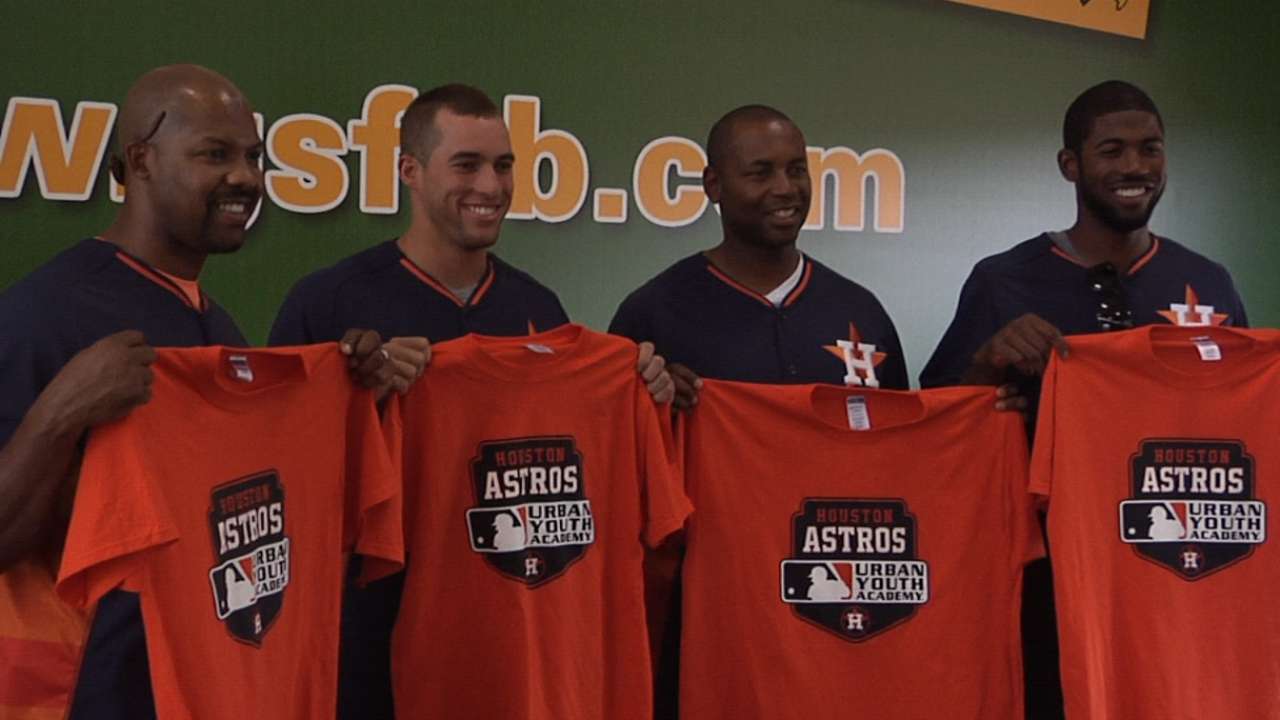 "I'd most definitely recommend the academy," said Salazar. "I'd tell kids that the academy has a lot of people to support them and help them and believe in them. They'll definitely see a change in their skill set and everything they do in batting, fielding and throwing. They'll definitely like it, and possibly they'll end up like me one day. When I'm home, if I have time, I'll definitely go back and help out the kids."
That attitude -- the willingness to come back and be a part of the UYA's future -- is indicative of the many ways the academy can improve in the future. The experience will only get better as more and more students make their way through the halls and come back to teach the next generation.
"I'd tell them this is the best thing you can do," said Reid. "You can go to other places and practice, but what if you want extra help? You can always come to the academy for extra help and they'll always welcome you. There's nobody that will talk down or talk bad about you. They're all about trying to get you to your goal, and that's to become a Major League player. I'd tell any 12-year-old kid that the Urban Youth Academy is the place for you, because they're going to help you and not try to bring you down."
Spencer Fordin is a reporter for MLB.com This story was not subject to the approval of Major League Baseball or its clubs.