Sandberg to focus on improving communication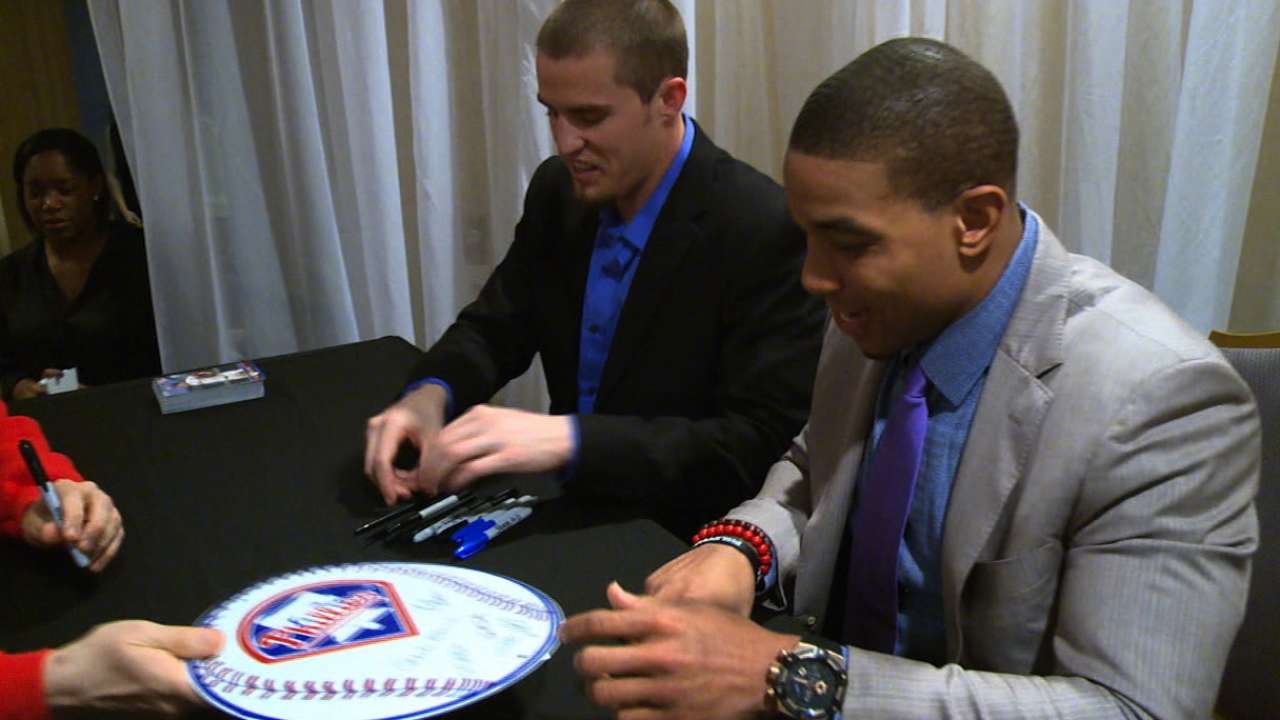 "The message will be to win the game every day," manager Ryne Sandberg said Wednesday night at the Phillies' Winter Tour stop at Woodlake Country Club.
But with fewer strong personalities like Rollins, Byrd and Burnett on what is now a younger roster, Sandberg said he expects a changed culture in the Phils' clubhouse.
"I'm anticipating a different atmosphere amongst the players," he said. "I just want to establish an attitude and a workplace that is conducive to getting better on the baseball field and winning baseball games. And not necessarily distractions and things other than that."
Sandberg said the changes need to start with him.
Sandberg had his growing pains in his first full season as Philadelphia's manager. He benched Rollins in Spring Training. Sandberg benched Howard during the season. Neither move sat well with some players. Others made comments about a lack of communication between the manager and players in the clubhouse. Others criticized moves on and off the field.
"We have to talk to a lot of players," Sandberg said. "I plan on talking to the veteran players. I plan on talking to them as a group. I plan on talking to the younger players. Really having better overall communication throughout the whole team, with myself and the coaching staff with the players.
"I think that was lacking. Sometimes it's easy to take it for granted. Say you have a veteran club, and they know everything and they'll handle the clubhouse and everything will be fine. I learned that's not the case."
Former Phillies manager Charlie Manuel often felt the same way. Players do not police themselves as they did in the past, leaving the policing to the manager.
"More communication," Sandberg reiterated. "Myself and the staff with the players."
Sandberg said players showed up to work on time last season. He said everybody prepared. He said everybody did their work.
But something was lacking.
"I think it's more just keeping everybody thinking the same way, tugging on the same rope while we're there, while we're at the ballpark," Sandberg said. "It is to win a baseball game. It's also about getting the players on the field with the coaches more often. I thought we did it well for a couple of months, but we started to get away from it. Why? Maybe we thought we had a better team, not to pull the guys out [on the field to practice] and get them tired. So with younger players and younger energy, we might be able to get more work in and the players can get better under those circumstances.
"The other thing I'm looking forward to is younger faces, energy, some players that want to prove themselves with energy, playing hard, hustling. Mix that in with the rest of our players."
Of course, it takes more than youth, energy and pluck to make the postseason. But at least Sandberg recognizes he needs to manage things differently. He needs to be more hands on. Managing these days is more than just filling out a lineup card and making in-game moves. It is handling people and personalities.
"I look at last year, there was a lot to be gained from that, a lot of experience," Sandberg said. "A lot of different things that came up, handling different types of players. … The coaching and the leadership never stops. Coaching the players at the Major League level, veteran players, all the way down to the young players."
Todd Zolecki is a reporter for MLB.com. This story was not subject to the approval of Major League Baseball or its clubs.