Mark your calendars: Game times for '15 announced
Cardinals-Cubs on April 5 opens campaign, which concludes Oct. 4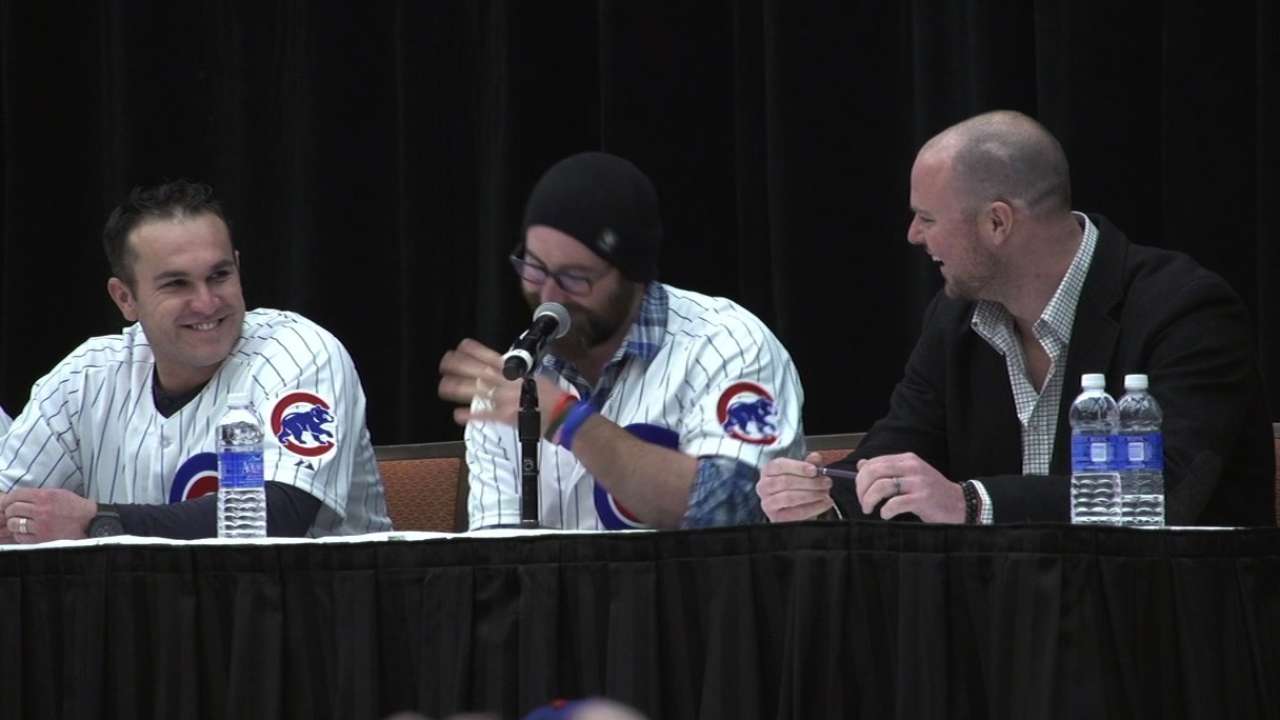 Major League Baseball whetted the appetite of fans everywhere on Thursday by formally announcing game times for its master 2015 regular-season schedule, which will start at 8 p.m. ET on April 5 with Cardinals-Cubs at Wrigley Field in ESPN's "Sunday Night Baseball" opener. The regular season will end with 12 divisional matchups on Sunday, Oct. 4.
That Opening Night matchup between the defending National League Central champions and their rebuilt rivals now managed by Joe Maddon gets everything started. There are 14 traditional Opening Day games on Monday, April 6, and the first full slate of 15 games is April 8.
• Tickets information | Regular-season schedule
MLB.TV, the longtime tech leader in streaming live sports games, will be back for a 13th year of bringing fans live out-of-market games over a wide array of connected and mobile devices. More details on this year's MLB.TV subscription package and new features are coming soon.
ESPN will continue its coverage of Opening Week presented by Budweiser with four games on April 6, featuring three pairs of division rivals squaring off. Its coverage begins at 1 p.m. ET as the Blue Jays visit the Yankees in the first game in the post-Derek Jeter era at Yankee Stadium. That is followed by Nationals at Mets at 4 ET, possibly marking pitcher Max Scherzer's debut for Washington. Then comes Indians at Astros at 7 ET, followed at 10 ET by the Giants at D-backs as San Francisco begins its quest to become MLB's first repeat champion since 2000.
Cincinnati, which will host the All-Star Game on July 14 at Great American Ball Park, naturally will be one of those 14 host ballparks on that first Monday of action. After the annual Findlay Market Parade, the Reds will play the Pirates at 4:10 ET. The day includes Boston's first opener at Philadelphia since 1954, starting at 3:05 ET. That will mark the start of the 19th season of Interleague Play.
The Royals ousted the Orioles in a shocking four-game sweep last October to reach the World Series, and those two teams will meet again for the first time at 8:10 p.m. ET at Kauffman Stadium on Monday, Aug. 24, to start a four-game set. Across the state of Missouri, the Giants and Cardinals, the participants in the last NL Championship Series, meet for the first time at Busch Stadium, opening a three-game series at 8:15 p.m. ET on Monday, Aug. 17.
The Dodgers host the Mariners at 10:10 p.m. ET on Wednesday, April 15, as all clubs celebrate Jackie Robinson Day and wear No. 42 across MLB. And on Wednesday, Sept. 16, the Pirates welcome the Cubs at 7:05 ET amid the recognition of Roberto Clemente Day in MLB.
MLB Network will have extensive coverage of Opening Week, featuring the return of its regular-season programming lineup of "The Rundown," "MLB Now," "Intentional Talk," "MLB Tonight" and "Quick Pitch" with look-ins at live games in progress, previews, highlights and analysis.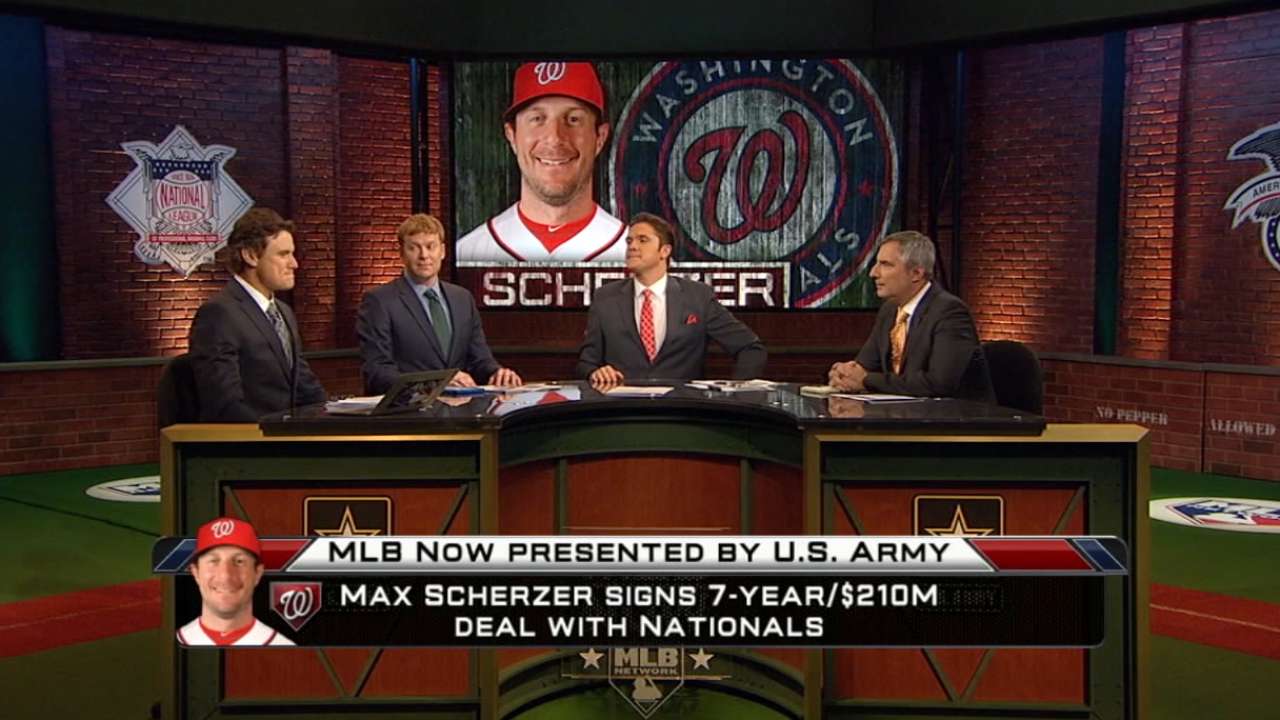 Interleague series featuring prime rivals will be spread out over the season, and include a pair of three-game series. The matchups include: Cubs-White Sox (July 10-12, Aug. 14-16); Mets-Yankees (April 24-26, Sept. 18-20); Marlins-Rays (April 10-12, Sept. 29-Oct. 1); Cardinals-Royals (May 22-24, June 12-14); Brewers-Twins (June 5-7, June 26-28); Nationals-Orioles (July 10-12, Sept. 21-23); Giants-Athletics (July 24-26, Sept. 25-27); Reds-Indians (May 22-24, July 17-19); Dodgers-Angels (July 31-Aug. 2, Sept. 7-9); and Pirates-Tigers (April 13-15, June 30-July 2).
Oh, yes: Yankees vs. Red Sox. That storied rivalry, which will feel a little different, will begin with a 7:05 ET game on the first Friday of the season. It opens a three-game set that includes a 1:05 start on Saturday and the 8:05 ET time slot for ESPN's "Sunday Night Baseball."
Clubs will again play 19 games against division opponents (76 total games) and either six or seven contests against non-division league opponents in home-and-home series (66 total games). Each club will also play 20 Interleague games (10 home, 10 road).
The Pirates will be hosting an AL team in their home opener for the first time in club history. Detroit will be the opponent at PNC Park at 1:35 p.m. ET on April 13.
See the MLB.com schedule page for all available times and dates
Mark Newman is enterprise editor of MLB.com. Read and join other baseball fans on his MLB.com community blog. This story was not subject to the approval of Major League Baseball or its clubs.