Hot start for McCann key for Yankees in 2015
Catcher had strong finish last year after adjusting to American League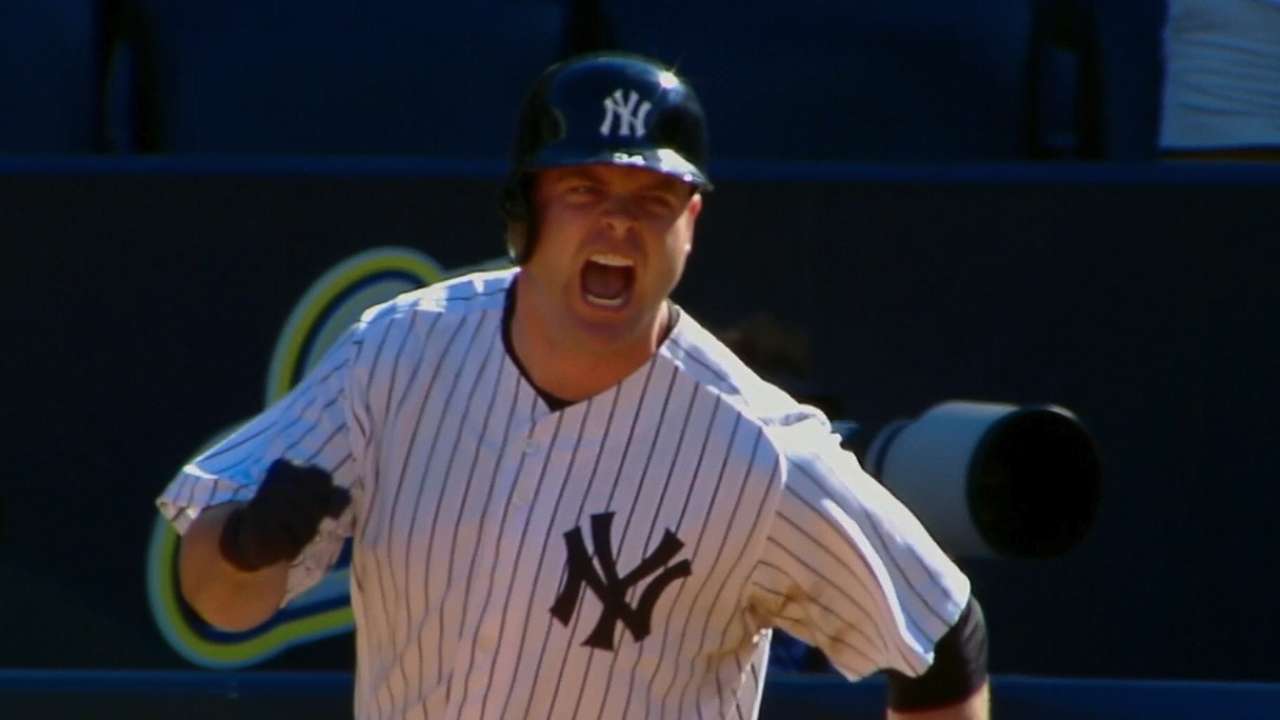 With the start of Spring Training just weeks away, anticipation is building for the 2015 season. MLB.com is going around the horn to break down each area of the Yankees, continuing with the catchers.
Brian McCann was his own toughest critic at times last year, evaluating his first half-season in pinstripes as "horrible." But the Yankees finally saw the player that they expected in September. As 2015 nears, it's their hope that McCann will pick up right where he left off.
McCann was the Yanks' first target of a busy free-agent push before the 2014 season, and after a brief November tour of Yankee Stadium, the left-handed slugger was convinced to sign a five-year, $85 million contract -- the largest annual value contract ever given to a free-agent catcher, at $17 million per year. The Georgia native said that he quickly took to life as a Yankee.
"I like everything about it," McCann said in August. "The passion that runs through this clubhouse -- the stadium is top of the line, and that's what you want as a player."
The only catcher to hit at least 20 home runs in each of the last seven seasons, McCann did not produce immediate dividends on the investment. He limped to the All-Star break with a soft .239 average, and the Yankees wondered if there had been more to the adjustment process of switching leagues than anticipated.
That internal thesis gained some steam as McCann returned to make a second-half impact, seeming more comfortable as he faced pitchers for the second and third times through the schedule, as well as showing signs of clubhouse leadership that could help fill the void left by the retirement of team captain Derek Jeter.
Though they remained dented by the shift-happy American League East, McCann's final numbers were boosted by a strong September in which he slugged eight homers and drove in 18 runs, wrapping the year with a .232 average, 23 homers and 75 RBIs in 140 games.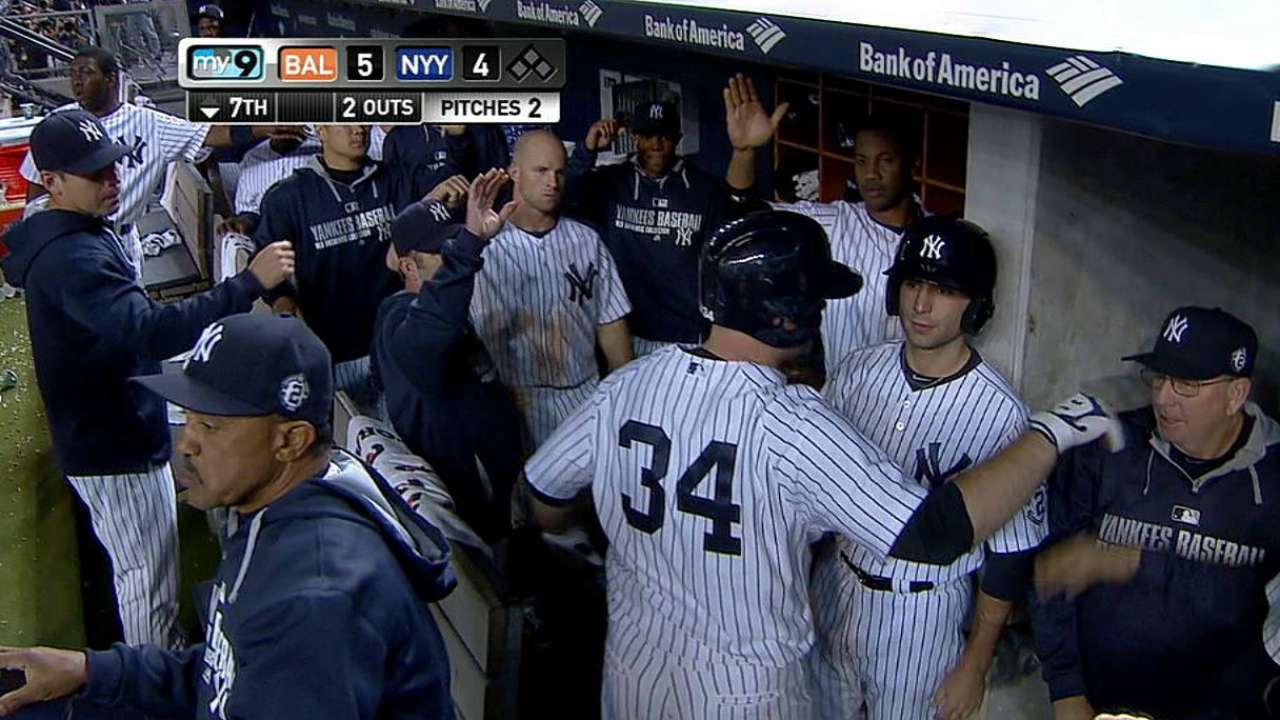 "I think McCann came on strong for us in the second half, and I think next year we'll have a full season of what we expected from him," general manager Brian Cashman said. "It's important. Bottom line, it's important. We need to be a better offensive club than we were last year."
As anticipated, Yankee Stadium's short right-field porch proved to be an inviting target for McCann, who hit 19 of his 23 homers in New York. He noted that some of those drives would have been long flyouts if he were still playing his home games at Turner Field.
"I started to get more comfortable at the plate, at home," McCann said in September. "I found out how they were pitching me a little bit different. Going into the offseason, I'm going to work hard and come back next year better."
It was a year of new challenges for McCann, who had not played the infield since high school but was pressed into duty by Mark Teixeira's injury issues. By season's end, he had started 11 games at first base and seemed to field the position competently, a possible preview of where McCann might contribute in the latter stages of his deal.
For now, however, the Yanks expect that McCann will be behind the plate on a regular basis in 2015, where his game calling, blocking and pitch framing have been rated as strong by the team's pitchers. He caught 37 percent of basestealers in 2015, the highest rate of his career.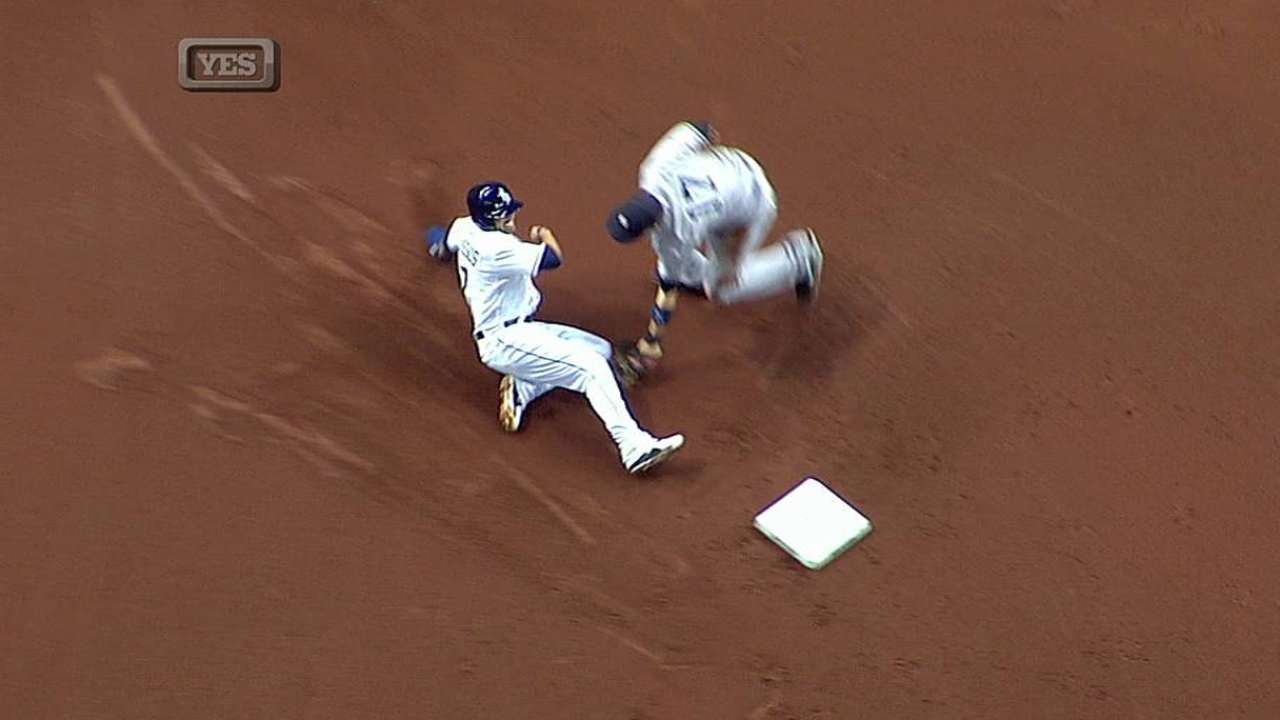 With McCann entrenched as the starting catcher, the Yankees figure to stage a Spring Training competition between John Ryan Murphy and Austin Romine for the backup role, with Murphy considered the early favorite to break camp on the Opening Day roster.
Murphy, 23, batted .284 with one homer and nine RBIs in 32 games for the Yanks last year, making 21 starts at catcher. In May, catching instructor Gary Tuck paid Murphy a high compliment by comparing him to Joe Girardi and telling the Wall Street Journal that Murphy is "as good as anybody I've ever had -- and that's 40 years of some of the greatest catchers who have ever been behind the plate."
Complicating the matter is that Romine, 26, is out of Minor League options and could be a candidate to be traded if he does not make the team. Romine had three hits in 13 at-bats last year, and he owns a .204 average in 76 big league games.
The Yankees also have prospect Gary Sanchez primed to begin the year with regular playing time at Triple-A Scranton/Wilkes-Barre, where he is expected to continue working on his defense. It is possible that the 22-year-old Sanchez, who hit .270 with 13 homers and 65 RBIs in 110 games for Double-A Trenton last year, could make his Major League debut in 2015.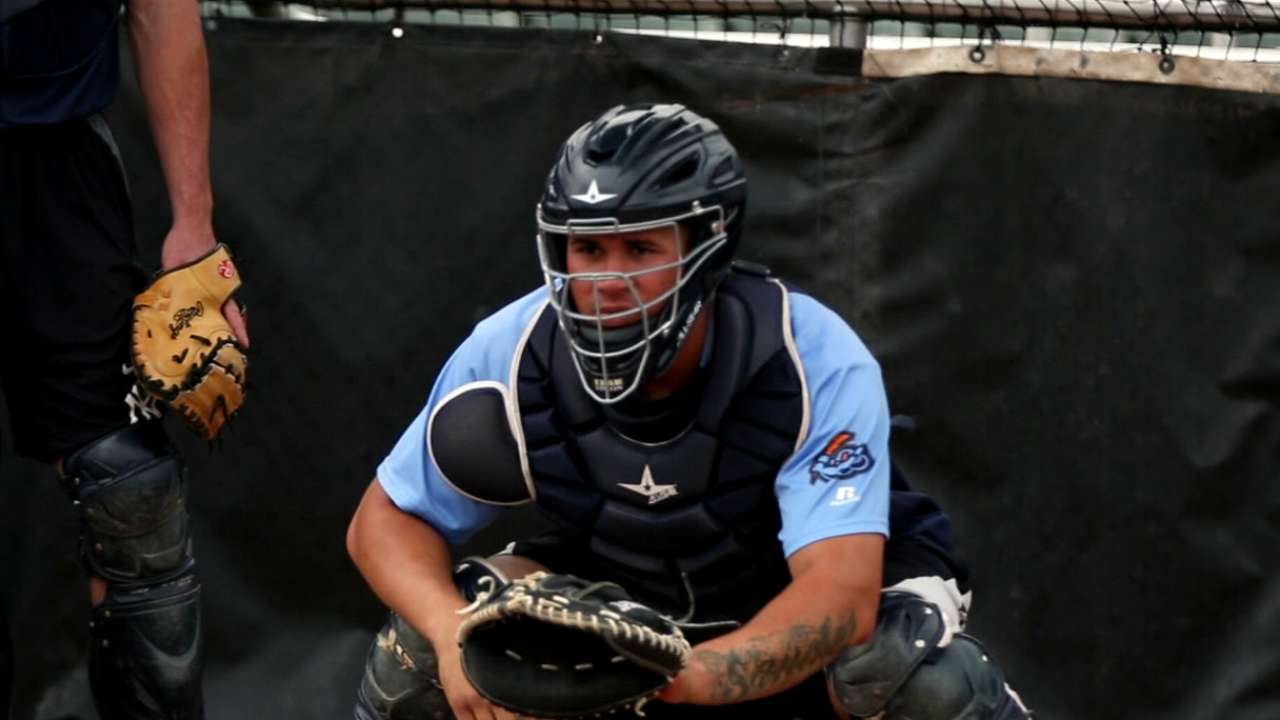 Bryan Hoch is a reporter for MLB.com. Follow him on Twitter @bryanhoch and read his MLBlog, Bombers Beat. This story was not subject to the approval of Major League Baseball or its clubs.