MLB.com Columnist
Megan Zahneis
Phillips won't let others wake him from living the dream
Reds star tuning out distractions, focusing on what he can control as he eyes postseason return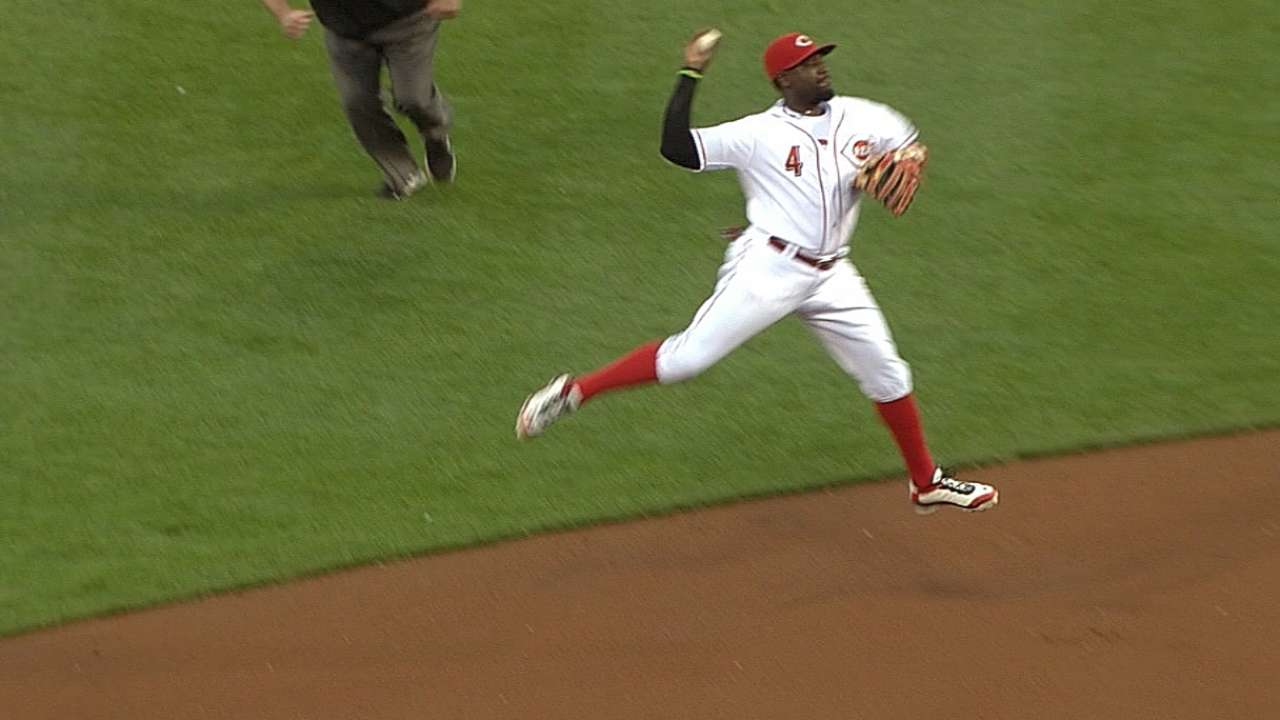 Brandon Phillips is trying not to let anyone get in his head.
Not the media -- Philips put a moratorium on press sessions during the 2014 season -- not the rumormongers who speculate on the season ahead, and, most of all, not himself.
He's just here to play.
"I don't worry about things I can't control," Phillips said. "That's how I look at it. Regardless of what you say or what you do, it's going to get done. It's nothing you can really do about it. The only thing I try to do is go out there and do my job and hope the guys can do their job also.
"I'm just thinking about health and going out there and trying to have a better 2015. That's the only thing I'm really worried about, just trying to stay healthy, get healthy and trying to be a great teammate and continuing to be myself and getting things done."
He doesn't sweat the small stuff -- or, for that matter, the big stuff, like the deals cooking on the Hot Stove this winter.
"I don't really worry about that kind of stuff. I just worry about who's on our team and things that can make us better," Phillips said at Redsfest in early December, glancing through his trademark sunglasses at his then-teammate Mat Latos across the room. "A lot of people are worrying about what's going to happen after 2015 or what's gonna happen during 2015, but those things I can't really control. ... The only thing I can do is go out there and try to motivate those guys, try to get them going and try to bring us a championship and try to bring a ring back to Cincinnati."
Just days later, Latos and fellow starter Alfredo Simon were dealt, hours apart; Latos to Miami and Simon to the Tigers.
Twenty-five minutes after news of the Latos deal broke, Phillips would take to Twitter. He had only one thing to say: #DamnShame.
"I just feel that for us to be better, we've got to stay dedicated, we've got to play small ball, do the small things to get us the wins," Phillips said. "We need to fill in the gaps that we really have. We have some holes in our lineup and in our team, and hopefully [GM] Walt Jocketty and [owner Bob] Castellini can help us out. It was one of those types of years that everybody got hurt last year, and hopefully if it happens again, we have guys that can step in and still be out there and win. I feel like we're a good team, but there's always room for improvement."
The Gold Glove second baseman is quick to admit that the pieces just didn't fall into place for the Cincinnati club last season.
"2014 was a disappointment to the city of Cincinnati," Phillips declared. "I can only speak for myself, but I feel like we didn't win, we didn't get to the playoffs, we didn't win the World Series, and I feel like that's disappointing to the city of Cincinnati. But being disappointed in myself, also. I feel like my year wasn't what I was capable of doing. I've been hurt for the last three years, so hopefully I can stay healthy so I can show everybody that I can still play this game."
Phillips, who has always been active on social media and popular among Reds fans, can only hope that his fans still believe in him.
"I talk to my fans. They follow me on Twitter and Instagram, so they know how I feel about many things, but I still talk to people. I'm getting in shape, I'm getting healthy, and hopefully I stay healthy and show everybody I'm here to stay and I can go out there and be the type of player I used to be," Phillips said. "Once that happens, then we have nothing to worry about and I can bring a championship to this city."
The second baseman prides himself on the relationship he has fostered with the Cincinnati faithful.
"I feel like I'm a people person," Phillips said. "I love my fans. If it wasn't for my fans, I wouldn't be as popular as I am today. I wouldn't have that many Twitter followers or Instagram followers. You play the game for the fans. That's what you're supposed to do. Hopefully the other athletes see that. You've got to show love to them. Fans, you never know whose day you make. Other than that, I just try to go out there and do the small things and be there for the people."
Phillips' Twitter bio reads, in part, "I'm Ya Favorite Athlete's Favorite Athlete." Surely, then, he realizes the role-model effect he has on the younger generation of baseball fans.
"I don't really think about that, but when I hear kids say, 'I want to be like you,' or watching the Little League World Series games and having those kids saying their favorite player is Brandon Phillips, that means a lot," Phillips admitted. "That's what it's all about. For kids to say that, I must be doing my job."
Oh, Brandon Emil Phillips knows he has his doubters.
"When I'm healthy, my play will speak for itself, and I haven't been healthy in three years," he said. "I've played through many injuries. I had wrist surgery the other year, I had thumb surgery this year, I've been playing with a bad calf. There are so many things, but I don't complain about many things, that's just not the type of person I am, but I try to go out there and produce and stay on the field as much as possible, because I feel like I have one career and I'm supposed to go out there and do my job. That's why my numbers haven't been the same, but I still get criticized for being out there.
"If I don't play, then people get mad -- 'Oh, Brandon's milking it. Is he really hurt?' If I do play, but I don't produce, but I still go out there and do an OK job, then I still get criticized.
"I don't care what people think about me. When it comes to the critics and the people saying negative things about me, that's their opinion."
He batted second, third and fourth for first-year skipper Bryan Price last year, and while filling so many different roles wasn't his first choice, he's well-aware of the reasoning behind it.
"It doesn't really matter what I think. It's just what's best for the team," Phillips said. "I want to do what's best for the team, but I feel like I can hit anywhere. I don't really care where I hit at. If they want me to hit eighth, I'll hit eighth. If that makes the team better, so be it.
"Of course you want to be in [on] the action, where you feel like you're the man. Hitting third, you feel like you're the man. For you to go out there and put you in that position, you've got to feel like you're the man, know that you're the man. When you hit third, at the top of the lineup, you feel like you're in the game. But when I hit lower in the lineup, I feel like I'm just a suspect."
Whether he is "The Man" or a role-playing "suspect," Phillips is content to leave it all to fate.
"I just go out there and be myself, try to stay healthy, and, you know, whatever happens, happens," Phillips said. "Everything's already written already.
"The only thing I know [is], I'm playing a game I love and I'm out there playing for the Cincinnati Reds and I'm living a dream and I haven't woken up yet."
True, Brandon Phillips may not know how the story ends, but he's willing to call it a fairy tale.
"No," he sighed, playing with the tiny blinged-out No. 4 jersey hanging around his neck. "I don't really pinch myself. I just keep on living it. If I'm dreaming, I'm going to keep on enjoying the dream while it lasts."
Meggie Zahneis, winner of the 2011 Breaking Barriers essay contest, earned the job of youth correspondent for MLB.com in the fall of '11. This story was not subject to the approval of Major League Baseball or its clubs.