Francona aiming to shore up Tribe's defense
Club planning to implement new Spring Training workouts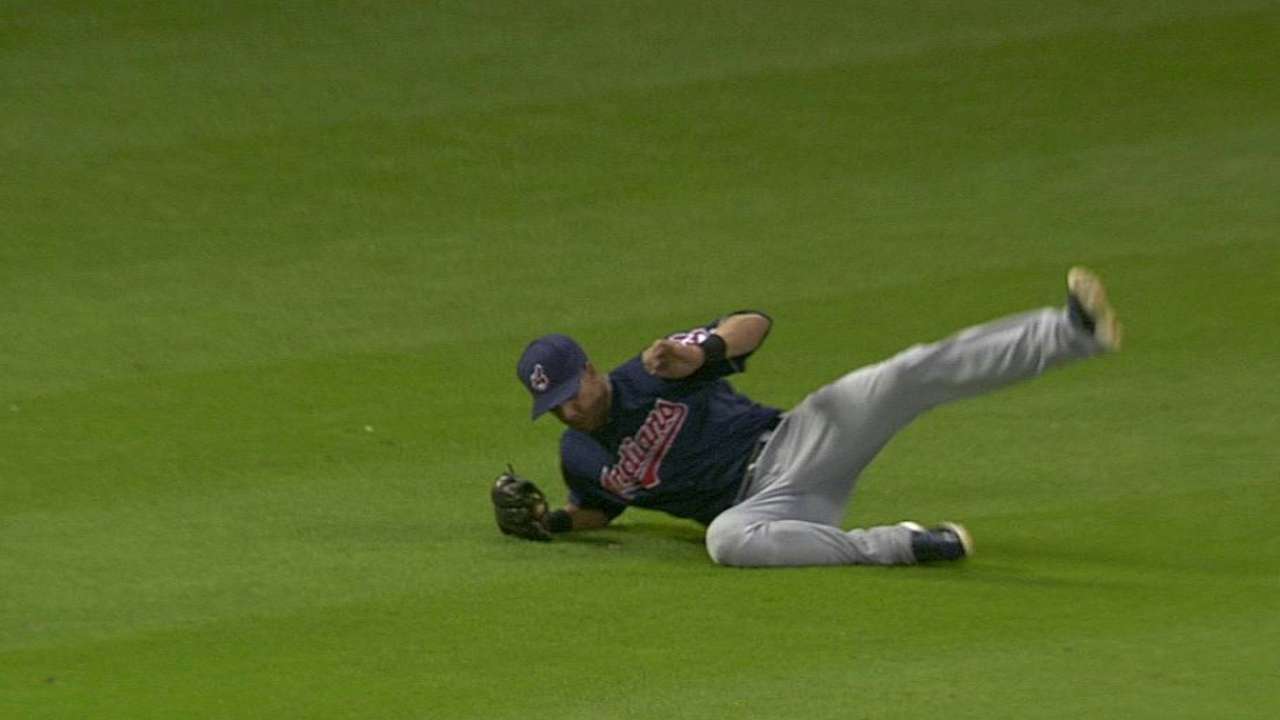 CLEVELAND -- Indians manager Terry Francona has mentioned multiple times this winter that improving his team's defensive play is a priority for the upcoming season. During a lunch gathering with local reporters on Tuesday, Francona again stressed the importance of using Spring Training to make strides in that area.
"That is one of our main goals in Spring Training," Francona said. "We kind of found ways to make errors all over the map last year. We were pretty consistent in that aspect. And that's a hard way to win. It doesn't mean you can't, but it makes it harder."
During the Winter Meetings in early December, Francona offered some insight into the planned changes to the defensive aspects of Cleveland's spring workouts. The manager went into further details during Tuesday's 40-minute question-and-answer session in the home clubhouse at Progressive Field.
Francona noted that defensive drills will remain at the top of the daily schedule during Spring Training, but the club plans on retooling its approach. For example, the infielders will take more ground balls in the defensive-shift scenarios that come up during regular-season games. The Indians will also do drills at full speed more often, letting the play develop and run to completion, rather than forcing a particular situation in a repetitive manner.
The idea behind that latter approach is to simulate more realistic game scenarios.
"Regardless of who we have," Francona said, "Our job is to make them play as well as they can, whether that's by positioning them or having them ready to play. I think the more we do at full speed will certainly help."
Francona added that third-base coach Mike Sarbaugh (Cleveland's infield instructor) will likely return to the team's complex in the later innings of early spring games in order to lead more defensive workouts. The benefit to that scenario is having players doing drills while loosened up after playing in a game. Francona noted that bench coach Brad Mills could also stay at the complex during Spring Training road games to hold workouts for players not on that scheduled trip.
Last season, the Indians led the Majors in errors (116) and ranked last in baseball in both Ultimate Zone Rating (minus 72.4) and Defensive Runs Saved (minus 75). The club's deficiencies in those areas contributed to finishing four games behind the rival Royals for a spot in the American League Wild Card Game.
"We just want to get our guys ready for this year," Francona said. "I hope you can make a quantum jump, because we were dead last last year. I don't think we want to be that way this year."
Jordan Bastian is a reporter for MLB.com. Read his blog, Major League Bastian, and follow him on Twitter @MLBastian. This story was not subject to the approval of Major League Baseball or its clubs.