MLB.com Columnist
Anthony Castrovince
Quiet Indians have pieces to make noise in AL Central
Bullpen, roster flexibility and improved defense key to competing in tough division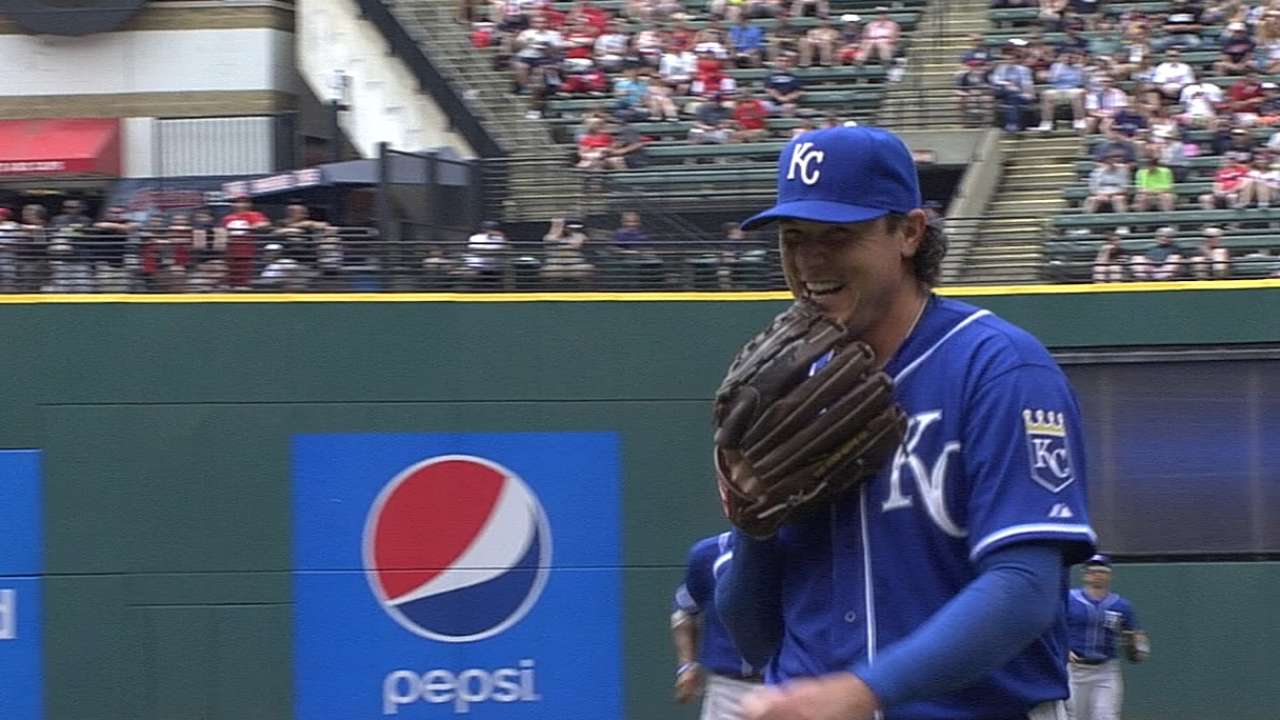 CLEVELAND -- From the snow-covered steps of the home dugout, Terry Francona could see the progress being made on the Progressive Field reconstruction -- the bar being erected beyond the right-field corner, the new bullpen areas rising behind the center-field wall and the completely overhauled batter's eye. An Indians staffer had to explain what was going where, because for now it was all girder and hard hats and unfinished business.
How all of this is going to come together in the midst of another cold local winter and be completed by April 9 is a question best left for the construction crew. But Francona has already seen how quickly things can evolve in the American League Central, so why should his home park be any different?
This division has been totally remade in recent years. Once all but conceded to the Tigers in March, the Central is now as intriguing -- and arguably as deep -- as any in the game. And because the Tigers still have their fair share of star power and the Royals are coming off their October ride and the White Sox have been the darlings of the Hot Stove season, it's easy for Francona's team to get overlooked.
The Indians, having finished five games back of the Tigers and four back of the Royals in '14, made just two nationally noteworthy moves, both involving veterans coming off injuries -- Brandon Moss (hip surgery) for the lineup,Gavin Floyd (broken funny bone) for the rotation. That's not the stuff of Hot Stove sexiness, but the Tribe wasn't exactly working with a blank canvas.
"We're in a little bit of a unique situation where we have most of our team in place," Francona said Tuesday. "We just need to find a way to play six or seven games better than last year."
For that to happen, the Indians are going to have to get or stay ahead of the curve in three primary areas:
1. Bullpen usage
We know the Indians can -- or should -- have a solid, if not elite, rotation, given not just the ascendance of Cy Young winner Corey Kluber but also the second-half showing of Carlos Carrasco and the expected growth of Trevor Bauer, Danny Salazar and lefty T.J. House. Floyd was an affordable insurance policy should the warts of youth reveal themselves, and his stuff and numbers with Atlanta before he was felled by another injury were encouraging.
Long story short, the Indians are right to feel they can get quality innings out of this group. But in today's game, it is increasingly clear that the concept of quality innings from your starters has shifted. The mindset used to be to get your starter into the seventh or eighth, but now, if your 'pen is up to the ever-impressive par, you settle for the sixth. Francona has been as proactive as anybody in his two years in Cleveland, carrying eight relievers and breaking records for overall reliever usage.
That trend won't change in '15, because as good as this group of starters is, Francona recognizes that the mid-inning matchups that can be capitalized upon with a well-built bullpen often outweigh the value of having your starter face a lineup a fourth or sometimes even a third time. So the Indians will only be as good as their bullpen, which means their unsung acquisitions of some non-roster guys -- most notably veteran lefty Scott Downs and former Twin Anthony Swarzak -- will go a long way toward bracing them against the burnout factor. Though the Indians are careful about monitoring pitches thrown and times up in the 'pen, the simple fact is that this club had three guys (Bryan Shaw , Marc Rzepczynski and closer Cody Allen ) in the top five in AL appearances last season and a fourth (Scott Atchison ) in the top 20.
"[Swarzak] had like 100 innings out of the bullpen for a couple years [2011, '12 and '13]," Francona said with a smile, "so he'll fit right in. If he goes 10 minutes without pitching, he breaks out in hives."
Most interesting of all, Francona is thinking proactively about when to bring out Allen. The sabermetrics community has been arguing for years about the value of using your best reliever in the biggest spots, but it's not always easily applicable in a real Major League clubhouse, where relievers value the stability of their roles and closers, especially, like the impact the saves total has on their salaries.
Allen, though, is young enough, pliable enough and eager enough to affect the bottom line that he's on board with Francona's talk of occasionally using him in the eighth, should the situation call for it.
"Cody just wants to pitch when it's exciting," Francona said.
2. Positional flexibility
This is what separated the Indians in a lot of ways in their Wild Card-winning year in '13. Francona rotated guys in and around his lineup at a variety of positions, taking advantage of three switch-hitters in the lineup and an upbeat attitude in the clubhouse to exploit matchups.
Sometimes this concept can come back to bite you, as it did with Carlos Santana last year. The Indians tried to make him the first hybrid third baseman/catcher, and somewhere between the foul tips behind the plate and the defensive adjustment to the hot corner, his bat sagged. He didn't take off offensively until he finally settled in at first.
The Moss acquisition, though, is a much more modest approach, as we have documented proof that he can handle a right field, first base and DH rotation, assuming his hip cooperates.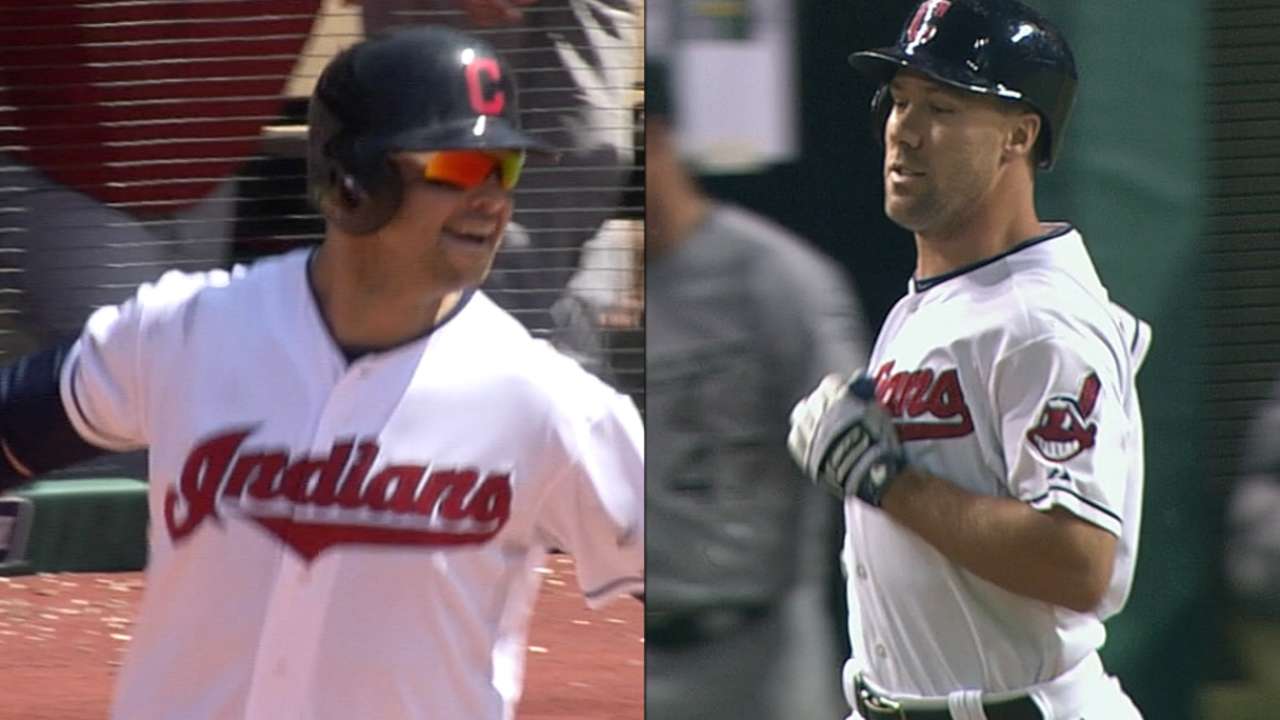 "The more flexibility, the better," Francona said. "It's almost like you can create a 25-man roster that's more like 26 or 27. [Mike] Aviles can move around and guys like that can allow you to sometimes carry an extra pitcher. One thing kind of coincides with the other."
The mystery, of course, is whether Moss' recovery timetable coincides with the season schedule. Same goes for Nick Swisher, who is coming back from dual knee surgeries. The possibility exists that neither guy will be ready by Opening Day, in which case the Indians will utilize David Murphy and Ryan Raburn on a regular basis in right.
3. Improved defense
This is the big one. There's no way the Indians bridge that Central gap unless they rise significantly from the bowels of the defensive runs saved standings, where they ranked dead last by a wide margin in '14. And because none of the Indians' offseason maneuverings revolved around the infield, the only way this is going to improve is via good, old-fashioned work ethic.
Well, that's not totally true, as Jose Ramirez is now the incumbent shortstop after Asdrubal Cabrera was jettisoned last July, and defensive whiz Francisco Lindor looms in Triple-A. The Indians saw immediate defensive gains when Ramirez took over, and his bat, while not a game-changer, has come better than advertised at the big league level. Santana was also surprisingly adept at first after he made the move.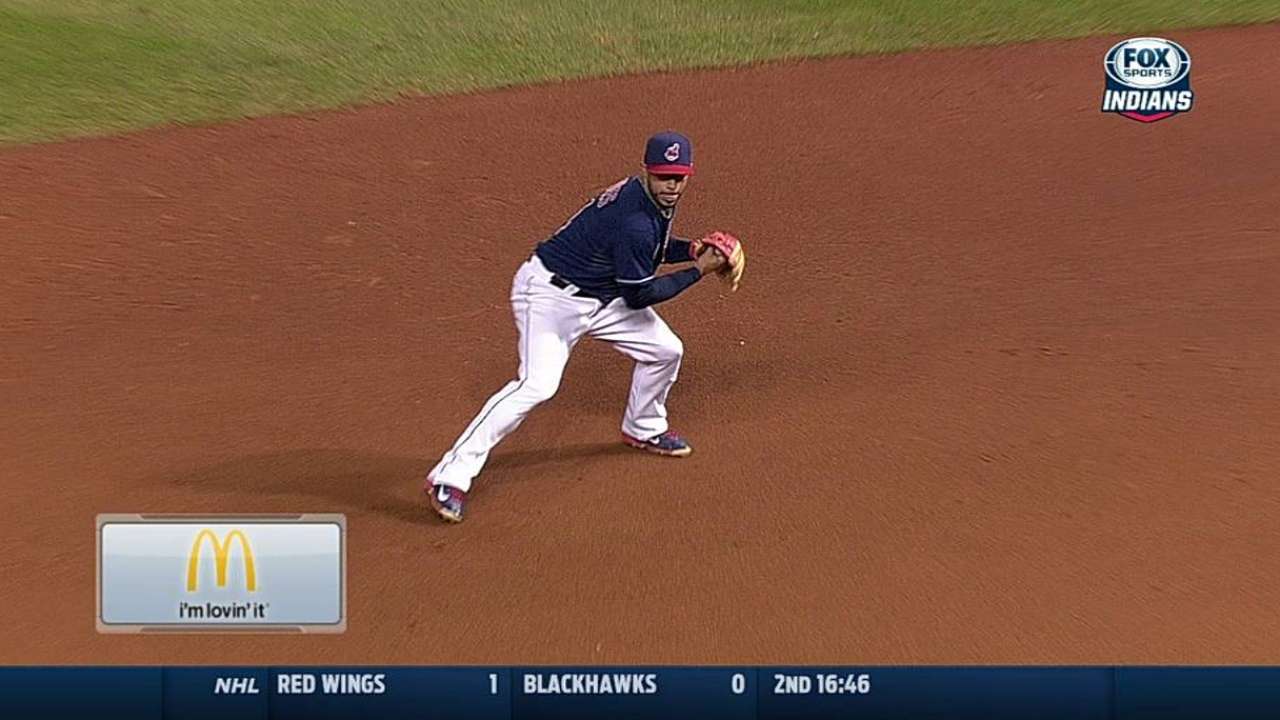 So this one's largely on second baseman Jason Kipnis, coming off a brutal year on both sides of the ball, and Lonnie Chisenhall . It's also on a coaching staff that will drastically reshape the spring schedule and the way the work is completed.
"We're going to take a lot more ground balls in our shifted defense," Francona said. "It's normal to take your ground balls in Spring Training straight up, but then the season starts and you're rarely there. We need to be cognizant of that."
Francona knows this stuff can be taken too far. When he was a rookie skipper in Philadelphia, he went into camp with an eye on conducting better pitchers' fielding practices than any other club.
"And every one of our pitchers had a sore arm," he said. "So it didn't really help."
But the Indians know, in personnel and approach, they have to improve significantly on the defensive end.
More than ever, this division demands it.
Anthony Castrovince is a reporter for MLB.com. Read his columns and follow him on Twitter at @Castrovince. This story was not subject to the approval of Major League Baseball or its clubs.