Players new and old to highlight Brewers On Deck
Braun, Lucroy, recently acquired Knebel, Sardinas among those to join Cooper, ex-Crew stars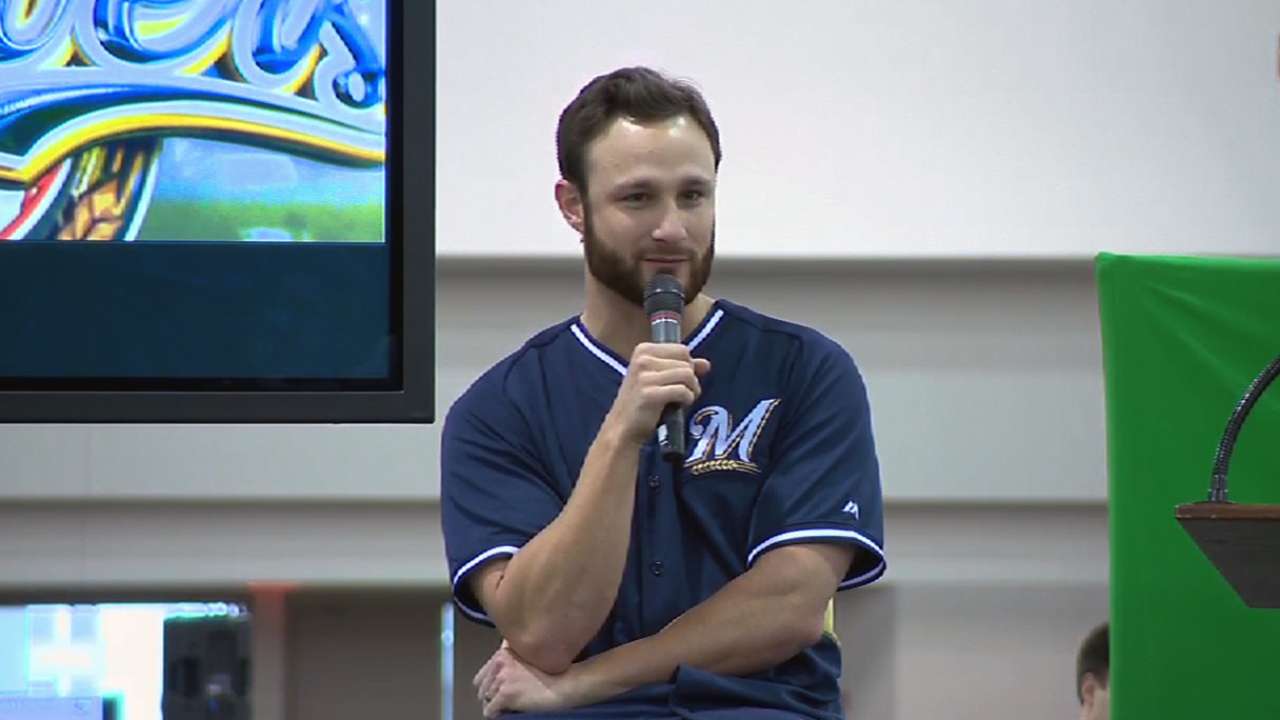 More than 30 Brewers players, including headliners Ryan Braun and Jonathan Lucroy, will have center stage at Sunday's activity-filled Brewers On Deck fanfest at the Wisconsin Center.
The newest Brewers, right-hander Corey Knebel and shortstop Luis Sardinas, acquired in Monday's trade of Yovani Gallardo to Texas, will also be on hand for activities and autograph opportunities at the 10 a.m. - 5 p.m. CT baseball mixer.
The roster of attendees include more than 50 current and past players -- among them Cecil Cooper, Craig Counsell and Rob Deer -- and field personnel headlined by manager Ron Roenicke.
Portions of ticket proceeds are earmarked for Brewers Community Foundation.
Advance tickets of $15 for adults and $9 for children (14-and-under) may be purchased at brewers.com/ondeck, or at the Miller Park ticket office or by phone (414-902-4000). Day-of-event tickets are $20 and $15.
Proceeds from autograph opportunities will also benefit Brewers Community Foundation. Many players will be signing for free all day on the Bonus Stage. Otherwise, $10 tickets will be sold for a maximum of 250 autographs by the team's Major League veterans.
In addition, autograph opportunities will be raffled off for Bob Uecker, Carlos Gomez, Braun and Lucroy. Each fan in attendance will receive one Premier Entry card, to be exchanged for a numbered coupon and entered into the random selection process. Coupon distribution will begin at 8 a.m. and continue up to an hour before each designated autograph session:
• Uecker 12:30 - 1:15; Stage 5
• Braun 1:00 - 1:45; Stage 6
• Lucroy 2:30 - 3:15; Stage 3
• Gomez 3:00 - 3:45; Stage 1.
The day-long schedule of events on Klement's Main Stage will begin with the 10:15 a.m. unveiling of the seven T-Shirt Friday designs as selected by fans in online voting, and will include a Q&A session with Brewers chairman Mark Attanasio, general manager Doug Melvin and selected players.
The Brewers Interactive Stage will feature a "kids only" Q&A session with players, and a roundtable discussion with members of the Milwaukee media covering the team on a regular basis.
Tom Singer is a reporter for MLB.com and writes an MLBlog Change for a Nickel. Follow him on Twitter @Tom_Singer. This story was not subject to the approval of Major League Baseball or its clubs.