Harrison holds MLK Day baseball camp for kids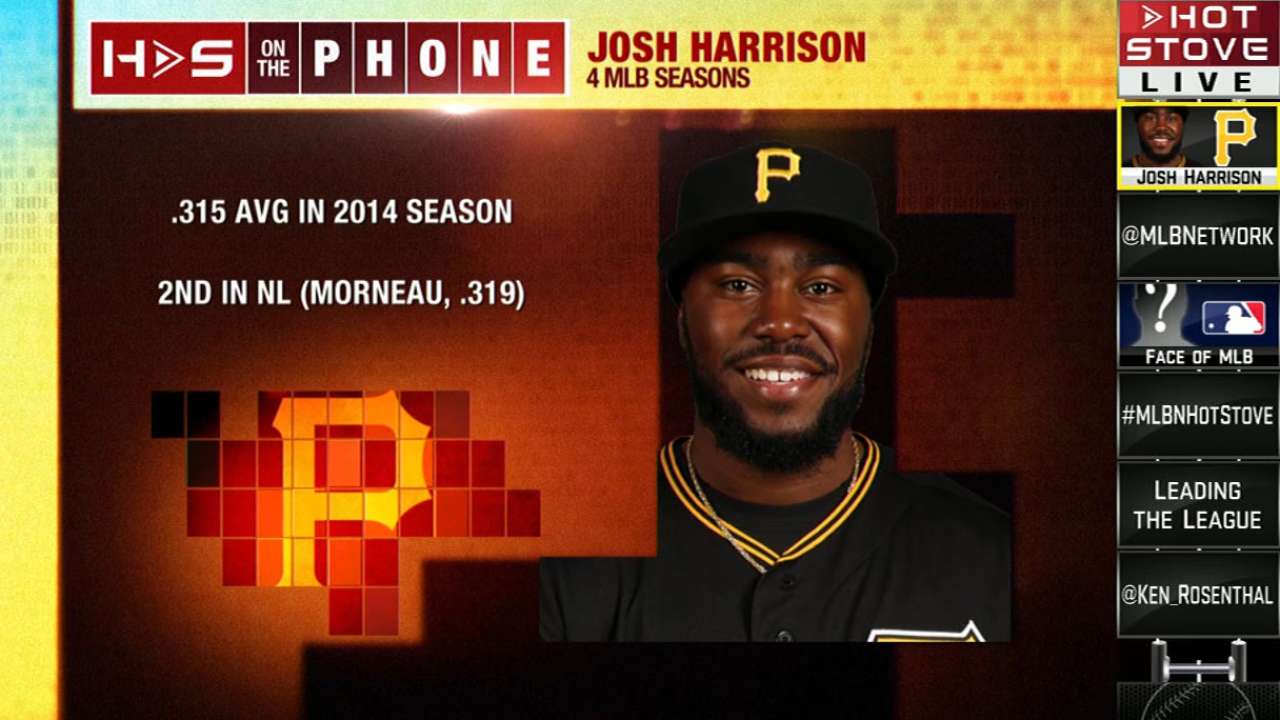 Pirates utility man Josh Harrison spent his Martin Luther King Jr. Day with his brother and a group of Minor Leaguers, running a baseball camp for Cincinnati-area children.
Harrison appeared on MLB Network's "Hot Stove" show Tuesday morning to discuss the Harrison Brothers MLK Day Camp and his breakout 2014 season.
The camp featured Harrison and his brother, Vince, and about a dozen other players.
"It was something that me and my brother -- I won't say last minute -- but we thought, 'Hey man, let's do a camp for the kids around Cincinnati and give them a chance to get some instruction, have some fun and get a chance to meet some guys that play the game at a high level from Cincinnati and some from other parts of the United States,'" Harrison said. "Just to give the kids a range of different professional players that they can get a chance to interact with for one day."
Harrison, a Cincinnati native, set a high bar last year as he made the National League All-Star team and finished ninth in the NL MVP voting. He transformed from a part-time role player into an everyday super-utility man, batting .315/.347/.490 with 13 homers and 52 RBIs while playing five different positions over 143 games.
"Baseball is a game where you have to stay fresh," Harrison said on Hot Stove. "And when you get a chance to go out there every day and work through those struggles, you're going to be better, as opposed to going out there once or twice a week and you don't really get a chance to go through a struggle. It's all a learning experience, and it's something I've done my whole life is play every day. You go through a rough stretch, I got a chance to come out of it. I hadn't had that opportunity in the big leagues yet, and last year I got my opportunity and showed that I can play this game at a high level.
"I've been blessed to do it. That's really all there is to it. I didn't do anything overnight that made me change how I approach the game or how I work out. Everything I've done is the same. The only difference was I got a chance to go out on a nightly basis and get more at-bats."
Harrison played both corner outfield positions, along with second and third base and shortstop last year. He'll likely settle into a more regular role at third base this year, and he wasn't at all opposed to that idea.
"Like anybody, you would definitely like to play one position and really work on mastering that one position, but I knew I was in a position [last year] to bounce around and I take just as much pride in one position as the other," Harrison said. "Somewhere in the infield would definitely be my best, because that's my natural position, but I'm athletic enough to be able to go out to the outfield and hold my own."
Adam Berry is a reporter for MLB.com. Follow him on Twitter at @adamdberry. This story was not subject to the approval of Major League Baseball or its clubs.