Rosario working on versatility to remain in lineup
With logjam at position, Rockies catcher training at first base, outfield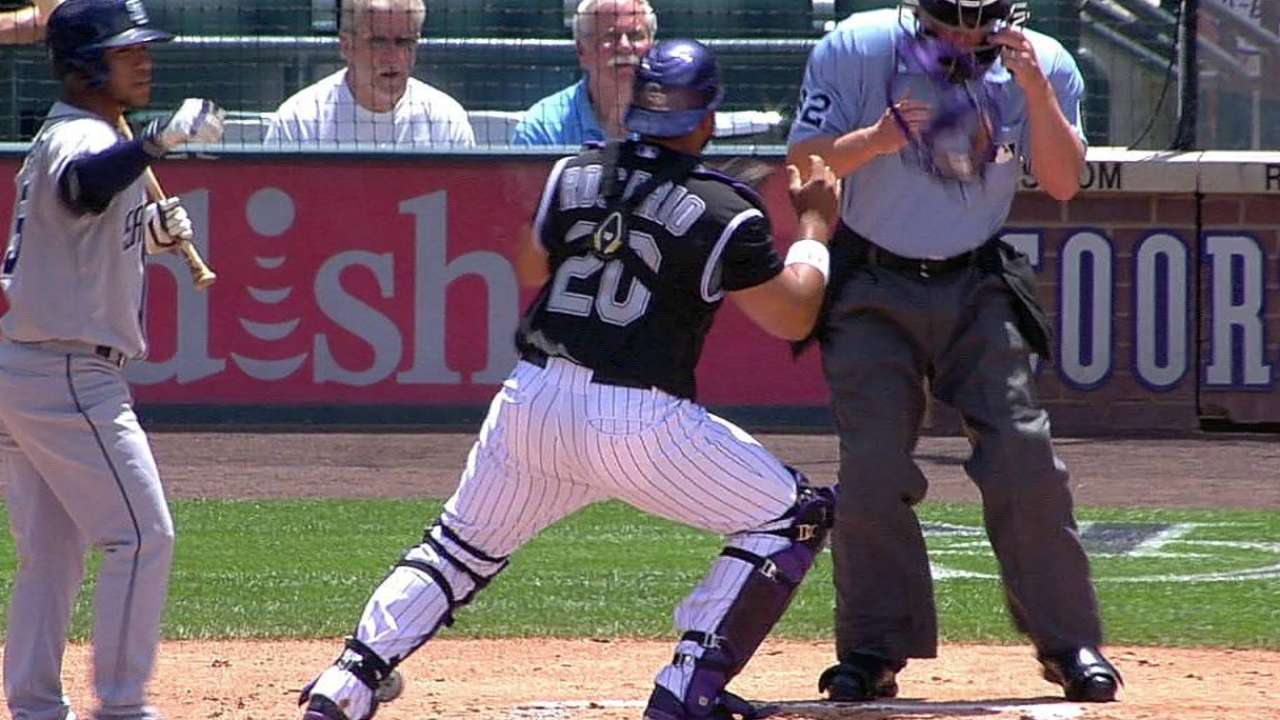 DENVER -- Wilin Rosario spent the early part of this month at the team's training complex in Scottsdale, Ariz., working at first base and the outfield and he will resume the crash course at the team's academy in the Dominican Republic before Spring Training begins, Rockies manager Walt Weiss said Monday.
The work shows that Rosario, the team's regular catcher the last three seasons, is embracing the idea that playing other positions can help keep his bat on the field. The Rockies signed veteran free agent Nick Hundley to become the primary catcher.
The addition of Hundley gives Colorado three catchers, with Michael McKenry in the mix. No trade involving one of the incumbents has materialized, so the Rockies could head into Spring Training with three catchers. It's not clear if that will be the situation going into the season, but Rosario could make it workable if he can play the other positions.
Rosario, who is arbitration-eligible and has filed for $3.3 million, while the club has offered $2.8 million, was one of the players for whom the Rockies listened to offers. But right-handed power is at a premium, so Colorado is happy to find ways for Rosario to provide it. Rockies Minor League hitting coordinator Duane Espy worked with him in the outfield and bench coach Tom Runnells schooled him at first base this month, and more expert instruction will occur in the Dominican Republic.
"He's been great," Weiss said. "He's a great kid, and I didn't expect anything different. He has embraced learning to play the different spots. He realizes he is an offensive weapon."
A draining early-season bout with the flu, various injuries (including repeated left wrist injuries) and continued defensive struggles contributed to 106 games played, as well as career full-season lows in home runs (13, after 28 in '12 and 21 in '13) and weighted OPS -- with park factors taken into account -- (93, after 109 in '12 and 104 in '13).
However, the right-handed-hitting Rosario still has offensive value. Even though he had a rough 2014, he hit .317 with a .989 OPS in 107 plate appearances against left-handed pitchers. He has a career 1.009 OPS against lefties.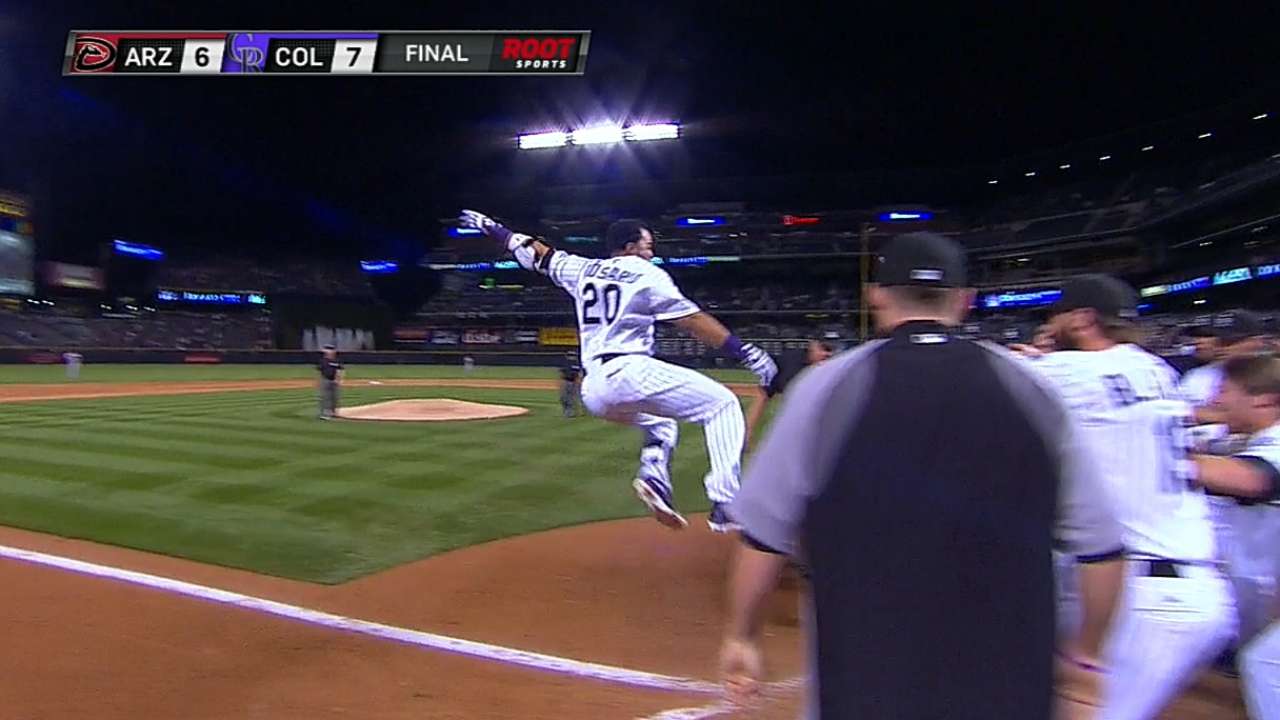 The effectiveness against lefties alone could lead to playing time. The other catchers are right-handed hitters as well, but they have "reverse splits," meaning they hit right-handed pitchers better than lefties. Hundley is a career .251 hitter against righties and .200 against lefties; McKenry has hit .250 against righties and .226 against lefties.
Additionally, lefty-swinging first baseman Justin Morneau won the National League batting title last year despite hitting .254 against lefties. The Rockies have right-handed hitters Drew Stubbs and Brandon Barnes as part of the outfield picture, but Rosario's versatility could help late in games.
Part of the motivation for increasing the versatility of Rosario, who turns 26 on Feb. 23, is to reduce the beating on his body that catching exacts. Rosario at times was seen with ice on both hands and wrists after games, and he played through calf issues. Preserving his body could help preserve his power.
"He wants to be out there all the time, but around here we've seen what effect hand injuries can have on a player," Weiss said. "He can hit. We're trying to get the best out of him."
Thomas Harding is a reporter for MLB.com. Read his blog, Hardball in the Rockies, follow him on Twitter @harding_at_mlb, and like his Facebook page, Thomas Harding and Friends at www.Rockies.com. This story was not subject to the approval of Major League Baseball or its clubs.