Rehabbing Arroyo discusses jamming with D-backs in 2014
Right-hander, musician scheduled to start throwing for first time since surgery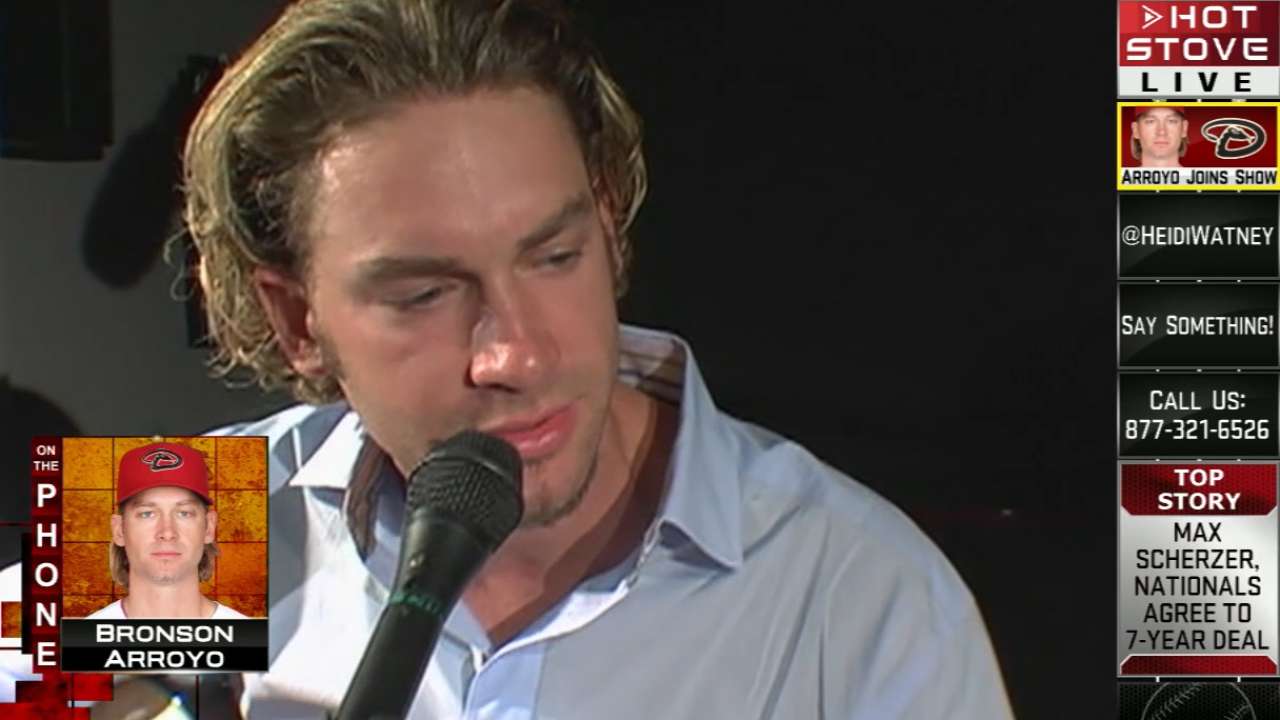 The Major League team that could put together the best band might reside within the D-backs clubhouse.
Right-hander Bronson Arroyo joined MLB Network's Hot Stove on Monday to talk about his health for this upcoming season, but not before talk ventured toward the club's various talented musicians. Mark Trumbo, Aaron Hill and Arroyo recently played a show onstage where Trumbo and Hill provided the guitar, and Arroyo, normally a guitar player himself, provided the vocals.
Last year, Arizona had a music room set up in its clubhouse where the trio was often joined by A.J. Pollock and Rubby De La Rosa on the drums.
Arroyo began gaining interest in music during the early 1990s after listening to Pearl Jam. He did not start playing until '99, when he was a Minor League player in the Pirates organization.
"We would have jam sessions almost daily before the game, a couple of hours before the game," Arroyo said, "which was very unique to have that opportunity and was just a lot of fun with the guys."
Unfortunately for Arroyo, he likely had more time than he would want for music in 2014. He was limited to just 14 starts last season before being shut down in order to have Tommy John surgery, the first time he has landed on the disabled list in his 15 years in the Majors. It snapped a streak of him making at least 29 starts every year since '04.
"It was definitely tough for me," Arroyo said. "I've made my career in this game by my durability."
Arroyo, who will turn 38 in February, is signed through 2015 with a team option for '16. When Arroyo was healthy in '13, he had a 3.79 ERA in 32 starts for Cincinnati.
Arroyo has been rehabbing in Arizona, and he was scheduled to play catch for the first time on Monday. He hopes to return to the mound this summer, with June being an optimistic date, but reasonably in July sometime before the All-Star break.
"I've been beat up and found a way to get on the mound," Arroyo said. "I'm not really worried about it."
Jamal Collier is a reporter for MLB.com. Follow him on Twitter at @jamalcollier. This story was not subject to the approval of Major League Baseball or its clubs.