Podsednik set to reminisce about Series shot at SoxFest
Reflecting on walk-off in '05 Classic, Game 2 hero one of nine from that team to attend this weekend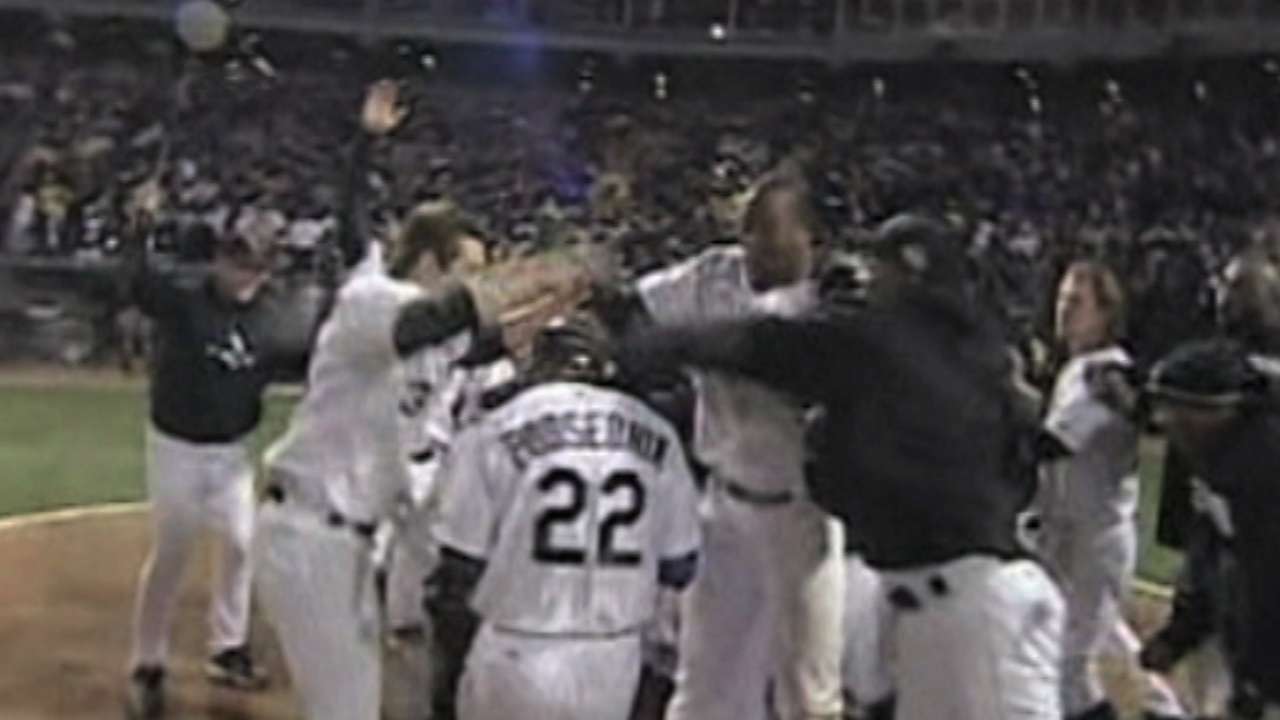 CHICAGO -- Scott Podsednik knew he hit the 2-1 fastball from Houston closer Brad Lidge with as much authority as he possibly could with one out in the ninth inning of Game 2 of the 2005 World Series.
But on Oct. 23, 2005, in Chicago, with rain falling and temperatures in the low 40s, the White Sox leadoff hitter -- who hadn't hit a homer in the regular season -- wasn't sure if the connection was solid enough for the ball to carry over the right-center-field fence at U.S. Cellular Field.
"So I take off, and right as I'm about to reach first base, I see [first-base coach] Tim Raines throw his arm up," Podsednik said during a phone interview with MLB.com. "I look out to right-center and see it leave. From that point forward ... I cannot describe to you the feeling of what it was like. It was mayhem."
Podsednik will relive one of the greatest moments in White Sox history -- his walk-off blast in a 7-6 victory coming two innings after Paul Konerko's go-ahead grand slam -- as well as numerous other memories from the special season during SoxFest this weekend. The festivities all but officially begin the 10-year anniversary celebration, with nine players from the '05 team scheduled to attend.
Don't for a second think Podsednik has tired of talking about this career moment. Quite the contrary. As the 38-year-old, happily-married father of two recounted the intricacies of his blast, he admitted to still getting goose bumps.
If the White Sox left fielder had a stronger arm, Podsednik's walk-off would have been of the defensive variety. Jose Vizcaino's two-run, two-out, pinch-hit single in the top of the ninth brought home Chris Burke with the tying run just a split-second ahead of Podsednik's throw. Podsednik reviewed video of his "decent throw" countless times, and believes Burke would have been out if it was a foot or two more toward the third-base line.
Instead, Podsednik came to the plate following Juan Uribe's leadoff flyout to center. His sole mindset was to get on base, because with Lidge being relatively slow to home plate at the time, Podsednik planned to take off on the first or second pitch to get into scoring position. He jumped ahead at 2-0 in the count and wanted to hack at the next pitch, but manager Ozzie Guillen had other ideas.
"He shakes his finger and is looking at me like, 'Don't even think about it,'" Podsednik said.
At 2-1 in the count, Podsednik didn't think Lidge would throw him a slider, as the closer wouldn't want to walk the accomplished basestealer. So he sat on a fastball that was pretty much the same location as the fastball he took at 2-0.
There was an emphatic fist-pump around first after the ball carried out. Podsednik screamed as loud as he could and immediately thought of his dad watching in the stands as the White Sox took series momentum into Houston. Then-general manager Ken Williams told Podsednik to forget about the long ball and focus on providing energy at the top of the lineup when he was acquired from Milwaukee prior to '05, after he went deep 12 times in 2004 but with a .313 on-base percentage.
That job description makes this piece of White Sox history even more surprising.
"It was a feeling I had never come close to, and after it was all said and done, I knew I would never do anything to top that," Podsednik said. "That was it. I knew that was as big as it was going to get for me because of the setting and timing and when and where it was.
"I don't have the words to really articulate what it was like. Even on the plane ride to Houston, I kept asking myself, 'Did that really happen?'"
Scott Merkin is a reporter for MLB.com. Read his blog, Merk's Works, and follow him on Twitter @scottmerkin. This story was not subject to the approval of Major League Baseball or its clubs.