Inbox: Signing Drew the right move for Yanks?
Beat reporter Bryan Hoch answers questions from fans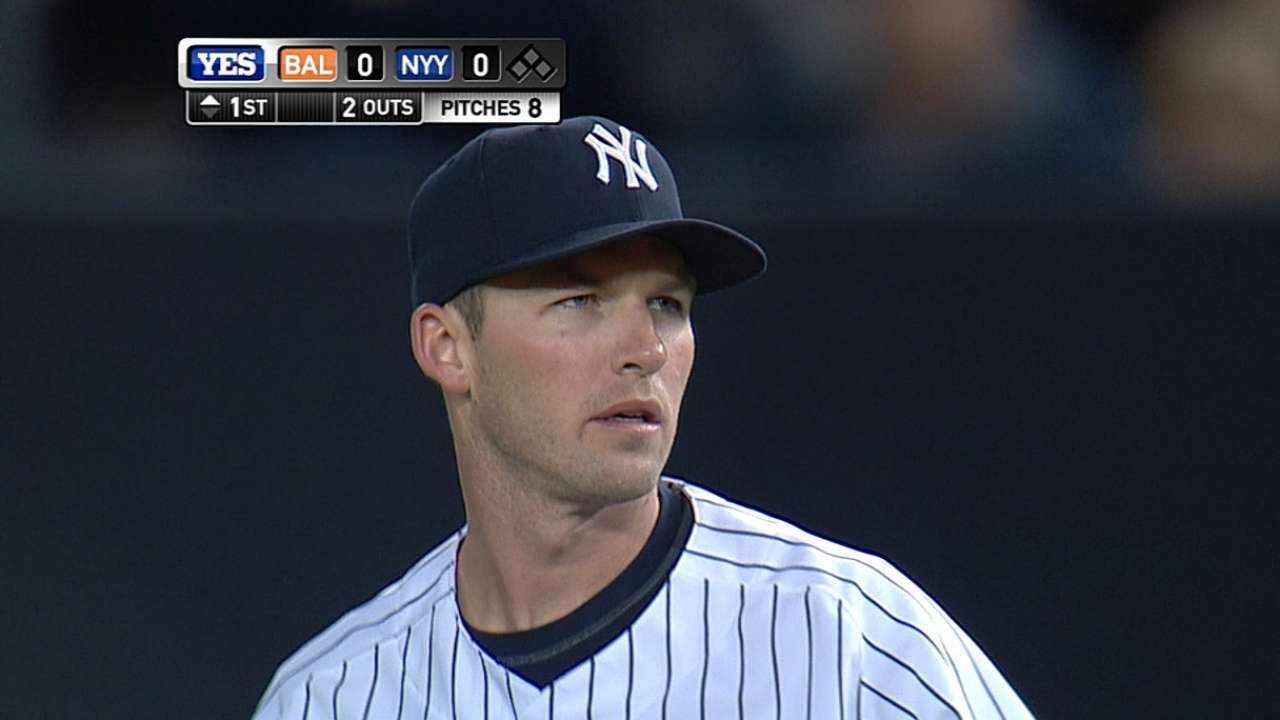 Final preparations are being made to get the 2015 Yankees ready for camp: this past week, the Yankees finalized a one-year deal with infielder Stephen Drew while also crossing the finish line on contracts with pitchers David Carpenter, Nathan Eovaldi, Ivan Nova and Michael Pineda. Here's a look at what the fans are discussing:
Why was Drew signed? I thought the purpose of trading Martin Prado was to open the gates for kids like Rob Refsnyder and Jose Pirela.
-- Michael S., Fairfield, Conn.
There are a few aspects to that, but it really comes down to giving the Yankees a proven veteran who can offer stability and not pinning themselves in a corner where Pirela and Refsnyder absolutely had to be ready. Drew is being looked at as the probable Opening Day second baseman, but at $5 million for one year, the Yankees could easily cut ties with Drew if his stat line resembles what it did last year or if they think they'll do better with one of the younger prospects.
They don't believe that'll be the case, banking on a full Spring Training being able to allow Drew to play more like he did in 2013. The up-the-middle defense of Didi Gregorius and Drew should also represent a significant upgrade over last year's Opening Day tandem of Derek Jeter and Brian Roberts. Pirela and Refsnyder will still have opportunities to show what they can do in the spring and could wind up playing contributing roles during the season. And remember how the Yankees trimmed Roberts from the roster last summer when they felt a better option (Drew) became available.
Click here to submit an Inbox question
CC Sabathia has yet to figure out how to pitch in the Majors without his usual velocity. Since he hasn't shown if he can do this, why do the Yankees appear to be relying on him to be a front-end-of-the-rotation starter?
-- Marc I., Brooklyn, N.Y.
They have 23 million reasons to believe he will figure it out; that's Sabathia's salary for the 2015 season. To put it simply, because of that commitment, the Yankees need Sabathia to come back and prove that he can still be an innings-eating force while he's wrapping up the back nine of his career. Sabathia has been honest about the fact that his high-90s velocity is a thing of the past, and that's completely understandable when considering that his pro pitching odometer is now past the 3,000-innings mark.
The 2014 season was pretty much a wash because of Sabathia's knee injury, but during the eight starts he did have, he had moved away from throwing fastballs (27.39 percent, down from 42.33 percent in 2013, according to Brooks Baseball) and was relying more heavily on sinkers (29.52 percent, up from 14.92 in '13) while starting to sprinkle in a cutter that he borrowed from Andy Pettitte. Sabathia will pick that adjustment process up again in the spring. He doesn't need to be "ace 2009-vintage" CC -- the Yankees would be thrilled with him just being healthy and taking the ball 30 to 32 times.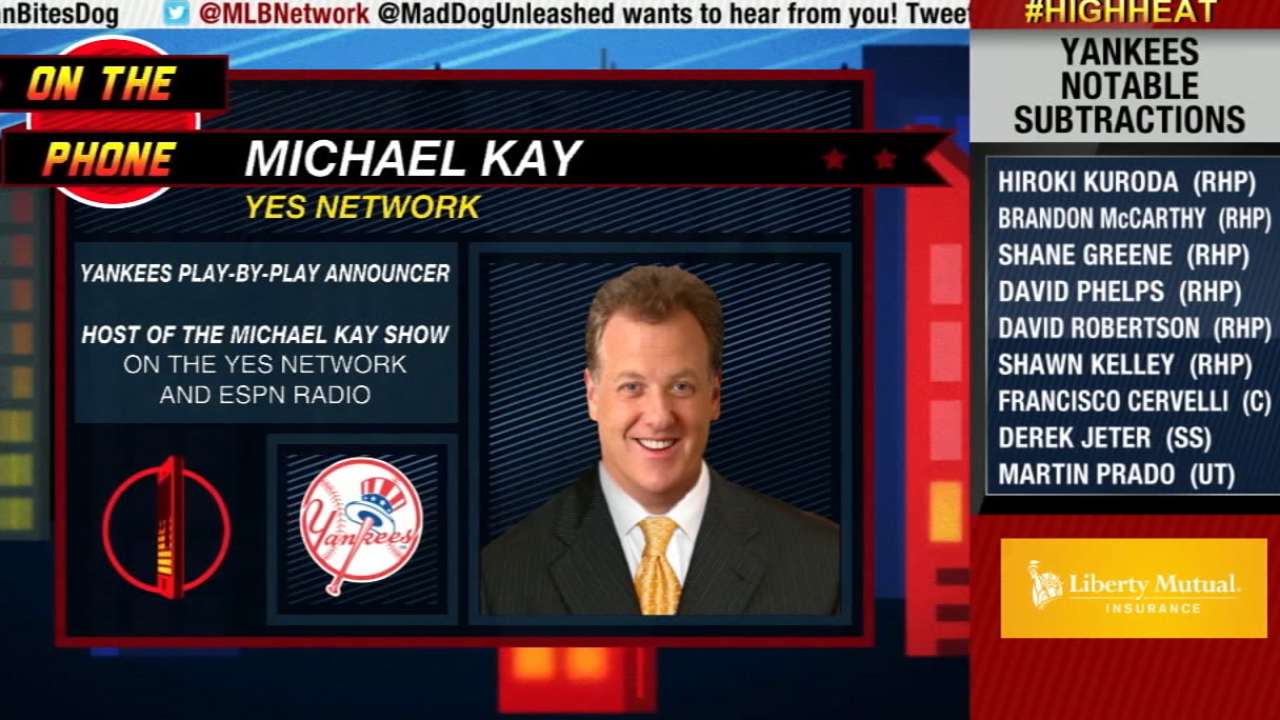 Why did they give up on Manny Banuelos? He has so much potential. The Yanks may regret trading him away if he becomes a starter elsewhere.
-- Frank L., Miami
Banuelos was once among the Yanks' brightest pitching prospects, but his star had dimmed in the organization's eyes over the last few years. Having Tommy John surgery stalled his development, but the Yankees seemed more troubled by control issues that contributed to a 1.61 WHIP in 73 1/3 Triple-A innings. The Braves obviously believe they can get Banuelos over that hump and will give him a chance to make the team in Spring Training, but the Yankees wanted bullpen help now, which they acquired in Carpenter and Chasen Shreve.
I've been hearing the Yankees are keeping a close eye on Johan Santana in winter ball. Is he a realistic option for the Yankees, and if they sign him, how much can we really expect from him?
-- Jordon V., Cayuta, N.Y.
The Yankees have had some success with bringing in pitchers on non-roster invitations in recent years; Bartolo Colon and Freddy Garcia come to mind, and Santana would fit into a low-risk and potentially high-reward situation, where you don't really count on much but provide a chance to be pleasantly surprised. The Yanks could use depth options for their rotation and, at this point in the winter, players on that level represent their most likely avenue to fill it out.
One small note: the lineup Santana faced in his six-up, six-down Venezuelan Winter League outing last week included former Yankee Yangervis Solarte, current Yankee farmhand Ramon Flores and Avisail Garcia, who has seen big league time with the Tigers and White Sox. Maybe that's not a Murderer's Row, but they're certainly professional hitters on the level of what you might see in a Spring Training game.
Will the Yankees retire Bernie Williams' No. 51? It's long overdue.
-- John T., Orlando, Fla.
Last May, the Yankees announced that they were starting a "recognition series" that celebrated Joe Torre, Goose Gossage, Tino Martinez and Paul O'Neill. Torre's No. 6 was retired and the other players received plaques in Monument Park.
At the time, the team also said that there would be a ceremony for Williams in 2015. Those details have not yet been revealed, but it's certainly possible that No. 51 will join the numbers in Monument Park; it has been kept out of circulation since Williams' last game in 2006.
Actually, we may see more than one event in '15. Recently, managing general partner Hal Steinbrenner said this about the idea of honoring Willie Randolph: "We know what he meant to the franchise, and he's always been one of my favorite players growing up. So I think you can look for something in the future -- yes, absolutely. He's earned it."
Bryan Hoch is a reporter for MLB.com. Follow him on Twitter @bryanhoch and read his MLBlog, Bombers Beat. This story was not subject to the approval of Major League Baseball or its clubs.