Inbox: How will Indians fare with current roster?
Beat reporter Jordan Bastian fields questions from Cleveland fans this offseason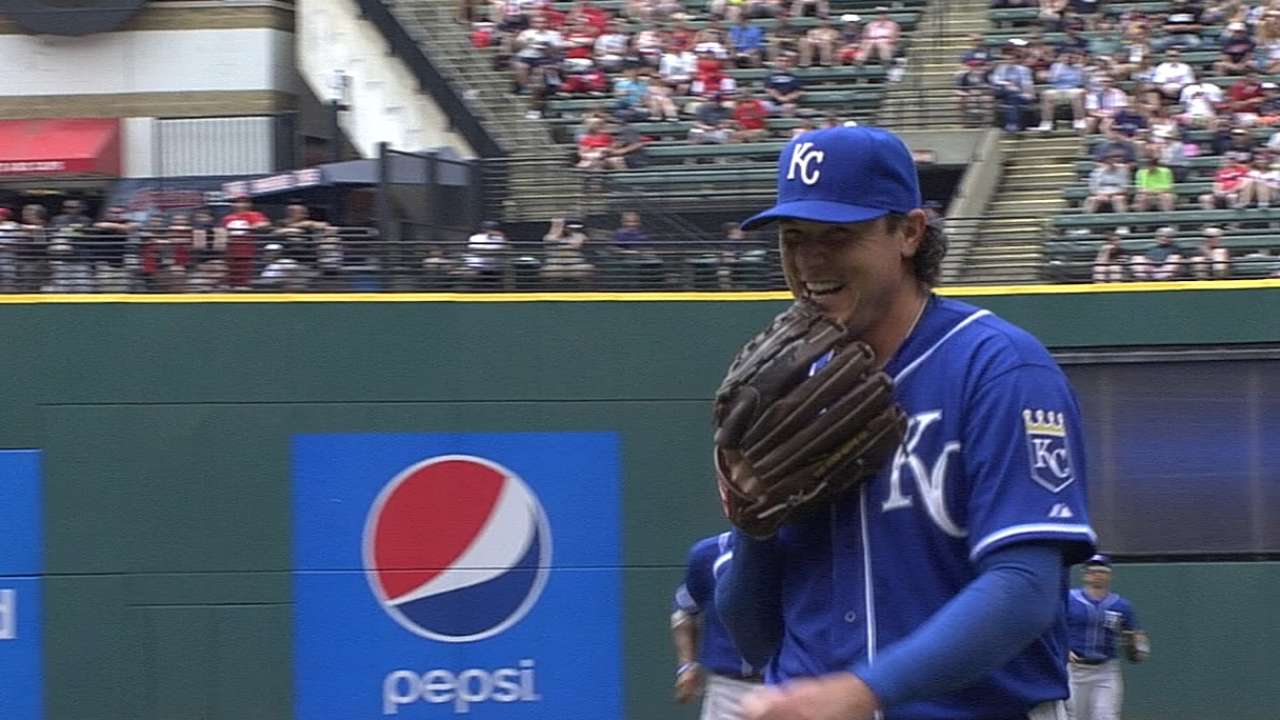 I'm optimistic about the Indians because I'm a fan. But, in your opinion, what does this team need to happen in order to make a run at it this year? Are you optimistic?
-- @beersjoshua (via Twitter)
While there are undoubtedly some uncertainties surrounding the rotation and bullpen, I believe that Cleveland's pitching staff is poised to more than do its part in 2015. As we sit here today, I think the onus will be on the offense and defense to take the Tribe back to the postseason.
Offensively, Cleveland needs Jason Kipnis, Nick Swisher and Michael Bourn to avoid more injury woes and return to a level more representative of their respective career norms. The Indians also need Brandon Moss to show -- through strong production post-sugery -- that his second-half tailspin last year was indeed merely a result of his hip issues.
On the defensive front, the Indians need shortstop Jose Ramirez to continue to be the stellar fielder he was for the club in the second half of 2014. Cleveland needs improvement from both third baseman Lonnie Chisenhall and second baseman Jason Kipnis, too. Even a marginal gain in defensive production maybe would help close the gap that existed in the American League Wild Card standings last season.
Maybe this all sounds like a lot to ask. What I see is a team that -- despite second-half offensive issues and subpar defense (most prominently in the first half) -- remained in contention until the final weekend of the season. So, yes, I'm optimistic about the Tribe's ability to be a legitimate Wild Card contender again in '15. With health, the Indians could even compete for the AL Central title.
So, is now a good time to point out that Corey Kluber will be (at best) the fourth-highest paid Indians starting pitcher in 2015?
-- Matt B., Greenville, S.C.
Talk about getting extremely great value from a starting rotation. You're right, Matt. Even with that AL Cy Young Award in his trophy case now, Kluber will head into Spring Training ranked fifth in the rotation in terms of salary for 2015. Here is a look at the Tribe's top four starters in terms of salary:
1. Gavin Floyd: $4 million (plus $6 million possible through incentives)
2. Carlos Carrasco: $2,337,500 (avoided arbitration)
3. Trevor Bauer: $1.94 million (coming off multiyear MLB deal)
4. Josh Tomlin: $1.5 million (avoided arbitration)
Kluber, Danny Salazar, T.J. House and Zach McAllister each project to earn a salary within range of the league's minimum requirement for the upcoming season. The Cy Young winner will not be eligible for salary arbitration until next offseason, but it's possible that the Indians will explore signing the right-hander to a multiyear extension prior to Opening Day.
Would the Indians actually try to sign free agent James Shields?
-- Zach M., Niles, Ohio
I know there was an Internet rumor floating around that Cleveland had interest, but I have not heard anything along those lines. The Indians currently project to have a payroll around $83-84 million, which is right around the level at which the team operated last season. If Floyd were to hit all his incentives, the payroll could jump to around $90 million. Would Shields look nice in the rotation's second slot? Definitely. Right now, though, I don't think Cleveland will make that kind of monetary splash.
Is it true the Indians are looking for a back-end reliever, possibly a closer?
-- Graydon F., Akron, Ohio
I'd be stunned if Cleveland added a new closer, considering Cody Allen earned that role and excelled in it down the stretch last season. I would not be surprised, however, if the Indians were trying to fortify their bullpen depth, especially given the workload setup man Bryan Shaw has faced over the past two years combined. The team has already added some veteran depth pieces in Scott Downs, Jeff Manship and Anthony Swarzak via non-roster invites. It's also worth noting that McAllister (out of options) will enter camp for Cleveland as an intriguing bullpen candidate.
Would you take the over or under for 90.5 wins for the Indians this year?
-- Clay S., Cleveland
I don't like getting into predicting win totals, but I would take the under at the moment. As I've stated before, I think Cleveland is a Wild Card contender right now. Until we get to Spring Training, where we can monitor the comebacks of guys like Swisher, Moss and Kipnis, it'd be tough to declare this team as a surefire bet to win 90-plus games. That said, I think this team is more than capable of winning 90-plus this year.
Do you think Giovanny Urshela will finish the year at third base for the Tribe? Was Chisenhall's first or second half closer to reality?
-- @OldManBikshorn, Chicago (via Twitter)
I wouldn't use either Chisenhall's hot start (.393 average and 1.057 OPS through 53 games) or his slow finish (.219 average and .614 OPS in final 89 games) as an indicator of what's closest to reality. The reality of his season was the final line: .280/.343/.427 slash line. Right now, I think the bigger concern is seeing improvement on defense from Chisenhall. Urshela is viewed not only as an up-and-coming hitter, but as a plus defender. Even so, with exactly zero experience in the Majors, I don't see Urshela replacing Chisenhall at third base this year. The third-base prospect projects more as a potential late-season callup.
In closing ...
My group of Indians buddies are putting together a "Lindor Pool," taking chances on when shortstop prospect Francisco Lindor will make his Major League debut with the Indians. Any advice on where should I put my entry?
-- Andy C., Salem, Ohio
The arrival of Ramirez as Cleveland's starting shortstop has certainly thrown a wrinkle into the equation. I would say late August, or Sept. 1 as part of callups for the final month. Barring an injury or an extremely poor showing by Ramirez, I don't see Lindor arriving in the first half, especially with veteran Mike Aviles fully capable of filling in at shortstop, if needed.
Jordan Bastian is a reporter for MLB.com. Read his blog, Major League Bastian, and follow him on Twitter @MLBastian. This story was not subject to the approval of Major League Baseball or its clubs.