Selig honored, humbled at annual scouts dinner
Manfred, Hall of Famers, celebrities on hand to laud outgoing Commissioner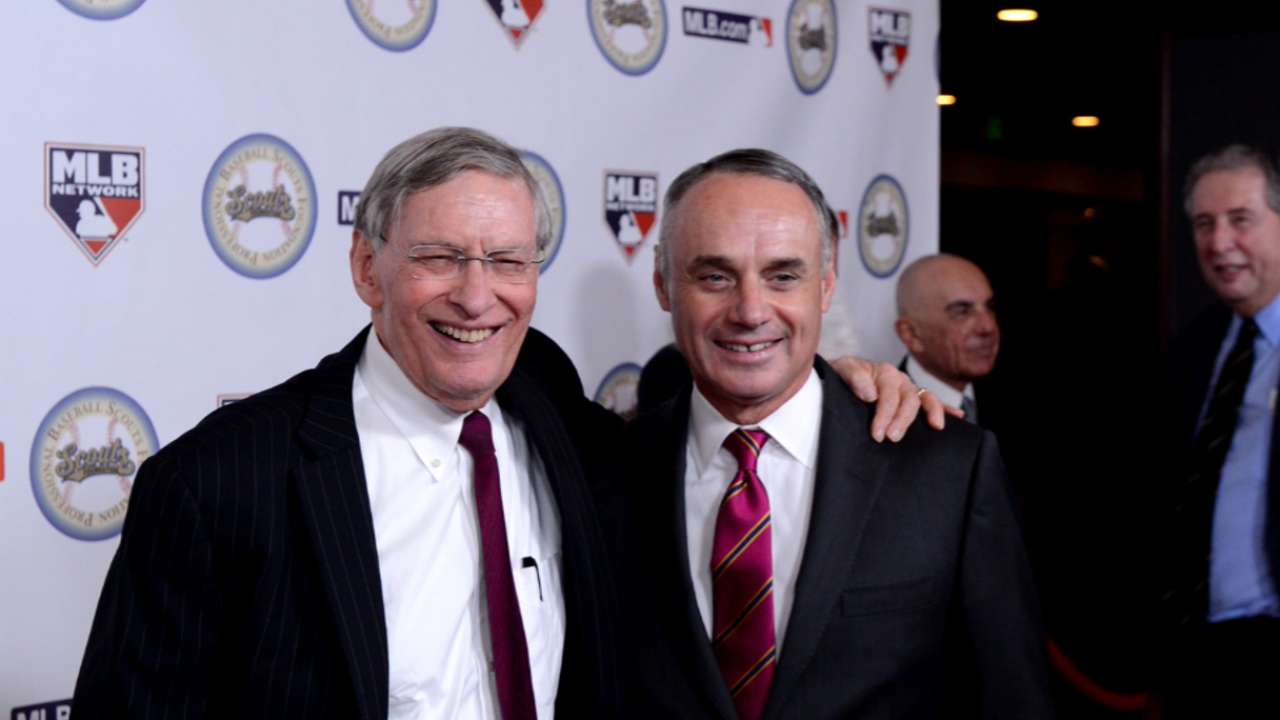 LOS ANGELES -- Hall of Famer Robin Yount recalled the time Bud Selig, then the Brewers owner, insisted that he could get a hit off Milwaukee closer Rollie Fingers during batting practice one day. As he told the story, the future Commissioner didn't come close to putting a ball in play until Fingers grooved a final pitch that shattered the bat Selig was using.
"And he runs down to first base shaking his hand like a little kid and says, 'I told you I could hit you!' " Yount related.
Braves chairman emeritus Bill Bartholomay told a story about having lunch with Selig and his wife, Sue, and Cuban president Fidel Castro in 1999 when the Orioles were part of baseball diplomacy on a trip to the island.
Knuckleballer Phil Niekro, another Hall of Famer, kidded Selig about making the big leagues with the Milwaukee Braves in 1964, seeing that many of the stars like Hank Aaron had been given cars to use by Selig's car dealership and wondering why he couldn't have one, too.
Phillies chairman Bill Giles noted that his last named spelled backward is S-E-L-I-G and said that his father, former National League president Warren Giles, had used that as an alias when he wanted to check into a hotel under an assumed name.
New Twins manager Paul Molitor, yet another Hall of Famer, talked about Selig's generosity and cited an example. A couple years ago, he called Selig and asked if it would be possible to buy a couple of tickets to the World Series because his 17-year-old son really wanted to go. No, Selig told him, he could not buy tickets. They'd be sitting in the Commissioner's box instead.
The 12th Annual Professional Baseball Scouts Foundation dinner was held Saturday night at the Century Plaza hotel. As the name suggests, scouts were honored and awards were bestowed. But the theme of the evening was a tribute to Selig, who is stepping down in a week after 23 years on the job that changed the face of baseball forever.
He received two standing ovations from a crowd of 1,100 that included 11 Hall of Famers as well as figures from the entertainment industry. And his remarks were the closest he's come yet to a public benediction and a passing of the torch to Commissioner-elect Rob Manfred.
After paying tribute to the importance of scouts to baseball, Selig added, "I've been lucky enough to spend 50 years in baseball, the game I loved as a kid. ... What's remarkable is that with each passing year, my love for the game has only grown. And while our game on the field is magical, so too are its people. They truly make baseball an institution worthy of being our national pastime.
"The game has given me many of my best friends who have stood by me every step of the way. The late Steve Jobs was fond of quoting a Chinese proverb. It says: The journey is the reward. In my own experience, these words have proven very true.
"I wish Rob Manfred, who will be an outstanding Commissioner, all the best as he prepares for his own journey. As I prepare to take a different view of the greatest game in the world, I say to one and all of you a sincere thank you. It has been a privilege to lead this sport in my generation and I will be eternally grateful."
Others who paid tribute to Selig included Red Sox chairman Tom Werner, Hall of Famer Brooks Robinson, legendary funnyman and broadcaster Bob Uecker and Manfred.
Said Manfred: "When I think about Commissioner Selig's success, three things stick in my mind. First of all, whenever we had a tough problem, he would always go back and try to resolve that issue by thinking about what was in the best interests of baseball. I've heard that phrase from his mouth so many times.
"Secondly, he has the great ability to bring people together. To make people understand that their common interests are more important than their differences.
"And last, no Commissioner has ever fulfilled baseball's social responsibility better than Bud Selig. His charitable and philanthropic activities are legendary."
Saturday night's banquet continued a hectic final 1 1/2 weeks of his tenure. Last Wednesday he was saluted by a who's who of the sport at a dinner during his final Owners Meeting as Commissioner.
On Sunday, he'll jet to St. Louis for the annual Baseball Writers' Association's dinner, where he'll receive the chapter's most prestigious honor, the Red Award. Named after Cardinals legend Red Schoendienst and created to recognize invaluable service to baseball, Schoendienst will personally present the plaque.
Finally, next Saturday, his final full day in office, Selig will be in New York for the annual New York Baseball Writers' Association dinner, where he'll be given the William J. Slocum Award for long and meritorious service to baseball. That will be sandwiched between a meeting with those who work at the MLB offices in New York on Friday and a one-on-one interview with PBS host Charlie Rose on Sunday to discuss his 23 years as Commissioner.
Paul Hagen is a reporter for MLB.com. This story was not subject to the approval of Major League Baseball or its clubs.