Cubs: Bleachers won't be ready until May
Organization not going to 'sacrifice quality for sake of timing'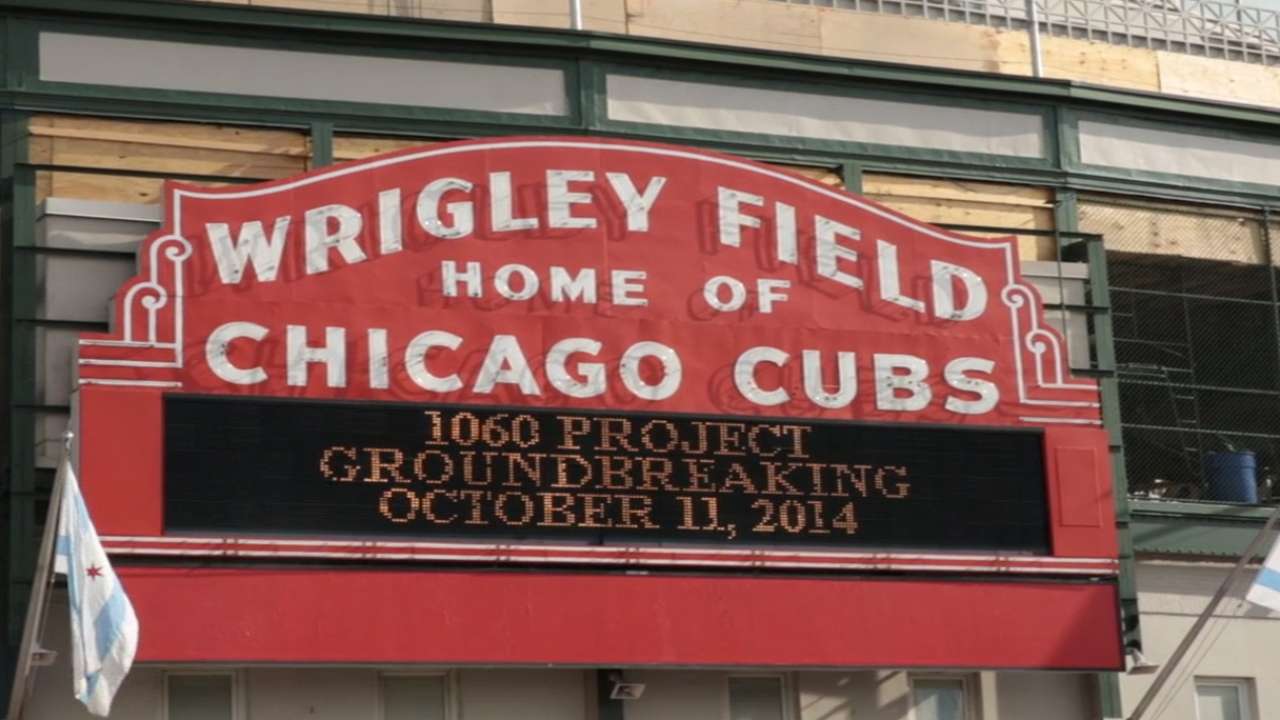 CHICAGO -- The Wrigley Field bleachers will not be ready for Opening Night and will be unavailable until May, Cubs president of business operations Crane Kenney announced Saturday at Cubs Convention.
The target date for opening the left-field bleachers is early May, while the club hopes to open the right-field bleachers in late May. The Cubs open a seven-game homestand at Wrigley Field on May 11, then return on May 25 following a seven-day road trip.
"Our goal is to get this project done right and responsibly, so we're not going to sacrifice quality for the sake of timing," Kenney said during the business operations portion of the event at the Sheraton Hotel and Towers.
The main issue is timing. The concrete needs 28 days to solidify, Kenney said. He added that steps and risers likely will be visible, making the bleachers seem usable when they're not.
The left-field bleachers will open later due to construction delays because of sewer issues beneath Sheffield Avenue.
Kenney said he doesn't anticipate further delays.
"The issue on this part is we're going to do it right," Kenney said. "And if we miss the month of April, that's unfortunate, but that's the reality we're facing."
Season-ticket holders of bleacher seats have three options for games before May 11:
• A full refund on all games before May 11.
• Account credits for all games before May 11 that can be used to purchase tickets to any scheduled game in any area of the ballpark before sales are open to the general public.
• Relocation for all games before May 11. Season-ticket holders will receive account credits for less expensive seats and will have to pay the difference for more expensive seats.
The roughly 2,000 season-ticket holders of bleacher seats must make their decision by Jan. 29 or will be credited.
In other renovation news, vice president of ballpark operations Carl Rice said the left-field videoboard will be operational for Opening Night, while the one in right field will not be ready until May. The LED board under the center-field scoreboard also has been removed.
All other projects are on schedule, though there will be construction throughout the season.
The other popular topic Saturday was television rights and blackouts. Comcast Sports Net (80 games), WGN (45) and ABC WLS (25) hold the Cubs' rights. The latter two are in conversations with local affiliates to syndicate games in different markets.
"If there's a market they don't serve, they can't get an agreement with, we can go to [Major League Baseball] and ask them to lift the blackout in that community only," Kenney said. "It's going to be us seeing how far the various carriers can go and then working with the league to lift it."
Kenney said he's confident the issue will be resolved.
Cash Kruth is a reporter for MLB.com. Follow him on Twitter at @cashkruth. This story was not subject to the approval of Major League Baseball or its clubs.