Heyward willing to listen to potential extension offers
Outfielder happy with 'good situation' in St. Louis, focused on settling in with club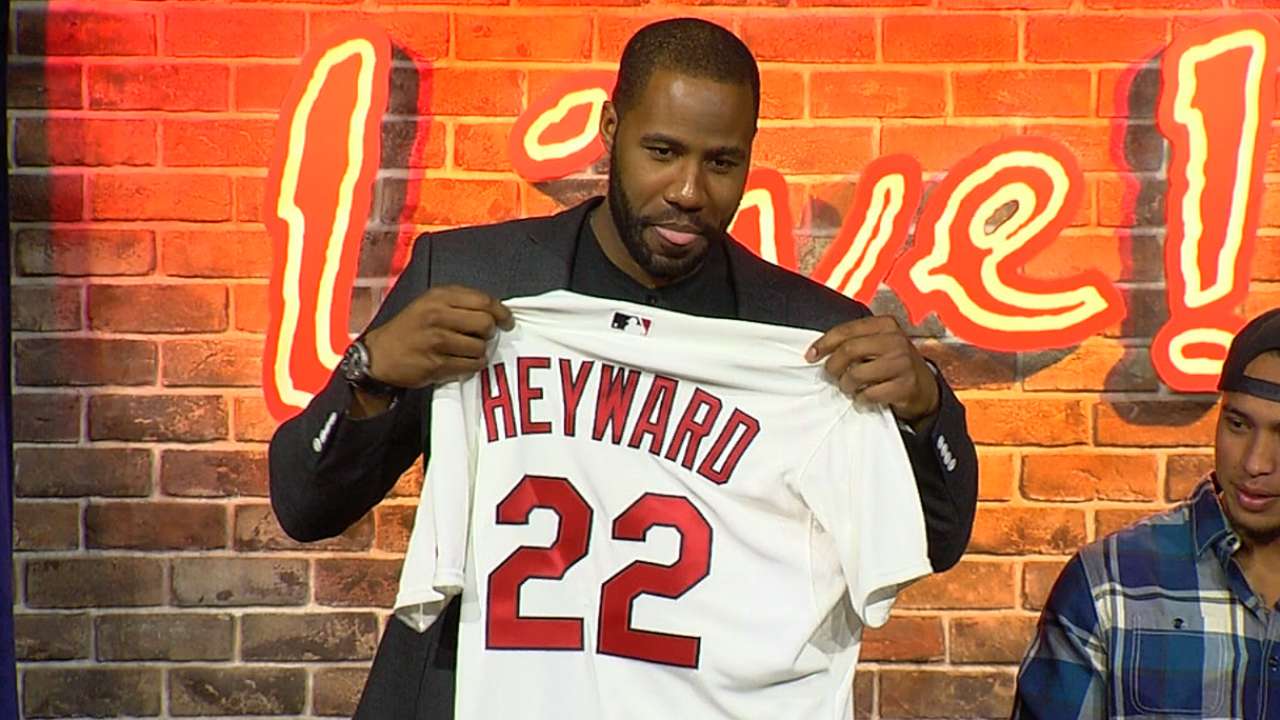 ST. LOUIS -- Though the Cardinals have not yet broached the subject of an extension with newcomer Jason Heyward, the outfielder said on Saturday that he would not be opposed to in-season negotiations if the organization chooses to pursue a longer deal.
Needing to fortify the right field position this winter, the Cardinals pursued Heyward early this offseason and then gave up two young pitchers to acquire him despite no assurance that Heyward's stay would last longer than a year. He is set to become a free agent for the first time next winter, at which time he will likely garner widespread interest as a defensively elite outfielder entering the open market at the age of 26.
Heyward may want to let the free-agent process play out regardless of any negotiating moves made by the Cardinals, though the organization could tempt him to pass with a strong in-season offer. If that's the case, he intends to listen.
"For me, I hope I love it so much I won't have to leave," Heyward said. "I couldn't tell you how any of that is going to go. Right now, I just know I'm looking forward to getting settled in with my teammates, fitting in.
"The goal for me, and I feel like everyone involved, is to be playing in October for a World Series. If all that takes care of itself, then I feel like a lot of good things will come from it, not any negatives."
Not only can Heyward use this season to sell himself as a long-term fit for the Cardinals, but the organization hopes his experience playing in St. Louis can sell him on a stay. That's one of the reasons the organization is content in letting this process play out.
"We want him to understand what this is all about and see if he really likes this experience, because the next commitment he makes is going to be long term," general manager John Mozeliak said. "I think the best strategy is to respect his space a little in the sense of giving him time to see what this city's all about and why we all feel it's special. Once we do that, we absolutely would love to pursue something."
The Cardinals have seen such an approach work before, with Scott Rolen, Jim Edmonds and Matt Holliday among the prominent players to sign an extension with the organization after getting a taste of what it was like to be a St. Louis Cardinal.
Heyward had only limited talks with the Braves about signing an extension that would have delayed free agency, and most of those conversations happened when he first became arbitration-eligible. That uncertainty about where Heyward would go after the 2015 season prompted Atlanta to deal its hometown right fielder before potentially losing him without securing some sort of return.
While a long-term investment might not have fit in Atlanta's future plans, the Cardinals won't shy away from that sort of commitment if the production potential matches up to the price. They have the financial flexibility to do so and are continually looking to add to their young core.
"When you look at our model, it's always making sure you have that core player or two that you're building around," Mozeliak said. "As our current core grows older, someone else has to step up. Now, that may look like Matt Carpenter. It may look like Kolten Wong. It may look like Heyward. Who knows? But that is one of the reasons we've been successful, because we've had those middle-of-the-order type hitters that we have been able to build around and augment through our Minor Leagues."
Jenifer Langosch is a reporter for MLB.com. Read her blog, By Gosh, It's Langosch, and follow her on Twitter @LangoschMLB. This story was not subject to the approval of Major League Baseball or its clubs.