Autograph session a family affair for Pompey
Blue Jays outfielder visited by parents during Winter Tour event in Toronto
TORONTO -- It's so surreal that it is still a little bit like the Pompeys are living a dream.
As Ken and Valerie Pompey watched their eldest son, Blue Jays center fielder Dalton, sign autographs for hundreds of fans at the Eaton Centre on Saturday as a part of Toronto's fifth annual Winter Tour, the family reminisced about a time not too long ago when they were the ones in line trying to do the same.
"It's pretty unreal," Dalton Pompey, 22, said. "Ten years ago or so I was that kid waiting in line for autographs, trying to go to games early to see batting practice. It's unreal just being here and being a part of this.
"[That] the Blue Jays selected me to do this is amazing, and I feel honored to do this and try to give back to kids because I know how important it was for me to try to meet players and try to be a role model for them as well."
Pompey, ranked by MLB.com as the Blue Jays' No. 3 prospect, joined a group of players that included Jose Bautista, R.A. Dickey, Todd Redmond and Aaron Loup who arrived early for the autograph session and stayed well past their hour-and-a-half time slot at the mall, accommodating many fans who had waited for hours to see them, the earliest arriving around 4:30 a.m. ET to secure a spot.
"It's awesome," said Pompey, a native of Mississauga, Ontario. "To get the opportunity to spend time with some of the guys like Dickey and Bautista and to go around and give back and see all the fans that we truly have here in Toronto who are coming to support the team."
Just a few years ago, during Pompey's first stint at big league Spring Training camp, Bautista offered a case of protein to the young outfielder with plenty of room to grow, after learning his nickname was "Pony."
"And now I'm sitting beside him," Pompey said. "I guess it worked."
Not having a chance to spend a whole lot of time with their oldest son this offseason -- with Dalton playing in the prestigious Arizona Fall League, heading to Major League Baseball's Rookie Development Camp and returning to Tampa, Fla., Saturday night to continue workouts -- his parents were the only big league family members on hand at the autograph session, happy to have an opportunity to see their son so close to home.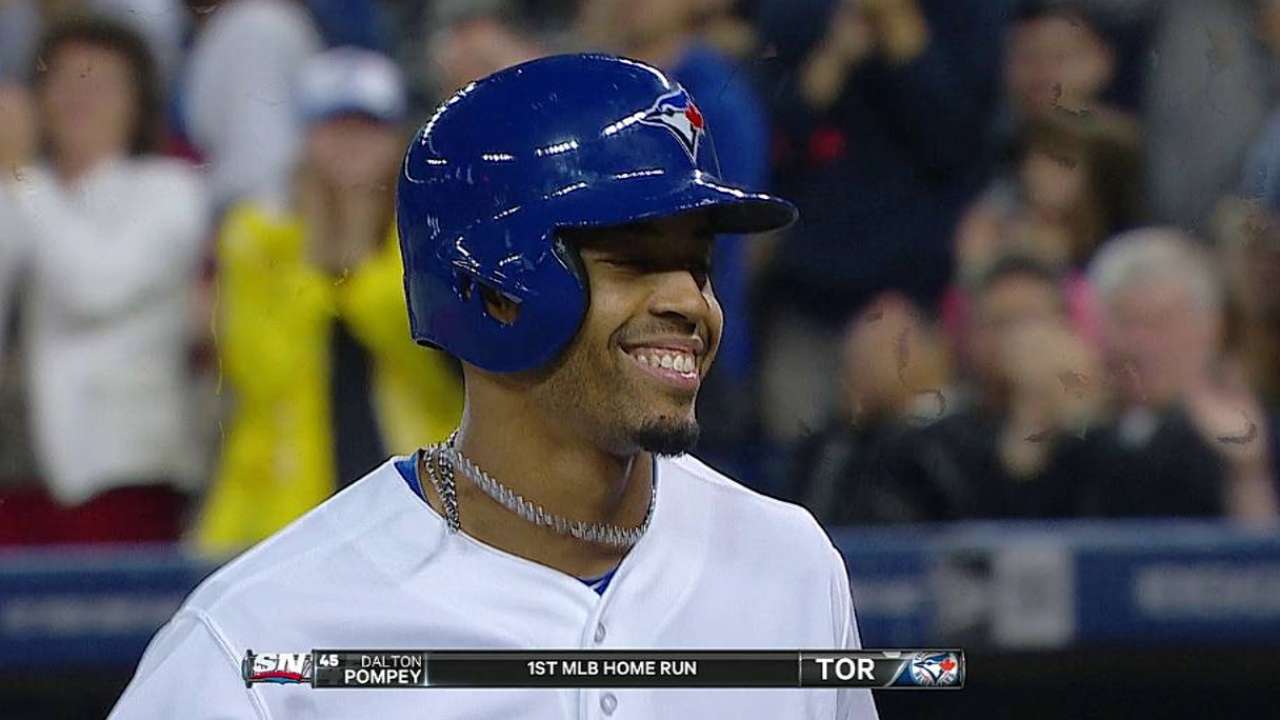 "I think it [is strange for them]," Pompey said. "It would probably be a shock for anybody, but just for the fact that I'm from here and they're going to games and stuff. They're supportive and they understand what I'm going through ... but they're learning just like I am."
In the time he has been home, the Blue Jays' young switch-hitter has enjoyed sharing his experiences with his 17-year-old brother, Tristan, who is a member of Team Canada and is heading into his first year of eligibility for the First-Year Player Draft. Though Dalton will have to watch Tristan from afar for the most part, he's happy to pass on what he's learned.
"I want him to see everything because he's going through it, too," Dalton Pompey said. "If I can teach him anything, it's about trying to be mentally strong and handling the ups and downs, not only in baseball but in life, too. Me being pretty young myself, I'm going through a lot and I'm learning a lot from these guys sitting here, too. I learn something new every day."
Both of the Pompey boys are looking forward to reuniting in March when the Canadian Junior National Team matches up against the Blue Jays for their annual Spring Training game, this year taking place at Florida Auto Exchange Stadium.
"He's been talking about that a lot," Dalton Pompey said. "I told him I was going to play shallow and he's going to hit it over my head, but we'll see if that happens. It will be the first time ever that I get a chance to play against him because we're four years apart, but that's his dream.
"His dream has always been to meet in center field before the game and we're both in the big leagues, so that's a step in the right direction. It's going to be a thrill for me and him and also my parents."
As the hometown hero in September, making his Major League debut after rapidly ascending through the Blue Jays' system last year, Pompey has enjoyed many thrills along the way, and he is looking forward to many more.
"I felt like every single game I had the support of the people here," he said. "Good or bad, they were always cheering me on. I was playing for the Blue Jays, but I was also playing for all of Canada in a way."
Alexis Brudnicki is a contributor to MLB.com. This story was not subject to the approval of Major League Baseball or its clubs.