MLB.com Columnist
Anthony Castrovince
Tigers find top talent comes with hefty Price
Scherzer, Shields would be luxury items on free-agent market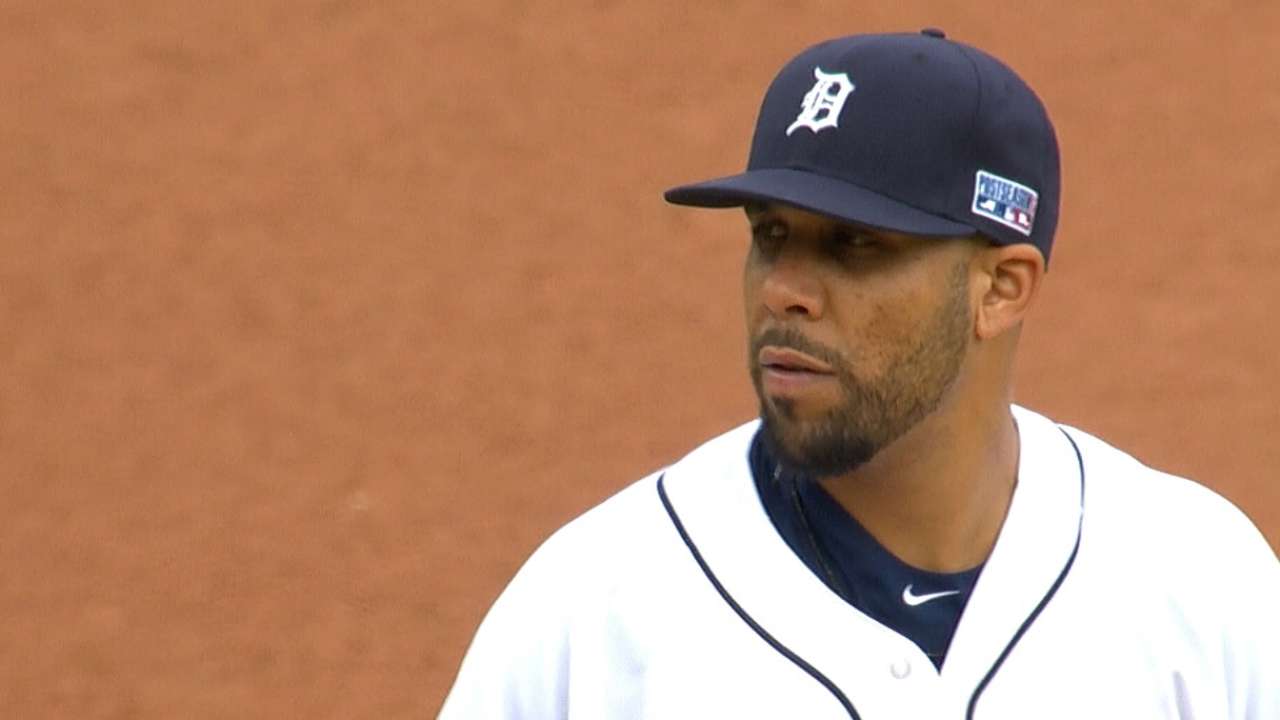 Add Max Scherzer -- or even James Shields -- to the Detroit Tigers' roster, and you'd feel pretty good about things, wouldn't you? You'd feel far less fretful about what Justin Verlander has left in the tank, you'd feel far better about a bullpen that would benefit from Alfredo Simon shifting to a setup role, you'd feel the Tigers are as loaded in the lineup and the pitching staff as a team can reasonably expected to be in this environment, and you'd have to cast them as the continued favorites in an obviously improved American League Central.
But on Friday, we got cold, hard clarity about just how difficult -- not impossible, mind you, but definitely difficult -- this pie-in-the-sky roster construction can be.
Not that we didn't know David Price was going to be expensive, but now we have the numbers to go with the speculation, and the numbers -- like so many others associated with this Detroit payroll -- are steep. And while the Tigers can do nothing else this winter and still have a team worthy of some top-of-the-Central forecasts for 2015, we're really starting to see the vulnerability that comes with retaining or obtaining star talent in today's game.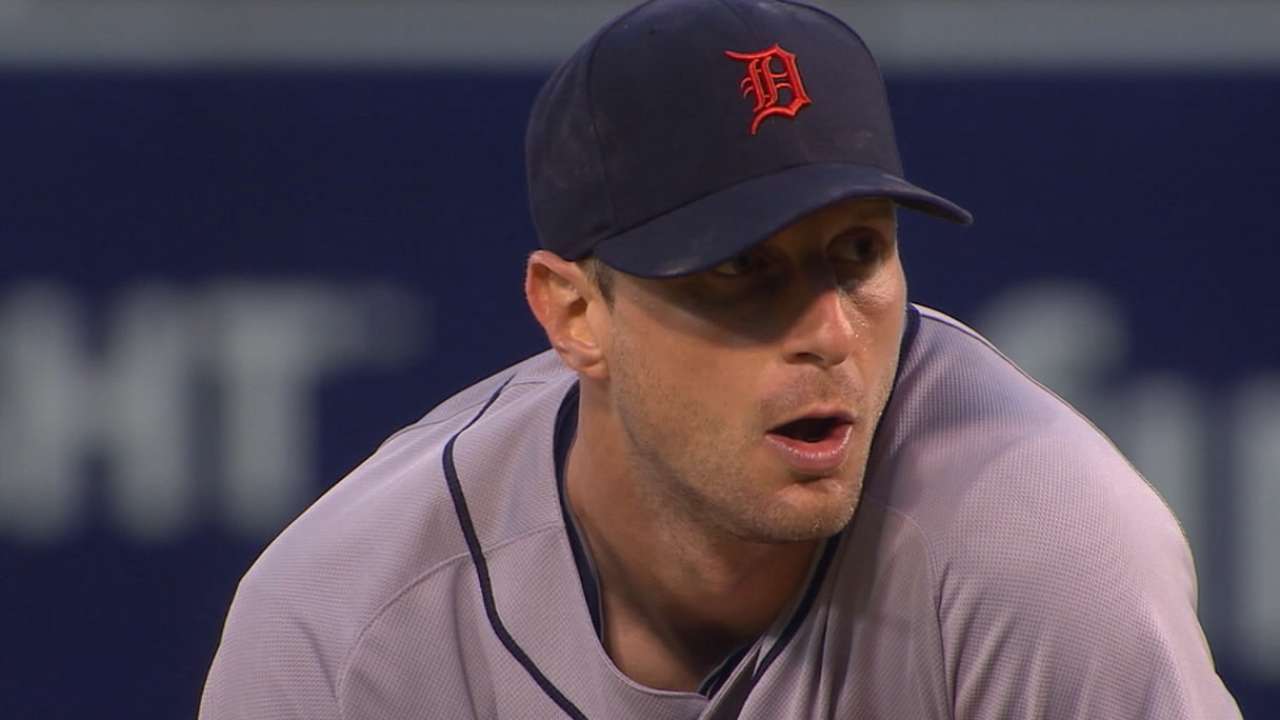 Because the Tigers are so hefty in the middle of the order and because they've invested top dollar in multiple starting arms (one of whom -- Verlander -- is now one of the game's bigger question marks), they've been left to rely on crossed fingers in multiple areas of their roster, none more prominent than the 'pen. As nice as it would be to bring back Scherzer or obtain Shields to strengthen both areas of the pitching staff, the financial parameters associated with such a strategy would be the ultimate test of one of professional sports' most magnanimous owners.
On Friday, Tigers president, general manager and CEO Dave Dombrowski publicly distanced himself from the top-end starting search yet again, which is to be expected. But even while acknowledging the tendency of Mike Ilitch to act with admirable aggression in these matters, it would be understandable if Dombrowski's public stance is the same one he's taking in private.
Price's final arbitration year will cost the Tigers a cool $19.75 million, the largest one-year deal in history for a player who filed for arbitration.
So that brings the Tigers' total outlay for just eight players -- Price, Verlander, Miguel Cabrera, Victor Martinez, Joe Nathan, Anibal Sanchez, Ian Kinsler and Yoenis Cespedes -- to $137.5 million.
Yes, in case you're wondering, that's significantly higher than the payroll of any other AL Central club, even those big-spending White Sox. And we're talking about eight guys here.
Because the luxury tax is based on the average annual value of guys on the 40-man roster, as well as benefits packages paid by each club (last year that figure was $11.66 million, per the Associated Press), the Tigers are already rubbing right up against the 2015 soft ceiling of $189 million.
Now, here's the deal: If they exceed that luxury tax threshold, the 17.5 percent penalty actually isn't overly obtrusive. For instance, let's just say the Tigers are already at the threshold at this moment and they sign Scherzer at an average annual value of, say, $27 million and call it a day. The penalty would "only" be $4.7 million for 2015. Not ideal, but not the end of the world, either.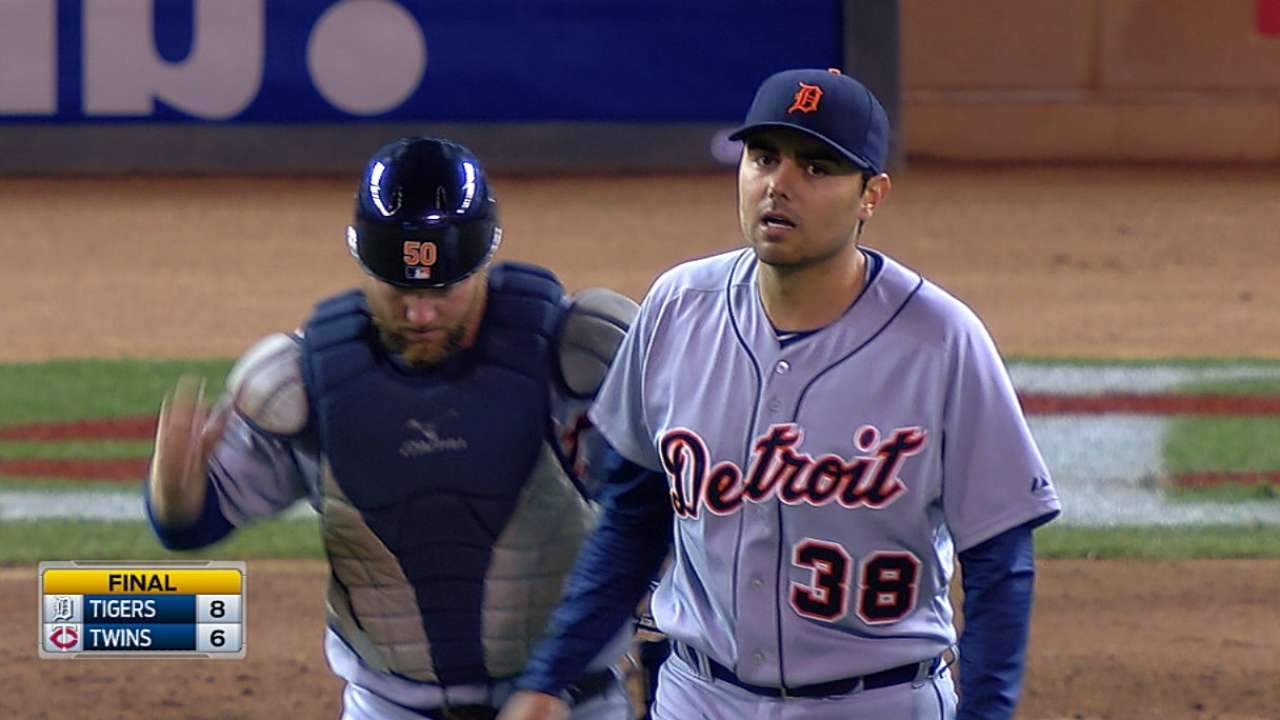 Still, this scenario would obviously compel the Tigers to shed some other salaries before 2016, when the tax hit would rise to 30 percent. Price, Cespedes ($10.5 million in '15), Joakim Soria ($7 million), Nathan ($10 million), Alex Avila ($5.4 million) and Rajai Davis ($5 million) would all be coming off the books, so there would be opportunities for the Tigers to cut some costs, and that's before we even consider any bold swaps involving other guys on the roster.
So what I'm saying is the Tigers would be a fundamentally different team in 2016 in a lot of ways. That might be an unavoidable truth even if they don't sign a Scherzer or a Shields, because at some point this team is going to need to start relying on younger, cost-controlled talent in more spots (this was the main impetus behind the Anthony Gose acquisition early this winter).
Perhaps that long-term outlook is worth it for the short-term gain of having the Mighty Max back in your rotation's good graces. The Tigers without Scherzer look like a really good team. The Tigers with Scherzer could be a great one, and they'd be even better-positioned to scratch Ilitch's itch for a World Series title.
The thing that really stands out in all of this, though, is that bullpen. Are the Tigers going to stand pat with their current setup and let it ride, or are they going to make a strike on Scherzer and beef up the bullpen with Simon?
Remember, they outlasted the City Royals in the Central race last season by a single game. Then October came, and the Tigers were swept by the Orioles, who were swept by the Royals, who went on to finish 90 feet short of tying Game 7 of the World Series. And if there was one tangible difference in the two October fates of Detroit and Kansas City, it was the performance of the bullpen. For the Royals, it had been a strength all season and remained so. For the Tigers, it was a source of frustration all season and remained so.
Given this information, you would have probably surmised, going into the offseason, that the Tigers would be aggressive in their pursuit of 'pen help in the wake of 2014 while the Royals would stand pat with what they have. But that hasn't exactly been the case.
The Royals, in fact, made it a priority to retain Luke Hochever, who missed last season following arm surgery but, in 2013, was sort of like Wade Davis before Wade Davis. While regression is possible and perhaps even likely for the three other prominent members of their bullpen -- Greg Holland, Davis and Kelvin Herrera -- they've insured themselves well to keep their sterling late-inning situation intact.
And the Tigers? Hey, it's not like they've been utterly silent in the bullpen department. They did add Tom Gorzelanny, a veteran who put up good numbers for the Brewers (albeit primarily in low-leverage situations) last season after coming back from shoulder surgery, and they're giving it another go with Joel Hanrahan, who didn't throw a pitch for them after signing a $1 million deal last year.
But as we sit here today, the Tigers' current outlook for the relief corps is somewhat suspect. There's a lot of finger-crossing going on here. They're hoping for big things from a rehabbing Bruce Rondon (this sounds vaguely familiar), they're hoping the August oblique injury and that disappointing October showing are both fully in the rearview for Soria, they're hoping Hanrahan can reclaim his former effectiveness and that Gorzelanny can build off his 2014 return and that Al Alburquerque can be effective in high-leverage spots. More than anything, they're hoping the worst season of Nathan's distinguished career was merely a blip on the radar and not some ominous sign that he's run out of fumes.
Hey, bullpens are so flaky and fluky that I don't dismiss the possibility of all of those things happening, let alone just a few of them. I'm just saying that the Tigers would have undoubtedly been more aggressive in addressing their 'pen problems if they didn't have their financial hands tied in so many other spots.
Again, the perfect world scenario? Sign Scherzer, shift Simon and go into 2015 with arguably the best on-paper roster in the AL.
The alternative -- standing pat with what's here -- is definitely less desirable, though it still might be workable. None of us really knows.
What we do know, for certain, is that it's the less-expensive scenario of the two.
Anthony Castrovince is a reporter for MLB.com. Read his columns and follow him on Twitter at @Castrovince. This story was not subject to the approval of Major League Baseball or its clubs.