MLB.com Columnist
Phil Rogers
10 reasons for Cubs fans to believe in Rizzo's pledge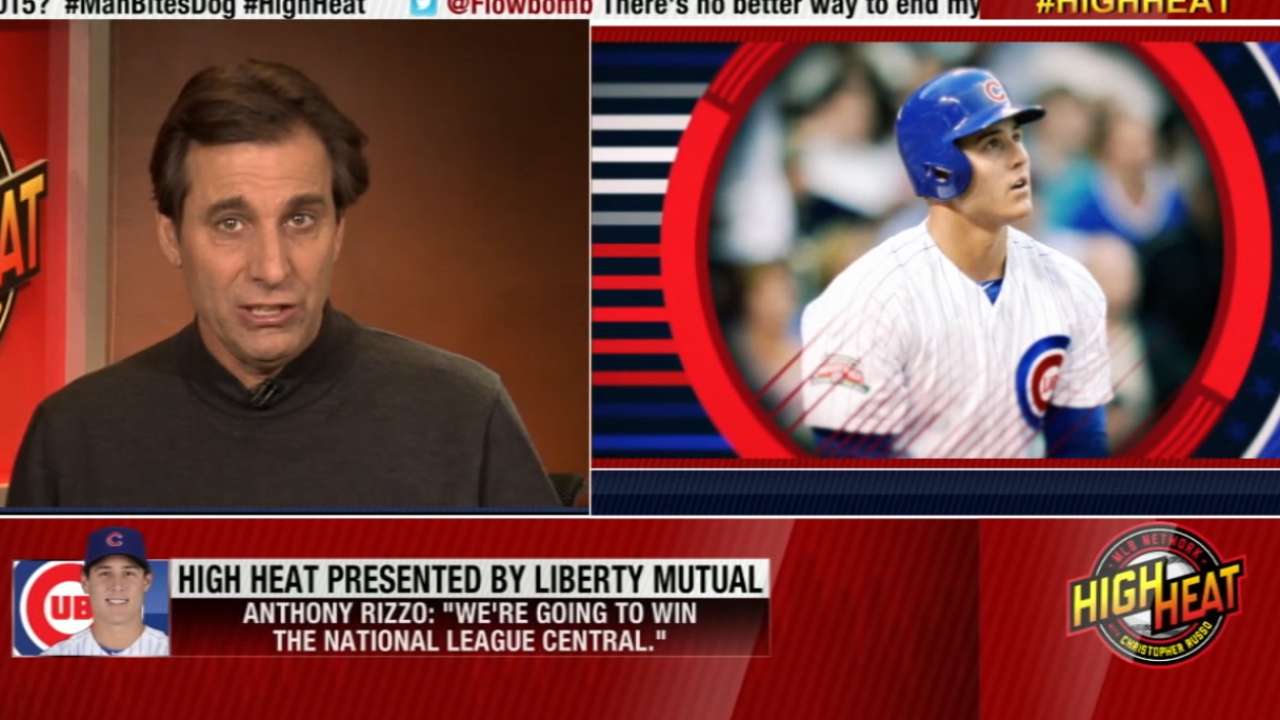 CHICAGO -- Well, now you've gone and done it, Anthony Rizzo.
You too, Joe Maddon.
The two most visible members of the Cubs organization have gone and done something that the brain trust -- Theo Epstein, Jed Hoyer and the fellows -- would never do. They've talked the talk. Now they've got to walk the walk.
At least Maddon was being vague when he said he wasn't just going to talk about the playoffs, he'd also be talking World Series. He made no promises, just said it was the goal, as it always was with his teams in Tampa Bay. But Rizzo, who knows the strength of the Cardinals and Pirates as well as anyone, went one better with his promise that "we're going to win the NL Central" in 2015.
What a story that would be, huh?
From 101 losses in 2012 to a division title in '15, taking down the likes of Yadier Molina, Andrew McCutchen, Johnny Cueto and Ryan Braun? It would be 1984 again at Wrigley Field, except with even more pent-up emotion.
Rizzo's prediction sounds farfetched, but he's not alone in making it. The Sporting News is picking the Cubs to win not just the division but the World Series, and if you're of a certain age, you can still remember when that was "the bible of baseball." So there's that.
But for Rizzo and anyone else making rash predictions, here are 10 reasons that the time to dream has arrived on the North Side:
1. Maddon is setting the tone
He's not really a miracle worker. But he's a guy who gets players and teams to believe in themselves, and that's worth a lot.
Maddon never complained about the revolving door of talent in Tampa Bay, where from 2008-13 the Rays had the second-lowest average payroll in the Major Leagues; instead he found a way to finish with the second-most victories over that stretch.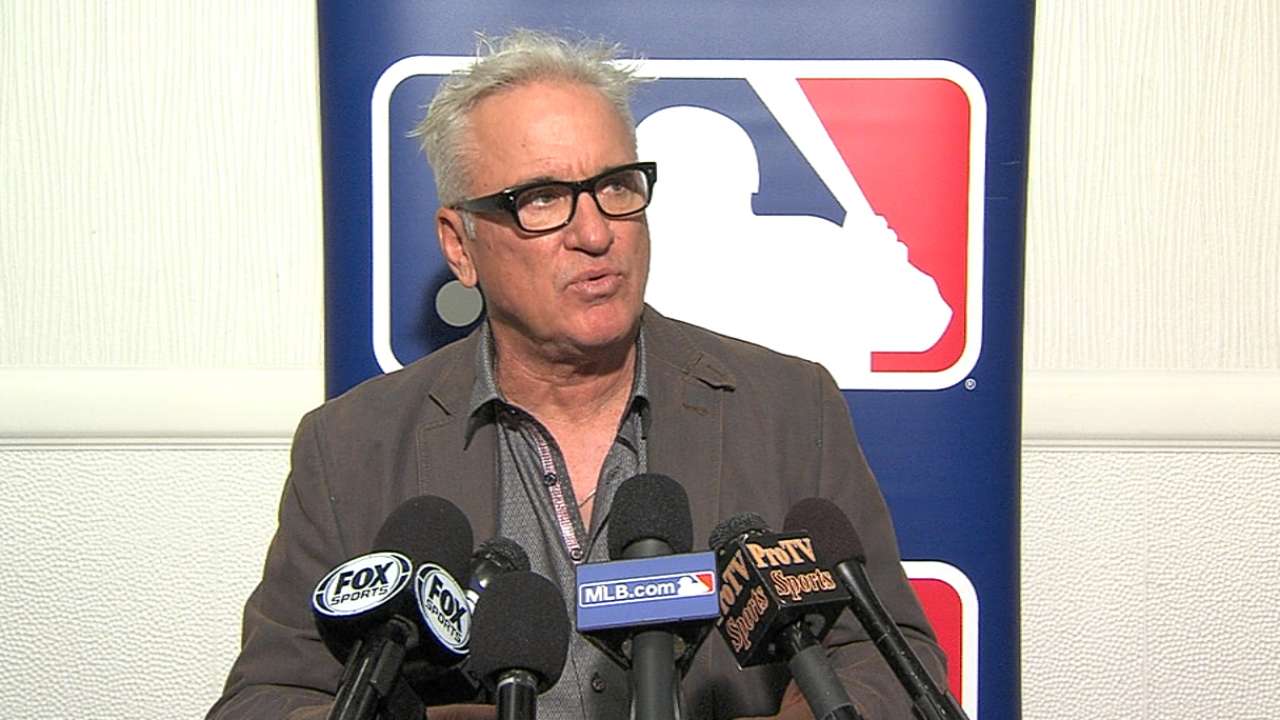 His greatest feat in Tampa Bay came in 2008, his third season on the job after replacing Lou Piniella. After going 66-96 the previous year, he orchestrated a 31-game improvement the next season, reaching 97 wins and, after playoff wins over the White Sox and Red Sox, the World Series.
Compared to that, what's a 20-game jump from the Cubs' 73-win total last season?
2. Jon Lester said: Yes, I'll take $155 million
Not only do the Cubs get the presence of one of the best left-handers in the game, but they got some invaluable validation when he turned down the Giants and Red Sox (maybe the Dodgers too) to sign a six-year deal with the Cubs. Lester says he is coming to Chicago because he believes Epstein is creating the same kind of organization that allowed Lester to win World Series rings with the 2007 and '13 Red Sox.
Like Epstein, he believes the Cubs aren't cursed to repeat the lack of success they've faced since Orval Overall finished off the Tigers in Game 5 of the 1908 World Series. Lester twice beat an on-top-of-his-game Adam Wainwright in the 2013 Series, so the Cardinals won't scare him. Lester's teams in Boston won 59.5 percent of his 241 starts, and that's a standard he expects to maintain.
3. Rizzo has broad shoulders and enough power to clear the wall on cold, nasty days
You won't hear any questions about leadership in the Cubs' clubhouse. Epstein and Hoyer raved about Rizzo's makeup when they traded Andrew Cashner to the Padres for him shortly after Tom Ricketts hired them, and Rizzo has been just as accountable as they expected him to be. He's also established himself as a force at the plate.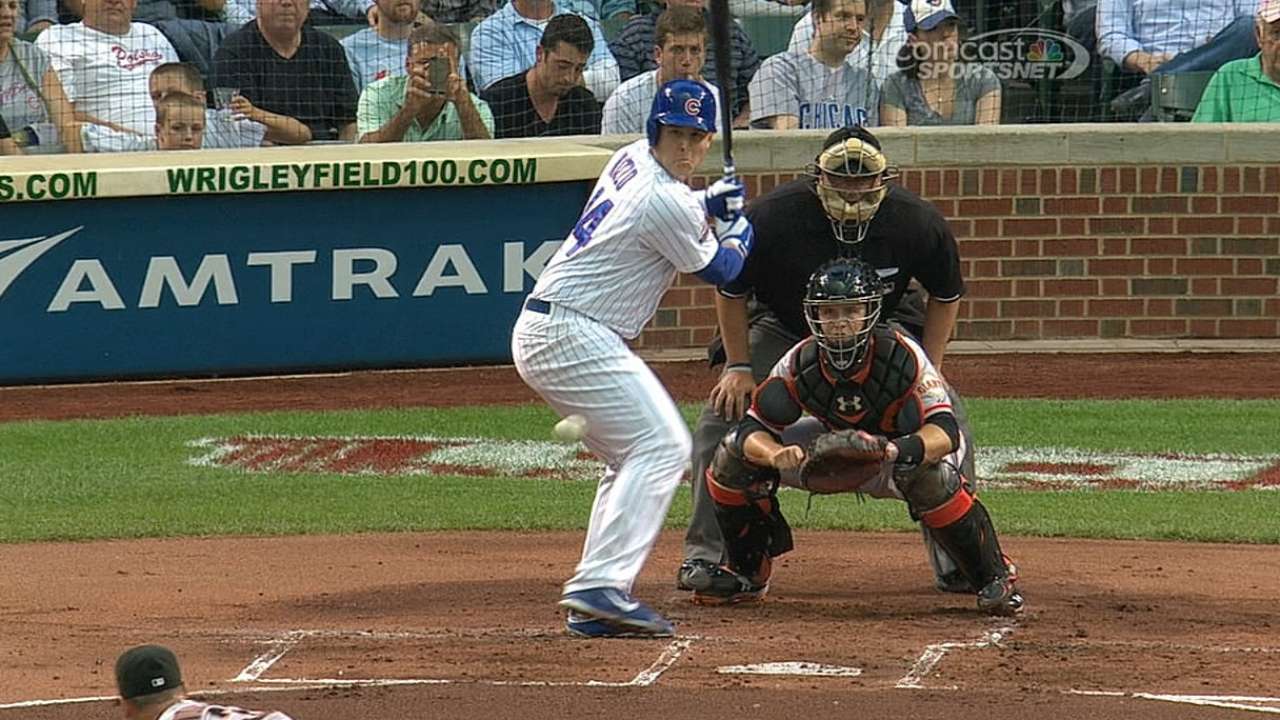 Rizzo hit .286 with 32 home runs last season, but that doesn't tell the story. His .913 OPS in 2014 was the seventh best among 146 qualifying hitters in the Major Leagues, the second best among first basemen (ahead of Miguel Cabrera, Albert Pujols and Edwin Encarnacion). He drove in only 78 runs in large part because he ranked 116th in at-bats with runners in scoring position, tied alongside table-setters like Rajai Davis, Billy Hamilton and Jose Altuve. The guy is an MVP candidate ready to escape MLB's witness-protection program.
4. Kris Bryant as Evan Longoria
When Maddon's 2008 Rays won those 97 games, Longoria registered 5.5 fWAR while playing only 122 games. He had played 205 games in the Minors, only 31 more than Bryant has compiled in the season and a half since the Cubs took him with the second overall pick in the 2013 Draft.
Bryant, who has a 1.095 career OPS, has been a more productive hitter in the Minors than Longoria was in the Tampa Bay system and clearly has more potential as a power hitter. He's more than ready to replace Luis Valbuena as the Cubs' third baseman, and one wonders what Rizzo might say if Bryant is sent to Iowa to preserve an extra year of free agency, if not arbitration.
5. Strength in numbers among intriguing prospects
Ask the Astros about George Springer some time. They'll tell you all he needs is good health to be a superstar, and the 20 homers he hit in 295 at-bats last year says they know what they're talking about. Now imagine the Astros with four or five Springers.
The long line of intriguing prospects who Epstein, Hoyer and scouting executive Jason McLeod have stacked up behind Bryant includes the astonishing Javier Baez (a housewarming gift from the Jim Hendry regime with a Hall of Fame ceiling and a Mark Reynolds floor), Jorge Soler, Addison Russell and Kyle Schwarber. Springer's Minor League OPS was .960; the OPS of these Cubs ranges from Baez's .881 to Schwarber's 1.061.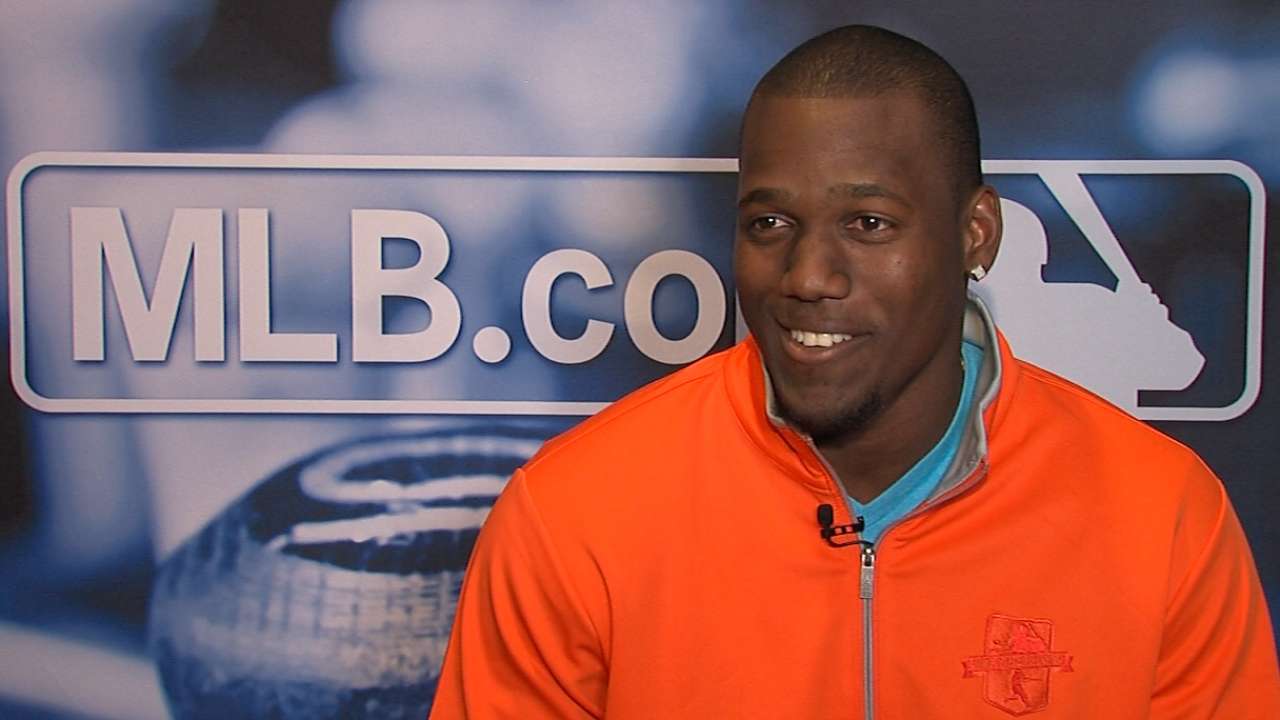 Sure, young players go through ups and downs and some "can't miss" prospects do miss. But this is the best wave of young talent the Cubs have ever had, and in the modern game, few organizations have ever created one that compares.
6. Jake Arrieta is ready to be a strong No. 2 starter
Epstein has made many good trades the last three years, and sometimes one good move begets another. He made a smart signing in getting Scott Feldman two years ago, when he was coming off a nightmare season with the Rangers (6-11, 5.09 ERA). Then Epstein traded him to the Orioles for Arrieta and Pedro Strop, focusing on Arrieta's potential without being bogged down by his age (27) and career ERA (5.46).
Arrieta delivered under low-pressure circumstances at the end of 2013, then compiled a 2.53 ERA in 25 starts last year. That helped Epstein feel comfortable in trading All-Star Jeff Samardzija to the A's for Russell, Dan Straily and outfielder Billy McKinney, who like Russell is a first-round Draft pick on the fast track. All that's left is for Arrieta to put together a full season with a WHIP somewhere close to the 1.02 mark he's hung up in his 208 innings since joining the Cubs.
7. The bullpen is solid
No bullpen worked more in 2014 than that of the Cubs, who needed 536 1/3 innings from their relievers (largely due to Edwin Jackson and Travis Wood managing only 20 of 58 quality starts), and it rarely broke. The 3.61 bullpen ERA was in the middle of the pack, and Hector Rondon went 29-for-33 in save chances as the closer. Setup man Neil Ramirez was remarkable in stretches, joining Strop and Rondon in compiling a WHIP of 1.07 or better. Jason Motte, who got the last out of the 2011 World Series and saved an NL-high 42 games in '12, jumped from the Cardinals to the Cubs, having completed his recovery from a '13 Tommy John surgery. The Cubs probably don't have the quality left-hander they'll need for a playoff run.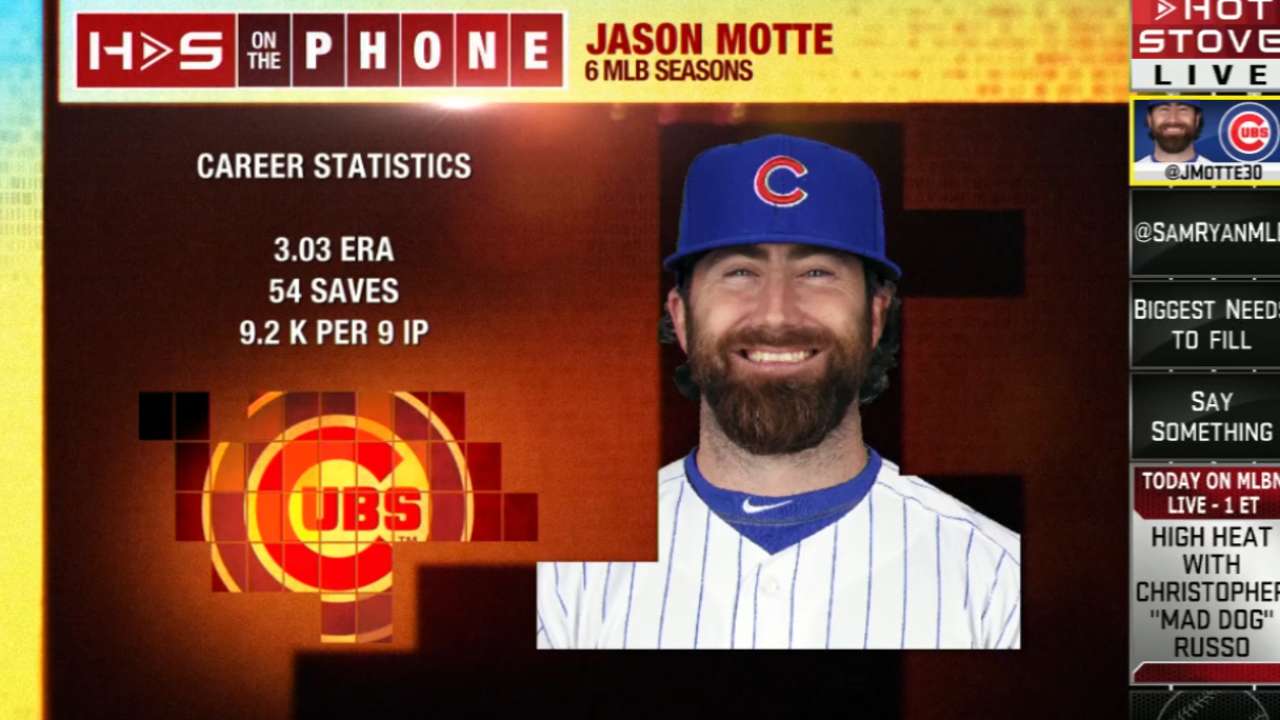 8. They'll have the chips to play when it's time
Given their Minor League inventory, the Cubs are situated to land any player they want when the Trade Deadline rolls around in July. That means they could be a player for someone like Cole Hamels or David Price, if they become available, or maybe someone like Craig Kimbrel or a lefty like Sean Doolittle or Glen Perkins. Yes, it's been a while since the Cubs' weren't Trade Deadline sellers, but they could reverse course in a big way. That said, Epstein seems unlikely to develop such a sense of urgency that he trades top prospects.
9. Addison Russell is a stud
Starlin Castro, one of only three known quantities in the lineup (along with Rizzo and newly acquired catcher Miguel Montero), remains the shortstop. But Maddon will fall in love with Russell in Spring Training, and he could take over as soon as the All-Star break, with Castro either switching positions -- center field seems a possibility if Arismendy Alcantara remains the .205 hitter he was in 70 games last season -- or being traded. Russell, like a young Derek Jeter, is a player with a complete game that belies his age. He can hit (.302/.355/.529 in 63 games at Double-A) and nothing shakes him. He was charged with only two errors in 57 games after being traded to the Cubs. Imagine that consistency at the most important position on the field.
10. They're due
Really, really due.
Phil Rogers is a columnist for MLB.com. This story was not subject to the approval of Major League Baseball or its clubs.