Astros sign Castro, Sipp, Conger to 1-year deals
Club locks up two catchers, left-handed reliever before deadline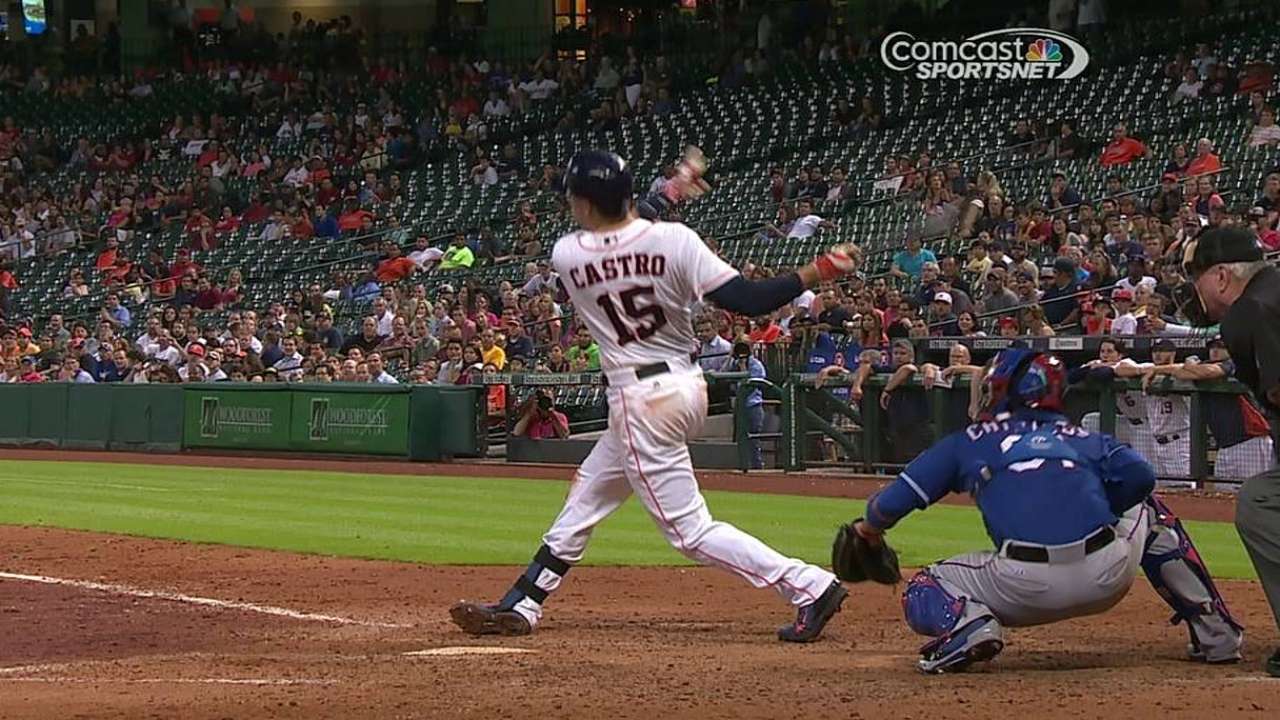 HOUSTON -- The Astros reached deals with catchers Jason Castro ($4 million) and Hank Conger ($1.075 million), as well as left-handed pitcher Tony Sipp ($2.4 million) prior to Friday's deadline for arbitration-eligible players to exchange numbers with their teams.
That leaves the Astros with two unsigned players -- versatile infielder Marwin Gonzalez and outfielder Dexter Fowler, who made $7.35 million last year and could command somewhere around $9 million. The agents for Fowler and Gonzalez exchanged figures with the team Friday and can continue negotiating until arbitration hearings, which are set for next month.
According to a source, Gonzalez asked for $1.4 million and the Astros offered $900,000. Fowler asked for $10.8 million and Houston offered $8.5 million.
The club reached deals with designated hitter Chris Carter ($4.175 million) and backup catcher Carlos Corporan ($975,000) earlier this week.
"We had a big class, and to get all those guys signed except for two after today, that's a good sign for us," Astros general manager Jeff Luhnow said. "Obviously, we're going to be working hard on getting the remaining guys done."
After making the All-Star team in 2013, Castro hit just .222 last year with 14 homers and 56 RBIs in a career-high 126 games. He was arbitration-eligible for a second year after making $2.45 million last season.
"It was right where we thought we wanted to be, where we kind of fit in with the market and all that," Castro said. "We didn't have a whole lot of conversations with the team prior to today, not as much as last year. The gap we were looking at last year just wasn't there [this year] and we had a more clear picture where'd end up."
After the players and the teams exchange desired salary figures for 2015, they can continue to negotiate contracts. If no agreements are reached, the players and the teams will next month present their cases before an arbitration panel, which will choose either the team's figure or the player's desired salary.
Fowler signed a two-year contract with the Rockies two years ago that paid him $3.25 million in 2013 and $7.35 million last year. Traded to the Astros a year ago, he's in his final year of arbitration eligibility after hitting .276 with eight homers, 35 RBIs and a .375 on-base percentage last year.
"When a player has been in the big leagues as long as he has and is in the final year of arbitration, the numbers are going to be bigger," Luhnow said. "That's part of how the system is set up. Obviously, Fowler's a big part of our team this year so we'll figure it out."
Sipp flourished after signing with the Astros in May, posting a 3.38 ERA in 56 games (50 2/3 innings).
"It happened pretty quickly," Sipp said. "We both wanted to make it simple. We only talked over the course of three days and we went back and forth a couple of times. They came with the $2.4 [million], which I was more than happy with. Now it's time to get on with the season."
Brian McTaggart is a reporter for MLB.com and writes an MLBlog, Tag's Lines. Follow @brianmctaggart on Twitter. This story was not subject to the approval of Major League Baseball or its clubs.