Cobb among eight Rays to avoid arbitration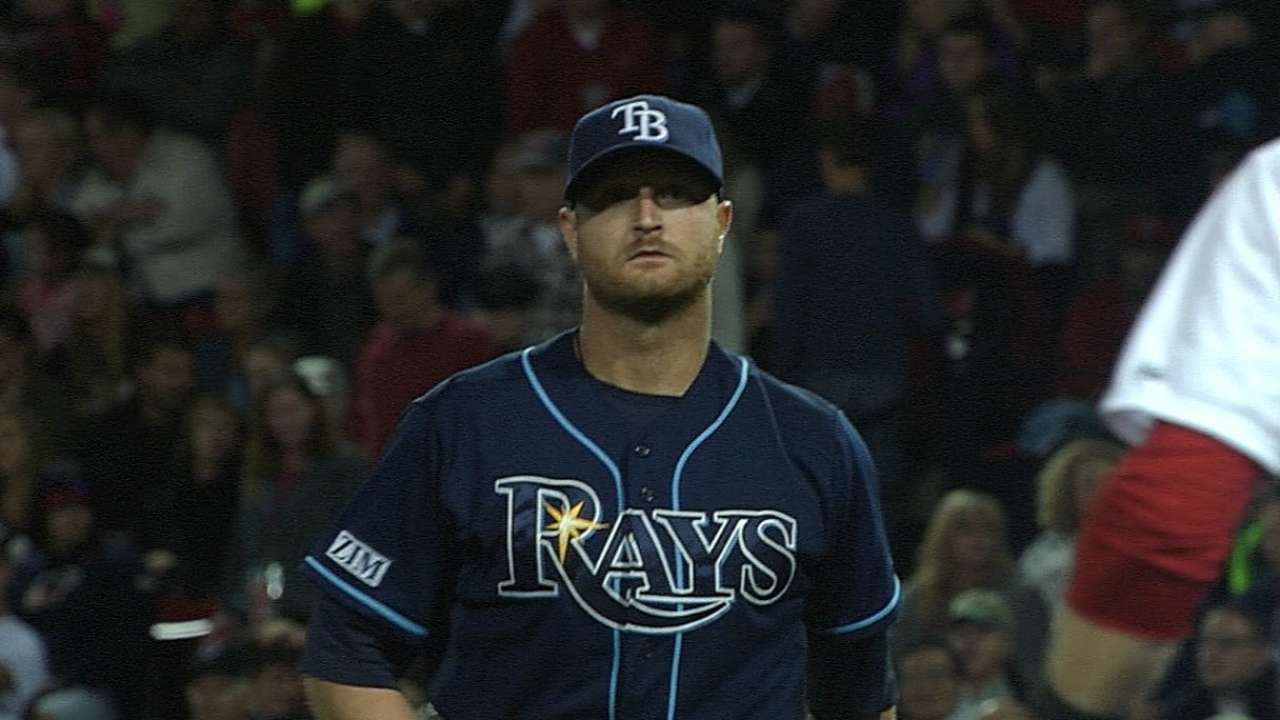 Cobb went 10-9 with a 2.87 ERA in 27 starts in 2014. He is the only American League pitcher with 10-plus wins, a winning record and a sub-3.00 ERA in each of the last two seasons. In four seasons with Tampa Bay, the 27-year-old is 35-23 with a 3.21 ERA. Cobb will make $4 million in 2015.
Forsythe ($1.1 million, plus incentives), who turned 28 on Wednesday, played in a career-high 110 games in 2014, his first season with the Rays. He hit .223 and tied career highs with six home runs and 26 RBIs.
Jaso ($3.175 million), 31, was acquired via trade last weekend from the Athletics. In 2014, he batted .264 with nine home runs and 40 RBIs in 99 games, including 47 starts at catcher and 32 starts at designated hitter.
Jennings ($3.1 million, plus incentives), 28, hit .244 with 10 home runs and 36 RBIs in 123 games in 2014, including a team-high 70 starts batting leadoff. He is one of seven players in the Majors to reach double-digit homers and stolen bases in each of the last four seasons.
Jepsen ($3.025 million), 30, was acquired from the Angels last month. He had a career-best 2.63 ERA for the Angels in 2014, establishing career highs in appearances (74), innings pitched (65) and strikeouts (75).
McGee ($3.55 million, with a possible $50,000 in incentives), 28, went 5-2 with a 1.89 ERA and 19 saves in 73 appearances in 2014, setting career highs in saves, ERA, games and innings. He ranked among the AL's top 10 relievers in appearances, strikeouts (90) and ERA.
Rivera ($1.2 million, plus incentives), 31, was acquired from the San Diego Padres last month as part of a three-team, 11-player trade -- the largest in franchise history. He made a career-high 85 starts at catcher for the Padres in 2014, setting career marks in virtually every offensive category -- including games (103), hits (74), doubles (18), home runs (11), RBIs (44), batting average (.252), on-base percentage (.319) and slugging percentage (.432).
Smyly ($2.65 million, plus incentives), 25, was acquired hours before the July 31 Trade Deadline and made seven starts after joining Tampa Bay, going 3-1 with a 1.70 ERA. He allowed three runs or fewer in all seven outings, establishing a club record to begin a Rays career.
Bill Chastain is a reporter for MLB.com. This story was not subject to the approval of Major League Baseball or its clubs.