Phillies look back, forward as anniversaries near
Memories of marquee moments rekindled with the dawn of 2015
With 2015 underway, it's time to look back at some memorable moments that will have anniversaries this year. Included is the Phillies' first pennant 100 years ago and a double-headed induction day in Cooperstown, N.Y., 20 years ago.
A moment as distant as 130 years ago and two as recent as 10 years ago are also remembered, along with the first Major League night game and the final game for one of baseball's legends -- both of which took place 80 years ago and involved the Phillies.
After the game: Catching up with Phillies alumni
March 10, 1955
The Phillies defeated the Detroit Tigers, 4-2, in the first game played at Jack Russell Stadium in Clearwater, Fla. Right-hander Robin Roberts started, and third baseman Willie Jones won it with a two-run double.
April 12, 1965
The Phillies won the first National League game played in Houston's Astrodome, 2-0, over the Colt .45s. Left-hander Chris Short tossed a four-hitter, and third baseman Dick Allen homered.
April 13, 1955
Roberts lost a no-hitter at Connie Mack Stadium when Alvin Dark singled with one out in the ninth inning, but he prevailed, 4-2, over the Giants. Richie Ashburn, injured late in Spring Training, saw his club-record consecutive-games-played streak end at 730.
April 15, 1985
Mike Schmidt played in his 1,795th game to break the club record held by Ashburn.
May 14, 1975
Allen, re-acquired in a trade a few days earlier, singled in his first at-bat and drew a standing ovation from the Veterans Stadium crowd of 30,908. Left-hander Steve Carlton (2-4) blanked Cincinnati, 4-0.
May 18, 2005
Right fielder Bobby Abreu capped a 10-game span in which he hit nine homers, five coming at Citizens Bank Park.
May 24, 1935
The Phillies lost the first night game in Major League Baseball history, 2-1, at Cincinnati's Crosley Field. Game time: 1:35. Attendance for the historic game: 20,422.
May 29, 1965
Allen hit a measured 529-foot home run completely over the Coca-Cola billboard atop Connie Mack Stadium's left-center-field roof off right-hander Larry Jackson. The first-inning blast sent the Phillies to a 4-2 win over Chicago.
May 29, 1985
Schmidt switched to first base as rookie Rick Schu was brought up from Portland to play third base. The Phillies lost, 6-1, at Los Angeles.
May 30, 1935
Left fielder Babe Ruth went hitless (one at-bat) in his final game as the Boston Braves beat the Phillies, 11-6, in the second game of a Baker Bowl doubleheader. Attendance: 18,000.
June 7, 1985
Schmidt made his first appearance at home as a first baseman as Schu played third. Final score: Montreal 3, Phillies 1.
June 10, 1975
Schmidt hit a ball off a public-address speaker hanging from the Astrodome roof, 117 feet up and 300 feet from home plate. Schmidt settled for a single off left-hander Claude Osteen in the Phillies' 12-0 win.
June 11, 1985
The Phillies recorded their greatest offensive game in history, a 26-7 win over New York that began with a nine-run first inning -- highlighted by left fielder Von Hayes' two home runs, a solo shot and a grand slam. No other Phillies player has ever hit two homers in the first inning.
July 11, 1995
For the second straight year, a Phillies pitcher got the win in the All-Star Game as right-hander Heathcliff Slocumb gained the decision in the NL's 3-2 victory in Arlington, Texas.
July 13, 1915
The Phillies beat the Cardinals in St. Louis, 8-0, to take over the NL lead, which they held for the remainder of the season. Grover Alexander won his ninth game in a row, his second longest winning streak with the Phillies.
July 19, 1955 (2nd game)
Playing their sixth game in four days, and with Roberts pitching on two days' rest, the Phillies beat Cincinnati, 6-2, at Connie Mack Stadium. Roberts had two hits and drove in three runs while pitching a six-hitter.
July 24, 1995
The Phillies dropped an 11-3 decision to the Colorado Rockies, despite right-hander Omar Olivares' pinch-hit home run, the first by a Phillies pitcher since Schoolboy Rowe in 1943.
July 27, 1935
Second baseman Jose "Chile" Gomez, a native of Mexico, became the first Hispanic player to appear in a Phillies uniform. He went hitless in four at-bats in a 5-0 win over the Braves in Boston.
July 30, 1995
With the largest crowd, an estimated 28,000, ever to attend the ceremony, Schmidt and Ashburn were inducted into the Baseball Hall of Fame.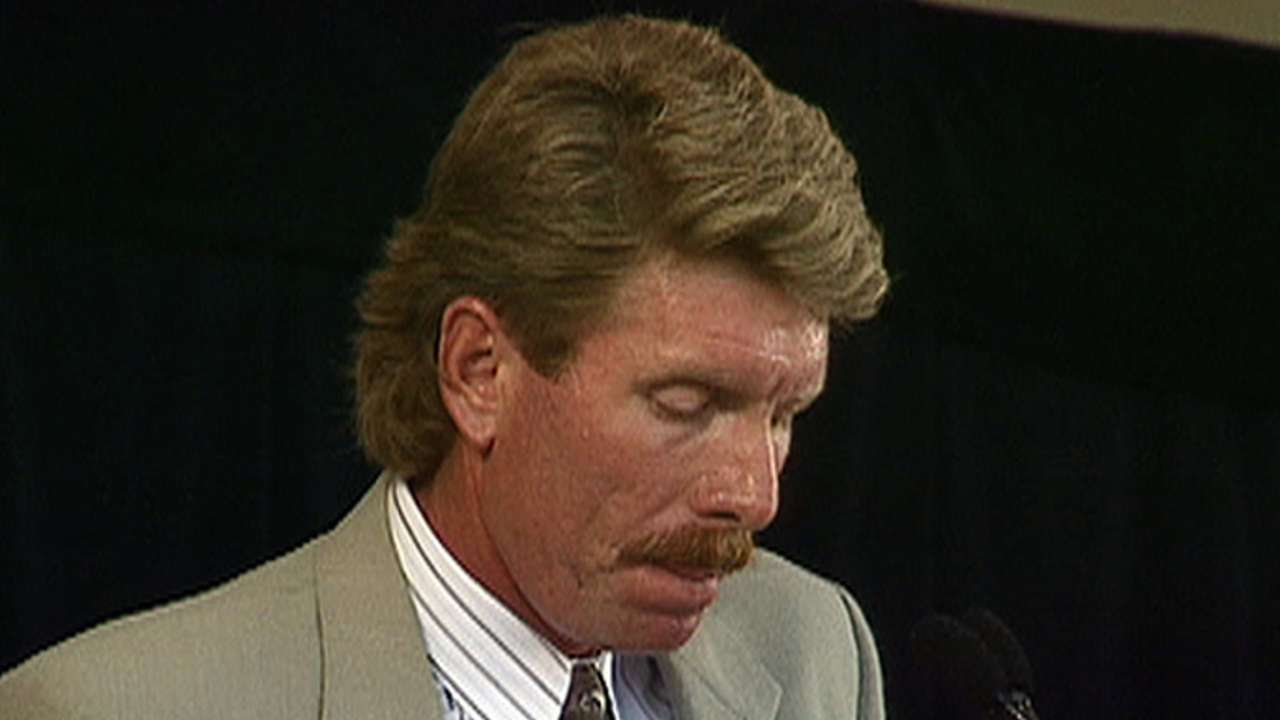 Aug. 5, 1975
The Phillies set a Major League record by getting eight hits in a row at the start of their first inning (four singles, two doubles, two homers) in a 13-5 romp over Chicago at the Vet. The 10-run frame was the Phillies' biggest first inning since 1948.
Aug. 9, 1955
Left fielder Del Ennis drove in his 1,000th run in a 9‑1 win vs. Pittsburgh. Outfielder Ed Delahanty is the club's all-time RBI leader (1,286).
Aug. 9, 1965
Roberts (6-7), pitching for Houston, blanked the Phillies on four hits, 8-0, at the Astrodome.
Aug. 17, 1985
The Phillies matched a club record by hitting six homers (four in the seventh inning) in a 10‑4 win over the Cubs at Wrigley Field. Catcher Darren Daulton hit two; one each for second baseman Juan Samuel, right fielder Glenn Wilson, Schmidt and Schu.
Aug. 25, 1955
Before a doubleheader with St. Louis, the Phillies honored Ennis for driving in more runs than any player in modern team history. Ennis was presented with gifts, including a Cadillac, a TV, an air conditioner, a freezer, a diamond ring and a fishing outfit. The Phils won both games, with Ennis adding four RBIs to his record total.
Aug. 25, 1995
Left fielder Gregg Jefferies hit for the cycle, the first Phillie to do so since Johnny Callison did it on June 27, 1963, 5,107 games earlier. The Phillies buried visiting Los Angeles, 17-4.
Aug. 29, 1885
Right-hander Charlie Ferguson tossed the first no-hitter in Phillies history, 1-0, vs. Providence. In his four-year career, all with the Phillies, he finished 99-64, with a 2.67 ERA while winning 21, 26, 30 and 22 games, respectively. He died of typhoid fever two weeks after his 25th birthday.
Sept. 1, 1945
Center fielder Vince DiMaggio set a club record and tied the NL mark with his fourth grand slam of the season in an 8-3 win at Boston.
Sept. 9, 1945 (2nd game)
Jimmie Foxx hit his seventh homer of the season for the Phillies and 534th and last of his career in a 14-3 win at Pittsburgh.
Sept. 23, 1965 (1st game)
Right-hander Jim Bunning's fifth-inning strikeout was his 242nd of the season, breaking the club record held by Alexander (241 in 1915). Bunning won, 11-5, at Wrigley Field.
Sept. 25, 1955
Ashburn went hitless in seven at-bats in a season-ending doubleheader at the Polo Grounds, but he easily won his first batting title (.338).
Sept. 29, 1915
The Phillies clinched their first NL pennant with a 5-0 win at Boston, a one-hitter for Alexander -- his 30th win. It was his fourth one-hitter and 12th shutout of the season.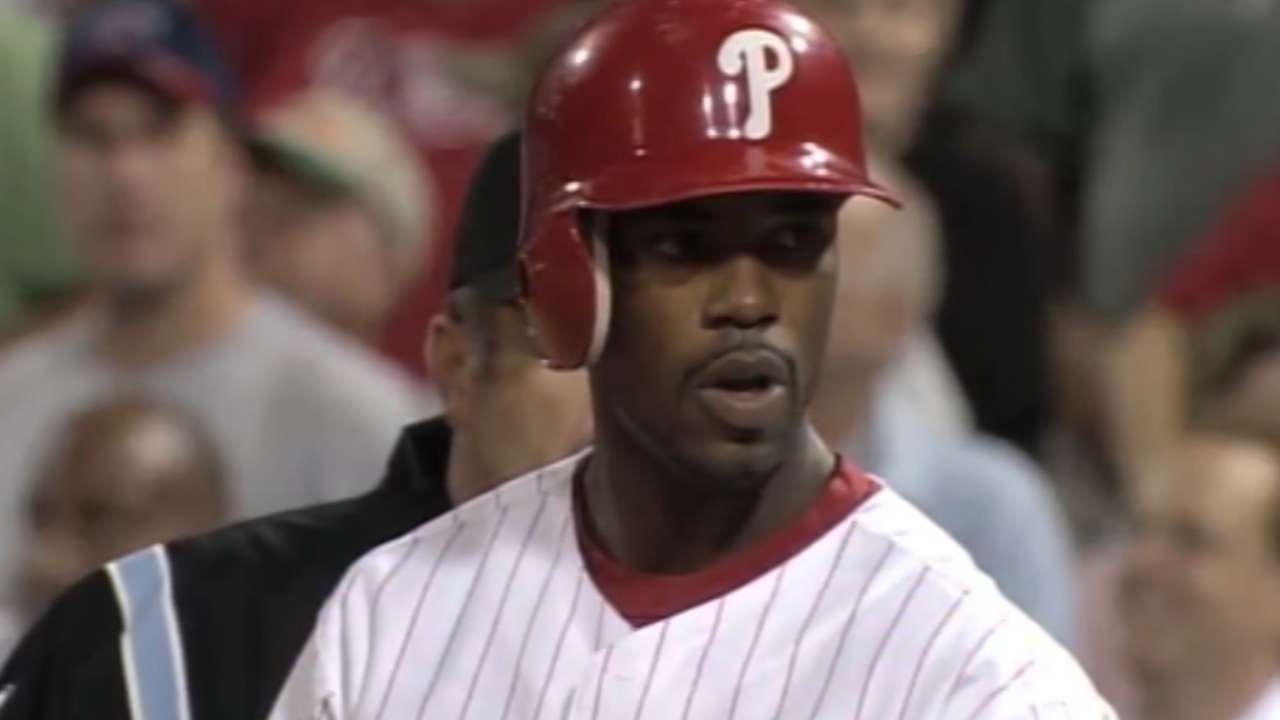 Oct. 2, 2005
Jimmy Rollins ended the season with a 36-game hitting streak, a club record, in a 9-3 win in Washington.
Oct. 8, 1915
World Series Game 1 at the Baker Bowl: In the Phillies' first World Series game ever, Alexander threw a complete-game eight-hitter to give the Phillies a 3-1 win over the Boston Red Sox.