Yankees finalize one-year deal with Drew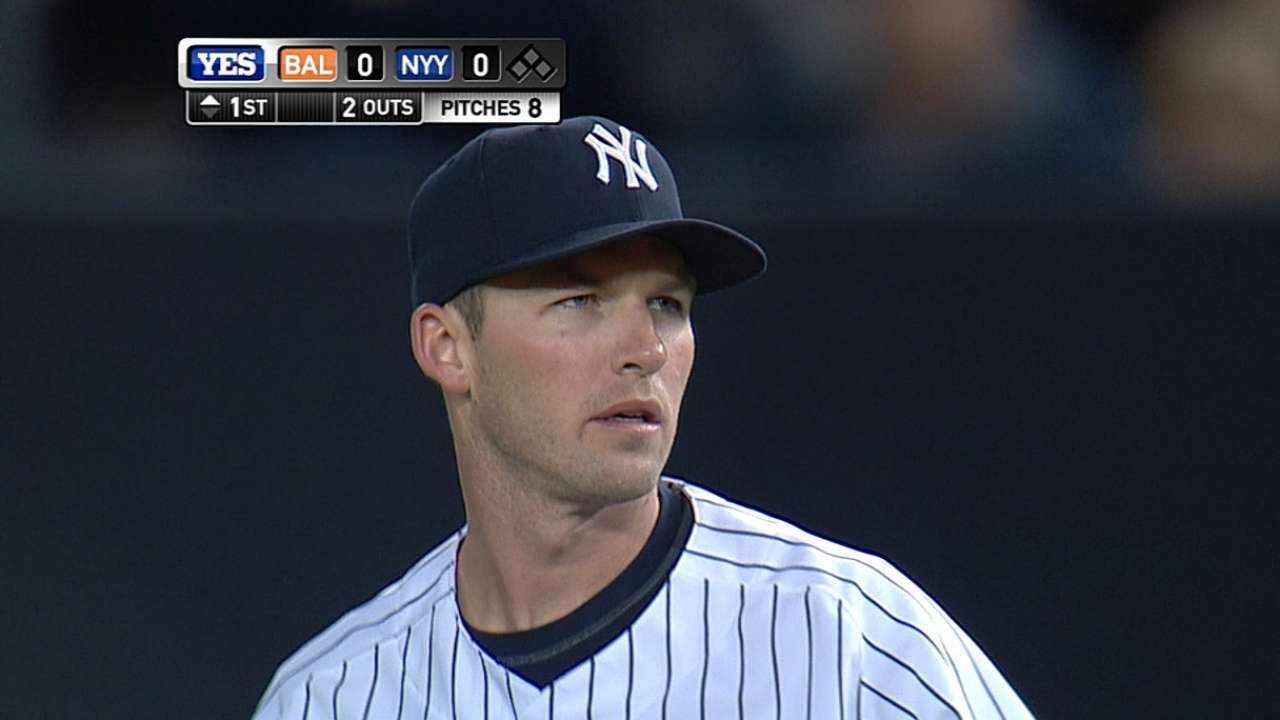 NEW YORK -- Counting on a rebound season, the Yankees have finalized a one-year contract with infielder Stephen Drew, who is being penciled in as their starting second baseman for 2015.
The deal was officially announced by the Yankees on Friday morning after being first reported on Jan. 6. It will have a base salary of $5 million and could be worth as much as $6.5 million with incentives based upon plate appearances.
Drew, who turns 32 in March, is looking to bounce back after a lost 2014 campaign in which he rejected a qualifying offer from the Red Sox and missed Spring Training before eventually re-signing with Boston. He did not appear in a big league game until June 2.
The Yankees hope that with a regular offseason and spring, Drew will be able to return to the form he showed as Boston's starting shortstop in 2013, when he helped the club to a World Series title by batting .253 with 13 home runs and 67 RBIs in 124 games.
"As we've seen, players that have missed all of Spring Training and as much time as that, it becomes difficult to try to catch up," Yankees manager Joe Girardi said on Friday. "I think that's the mistake that players try to do, they try to catch up too quickly. It can be a difficult situation. I think you'll see a really good Stephen Drew."
After struggling with the Red Sox, batting .176 in 39 games, Drew was traded to the Yankees on July 31 in exchange for infielder Kelly Johnson. Playing second base for the first time in his professional career, Drew batted .150 with three home runs and 15 RBIs in 46 games for New York.
Drew is regarded as a capable shortstop, but the Yankees acquired Didi Gregorius from the D-backs in December, so Drew is expected to see the majority of his time at second base. Girardi said that having both Drew and defensive specialist Brendan Ryan on the roster should benefit Gregorius.
"It's nice having a veteran shortstop presence with him and Brendan for a young kid like Didi," Girardi said. "Guys that have played the position. You look at Stephen Drew, he has played on a world championship team. He understands what it's like to play in the American League East, and so does Brendan Ryan. I think it's going to be really helpful to Didi."
Prior to the agreement with Drew, the Yankees had said that they were comfortable going forward with a competition for second base that would have included 23-year-old Rob Refsnyder and 25-year-old Jose Pirela, both of whom will be in camp this spring.
"They're still going to have an opportunity to show me a lot, because our roster could change between now and Opening Day," Girardi said. "Sometimes there's injuries to deal with, as we've seen in the past. They're going to have a chance to make the team.
"Obviously, when you put someone like Stephen Drew in front of them, I understand that's probably extremely frustrating, but [they need to] just continue to work extremely hard and your opportunity is going to come."
In order to create room for Drew on the 40-man roster, the Yankees designated outfielder Eury Perez for assignment. Perez, 24, appeared in four September games for the Yankees last season, logging two hits in 10 at-bats.
Bryan Hoch is a reporter for MLB.com. Follow him on Twitter @bryanhoch and read his MLBlog, Bombers Beat. This story was not subject to the approval of Major League Baseball or its clubs.