Stewart: We'll go with Tuffy behind plate
Gosewisch to start as D-backs not looking for catcher, GM says
CHANDLER, Ariz. -- The D-backs are no longer in the market for a starting catcher to replace Miguel Montero, general manager Dave Stewart told MLB.com on Thursday.
Stewart said the D-backs have made an organizational decision to stick with Tuffy Gosewisch as the starter and Oscar Hernandez as the backup, with the hope that prospect Peter O'Brien will have advanced enough to make the team during Spring Training.
"We sat back and thought about it and talked to our guys internally, our coaching staff, and we're not going do to anything," said Stewart, who succeeded Kevin Towers after the D-backs finished with a 74-98 record last season. "Tuffy Gosewisch has never had the opportunity to be a front-line guy, but we do know he's capable of handling the [pitching] staff. If we get some offense from him, it would be great.
"The kid Hernandez we know, through our scouting reports, is a good catch-and-throw guy. And we're not expecting any offense from him. So if we get it, that would be great. But even more importantly, we think that Peter O'Brien is going to be ready. Our coaching staff says he has a chance to break with us from Spring Training. And if not Spring Training, we expect to see him by May or June."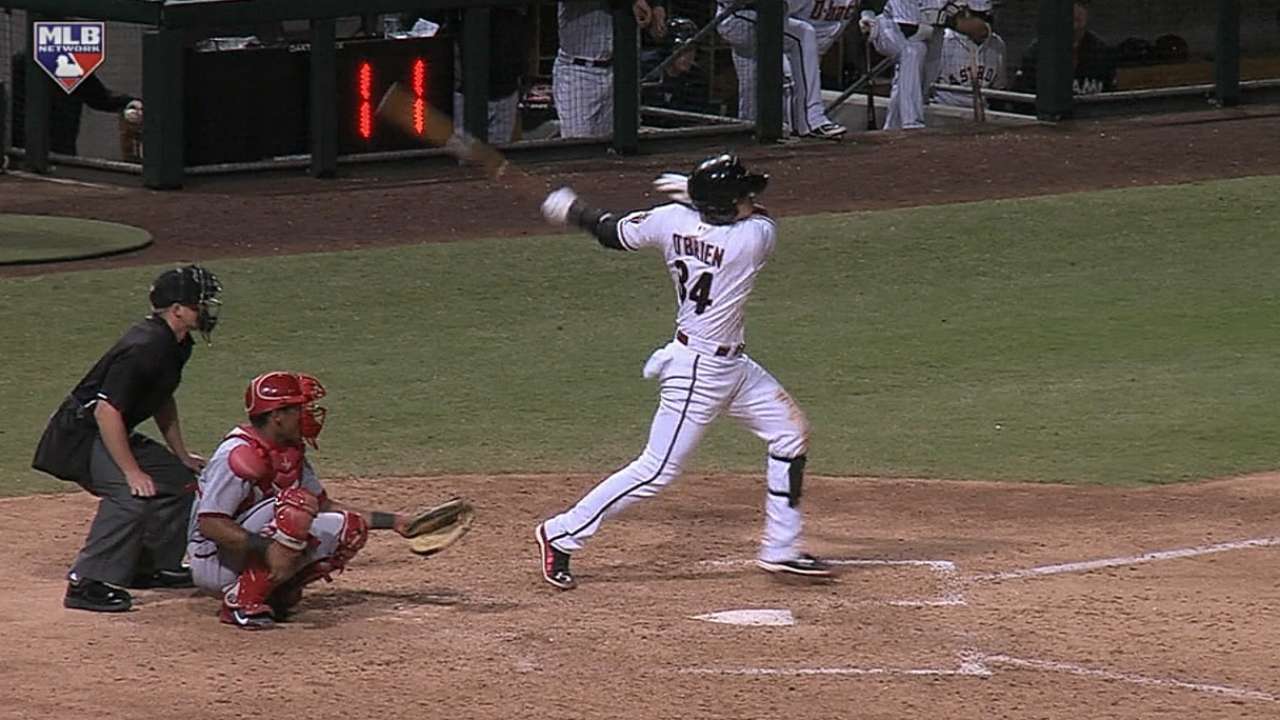 Montero, who had been the team's front-line catcher since 2009 -- and along with Paul Goldschmidt was a D-backs representatives on the National League All-Star team last year -- was traded to the Cubs on Dec. 9 as the team shed salary. Gosewisch was his backup and played in 55 games during the course of the past two seasons. Gosewisch played in 41 games last year, starting in 35 of them, and batted .225 with a .242 on-base percentage, a home run and seven RBIs.
Hernandez and O'Brien have yet to play a game in the Major Leagues. O'Brien, obtained from the Yankees last year in the July 31 non-waiver Trade Deadline deal that sent Martin Prado to New York, is ranked the No. 8 prospect in the D-backs' organization. He fouled a ball off his shin shortly after he was obtained by the D-backs and missed most of the remainder of the Minor League season, but he did play in the Arizona Fall League.
Stewart said the asking price for catchers is too high and that there is a dearth of them on the market. The Rockies, who recently signed Nick Hundley as a free agent, are trying to trade incumbent Wilin Rosario, but Stewart said he has had no conversations with Colorado.
"We have [explored the market], and you know what? It would nice," Stewart said. "But the bottom line is, we're going to have to give up a player that we don't want to to get a catcher. So we're going to be patient with the guys that we have and the guys that we're confident can get the job done, and also give O'Brien the chance and the opportunity when he's ready."
Barry M. Bloom is a national reporter for MLB.com and writes an MLBlog, Boomskie on Baseball. Follow @boomskie on Twitter. This story was not subject to the approval of Major League Baseball or its clubs.