Angels see a lot to like in Cuban prospect Baldoquin
Halos' evaluations centered around his extreme work ethic as much as talent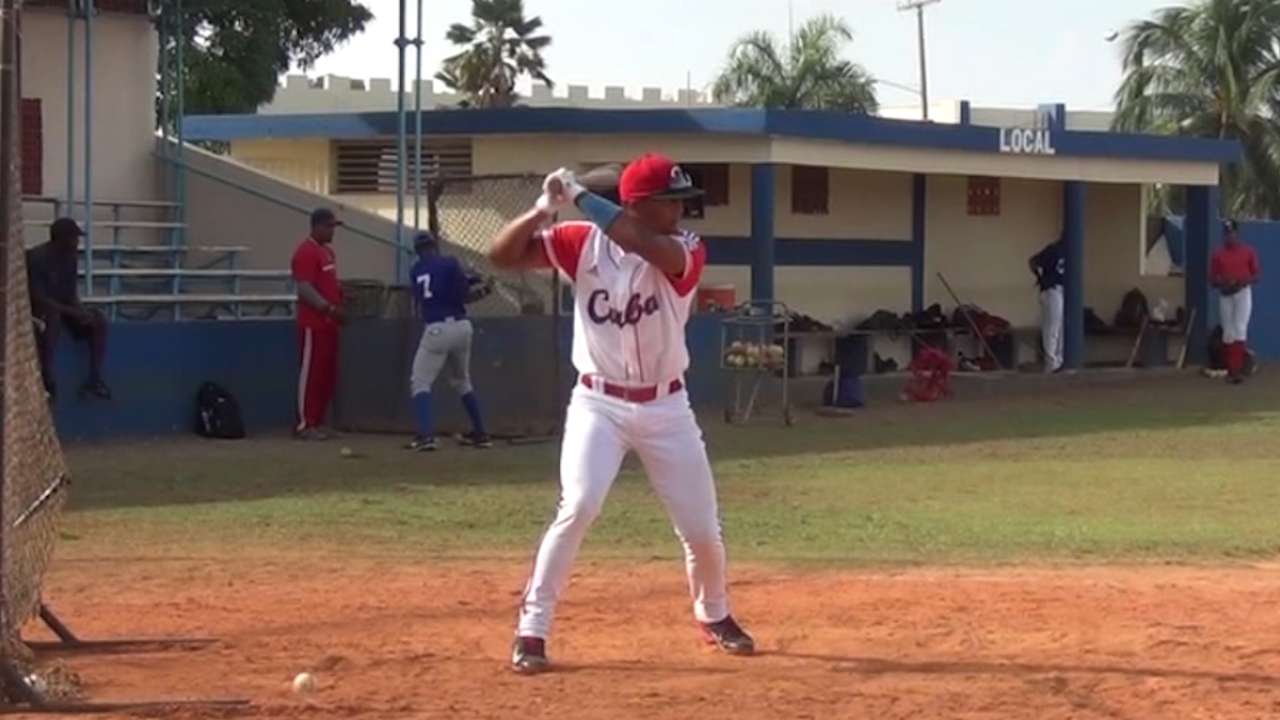 ANAHEIM -- It was the middle of October in Boca Chica, a popular beachside city along the Dominican Republic's southern coast, and it was time for the Angels to see what this Roberto Baldoquin kid was really made of.
The 20-year-old middle infielder had spent most of the summer and ensuing fall showcasing at other teams' facilities on the baseball-crazed island. Now he was back with the Angels, who had three front-office members, an entire Dominican scouting department and their Major League first-base coach on hand for back-to-back days of exclusive, excruciating workouts.
If this was going to be the guy to blow past their spending pool and account for easily their largest international commitment in team history, they had to be sure.
"It was a whole lot of groundballs, a whole lot of batting practice, a whole lot of drills," Angels international scouting supervisor Carlos Gomez recalled. "Just the sheer number of groundballs that we hit him was a little obscene."
Assistant general manager Scott Servais stood in the batter's box and struck baseball after baseball with his fungo bat, testing Baldoquin's range up the middle, analyzing his backhand, gauging his footwork on slow rollers, grading his arm strength deep in the hole and watching as sweat continually dripped off the Cuban defector's face.
Finally, Gomez signaled Baldoquin inside for a break -- and watched as he turned his back, retreated to his position and waved his right index finger in the air, Dikembe Mutombo style.
"He just kept going," Gomez said. "He didn't complain at all."
The Angels gradually fell in love with Baldoquin -- not because he was the biggest talent available on the international market, but because they felt he was the right player to take a chance on.
The same organization that basically shut down operations in Latin America less than six years ago, then ranked in the bottom seven in international amateur spending from 2010-12, gave Baldoquin an $8 million signing bonus in early November.
It was a record under the new guidelines -- until Yoan Lopez recently broke it by signing for $8.27 million with the D-backs -- and it was a $15 million commitment, considering the 100-percent overage tax on a spending pool that began at $2,383,700.
Prior to Baldoquin, the Angels' most expensive international signing was fellow Cuban defector Kendrys Morales, who cost the team $3 million in December 2004. And since the new guidelines came into play for the '12-13 signing period, the only players they had signed for more than $300,000 were starter Ricardo Sanchez and shortstop Julio Garcia, and neither of those deals reached $600,000.
Baldoquin wasn't among the headliners in the most recent rush of Cuban talent; nowhere near as coveted as Yoan Moncada or Yasmany Tomas. But the Angels saw a polished player with the ability to stay at shortstop, the arm strength to play anywhere on the diamond, the disciplined approach to hit in the big leagues and -- perhaps most important of all -- the least risk possible.
"His floor was very high," said Servais, who is in charge of scouting and player development. "His ceiling is good, don't get me wrong; we like his ceiling. But his floor is very high."
Gomez admits he hadn't even heard of Baldoquin when he first watched grainy footage of the prospect's workouts for the International Prospect League around April.
On June 12, shortly after getting cleared to sign and roughly four months removed from leaving Cuba, Baldoquin held a showcase for all 30 teams. Gomez was once again impressed by the video, but he never imagined the Angels had a chance and didn't see Baldoquin first hand until he flew in for "another checkup" in August.
Baldoquin looked better than the footage suggested, and the front office started to get involved. Gomez flew down again, just to be sure. And then, shortly after getting swept by the Royals in the American League Division Series, the Angels' brass boarded a flight.
General manager Jerry Dipoto, Servais and director of baseball operations Justin Hollander arrived at the Angels' academy in the Dominican. Alfredo Griffin, the longtime first-base coach and former big league shortstop, drove over from his home in San Pedro de Macoris. Gomez and all his scouts waited. And the Angels, as Servais said, put Baldoquin "through the wringer."
They were impressed by Baldoquin's smooth actions. They appreciated his close-knit family. They were fascinated by his encyclopedic knowledge of Cuban ballplayers. And they loved the way he carried himself.
"The day he walked onto our field for the first time, he was clearly a leader among the younger kids," Dipoto said. "You could tell he was not afraid to be the guy pulling the sled."
The Angels faced stiff competition from the Phillies and one other team, and Servais heard up to eight clubs ultimately got involved. But the Angels' offer was aggressive. And while most teams were holding out hope for Tomas, who attained free-agent status and went on to sign a six-year, $68.5 million deal with the D-backs, the Angels stayed focused on Baldoquin.
"Honestly," Gomez said, "when you're kind of flying under the radar for a long time and all of a sudden make a splash like that, it's pretty cool."
Baldoquin will work out at the Dominican academy when they open camp on Tuesday. He will report for Major League Spring Training around late February and is expected to start the 2015 season in Class A Advanced. He lines up to be Major League ready by '16, just in time to potentially take Erick Aybar's place at shortstop.
Until then, the Angels will keep their collective fingers crossed.
"We had one bullet, we took a shot, and we're hoping [we got it right]," Servais said. "I'm anxious to see him play in real games and get his career going."
Alden Gonzalez is a reporter for MLB.com. Read his blog, Gonzo and "The Show", and follow him on Twitter @Alden_Gonzalez. This story was not subject to the approval of Major League Baseball or its clubs.