Miggy improving, no longer in walking boot
Slugger set for follow-up exam on right foot, ankle in mid-February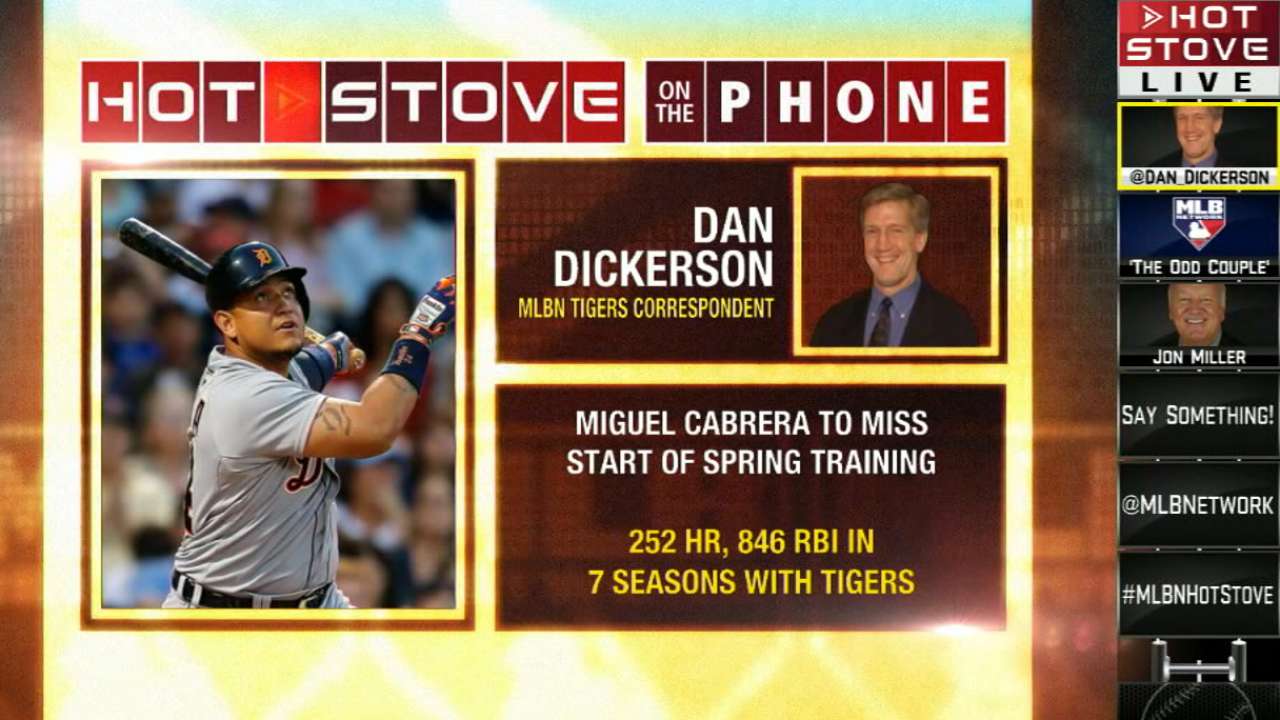 DETROIT -- Miguel Cabrera took another step Thursday in his rehab from foot and ankle surgery. He took that step without the aid of a walking boot.
"He's cleared to wear normal shoes," Tigers head athletic trainer Kevin Rand said Thursday.
The clearance came from Dr. Robert Anderson, who performed the October surgery to remove a bone spur from Cabrera's right ankle and repair a stress fracture in his right foot. He had to protect his foot for several weeks after that, first by using a scooter to keep it elevated, then with the walking boot since December.
The original plan was expected to have Cabrera in the boot until a follow-up exam in mid-February. On Thursday, however, Cabrera tweeted that the boot was gone, and tweeted a picture that showed him walking in his normal shoes.
Cabrera has not yet been cleared for baseball activities. He can't run yet, and he still has to limit how much weight he puts on the foot in workouts. From a mobility standpoint, however, he can walk around like anybody else.
The clearance also doesn't have a major impact on Cabrera's timetable, Rand said. The follow-up exam is scheduled for just before Spring Training opens, so while Cabrera could be cleared for baseball activities when full-squad workouts begin Feb. 24, he won't have the conditioning built up to be a full participant.
Jason Beck is a reporter for MLB.com. Read Beck's Blog and follow him on Twitter @beckjason. This story was not subject to the approval of Major League Baseball or its clubs.