Mercer welcomes confident Kang in position battle
Incumbent shortstop spent week in Pirate City for voluntary minicamp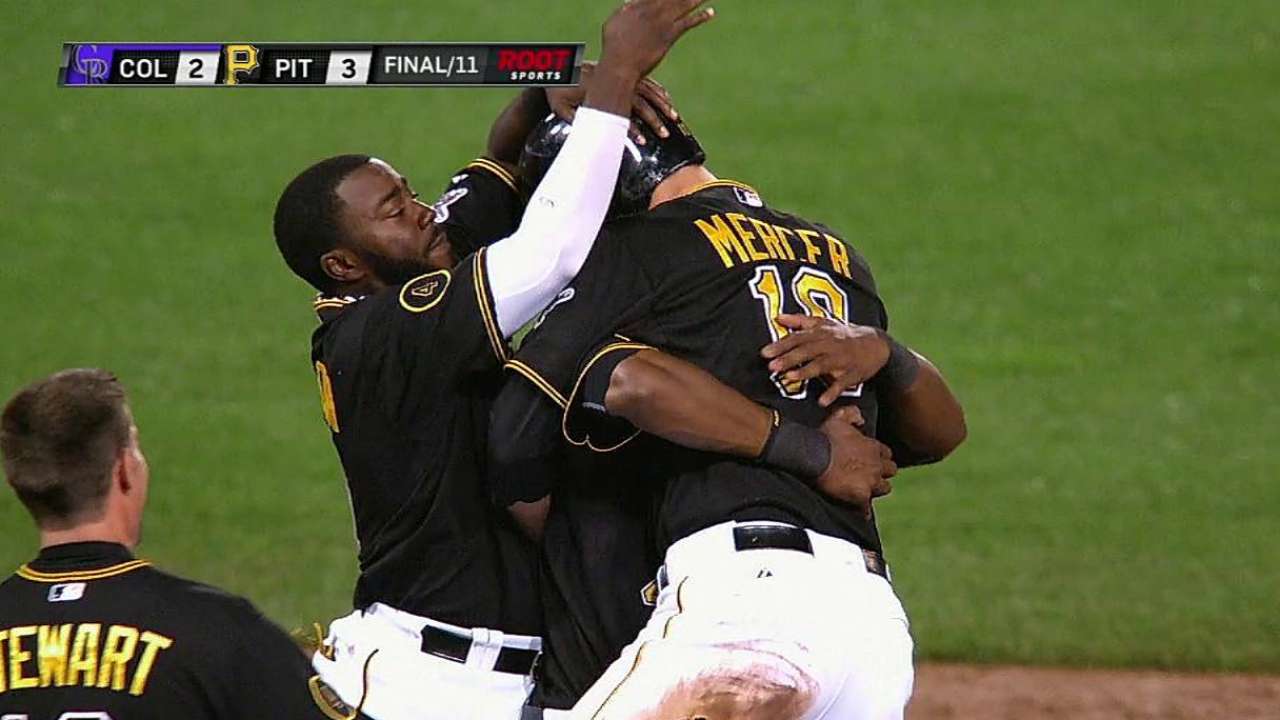 BRADENTON, Fla. -- Jordy Mercer spent the week at Pirate City for a few reasons. He likes the opportunity to get back on the field and shake off some rust, while knowing Spring Training is still a month away. Mercer also appreciates the chance to briefly escape his native Oklahoma's cold winter for the mostly warm Florida weather.
"I enjoy it, hanging out with the guys and taking a little mini-vacation as well," Mercer said Thursday morning. "That's one of the main reasons I came."
Then again, Mercer also might be the player most directly affected by the Pirates' signing of Korean shortstop Jung-ho Kang, who took things a step further by essentially stating his intent to be the Pirates' regular shortstop.
But don't jump to the conclusion that Mercer's presence here is related to Kang's unveiling. Mercer isn't getting too worked up about any potential challengers.
"It's nice to see [Kang's] confidence, for sure. I'm not going to come back at him. There's no reason for that," Mercer said. "I think we can settle on the field. All that will take care of itself, really. There's no reason for me to come back at him or anything.
"We like the confidence. Hopefully he'll help our club and ultimately get us to the World Series. That's all of our goal."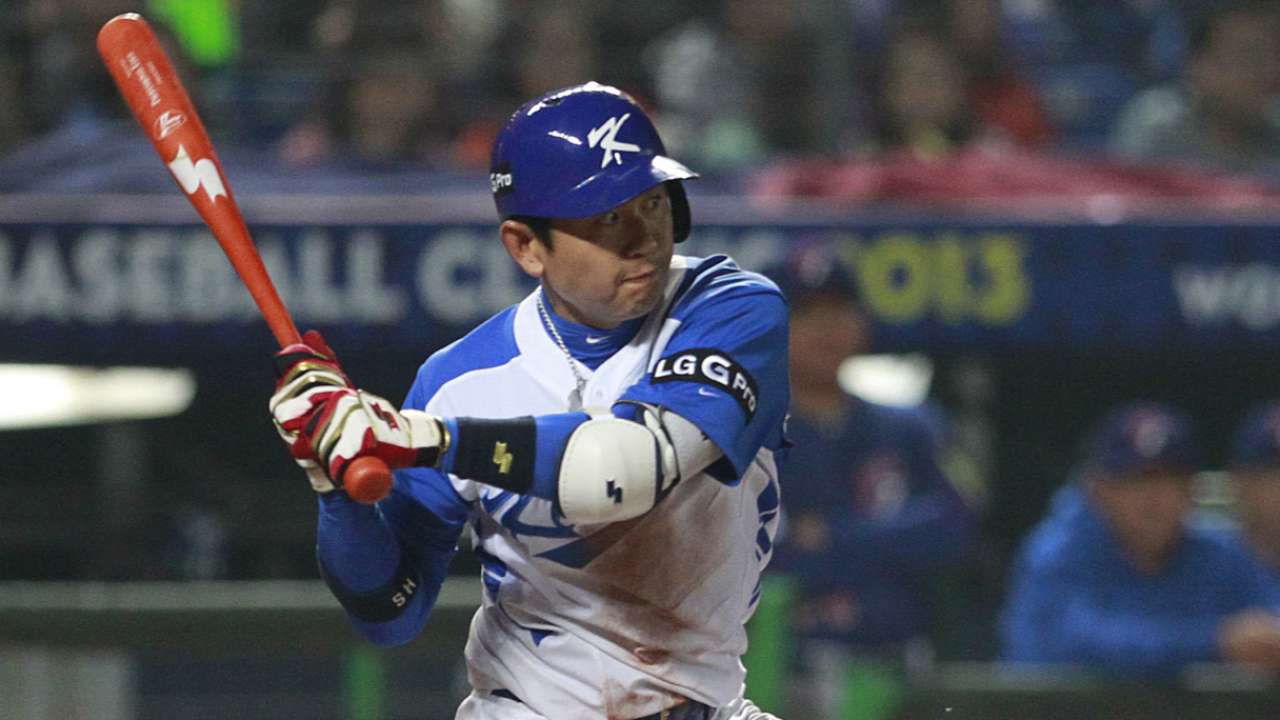 Before flying to America, Kang told reporters, including the English-language Yonhap News Agency, "If I get an opportunity to play consistently, I think I can play better." He nodded to confirm he was talking about Mercer, who established himself last year as the Pirates' full-time shortstop, a job he'll carry into Spring Training.
Kang reportedly added: "I think I'll have to talk to the team about my position, but I'd like to play shortstop."
So would Mercer, obviously.
Mercer was the only everyday big league player to take part in the Pirates' four-day minicamp, which wrapped up Thursday. A number of young pitchers and Spring Training invitees attended the voluntary workouts to work with some of the coaches and instructors within the organization before Spring Training.
But a quick glance around the Pirate City clubhouse showed no signs of familiar position players such as Andrew McCutchen, Josh Harrison, Pedro Alvarez, Neil Walker, Gregory Polanco or Starling Marte. Nor could you find top pitchers such as Gerrit Cole, A.J. Burnett and Francisco Liriano.
"I don't think it's that big of a deal that people are here or not here," Mercer said. "For me, just to get jump-started on ground balls, hit [batting practice] outside [thrown by a] live arm, see the flight of the ball -- things like that I can take home."
The 28-year-old hit .255/.305/.387 with 12 home runs and 55 RBIs in 149 games last season, starting 137 of them at shortstop. He was more valuable on defense, accumulating nine Defensive Runs Saved.
In all, Mercer was worth 2.8 Wins Above Replacement last year, according to Baseball-Reference, the 12th-highest figure among Major League shortstops. For context, that total put him in between the White Sox Alexei Ramirez and the Royals' Alcides Escobar.
Mercer didn't really hit his stride until the second half of the season, either. His second-half OPS (.753) jumped more than 100 points higher than his first-half mark. His strikeout and walk numbers dramatically improved down the stretch as well. Offensively, his second-half production was more in line with what he did in a lesser role in 2013.
"It's a long season. I've got to remember that," Mercer said. "I think I set too many expectations for myself and put too much pressure on myself to perform early. I had to settle down and continue to play my game and stay with what got me here.
"I finally figured that out and knew it was going to be a long year, I was going to get plenty of at-bats. It all took care of itself."
So, too, will the starting shortstop job.
Kang made it clear before arriving on U.S. soil that he believes strongly in himself. When he arrives at Pirate City for Spring Training, he'll find the incumbent shortstop feels the same way.
"I'm definitely confident. I think you've got to have confidence to play this game," Mercer said. "I finished the year on a high note. I was really pleased with the first year I had and look forward to getting better each and every year."
Adam Berry is a reporter for MLB.com. Follow him on Twitter at @adamdberry. This story was not subject to the approval of Major League Baseball or its clubs.