White Sox gearing up for packed SoxFest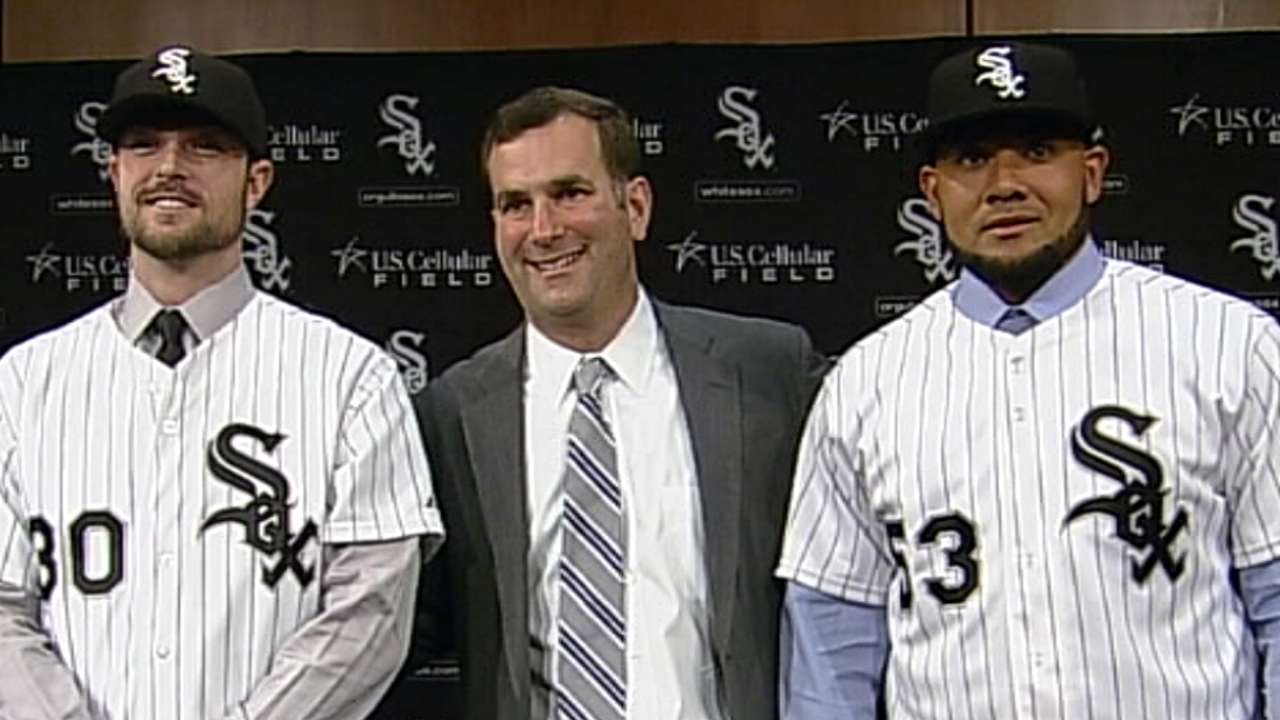 CHICAGO -- If White Sox fans had their choice, 2015 Spring Training would begin sometime this weekend. It's not so much about a distraction from cold winter weather as it is about the most White Sox buzz building since the offseason following the 2005 World Series championship.
This excited group of fans has to wait until Feb. 20 for White Sox pitchers and catchers to report to Camelback Ranch. They don't have to wait to revel in the organization's reshaping and potential rejuvenation with SoxFest taking place from Jan. 23-25 in downtown Chicago.
The Hilton on Michigan Avenue marks a new location for the annual event, which is completely sold out for the first time since 2010. That fan response speaks to the seven impact additions general manager Rick Hahn has made to the team's strong base during this current offseason, as well as the 10-year anniversary festivities for the World Series champs, which will mark the beginning of SoxFest.
Sales already were very solid because of the 2005 connection. But thanks to a month of December in which there seemed to be a White Sox press release every other day, single-day SoxFest passes sold out in minutes when they were put on sale.
Geoff Blum, Joe Crede, Jose Contreras, Jon Garland, Orlando "El Duque" Hernandez, Bobby Jenks, Scott Podsednik, Aaron Rowand and Tadahito Iguchi are scheduled to appear in representation of the 2005 champs. Iguchi still plays professionally in Japan, so he's bringing his whole family to Chicago next week in case he can't make the in-season reunion weekend from July 17-19.
Active players such as Zach Duke, Dan Jennings, David Robertson, Jeff Samardzija, Adam Eaton, Tyler Flowers, Jose Abreu, Avisail Garcia, Conor Gillaspie, Jake Petricka, Jose Quintana and Alexei Ramirez are scheduled to be in attendance, as will prospects such as Tim Anderson, Courtney Hawkins, Micah Johnson and Carlos Rodon and White Sox greats Bo Jackson, Ron Kittle, Carlos May, Bill Melton, Minnie Minoso and Billy Pierce. Manager Robin Ventura, pitching coach Don Cooper, hitting coach Todd Steverson and assistant hitting coach Harold Baines represent the staff.
John Danks originally was listed but won't be able to get to Chicago, while Chris Sale had a personal conflict causing him to miss. Paul Konerko, the captain, is taking a well-earned SoxFest off while enjoying retirement, but he will be in Chicago to have his jersey No. 14 retried via a pregame tribute on May 23. Ozzie Guillen, the manager of the 2005 team, will be out of the country but was invited.
Abreu only will be at SoxFest on Friday, leaving Saturday for the New York BBWAA Awards dinner, where he will receive his American League Rookie of the Year honor.
A different sort of video experience will be present at SoxFest, as well as a brand new interactive area that includes social media. SoxFest will have a Hall of Fame experience, with memorabilia many fans never get to see, as well as the popular garage sale.
There will be plenty of chances for fans to get autographs and take pictures with their favorite players, as well as interact through their chosen question-and-answer sessions. Town hall meetings with Hahn and Ventura are scheduled for Friday and Saturday, and with Ventura and the coaches on Sunday.
"It's a great year in the sense of the combination of excitement around the 10th anniversary for the 2005 World Series champions and the excitement around the 2015 club," said White Sox senior vice president of communications Scott Reifert concerning SoxFest.
Scott Merkin is a reporter for MLB.com. Read his blog, Merk's Works, and follow him on Twitter @scottmerkin. This story was not subject to the approval of Major League Baseball or its clubs.