Moore targeting June return to Rays' rotation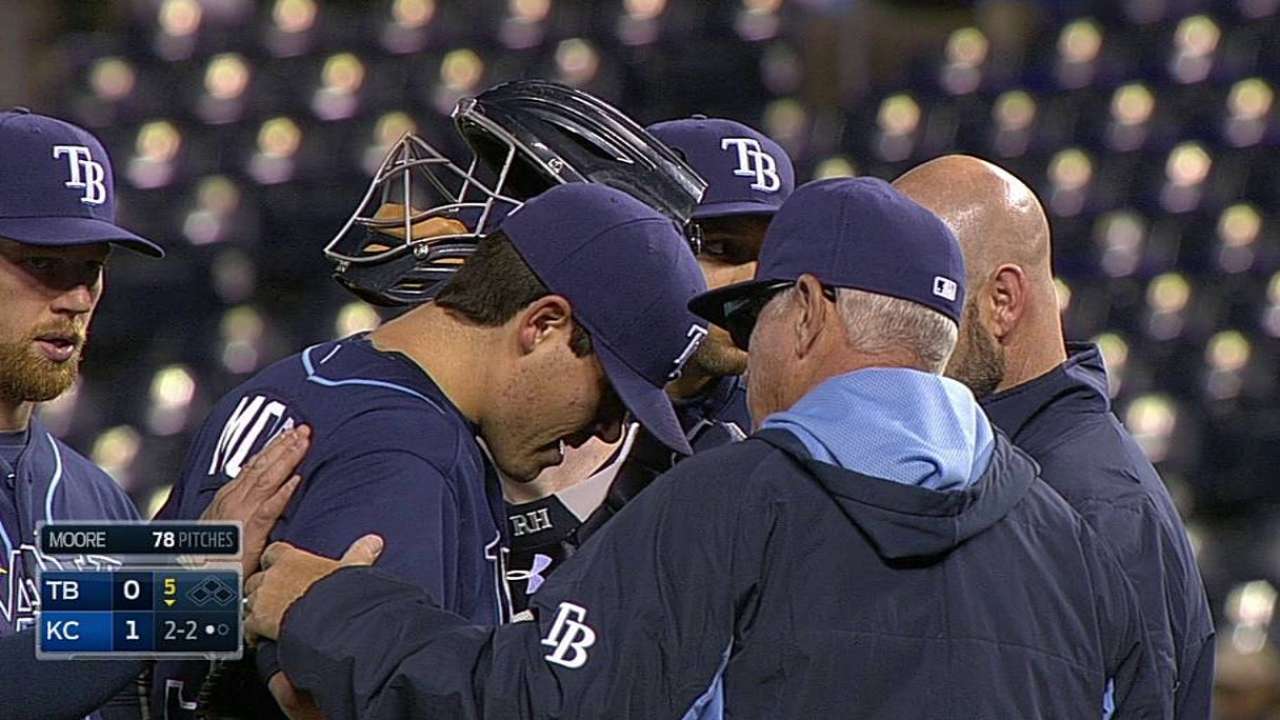 ST. PETERSBURG -- Former Rays manager Joe Maddon used to say that a player's face would let you know how he felt. Well, judging from Matt Moore's face, the left-hander is well on his way to a total recovery from Tommy John surgery.
Moore and his best friend Griffin, a chocolate goldendoodle, were on hand at Wednesday's workout at Tropicana Field. He underwent the surgery to his left elbow on April 22 and the prognosis is good.
"Probably June," answered Moore after being asked when he'll be back with the team. "That's probably the conservative date."
However, rehab from any surgery is never an exact science, so if it takes longer, it's no big deal in the big picture.
"Just the way that we went with taking a couple of extra weeks on each little hurdle to make sure that we're not trying to meet some guideline, some cookie-cutter thing that we're actually being consistent that as soon as we get to this target date, we're not just going because it says go," Moore said. "So it's kind of hard to say, because I haven't thrown off the mound yet. But I hope June, in a Major League game. I think that's about right. Fourteen months. So we should know a lot more in the next month as I start to get on the hill and things have a chance to respond."
Moore said he has not experienced any setbacks during his rehab.
"We haven't stopped playing catch for any reason," Moore said, "and we haven't stopped any part of the training or any of the other stuff. The regimen hasn't changed."
So the light at the tunnel seems to be approaching for Moore.
"I hope so," Moore said. "It definitely helps having the whole crowd back in here with players and coaches and staff."
Moore made two starts in 2014. While pitching in Kansas City on April 7, he exited after 4 1/3 innings due to left elbow soreness. Subsequent tests revealed the damage to the ulnar collateral ligament in his left elbow.
In 63 Major League appearances (61 starts), Moore is 29-17 with a 3.53 ERA.
Bill Chastain is a reporter for MLB.com. This story was not subject to the approval of Major League Baseball or its clubs.