Speedy Gordon gives Marlins dynamic lineup
Newly acquired leadoff hitter swiped Major League-high 64 bases in 2014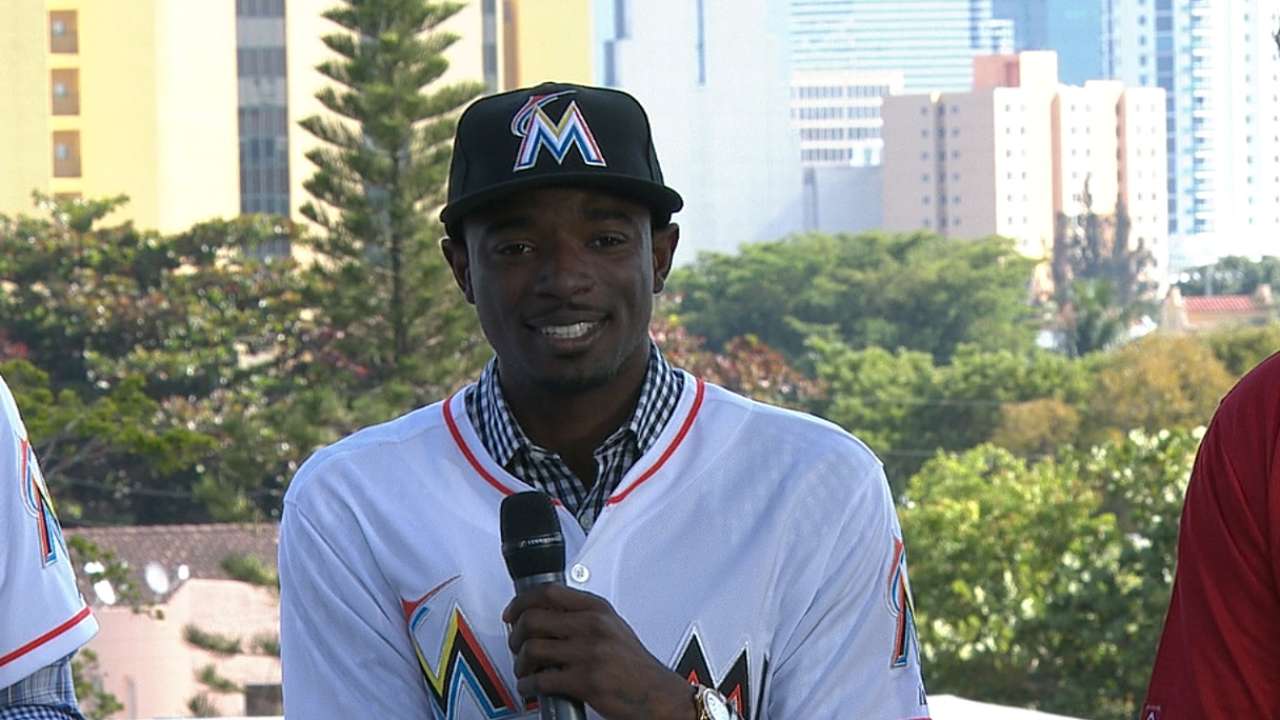 MIAMI -- Giancarlo Stanton, with his immense power, certainly is the centerpiece of a vastly improved Marlins lineup. But does the two-time All-Star present the most problems for an opposing pitcher?
According to right-hander Mat Latos, one of the new additions to Miami's rotation, speedy Dee Gordon is the player who can create the most havoc in the lineup.
"Dee's going to be the disruptive one," Latos said.
Adding Gordon's game-changing speed in front of sluggers like Stanton and free-agent pickup Michael Morse gives the Marlins one of their most dynamic lineups in years. The club now has one of the fastest players in the game setting the table for one of the league's most imposing sluggers.
With the Dodgers last year, Gordon swiped a Major League-best 64 bases. The Marlins haven't had a player lead the Majors in steals since Juan Pierre posted his franchise-record total of 65 in 2003.
A lack of speed was a weakness of the 2014 Marlins, who stole just 58 bases -- fourth fewest in the Majors.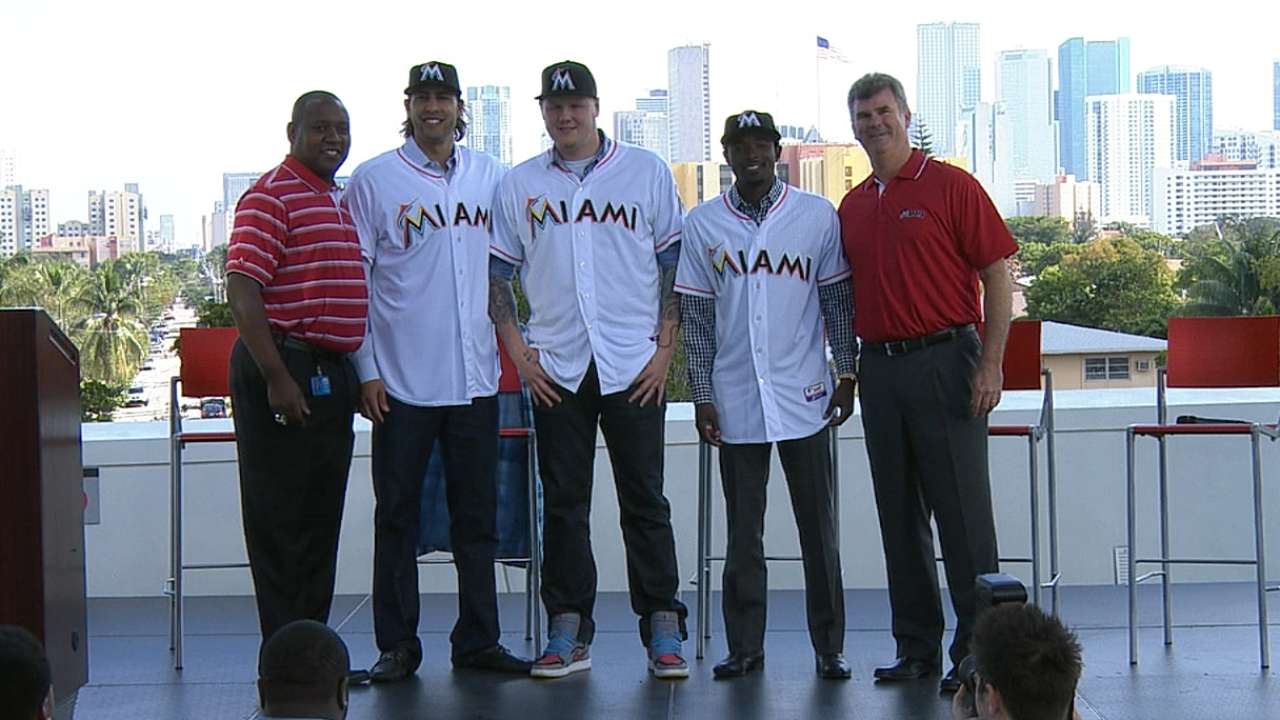 Now with the projected lineup of Gordon at the top of the order and Christian Yelich hitting second, Miami has two running threats in front of Stanton and Morse. Along with stealing bases, they are capable of scoring from first on a double.
"Stanton and Morse, those are the guys who are going to knock Dee in," Latos said. "Those are going to be the guys you're scared of. Pitchers are scared of them, but they can always walk them. You don't want to walk Dee."
The question with Gordon is if he will get on base enough. He batted .289 with a .326 on-base percentage and 31 walks in 2014. Gordon also struck out 107 times. If he is struggling at the leadoff spot, the Marlins have versatility in their lineup to adjust. Yelich is experienced leading off, and Martin Prado can bat second.
But Miami acquired Gordon in a seven-player deal with Los Angeles to stabilize second base and to be a prototypical leadoff hitter. With the Dodgers last year, Gordon was an All-Star who paced the league with 12 triples. He also scored 92 runs.
The Marlins haven't had a player steal as many as 25 bases since Jose Reyes swiped 40 in 2012. Gordon is a threat to top 60.
"Not to take anything away from Stanton, he's a great hitter," Latos said. "Morse is a great hitter. But [Gordon], he's going to be the disruptive one on the team."
Joe Frisaro is a reporter for MLB.com. He writes a blog, called The Fish Pond. Follow him on Twitter @JoeFrisaro. This story was not subject to the approval of Major League Baseball or its clubs.