Lucroy to attend State of the Union address
Brewers catcher accepts invitation from Wisconsin senator Johnson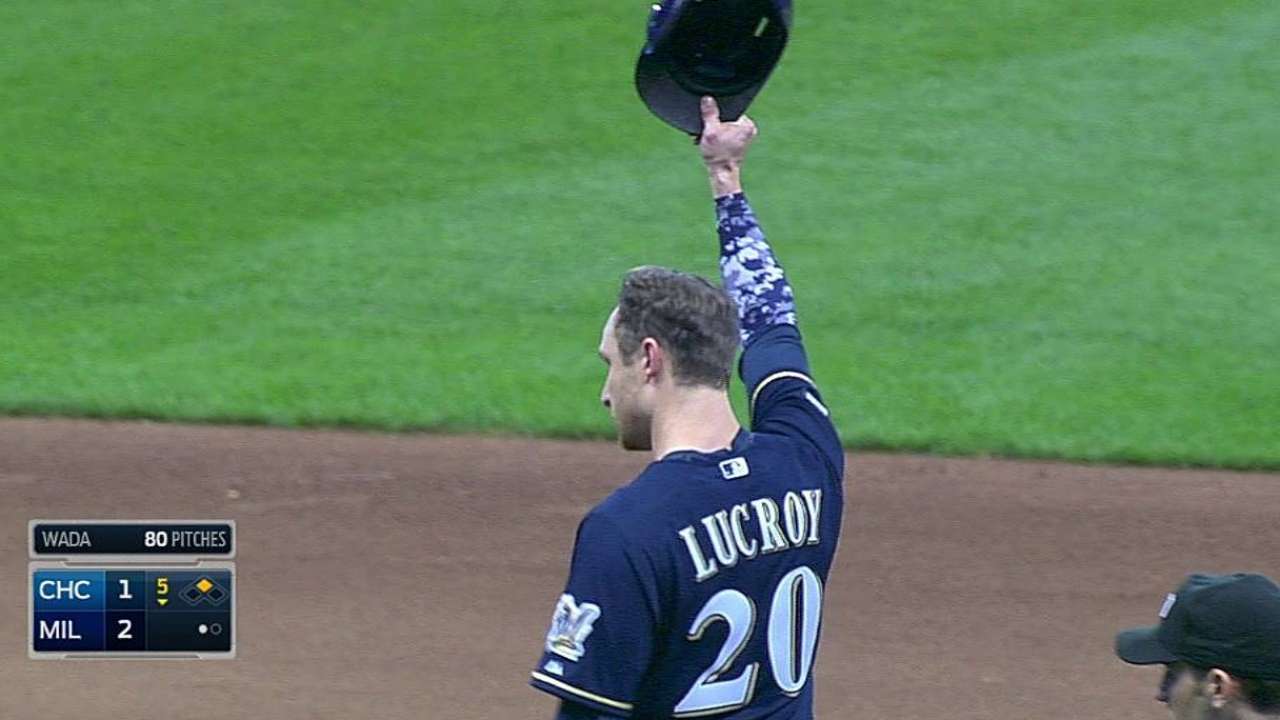 MILWAUKEE -- Don't expect Brewers catcher Jonathan Lucroy to push any bills across when he visits Washington next week. He's excited to simply observe an American tradition that began with George Washington.
Citing Lucroy's charitable efforts, U.S. Sen. Ron Johnson (R-Wis.) invited the All-Star to attend President Barack Obama's State of the Union address on Tuesday, and Lucroy gladly accepted.
"It's not about political affiliation," Lucroy said. "But am I interested in politics? Yes, and this is a thing that not a lot of people get to experience, so why not go and experience it? I'm going to be able to go tour some stuff that people don't get to tour, and see some things most people don't get to see.
"I love history, so why not go and do it and get to tell my kids about it?"
He will spend two days in Washington as Johnson's guest before traveling to Milwaukee for the Brewers' annual fanfest on Jan. 25.
Lucroy already was pouring over a long list of sightseeing options for his brief visit. He's already been to the White House, the U.S. Capitol and Walter Reed National Military Medical Center with Brewers teammates, so Lucroy is investigating other sites.
"I want to maximize this experience," he said.
In making the invitation official, Johnson said in a statement, "Mr. Lucroy, the All-Star catcher for the Milwaukee Brewers, has become a hero to Wisconsin sports fans with his excellent performance on the field. But to me, he is an even bigger hero off the field: He is using his baseball fame to highlight some great Wisconsin charities."
Many of the organizations nearest to Lucroy's heart are associated with military veterans, most notably Fisher House Wisconsin, which services families of veterans receiving care at Milwaukee's Zablocki VA Medical Center. In November, Lucroy traveled with veterans on an Honor Flight to visit the World War II and Korean War memorials in Washington, and he has also provided scholarships to military families.
"Sen. Johnson and I have a lot of shared interests when it comes to the military stuff," Lucroy said. "He's a big supporter as well. That's one of the reasons I'm going."
The surprise invitation continued a heady calendar year for Lucroy.
At this time last year, he owned a low profile outside of Wisconsin, but that changed when he became the first Brewers catcher ever to start an All-Star Game. Appropriately, Lucroy contributed a pair of RBI doubles to the National League's cause, then went on to lead the Major Leagues with 53 doubles during the regular season to become the first catcher ever to lead his league in that category. Lucroy hit 46 of those doubles while playing catcher (he was in the game as the first baseman or designated hitter for the others), breaking a record set by Texas' Ivan Rodriguez in 1996. Lucroy finished fourth in the NL MVP Award balloting.
While he said he leans conservative, Lucroy has little desire to get into politics when his baseball career comes to an end.
"That's not a world I want to get into, I don't think," he said. "I'd rather stick to being a baseball player."
Adam McCalvy is a reporter for MLB.com. Read his blog, Brew Beat, and follow him on Twitter at @AdamMcCalvy. This story was not subject to the approval of Major League Baseball or its clubs.