Inbox: More moves on horizon for Twins?
Beat reporter Rhett Bollinger answers questions from fans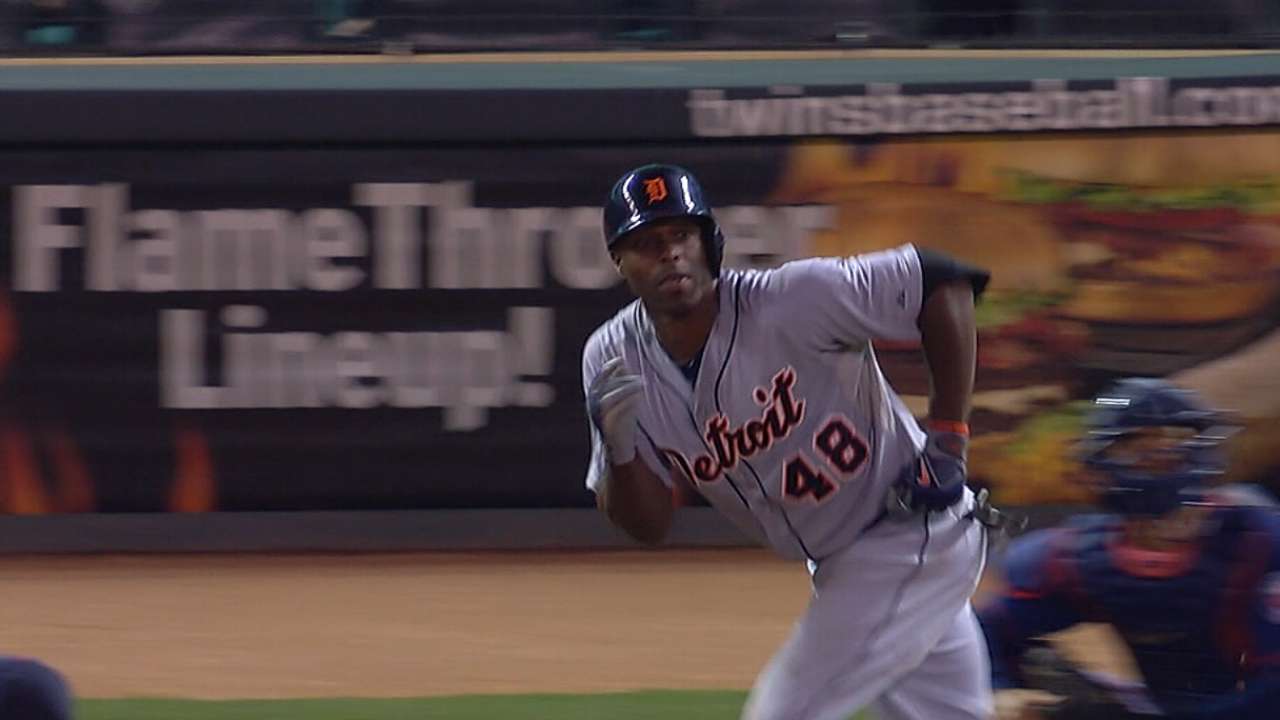 MINNEAPOLIS -- With the annual Twins Winter Caravan already underway and TwinsFest set for next weekend at Target Field, the end of the offseason is nearing and the start of Spring Training is right around the corner.
Twins pitchers and catchers are set to report to the club's renovated Spring Training complex in Fort Myers, Fla., on Feb. 22, with the first workouts scheduled for Feb. 24.
But there's still time for the Twins to make another move this offseason after signing outfielder Torii Hunter, right-hander Ervin Santana, reliever Tim Stauffer and extending Phil Hughes' contract. So there's still plenty of questions remaining, and with that in mind, here's this week's Twins Inbox:
Click here to submit an Inbox question
Do you see the Twins making another move this offseason or are they done?
-- Evan T., St. Louis Park, Minn.
There's no such thing as having too much pitching, so there still remains a chance the Twins add another arm this offseason. They've been recently monitoring former Twins ace Johan Santana, who made his debut with Navegantes del Magallanes of the Venezuelan Winter League on Tuesday. Santana is coming off a torn left Achilles' tendon suffered last June after signing with the Orioles, but he has recently been throwing in front of teams, including Minnesota.
But the Twins aren't likely to make a big signing after their busy offseason adding Hunter, Ervin Santana and Stauffer for a combined $67.7 million, while extending Hughes for three years and $42 million.
The Twins could continue to sign Minor League free agents -- especially to bring more competition to the bullpen -- such as their signing of former Braves reliever Blaine Boyer last week.
Since this is the time of year for predictions, what is your Opening Day lineup and pitching rotation for 2015?
-- Bruce B., Tea, S.D.
It's hardly set in stone, but here's my crack at what the Opening Day lineup will look like for the Twins 2015: Danny Santana will lead off and play shortstop, followed by second baseman Brian Dozier, first baseman Joe Mauer, designated hitter Kennys Vargas, right fielder Hunter, left fielder Oswaldo Arcia, third baseman Trevor Plouffe, catcher Kurt Suzuki and center fielder Aaron Hicks.
But it could change if the Twins decide to leave Santana in center field and go with Eduardo Escobar at shortstop like last season. However, manager Paul Molitor has indicated he would like Santana back at his natural position of shortstop and he'll head to camp competing for the shortstop job, while Hicks will get another shot in center along with Jordan Schafer.
As for the rotation, Hughes, Santana, Ricky Nolasco and Kyle Gibson all appear to be locks, while the fifth spot is up for grabs. My early prediction is Tommy Milone, the lone left-hander in the mix, will get that fifth spot, while Mike Pelfrey will head to the bullpen. Prospects Trevor May and Alex Meyer will start the year at Triple-A Rochester.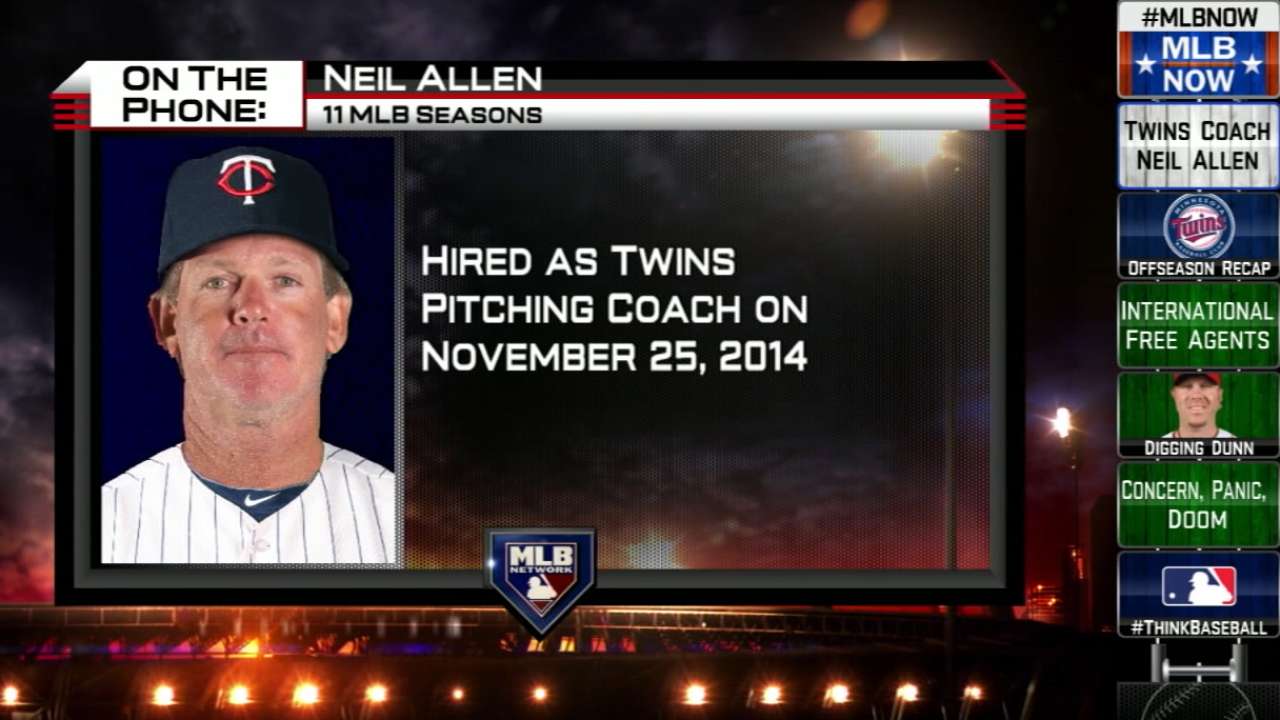 I just got done reading a fangraphs.com article on the Twins' defensive outlook for 2015 with the way roster is currently constructed. It expressed the Twins' defense could be worse than in 2014, which was very bad. How much impact can the new coaching staff have to improve the play of current roster defensively?
-- Bob R., Prior Lake, Minn.
I read the article as well, and it's true that Minnesota's defense, especially in the outfield, was a major problem last year. According to the metric of Defensive Runs Saved, the Twins' outfield was the fifth-worst defensively among all teams since 2003. And with the addition of Hunter, whose defensive metrics haven't been kind in recent years, the projections don't like the club's defense again next year.
But they're called projections for a reason, and the Twins won't have subpar defensive outfielders such as Josh Willingham, Jason Kubel or Chris Colabello from last year. Arcia figures to improve defensively given his youth and Hicks and Schafer are natural center fielders, unlike Santana, who likely will return to shortstop. It all depends on what you think of Hunter, as the Twins still believe he's still at least average in right, but the metrics don't like the defense of the 39-year-old.
As for the coaching staff, there's only so much they can do to help players defensively once they reach the Major League level, but Arcia needs to improve and learn the nuances of left field.
Jared Burton was the "backup closer" to Glen Perkins for several years. Now that Burton is gone, who is the closer if Perkins is injured or needs a day off?
-- Jeff B., Lancaster, Ohio
Casey Fien is the slated to be the club's top setup reliever in 2015, so he's the most likely to get those save opportunities when Perkins can't go. Fien, who posted a 3.98 ERA with 51 strikeouts in 63 1/3 innings last season, had a few closing chances last year, but picked up just one save against four blown saves. So he'll have to prove he can handle those situations or the Twins will have to look elsewhere.
Rhett Bollinger is a reporter for MLB.com. Read his blog, Bollinger Beat, and follow him on Twitter @RhettBollinger. This story was not subject to the approval of Major League Baseball or its clubs.